Us3 - Schizophonic (2006)@320
Bit rate:
320 kbps
Frecuency:
44.1 kHz, Joint Stereo
Size:
132 MB
Genre, Style:
Acid Jazz
Free Hosting:
RapidShare.com
Covers:
No
ID3v1:
Yes
ID3v2:
Yes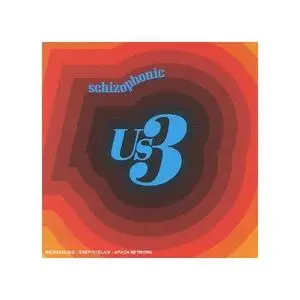 01. That's How We Do It
02. Kick This
03. Was It Love
04. Huff & Puff
05. What's Goin' On In The World Today
06. Much 2 Much
07. Girls U Like
08. If Only
09. Don't Even Ask
10. Jobsworth
11. Get Busy
12. KISSYOU
13. 1234 U
14. Round The Globe

Amazon.com review
Can i swear??? 'cos the beauty of this cd makes me wanna do it. i first heard That's How We Do It on the radio and liked it enough to risk buying the cd (thank you amazon for rapido-ness). i played the first track in the car and then waited for disappointment (as you do when you buy pig-in-a-poke-fashion) … but it was a sublime sound that came with the footballer's Kick This (does Ronaldinho know?). Was It Love has the best lyrics i've heard in a long time. the funky hip-hop jazzy mixing is the best treat i've given my ears since i didn't pierce them. i am a jazz fan and have been dabbling in hip-hop for a while but this has converted me totally. even the minutia of music on Jobsworth is great, and Round The Globe just makes me wind the windows down and spoil my fifty-tablet-a-day uncle brian & everyone else walking by. what else can i say but buy it and praise it like i did.
http://rapidshare.com/files/587099/061024US3-S.part1.rar
http://rapidshare.com/files/585649/061024US3-S.part2.rar
pass:
vicious
Enjoy it :)