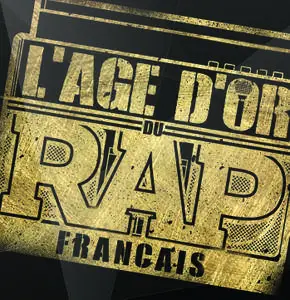 Various Artists - L'age D'or Du Rap Francais (2017)
Rap | 2:37:04 | Mp3, 320 kbps | 359 MB
Label :Warner | Year Of Release :2017
Après le succès du spectacle inédit L'Âge d'Or du Rap Français au Casino de Paris, regroupant plus de 30 artistes, c'est toute l'histoire du rap des années 90 qui débarque à l'AccorHotels Arena. Conçu par Mazava Corp, L'Âge d'Or du Rap Français est un spectacle exceptionnel, qui retrace en musique, avec les artistes et auteurs de tous les classiques des années 90 à 2000, les temps forts de cette décennie.
Venez vivre un show live de ces légendes du rap français qui reviendront sur leurs classiques. Toutes les écoles du rap seront représentées, avec des combinaisons improbables et inédites.
Retracer l'histoire du rap et du R&B en France avec ses propres artistes, revivre en live les classiques qui ont bercé la jeunesse de l'époque, danser sur les musiques de notre jeunesse, à travers les live de ces artistes cultes, plonger ou replonger dans l'univers de ces légendes vivantes.
Telle est la promesse de l'évènement L'Âge d'Or du Rap Français ! Back to the 90's !
Tracks:
CD1
01 Passi - Les Flammes Du Mal (4:11)
02 Kheops et Oxmo Puccino - Mama Lova (4:27)
03 Doc Gyneco - Nirvana (5:38)
04 Fonky Family - Art De Rue (5:14)
05 Bouga - Belsunce Breakdown (4:00)
06 Rocca - Les Jeunes De L'univers (4:19)
07 Ben-J et Jacky - Le Bilan (4:23)
08 La Clinique - Tout Saigne (4:13)
09 Busta Flex - J'fais Mon Job A Plein Temps (4:02)
10 Pit Baccardi - Si Loin De Toi (4:38)
11 Raggasonic - Faut Pas Me Prendre Pour Un Ane (3:59)
12 Nuttea - Elle Te Rend Dingue (Poom Poom Short) (4:10)
13 Stomy Bugsy - Mon Papa A Moi Est Un Gangster (4:47)
14 Menelik - Tout Baigne (4:22)
15 Saian Supa Crew - Angela (3:48)
16 Tonton David - Peuples Du Monde (3:28)
17 Driver - Aie Aie Aie (Le Petit Doigt En L'air) (4:38)
18 Alliance Ethnik (Feat Vinia Mojica) - Respect (4:35)
CD2
01 Assassin - La Formule Secrete (4:55)
02 Ideal J - Hardcore (3:55)
03 Lunatic - Le Crime Paie (5:00)
04 X-Men - Retour Aux Pyramides (3:47)
05 Ben-J, Jacky, Mystik, Rohff et Pit Baccardi - On Fait Les Choses (4:33)
06 Les Sages Poetes De La Rue - Qu'est Ce Qui Fait Marcher Les Sages (4:29)
07 Arsenik - Boxe Avec Les Mots (4:22)
08 Expression Direkt - Dealer Pour Survivre (4:42)
09 Oxmo Puccino et K-Reen - Le Jour Ou Tu Partiras (4:32)
10 Zoxea - Rap Musique Que J'aime (4:18)
11 Lino, Le Rat Luciano et Don Choa - Atmosphere Suspecte (4:01)
12 Daddy Yod - Delbor (3:49)
13 Les Little - Ressens Le Son (5:27)
14 X-Men - Pendez-Les, Bandez-Les, Descendez-Les (3:39)
15 Beat De Boul - Dans La Sono (3:43)
16 Tout Simplement Noir - A Propos De Tass (2:43)
17 2 Bal 2 Neg, Vestat, Rocca, Vensty, Mr R et Nob - Labyrinthe (4:47)
18 Minister A.M.E.R - Plus Vite Que Les Balles (5:28)