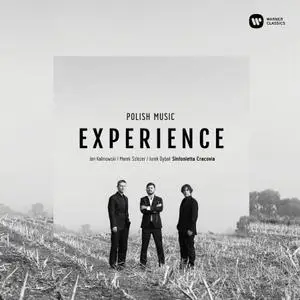 Jan Kalinowski, Marek Szlezer, Orchestra of the Royal Capital City of Krakow, Sinfonietta Cracovia & Jurek Dybał - Polish Music Experience (2018)
WEB FLAC (tracks) - 312 Mb | MP3 CBR 320 kbps - 165 Mb | 01:12:13
Classical | Label: Warner Classics
In what have to be the most electrifying Polish music recordings the year, this album presents compositions by Kilar, Penderecki, Opałka and Meyer in vivid interpretations by Jan Kalinowski, Marek Szlezer and Sinfonietta Cracovia under the baton of Jurek Dybał.

The repertoire is not only spectacular and virtuosic, but also surprisingly rich in creative ideas, colours and experiments with sound, form and narration. Compositions were put together deliberately as Krzysztof Penderecki recently celebrated his 85th birthday, Tomasz Jakub Opałka will turn 35 this year and Krzysztof Meyer 75. We also celebrate the fifth anniversary of Wojciech Kilar's passing. All composers have previously collaborated with artists, both interpreting existing pieces and creating new ones.

The Double Concerto (Musica Concertante) for cello and piano by Krzysztof Meyer was the impulse for recording this album. Szlezer and Kalinowski are long term friends and artistic partners as Cracow Duo. However, they are also prominent soloists with established careers, so they wanted to show this side of their work on the album, too. Hence they added Kilar's Piano concerto no.2 and Penderecki's Viola Concerto (cello version) to the repertoire.

Sinfonietta Cracovia is one of the most important and charismatic chamber orchestras in Poland. The ensemble and their chief conducto Jurek Dybał are known for their innovative spirit and brave interpretations. They decided to commission a piece from Tomasz Jakub Opałka who is considered one of the most important young Polish composers. Gramopohone called him an "exciting new voice in contemporary music" and "new music's most creative and distinctive voices in a long while".

The album programme is extremely rich in emotions, virtuosity and musical colours and is a tribute by the artists to their country to honour the 100th anniversary of regaining independence.
Tracklist:
01. Piano Concerto No. 2: I. Largo funebre
02. Piano Concerto No. 2: II. Allegro tempestoso
03. Piano Concerto No. 2: III. Larghetto riflessivo
04. Piano Concerto No. 2: IV. Allegro vivace
05. Viola Concerto For Cello And Chamber Orchestra
06. HemiSphere
07. Musica Concertante For Cello, Piano, Strings And Percussion, Op. 130: I. Tranquillo
08. Musica Concertante For Cello, Piano, Strings And Percussion, Op. 130: II. Feroce
09. Musica Concertante For Cello, Piano, Strings And Percussion, Op. 130: III. Grave
10. Musica Concertante For Cello, Piano, Strings And Percussion, Op. 130: IV. Presto
–––––––––––-

DON'T MODIFY THIS FILE

–––––––––––-

PERFORMER: auCDtect Task Manager, ver. 1.6.0 RC1 build 1.6.0.1
Copyright © 2008-2010 y-soft. All rights reserved

ANALYZER: auCDtect: CD records authenticity detector, version 0.8.2
Copyright © 2004 Oleg Berngardt. All rights reserved.
Copyright © 2004 Alexander Djourik. All rights reserved.


FILE: 10 Musica Concertante For Cello Piano Strings And Percussion Op. 130 IV. Presto.flac
Size: 39689546 Hash: 76EE0BE002089A57C0403F57F212AABC Accuracy: -m0
Conclusion: CDDA 100%
Signature: 0033E4C457569FEF62CF958B5950571336D70886
FILE: 09 Musica Concertante For Cello Piano Strings And Percussion Op. 130 III. Grave.flac
Size: 13668782 Hash: 2E410573C705EC2750299CC045182A4B Accuracy: -m0
Conclusion: CDDA 99%
Signature: 5E0D59E8B00F14C449110FEF5748BE3C3E1D95AD
FILE: 08 Musica Concertante For Cello Piano Strings And Percussion Op. 130 II. Feroce.flac
Size: 13722809 Hash: 3E1FD299F5C7A3652B67E3CC0F9AD547 Accuracy: -m0
Conclusion: CDDA 99%
Signature: 0192E489BAA5C93E426B31C6075257C16C1ABECD
FILE: 07 Musica Concertante For Cello Piano Strings And Percussion Op. 130 I. Tranquillo.flac
Size: 23789309 Hash: F91FAE74B4C36DB2F63121213E177B60 Accuracy: -m0
Conclusion: CDDA 100%
Signature: F22D879210C44F302F7BDD7C6E25CBA0D9241CE0
FILE: 06 HemiSphere.flac
Size: 53918839 Hash: 49E08ADBCCBF82D90B59586620B6C6DE Accuracy: -m0
Conclusion: CDDA 100%
Signature: C66202EB2F8EF2A075B8395572F702D15EBA8444
FILE: 05 Viola Concerto For Cello And Chamber Orchestra.flac
Size: 101238141 Hash: 79F30C113FAB448F2779B1391DEC029D Accuracy: -m0
Conclusion: CDDA 100%
Signature: 71D43D48CFD310E623CB94FE64201D3B5AC99481
FILE: 04 Piano Concerto No. 2 IV. Allegro vivace.flac
Size: 22328242 Hash: A3EC0020E13B8D8E62DBA4F3483B1C33 Accuracy: -m0
Conclusion: CDDA 100%
Signature: 6ADEF9ACBC92CAB0E72A227DA02B06809A67E139
FILE: 03 Piano Concerto No. 2 III. Larghetto riflessivo.flac
Size: 22547362 Hash: B5E2606097AE56FE9A44EDB2D873B860 Accuracy: -m0
Conclusion: ???
Signature: D45FEBBD48FE2513156FB6E0934CC4745753FEA5
FILE: 02 Piano Concerto No. 2 II. Allegro tempestoso.flac
Size: 18620235 Hash: 12EA92E707FA91E89E0C6E607E8877B6 Accuracy: -m0
Conclusion: CDDA 100%
Signature: C9085721974BD5B85BEBA3B0BEF05598246E5BD7
FILE: 01 Piano Concerto No. 2 I. Largo funebre.flac
Size: 17654690 Hash: BB9C68077643D4361D3D2C7E70E5B498 Accuracy: -m0
Conclusion: ???
Signature: A3FBA02330DA5986F5E91A0D68FFFB396A951A46