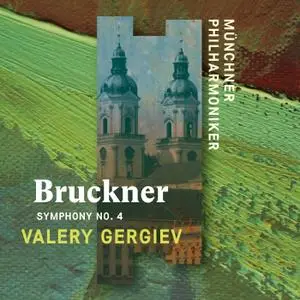 Valery Gergiev & Munich Philharmonic - Bruckner: Symphony No. 4, "Romantic" (2020)
WEB FLAC (tracks) - 287 Mb | MP3 CBR 320 kbps - 157 Mb | 01:08:28
Classical | Label: Münchner Philharmoniker
The Munich Philharmonic have arguably given more performances of Anton Bruckner's music than any other orchestra. A great number of Bruckner recordings led by the many legendary conductors that have worked with the Munich Philharmonic are stored in the historical archive of the MPHIL Label including magnificent pieces with Sergiu Celibidache, Christian Thielemann, Rudolf Kempe, Günter Wand and Oswald Kabasta.

Having started in September 2017 at the Monastery of St. Florian, a setting with unique historical significance in this context, the Munich Philharmonic and Valery Gergiev have presented a most spectacular cycle of Anton Bruckner's symphonies. All performances took place at the Monastery of St. Florian near Linz, a venue inextricably linked to the composer and his final resting place. The cycle was concluded this past September 2019. All symphony recordings will be made available on the orchestra's very own label MPHIL as a collector's edition CD box-set later this autumn.

Valery Gergiev on the experience of making these recordings: "The Münchner Philharmoniker are incredible, talented players. They combine this technical ability with a deep group experience in the music of Bruckner. I treasure and am fortunate to have the opportunity to work with these musicians and want people around the world to hear the music we make together."

This spring the Munich Philharmonic make live recordings at St. Florian of Bruckner's Symphonies No. 4, 5, 6 and 7 available to audiences around the world. Bruckner himself used the epithet "Romantic" to describe his Fourth Symphony. The experience of the many-faceted manifestations of nature is at the very heart of the work. Only when he was revising his composition did Bruckner add the famous "Hunt Scherzo" in third position.

Bruckner never heard a performance of his Fifth Symphony in its orchestral guise. By the time the work was premiered in Graz, he was already too ill to attend. It is regarded as one of his most challenging and at the same time most impressive creations, not least on account of its contrapuntal and powerful final movement.

The Sixth is a special case among Bruckner's symphonies. Once held in lesser regard, it is now seen as just as multilayered and profound a masterpiece as his other contributions to the medium. The opening does not grope its way forward in a typically tentative Brucknerian manner by allowing its thematic structures to emerge only gradually; instead, the music is "there" from the outset.

The Seventh Symphony marked Bruckner's international breakthrough: the Leipzig premiere on 30 December 1884 was followed by an acclaimed performance in Munich on 10 March 1885 that ushered in the work's triumphal conquest of concert halls all over the world. Bruckner dedicated the Adagio, the symphony's second movement, to the memory of Richard Wagner, of whose death he learned while he was working on the symphony.

Valery Gergiev has paid the Austro-German repertoire particular attention throughout his career, which ignited a lasting fascination for Anton Bruckner. Over recent decades he has continued to explore the Austro-German repertoire, garnering adulation, especially for his interpretations of Wagner, Strauss, Mahler and Bruckner – music that is at the very heart of the Munich Philharmonic's repertoire.
Tracklist:1.
Symphony No. 4 in E-Flat Major, WAB 104 "Romantic": I. Bewegt, nicht zu schnell
(18:36)
2.
Symphony No. 4 in E-Flat Major, WAB 104 "Romantic": II. Andante quasi Allegretto
(15:31)
3.
Symphony No. 4 in E-Flat Major, WAB 104 "Romantic": III. Scherzo & Trio
(11:41)
4.
Symphony No. 4 in E-Flat Major, WAB 104 "Romantic": IV. Finale (Bewegt, doch nicht zu schnell)
(22:39)
–––––––––––-

DON'T MODIFY THIS FILE

–––––––––––-

PERFORMER: auCDtect Task Manager, ver. 1.6.0 RC1 build 1.6.0.1
Copyright © 2008-2010 y-soft. All rights reserved

ANALYZER: auCDtect: CD records authenticity detector, version 0.8.2
Copyright © 2004 Oleg Berngardt. All rights reserved.
Copyright © 2004 Alexander Djourik. All rights reserved.


FILE: 04 Bruckner Symphony No. 4 in E-Flat Major WAB 104 Romantic IV. Finale (Bewegt doch nicht zu schnell).flac
Size: 103082508 Hash: 82498D42EE4544FA8A4CC165F486A0E4 Accuracy: -m8
Conclusion: CDDA 99%
Signature: D6EDE699252888DB3698557ABFD57B1C5F903AB2
FILE: 03 Bruckner Symphony No. 4 in E-Flat Major WAB 104 Romantic III. Scherzo & Trio.flac
Size: 50564886 Hash: 76E0596B8A70FA6ABC26042E3A4172B1 Accuracy: -m8
Conclusion: CDDA 100%
Signature: 1303105BAF9F60EBEDF3A0A1CE752F87C45E6F6E
FILE: 02 Bruckner Symphony No. 4 in E-Flat Major WAB 104 Romantic II. Andante quasi Allegretto.flac
Size: 59815553 Hash: 7C6C74926A49C4AADB04539266FC5DA7 Accuracy: -m8
Conclusion: CDDA 100%
Signature: DD9EE99C6F1BDE45EB463D7D388D7CD0D36CD2CB
FILE: 01 Bruckner Symphony No. 4 in E-Flat Major WAB 104 Romantic I. Bewegt nicht zu schnell.flac
Size: 86478793 Hash: 05D605EDA2B2532ED7423129E4611D41 Accuracy: -m8
Conclusion: CDDA 100%
Signature: B1198D83D861B60B79DBB16204FBBA2C451D9BF1