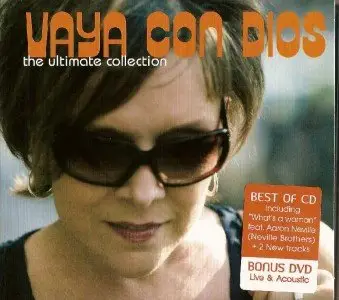 Vaya Con Dios - The Ultimate Collection [Réupload]
Label: BMG- 2006 | MP3 VBR~224 Kbps | Time: 73:55 | Covers | Size: 121 MB
Genre: Pop/Rock
This definitive full Vaya Con Dios collection includes twenty-one tracks. Eighteen hits which set the radio waves on fire, two new numbers and a superb reinterpretation of "What's a Woman" with soul legend Aaron Neville. This compilation gives a glimpse of the sheer elegance of the most publicized Belgian group of the 1990s. Vaya Con Dios's songs remain fresh, thanks to a well honed sense of melody and top quality production. With her brand of Latin influenced soft folk, Dani Klein and her fellow musicians give us some exceptional moments between the dark shadows and the light. "Just a friend of mine", "Rico", "Johnny" and "Nah neh Nah": this album contains so many hits that it makes you want to sing aloud with pleasure.
Tracklist :
1. Pauvre Diable
2. Just A Friend Of Mine
3. Don't Cry For Louie
4. Philadelphia
5. Puerto Rico
6. Johnny
7. I Don't Want To Know
8. Nah Neh Nah
9. Travelling Light
10.What's A Woman ?
11.Heading For A Fall
12.Far Gone Now
13.Time Flies
14.Forever Blue
15.Farewell Song
16.Stay With Me
17.Don' Break My Heart
18.Je L'Aime, Je L'Aime
19.Don't Deny
20.Some Like it Hot
21.What's A Woman ? (featuring Aaron Neville)
Download
Enjoy it !