Vengeance - Back In The Ring(2006)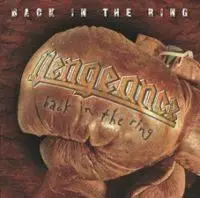 83Mb/Melodic Metal/320 Kbs/2006Track Listing
Back In The Ring
No Mercy
Mind Over Matter
Captain Moonlight
Holy Water
Bad Attitude
Had Enough
Now And Then
Cowboy Song
Rip It Off
Evelyn
Line Up
Leon Goewie: Vocals
Peter "Slash" Bourbon: Guitars
Hans In'T Zandt: Drums
Barend Courbois: Bass
So while fans wait for a new AC/DC album, they can sit back and soak up some good old-fashioned guitar driven accadacca style rock n roll courtesy of Dutch legends Vengeance.
Armed with a crystal clear production (thanks to Mr. Everywhere, Michael Voss), a thumping rhythm section, in your face guitar riffs and a perfectly raspy Bon Scott style lead vocal, Vengeance re-appear after a long hiatus to deliver one of the more enjoyable straight ahead hard rocking records of the year.
Absolutely no frills here – just 11 in your face rockers - guitars everywhere and just a few keyboard parts – all delivered with more energy and enthusiasm than I anticipated.
What is most surprising is the all-star team on board to help create the album.
The album is made up of songs co-written by Michael Voss with frontman Leon Goewie, plus other contributions from Paul Sabu and Mat Sinner.
The Sabu contributions are of the more melodic of the album (the moody Captain Moonlight and the keyboard dominated Now And Then), while the rest of the album just rocks!
From the outset, this is all old school rock n roll – Back In The Ring, Holy Water, Bad Attitude and Cowboy Style are all great fun.
The Bottom Line
Nothing to complain about here at all so long as the style suits the listeners need. Good old fashioned good fun rock n roll with a strong emphasis on the traditional AC/DC style. Those contributing to the album all have great track records and do not let the side down here. For those that like it loud and simple…and in your face!
DOWNLOAD FROM RAPIDSHARE
http://rapidshare.com/files/6453223/Vengeance.part1.rar
http://rapidshare.com/files/6460326/Vengeance.part2.rar
http://rapidshare.com/files/6456024/Vengeance.part3.rar
Once A Rocker Always A Rocker