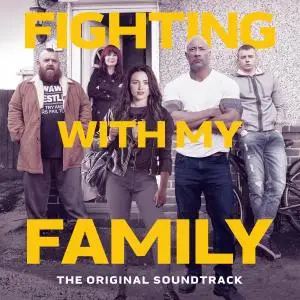 Vik Sharma & VA - Fighting With My Family (2019)
MP3 CBR 320kbps ~ 124.01 Mb | 00:53:14 | Cover
Score / Soundtrack | Label: Universal-Island Records
Universal-Island Records will release a soundtrack album for the comedy drama Fighting with My Family. The album features the music from the movie, including the original track Do You Remember performed by Ellie Goulding, as well songs by Iron Maiden, Cayetana, ALO, CFO$, Motorhead & more. Also included is the film's original score composed by Vik Sharma (Hello Ladies) feat. Blur guitarist Graham Coxon. Fighting with My Family is written and directed by Stephen Merchant and starring Florence Pugh, Lena Headey, Nick Frost, Jack Lowden, Vince Vaughn and Dwayne "The Rock" Johnson. The movie was released in select theaters last week by MGM Studios and is expanding nationwide this weekend.
Track List:
01. Jack Lowden,Dwayne Johnson,Florence Pugh - Dialogue: The Rock's Speech (1:08)
02. James Alan Johnston - Electrifying (2:29)
03. Ellie Goulding - Do You Remember (3:02)
04. Florence Pugh,Julia Davis,Stephen Merchant,Nick Frost,Lena Heady,Jack Lowden,Hannah Rae - Dialogue: Meet The Parents (0:25)
05. Iron Maiden - Bring Your Daughter… To The Slaughter (4:43)
06. Florence Pugh,Vince Vaughn - Dialogue: Promo Class (0:43)
07. Cayetana - Certain For Miles (Live) (4:29)
08. Dwayne Johnson,Nick Frost,Florence Pugh - Dialogue: The Rock Calls Ricky (0:38)
09. ALO - Christmas Time (5:25)
10. Thunderpussy - Taking Care Of Business (5:45)
11. Motörhead - Born To Raise Hell (5:00)
12. Florence Pugh - Dialogue: Paige's Final Speech (0:45)
13. Cfo$ - Stars In The Night (2:54)
14. The Big Moon - She's Electric (2:31)
15. Vik Sharma - Sibling Match (0:53)
16. Vik Sharma - Meet the Knights (2:57)
17. Vik Sharma - Tryout (1:15)
18. Vik Sharma - Zak's Goodbye (1:03)
19. Vik Sharma - Welcome To The Suck (1:39)
20. Vik Sharma - Beach Drill (2:49)
21. Vik Sharma - This Is My House (2:41)