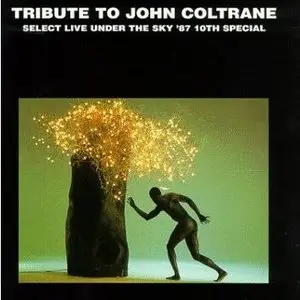 Wayne Shorter, David Liebman, Richie Beirach, Eddie Gomez and Jack DeJohnette - Tribute to Coltrane
Jazz | FLAC (tracks), No Cue, No Log | 290 MB | MP3 VBR V1 | lame encoder | 74 MB | RS.com
Front, back cover and Booklet scans | 640 KB
Selection From Live Under The Sky 1987
From the liner notes :
John Coltrane's legacy for saxophonists is well known. But as in the case of major innovators, their influence reaches beyond an instrument and even the idiom they worked in. One can observe the coltrane influence in contenprorary music : modalism, pentatonics, drones and etnic traces. Also Coltrane's compositions have become standards in the modern repertoire.
David Liebman
Musicians
:
Wayne Shorter : soprano saxophone
David Liebman : soprano saxophone
Richie Beirach : piano
Eddie Gomez : bass
Jack DeJohnette : drums
Tracklist
:
1. Mr. P.C.
2. After the Rain - Naima
3. India - Impressions
Recorded Live July 26, 1987, Live Under The Sky Festival in Tokyo