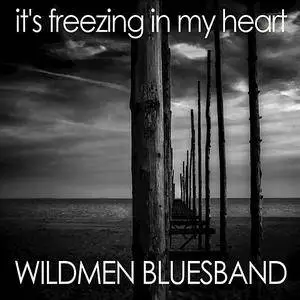 Wildmen Bluesband - It's Freezing in My Heart (2017)
WEB FLAC (tracks) ~ 518.04 Mb | 01:12:06 | Cover
Dutch Blues/Blues-Rock/Guitar Blues | Country: Netherlands | Label: Indielabel
Wildmen Bluesband is opgericht door de flamboyante gitarist Jos de Wilde. Als gitaarleraar heeft hij vele leerlingen geïnspireerd om een al dan niet professionele carrière te gaan volgen. In 2011 is hij begonnen met Wildmen Bluesband en na vele wisselingen staat de band nu als een huis.
In Saskia de Nijs (zang) Hans van Gaalen (drums) Mark van Lieshout (bas) en Jan Heijmans (toetsen) heeft hij een ideale groep mensen gevonden om de BLUES te spelen!
Op het podium staat een energieke band, waar tijdens een spetterend optreden, de vonken vanaf vliegen!
De machtige uithalen van Saskia, het opzwepende Hammondgeluid van Jan, de uitdagende gitaarsolo's van Jos, ondersteund door de solide ritmesectie van Hans en Mark, laten niemand onberoerd.
Elk lid heeft ruime ervaring in andere bluesbands, wat garant staat voor een brede basis in de blues.
Wildmen Bluesband speelt blues van o.a. Elmore James, Freddie King, Buddy Guy, Koko Taylor, Peter Green en vele anderen, waaronder ook eigen nummers. De band geeft aan de nummers een eigen draai en gezien de reacties van het publiek wordt dit zeer gewaardeerd.
Wildmen Bluesband deed tientallen optredens o.a. in het Bluescafé Apeldoorn, het Limuscene festival in Liempde, op de Bluesnights in Boxtel samen met Barrelhouse, het Ootello theater in Mol (B), DJS Dordrecht, De Azijnfabriek in Den Bosch, en meermalen in De Noordkade in Veghel en tijdens het festival Jazz in Duketown. Dit jaar deed de band mee aan de Dutch Blues Challenge. Tijdens de zomer speelde de band met veel succes op het Festival Blues En Loire in Frankrijk.
2016 werd afgesloten met optredens in het City Theater samen met de Julian Sas Band en een uitverkocht Terminus in Den Bosch. In 2017 startte de band met optredens onder meer in De Keulse Kar, Bluessociëteit l'Esprit in Rotterdam en in het Thalia Theater in IJmuiden. De band opende het Texel Blues Festival, en trad met veel succes op tijdens het Bluesfestival Delft.
Maar liefs 3 nummers van de CD "It's freezing in my Heart' belandden in de Blues Alert Dutch Top 100!.
Jos De Wilde - guitar
Saskia De Nijs - vocals
Mark Van Lieshout - bass
Hans Van Gaalen - drums
Jan Heijmans - keys & percussions
Track List:
01 Piece Of Man 05:17
02 Tore Down 03:29
03 It's Freezing In My Heart 08:37
04 Side Tracked 03:33
05 Reconsider Baby 05:05
06 Do I Move You 06:23
07 Stop Watching Your Enemies 04:41
08 Get Out Of My Life Woman 05:03
09 What Kind Of Man 06:52
10 I Love You More Than You'll Ever Know 06:37
11 Got To Move 05:10
12 Help Me Through The Day 06:22
13 When The Time Is Right 04:57
PERFORMER: auCDtect Task Manager, ver. 1.6.0 RC1 build 1.6.0.1
Copyright © 2008-2010 y-soft. All rights reserved
http://y-soft.org
ANALYZER: auCDtect: CD records authenticity detector, version 0.8.2
Copyright © 2004 Oleg Berngardt. All rights reserved.
Copyright © 2004 Alexander Djourik. All rights reserved.
FILE: 01 - Piece Of Man.flac
Size: 42884975 Hash: 7D387B3BDF59DA79058698FBD0E822CD Accuracy: -m0
Conclusion: CDDA 100%
Signature: 75ABD2DAC89CF48B6E9C0476D225FEDF06683FFD
FILE: 02 - Tore Down.flac
Size: 27063626 Hash: 6B0B248AA2169A5909FF06AE13493ADE Accuracy: -m0
Conclusion: CDDA 100%
Signature: 23C51529246D5733AC8F15E56D266F3DB4227414
FILE: 03 - It's Freezing In My Heart.flac
Size: 64399059 Hash: 7116B912D94C66DDE1A8198C9BC2B3B0 Accuracy: -m0
Conclusion: CDDA 100%
Signature: 6C65A9B0F290E31C8273145F1BD64531976988A8
FILE: 04 - Side Tracked.flac
Size: 27454727 Hash: 906796B6766C188FEA75F62B75EDD393 Accuracy: -m0
Conclusion: CDDA 100%
Signature: 186C5238E67A3115B5DB54140619D725522B0E45
FILE: 05 - Reconsider Baby.flac
Size: 37206606 Hash: 24D2CC7739C540D10D0E99DF77DBDC30 Accuracy: -m0
Conclusion: CDDA 100%
Signature: 1E2BACC60BBB42320370F66F17500A9651156D46
FILE: 06 - Do I Move You.flac
Size: 42179932 Hash: 4AF93E089F203CBBC02C138905A1BC7F Accuracy: -m0
Conclusion: CDDA 100%
Signature: F929F937692955770D470FD76D720B8E5CC5A5CD
FILE: 07 - Stop Watching Your Enemies.flac
Size: 36832232 Hash: EEDDD34B4F48804D77C37536BEF22A28 Accuracy: -m0
Conclusion: CDDA 100%
Signature: 4713686FCA7C022B8F9EA885A44B46733F3735F5
FILE: 08 - Get Out Of My Life Woman.flac
Size: 38448521 Hash: 188B84C090E9A70872EFB45276011309 Accuracy: -m0
Conclusion: CDDA 100%
Signature: CA815DE4E59A9429C25CCB97658AB8ED88C47980
FILE: 09 - What Kind Of Man.flac
Size: 54248933 Hash: A531A144F5AE50A9769EC35DA4CB1258 Accuracy: -m0
Conclusion: CDDA 100%
Signature: AAAE5554FEEE28CDA001CC6BA96CD1B48CB75763
FILE: 10 - I Love You More Than You'll Ever Know.flac
Size: 46164581 Hash: 03A90E4C9B8D75C5B5E10F94100D898E Accuracy: -m0
Conclusion: CDDA 100%
Signature: 1AE4E6A1D625208DFE6BF3B972243D54E2769C8F
FILE: 11 - Got To Move.flac
Size: 39915280 Hash: 3960A80E30D9D70EBAF1C5675F596783 Accuracy: -m0
Conclusion: CDDA 100%
Signature: 47078EF2A55714D083498392F6F82139BCCE3A0A
FILE: 12 - Help Me Through The Day.flac
Size: 48647103 Hash: 6AEAF3EA5F72F1B735B0B0EF615A654C Accuracy: -m0
Conclusion: CDDA 100%
Signature: B432D475F55BE1E6BCC2658BFBF4F598F29F4D7E
FILE: 13 - When The Time Is Right.flac
Size: 37196412 Hash: 5ACCEC3F1CE0D1A0049ADBFA7921F3CF Accuracy: -m0
Conclusion: CDDA 100%
Signature: 714E1F1200FE4C11C88C4E31C10CF2599907BF34