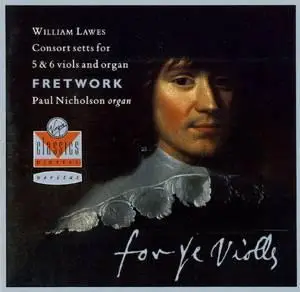 William LAWES (1602-1645) - 'FOR YE VIOLLS'
Consort Setts in 5 and 6 parts
Fretwork
Recorded at Abbey Road Studio, februari 1990
APE (EAC Rip) + CUE | 3% Recovery | Covers & booklet | 321 MB | Rapidshare | TT 69:30
William Lawes (1602-1645) was one of the most creative and sophisticated composers of consort music. An analogy has been made between him and Beethoven, for the unprecedented innovative elements he brought to the instrumental styles of the time. This includes jarring angular themes, and bold harmonic schemes carried off with ease. Lawes' genius had the potential for initiating a classical instrumental tradition before its time, but this was not to come to fruition due to the onset of the English Civil War and the resulting brevity of his life. Lawes is a composer who could easily appeal to a much wider audience than is currently aware of his music.
These are some of the most interesting & comprehensive instrumental works of the era.
Contents:
Consort Sett a 6 (F major)
1. Fantazy
2. Aire
3. Fantazy
4. Aire
Divisions for two bass viols & organ (G minor)
5. Paven
6. Aire
7. Aire
Consort Sett a 5 (C minor)
8. Fantazy
9. Aire
10. Paven
11. Aire
Consort Sett a 5 (F major)
12. Fantazy
13. Paven
14. Aire
Airs for three lyra viols
15. Fantasie (VdGS 573)
16. Humour (VdGS 578)
Consort Sett a 6 (C minor)
17. Fantazia
18. Fantazia
19. Inominy
20. Aire
Virgin Veritas 59021. Reissued in Virgin Veritas Edition 562001
Performers: Wendy Gillespie, Richard Campbell, Julia Hodgson, Susanna Pell, William Hunt, Richard Boothby (viola da gamba) with Paul Nicholson (organ)
DOWNLOAD:
http://rapidshare.com/files/18046867/For_ye_Violls.part1.rar
http://rapidshare.com/files/18050729/For_ye_Violls.part2.rar
http://rapidshare.com/files/18053711/For_ye_Violls.part3.rar
http://rapidshare.com/files/18058937/For_ye_Violls.part4.rar
or from my Rapidshare folder:
http://rapidshare.com/users/MCBKHF
No password needed.
How to:
1. Decompress with Monkey's Audio [
http://www.monkeysaudio.com/
]
2. Add Burrrn Cue file in Burrrn [
http://www.burrrn.net/?page_id=6
]
3. Burrrn