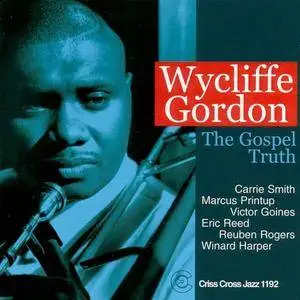 Wycliffe Gordon - The Gospel Truth (2000)
XLD Rip | FLAC (tracks+.cue, log) ~ 297.03 Mb | 57:23 | Covers
Hard Bop, Gospel, Religious | Country: USA | Label: Criss Cross Jazz - CRISS 1192 CD
Trombone player Wycliffe Gordon plays from his gospel roots on this CD entitled The Gospel Truth, released in the year 2000. Gordon grew up in a gospel church in his home state of Georgia. His father was the church pianist, assuring that his son's home and church life were filled with religious music.
The gospel church musical experience draws on diverse elements, from traditional spirituals and hymns to blues to jazz, played on a variety of instruments and sung by voices dedicated to praising the Lord. It is no wonder, then, that Gordon sounds right at home with this music – he is. Joining him on the album are trumpeter Marcus Printup and pianist Eric Reed, Reuben Rogers on bass, Winard Harper on drums, and Victor Goines on clarinet. These jazzmen are in a gospel mode, in which they are joined by a daughter of the church, Carrie Smith, on vocals. Together, they create a praise service that features traditional hymns, contemporary gospel tunes, and original compositions by Gordon. Listeners who love that old-time religion may especially enjoy "Jesus Loves Me," "The Lord's Prayer," "What a Friend We Have in Jesus," and "Take My Hand, Precious Lord." Gordon is quick to acknowledge that his talents are God-given, and he shows it, on "The Hallelujah Scat," "The Deacon's Moan," and the title cut, as he turns his trombone into an instrument of praise. Victor Goines follows that lead as he plays a soulful rendition of "The Battle Hymn of the Republic." Reed and Printup, Harper and Rogers are right on in their sensitive and joyous contributions to the recording. The most outstanding cut on this great album may be the selection that features all the musicians. Led by the mighty voice of Smith, the entire group sings and plays on the inspirational "There's a Tree." The album closes with a piece composed by Gordon entitled "The Message." There is a popular saying in the gospel tradition: The message is in the music. It is on this CD. ~
AllMusic Review by Rose of Sharon Witmer
Track List:
01. Jesus Loves Me (Bradbury) - 2:19
02. The Deacon's Moan (Gordon) - 6:45
03. What a Friend We Have in Jesus (Converse) - 3:47
04. The Lord's Prayer (Trad.) - 5:11
05. There's a Tree (The Davis Sisters) - 8:18
06. The Gospel Truth (Gordon) - 4:39
07. Take My Hand, Precious Lord (Dorsey) - 5:48
08. The Hallelujah Scat (Gordon) - 6:08
09. We Have Come into This House (Trad.) - 4:18
10. The Battle Hymn of the Republic (Steffe) - 4:31
11. The Message (Gordon) - 5:39
Wycliffe Gordon - trombone, tuba, vocals
Marcus Printup - trumpet, vocals
Victor Goines - tenor saxophone, baritone saxophone, clarinet
Eric Reed - piano, vocals
Reuben Rogers - bass
Winard Harper - drums
Carrie Smith - vocals
Kurt Stockdale - alto saxophone
Jennifer Krupa, Dion Tucker - trombone
Recorded at Systems Two Recording Studios, New York on May 31, 2000.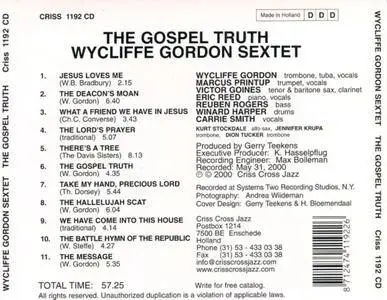 X Lossless Decoder version 20170729 (150.3)

XLD extraction logfile from 2017-10-25 18:34:36 -0400

Gordon Wycliffe / The Gospel Truth

Used drive : Apple SuperDrive (revision 2.00)
Media type : Pressed CD

Ripper mode : XLD Secure Ripper
Disable audio cache : OK for the drive with a cache less than 1375KiB
Make use of C2 pointers : NO
Read offset correction : 6
Max retry count : 20
Gap status : Analyzed, Appended (except HTOA)

TOC of the extracted CD
Track | Start | Length | Start sector | End sector
––––––––––––––––––––––––––––-
1 | 00:00:00 | 02:19:24 | 0 | 10448
2 | 02:19:24 | 06:44:51 | 10449 | 40799
3 | 09:04:00 | 03:47:00 | 40800 | 57824
4 | 12:51:00 | 05:11:01 | 57825 | 81150
5 | 18:02:01 | 08:17:53 | 81151 | 118478
6 | 26:19:54 | 04:39:36 | 118479 | 139439
7 | 30:59:15 | 05:48:27 | 139440 | 165566
8 | 36:47:42 | 06:07:69 | 165567 | 193160
9 | 42:55:36 | 04:17:71 | 193161 | 212506
10 | 47:13:32 | 04:31:25 | 212507 | 232856
11 | 51:44:57 | 05:39:01 | 232857 | 258282

AccurateRip Summary (DiscID: 00170c77-00cb305a-920d730b)
Track 01 : OK (v2, confidence 3/3)
Track 02 : OK (v2, confidence 3/3)
Track 03 : OK (v2, confidence 3/3)
Track 04 : OK (v2, confidence 3/3)
Track 05 : OK (v2, confidence 3/3)
Track 06 : OK (v2, confidence 3/3)
Track 07 : OK (v2, confidence 3/3)
Track 08 : OK (v2, confidence 3/3)
Track 09 : OK (v2, confidence 3/3)
Track 10 : OK (v2, confidence 3/3)
Track 11 : OK (v2, confidence 3/3)
->All tracks accurately ripped.

All Tracks
Album gain : -3.07 dB
Peak : 1.000000
Statistics
Read error : 0
Jitter error (maybe fixed) : 0
Retry sector count : 0
Damaged sector count : 0

Track 01
Filename : /Users/Ben/XLD RIPS/Gordon Wycliffe - The Gospel Truth (2000) [FLAC]/01 Jesus Loves Me.flac
Pre-gap length : 00:02:00

Track gain : -0.56 dB
Peak : 0.976318
CRC32 hash (test run) : 7307AE10
CRC32 hash : 7307AE10
CRC32 hash (skip zero) : 9AB8F08F
AccurateRip v1 signature : 56D9134A
AccurateRip v2 signature : 1E80B79B
->Accurately ripped (v2, confidence 3/3)
Statistics
Read error : 0
Jitter error (maybe fixed) : 0
Retry sector count : 0
Damaged sector count : 0

Track 02
Filename : /Users/Ben/XLD RIPS/Gordon Wycliffe - The Gospel Truth (2000) [FLAC]/02 The Deacon's Moan.flac
Pre-gap length : 00:03:57

Track gain : -1.80 dB
Peak : 1.000000
CRC32 hash (test run) : 2798B913
CRC32 hash : 2798B913
CRC32 hash (skip zero) : 7E2A1380
AccurateRip v1 signature : B0DBAEB5
AccurateRip v2 signature : 8FE42464
->Accurately ripped (v2, confidence 3/3)
Statistics
Read error : 0
Jitter error (maybe fixed) : 0
Retry sector count : 0
Damaged sector count : 0

Track 03
Filename : /Users/Ben/XLD RIPS/Gordon Wycliffe - The Gospel Truth (2000) [FLAC]/03 What a Friend We Have in Jesus.flac
Pre-gap length : 00:03:57

Track gain : -2.49 dB
Peak : 0.999969
CRC32 hash (test run) : E45F68D7
CRC32 hash : E45F68D7
CRC32 hash (skip zero) : 96589FD3
AccurateRip v1 signature : 38EDEBEB
AccurateRip v2 signature : 840C257D
->Accurately ripped (v2, confidence 3/3)
Statistics
Read error : 0
Jitter error (maybe fixed) : 0
Retry sector count : 0
Damaged sector count : 0

Track 04
Filename : /Users/Ben/XLD RIPS/Gordon Wycliffe - The Gospel Truth (2000) [FLAC]/04 The Lord's Prayer.flac
Pre-gap length : 00:03:57

Track gain : -0.68 dB
Peak : 0.917542
CRC32 hash (test run) : FB815F3B
CRC32 hash : FB815F3B
CRC32 hash (skip zero) : 1297F186
AccurateRip v1 signature : 3D076FC6
AccurateRip v2 signature : 01BF24C2
->Accurately ripped (v2, confidence 3/3)
Statistics
Read error : 0
Jitter error (maybe fixed) : 0
Retry sector count : 0
Damaged sector count : 0

Track 05
Filename : /Users/Ben/XLD RIPS/Gordon Wycliffe - The Gospel Truth (2000) [FLAC]/05 There's a Tree.flac
Pre-gap length : 00:03:57

Track gain : -4.07 dB
Peak : 0.999969
CRC32 hash (test run) : 420E904A
CRC32 hash : 420E904A
CRC32 hash (skip zero) : CA4CC5B1
AccurateRip v1 signature : 85CDEF27
AccurateRip v2 signature : 096B46EC
->Accurately ripped (v2, confidence 3/3)
Statistics
Read error : 0
Jitter error (maybe fixed) : 0
Retry sector count : 0
Damaged sector count : 0

Track 06
Filename : /Users/Ben/XLD RIPS/Gordon Wycliffe - The Gospel Truth (2000) [FLAC]/06 The Gospel Truth.flac
Pre-gap length : 00:03:57

Track gain : -3.48 dB
Peak : 0.999969
CRC32 hash (test run) : 86AD7B5C
CRC32 hash : 86AD7B5C
CRC32 hash (skip zero) : 0B69D989
AccurateRip v1 signature : FFBD4B28
AccurateRip v2 signature : 9749D868
->Accurately ripped (v2, confidence 3/3)
Statistics
Read error : 0
Jitter error (maybe fixed) : 0
Retry sector count : 0
Damaged sector count : 0

Track 07
Filename : /Users/Ben/XLD RIPS/Gordon Wycliffe - The Gospel Truth (2000) [FLAC]/07 Take My Hand, Precious Lord.flac
Pre-gap length : 00:03:57

Track gain : -4.43 dB
Peak : 0.980133
CRC32 hash (test run) : 2EA73611
CRC32 hash : 2EA73611
CRC32 hash (skip zero) : B794CACB
AccurateRip v1 signature : 6960E803
AccurateRip v2 signature : 6624DEA5
->Accurately ripped (v2, confidence 3/3)
Statistics
Read error : 0
Jitter error (maybe fixed) : 0
Retry sector count : 0
Damaged sector count : 0

Track 08
Filename : /Users/Ben/XLD RIPS/Gordon Wycliffe - The Gospel Truth (2000) [FLAC]/08 The Hallelujah Scat.flac
Pre-gap length : 00:03:57

Track gain : -3.58 dB
Peak : 1.000000
CRC32 hash (test run) : 181996D6
CRC32 hash : 181996D6
CRC32 hash (skip zero) : 5B796B7E
AccurateRip v1 signature : 5E60AAD5
AccurateRip v2 signature : 97E9490C
->Accurately ripped (v2, confidence 3/3)
Statistics
Read error : 0
Jitter error (maybe fixed) : 0
Retry sector count : 0
Damaged sector count : 0

Track 09
Filename : /Users/Ben/XLD RIPS/Gordon Wycliffe - The Gospel Truth (2000) [FLAC]/09 We Have Come Into This House.flac
Pre-gap length : 00:03:58

Track gain : -3.71 dB
Peak : 0.985443
CRC32 hash (test run) : 93661659
CRC32 hash : 93661659
CRC32 hash (skip zero) : 1864270B
AccurateRip v1 signature : 63A21C9F
AccurateRip v2 signature : 9D6B0C3D
->Accurately ripped (v2, confidence 3/3)
Statistics
Read error : 0
Jitter error (maybe fixed) : 0
Retry sector count : 0
Damaged sector count : 0

Track 10
Filename : /Users/Ben/XLD RIPS/Gordon Wycliffe - The Gospel Truth (2000) [FLAC]/10 The Battle Hymn of the Republic.flac
Pre-gap length : 00:03:57

Track gain : -2.26 dB
Peak : 0.979553
CRC32 hash (test run) : F89C724A
CRC32 hash : F89C724A
CRC32 hash (skip zero) : C23AD1A4
AccurateRip v1 signature : AD6C8311
AccurateRip v2 signature : DE41645D
->Accurately ripped (v2, confidence 3/3)
Statistics
Read error : 0
Jitter error (maybe fixed) : 0
Retry sector count : 0
Damaged sector count : 0

Track 11
Filename : /Users/Ben/XLD RIPS/Gordon Wycliffe - The Gospel Truth (2000) [FLAC]/11 The Message.flac
Pre-gap length : 00:03:57

Track gain : -0.46 dB
Peak : 0.893005
CRC32 hash (test run) : 3D6EF01C
CRC32 hash : 3D6EF01C
CRC32 hash (skip zero) : 76F34C64
AccurateRip v1 signature : 17B410C7
AccurateRip v2 signature : EBDA7168
->Accurately ripped (v2, confidence 3/3)
Statistics
Read error : 0
Jitter error (maybe fixed) : 0
Retry sector count : 0
Damaged sector count : 0

No errors occurred

End of status report

––-BEGIN XLD SIGNATURE––-
UFz4VgQXISylT66YIK1_IsaRtyf2NyjMgzpf3MQRDmD3vpxIOUMdDU8Z7Je0lVXU5uDTLrDHCg8ZW7AI6eh.Slp5rd7fmGAk9R4QAmG
––-END XLD SIGNATURE––-

All thanks go to the Plan9