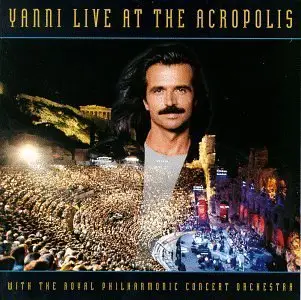 Yanni - Live at the Acropolis [LIVE] - March, 1994
MP3 CBR 256 kbps / 44.1 Stereo | 132 MB | rar file
Genre: Smooth Jazz, Jazz, Easy Listening
Yanni can be likened to 1970s rock group Emerson, Lake and Palmer. There are several basic parallels, especially in this orchestra-enhanced concert reworking of his more propulsive, anthemic compositions. Yanni, who in concert sometimes strikes the rapturous two-keyboard "iron-cross" pose that served as one of Keith Emerson's trademarks, uses, as ELP did, classical and world-music influences to elevate pop-inclined compositions to more sophisticated levels. He then turbocharges the whole concoction with bold strokes of prog-rock bravura to give his finest pieces a dramatic, chest-swelling, larger-than-life impact. A key difference between the two acts, of course, is Yanni possesses a much stronger romantic streak, plus he refrains from attacking his keyboards with sharp objects. At his best, Yanni strikes incendiary sparks with the driving, celebratory quality of his music, and this production, culling some of the best audio moments from his much-televised 1993 concert performance in Athens, is a most appealing showcase. Yanni can sometimes strike the sonic hammer as forcefully as a Greek god ("Santorini," "Keys to Imagination") and, on this album at least, gives even overtly romantic pieces ("One Man's Dream," "Swept Away") a warmly masculine flair. Beautifully arranged and recorded; a pleasure to experience.
Track List
1. Santori
2. Keys To Imagination
3. Until The Last Moment
4. The Rain Must Fall
5. Acroyali/Standing In Motion (Medley)
6. One Man's Dream
7. Within Attraction
8. Nostalgia
9. Swept Away
10. Reflections Of Passion
Pass if needed:
www.AvaxHome.ru
RS Download