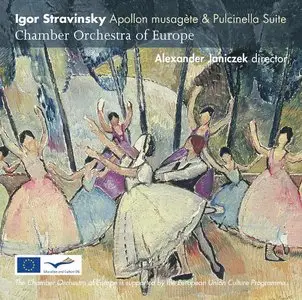 Chamber Orchestra of Europe - Stravinsky Apollon musagète & Pulcinella Suite
FLAC 192KHz / 24Bit | Full Artwork | Stereo | 2.00GB | 2004
These are Studio Master files from Linn Records, so NO LOG and NO CUE. See
www.linnrecords.com
for more details.

Regarded as "The best chamber orchestra in the world" (The Daily Telegraph) the Chamber Orchestra of Europe perform Stravinsky's Apollon Musagète conceived as a ballet blanc and The Pulcinella Suite, a ballet based on some of Pergolesi's music.
The Studio Master files are 192kHz / 24 bit.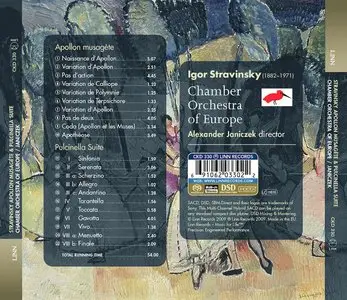 Produced by Philip Hobbs
Igor Stravinsky (1882~1971) - Apollon Musagète & Pulcinella Suite
Chamber Orchestra of Europe
Alexander Janiczek director/violin
Recorded at Église Maronite Notre-Dame Du Liban, Paris, France from 19th~21st November 2008
Engineered by Philip Hobbs
Post-production by Julia Thomas, Finesplice, UK
Cover painting: The Ballet (oil on plywood) by Grace Cossington Smith, (1892~1984)
Private Collection/Lauraine Diggins Fine Art, Australia/The Bridgeman Art Library
Photographs of the Chamber Orchestra of Europe by Mario Proenca
Photographs of Alexander Janiczek by Colin Dickson
Design by the Art Surgery
Stravinsky and the Past:
Pulcinella and Apollon Musagète
Though born in Russia, Igor Stravinsky spent most of his long life in exile. From 1914 he lived first in Switzerland, then in France, then in America. He was not to return to his homeland for almost half a century, and then only for a brief visit in 1962. The novelist and essayist Milan Kundera, himself a long-time émigré from the communist régime in his native Czechoslovakia, understood all too well the consequences of this separation from the land of birth:
Without a doubt, Stravinsky … bore with him the wound of his emigration … [H]is only home was music, all of music by all musicians, the very history of music … He did all he could to feel at home there: he lingered in each room of that mansion, touched every corner, stroked every piece of the furniture; he went from the music of ancient folklore to Pergolesi, who gave him Pulcinella …, to the other Baroque masters, without whom his Apollon musagète … would be unimaginable. (Testaments Betrayed, trans. L. Asher)
While Stravinsky swiftly became a cosmopolitan composer, speaking the international language of modern 'Western' music, the sting of his estrangement never left him. His roots remained planted in Russian soil.
The initial idea for Pulcinella was suggested to Stravinsky by Sergey Diaghilev, impresario of the famous Ballets Russes company, and the man responsible for bringing Stravinsky his first international success via his commission of the music for The Firebird. All Diaghilev wanted on this occasion was arrangements of some music by - as he thought at the time - the 18th-century Italian composer Giovanni Battista Pergolesi. The choreographer Léonide Massine had devised the story and Pablo Picasso had been engaged to design the production; Manuel de Falla had already declined the invitation to compose the music. At first, it seems, Stravinsky was decidedly nonplussed at the suggestion. But Diaghilev persuaded him at least to consult transcriptions of the music made both in Naples and at the British Museum. Stravinsky was instantly smitten: 'I looked, and I fell in love', he recalled.
Pulcinella was premiered on 15th May 1920 by the Ballets Russes at the Opéra in Paris, where it was billed simply as 'music by Pergolesi, arranged and orchestrated by Igor Stravinsky'. Yet the work subsequently came to be identified more directly with Stravinsky as composer rather than arranger, in part a consequence of the concert suites he made of the score, including the version from 1922 (revised 1949) heard on this recording. While Stravinsky later asserted that the 'remarkable thing about Pulcinella is not how much but how little has been added or changed', the alterations are significant enough to turn the music instantly into something unmistakably of the 20th century. Stravinsky began by working directly onto the transcriptions Diaghilev had given him, subtly annotating the melodies and bass lines of arias by Pergolesi, trio sonata movements by Gallo, and even a tarantella by Wassenaer. Sometimes the result was just a representation of the original in Stravinsky's own accent. No-one could mistake the trombone and double-bass melody of the 'Vivo' for anything other than Stravinsky, even though every note of Pergolesi's music is still present. There are cunning harmonic touches, anachronistic pedal points and off-beat accents that reveal the thumbprint of the arranger, but it remains a loving, albeit humorous, homage to Pergolesi. The same is true of the opening 'Sinfonia' (original music by Gallo). Elsewhere, however, Stravinsky declares his hand more decisively. In the 'Serenata', for instance, he adds an unchanging drone (an open fifth), which denies the music its forward movement and whose resulting dissonances bestow a languid, melancholic air. The 'Finale' is radically recomposed, repeating bars and moving them around, adding new harmonies and shifting downbeats, resulting in a rhythmically energised music that is categorically Stravinskian and, one might say, almost as Russian as it is Italian.
Pulcinella was Stravinsky's discovery of the past, 'the epiphany through which the whole of my late work became possible. It was a backward look, of course - the first of many love affairs in that direction - but it was a look in the mirror, too'. Despite its obvious dependence on the music of the past, Pulcinella represented an important turning point in Stravinsky's artistic development. Just as, after the First World War, Picasso had felt the need to seek a rapprochement with the traditional forms of art he had once rejected so that he could move forward, equally Pulcinella revealed to Stravinsky the possibilities of engagement with all kinds of earlier music in order to renew his own musical language. Crucial, though, was not the material he took (it could come from anywhere - he described himself as suffering from a rare form of kleptomania!) but his attitude to it. Everything he touched he made his own.
If Pulcinella was the epiphany, then Apollon musagète must surely be the apogee of what became known as Stravinsky's 'neoclassicism'. Commissioned by the American patron Elizabeth Sprague Coolidge, Stravinsky chose, as he explains in his autobiography, 'to compose a ballet founded on moments or episodes in Greek mythology plastically interpreted by dancing of the so-called classical school'. He wanted to create what he termed a 'ballet blanc', a score of great purity and unity, in which violent contrasts were avoided and all elements were pared down to their simplest. Hence it is scored for strings alone and makes almost exclusive use of diatonic harmony (the equivalent of the 'white notes' on the piano keyboard). For Georges Balanchine, choreographer of the 1928 European premiere, the work was a revelation: 'In its discipline and restraint, in its sustained oneness of tone and feeling … [Apollon] seemed to tell me that I could dare not to use everything, that I, too, could eliminate'. The result was the perfect union of music and dance in the expression of pure, classical beauty.
And how did Stravinsky achieve this sense of order as symbolised by the Greek god Apollo? One means was to look to poetry. Each dance explores a basic iambic (short-long) pattern; the 'Variation of Calliope' (the muse of poetry) is headed by two lines from Boileau and takes the twelve-syllable lines of the alexandrine as its rhythmic model. Another means was to allude to the stateliness of French Baroque dances, such as the ouverture style of the opening 'Birth of Apollo' or the pavane-like second 'Variation of Apollo'. The closing 'Apotheosis', in which Apollo leads the three Muses towards Parnassus, brings together the various rhythmic elements of the work in music that is not just serenely beautiful but also seems to speak of something deeper and darker, something beyond reason and order. Stravinsky looks back to ancient Greece, but is ultimately only able to see the reflection of his own tragic age. Even when at his most classical, we hear, once again, the voice of Stravinsky the exile.
25 November 2009
BBC Music Magazine
Bayan Northcott
4 Stars
It takes an exceptional release these days to get away with a length of as little as 54 minutes. But then the Chamber Orchestra of Europe is a rather special ensemble, retaining 18 of the pioneering young artists who originally set it up in 1981 complemented by the front desk players from all over the European Union. The result is a wonderfully characterful wind section plus a string body of vibrant unanimity and warmth. These qualities are enhanced by the church acoustic in which these sessions took place, yet skilful microphone placement has ensured that not a detail is lost.
The COE's leader Alexander Janiczek directs these readings from the first violin. In Stravinsky's ballet blanc for string orchestra, Apollon musagete (1928), he steers a middle way between the suave smoothness of the Karajan approach and the edgy haste Stravinsky's own later readings tended to take on. Tempos are moderate, but there is no lack of spring to the rhythms while the opening of the 'Pas de Deux' is mesmerising in its translucent poise.
The Suite from the Baroque make-over Pulcinella (1920) is an altogether livelier, gutsier affair as delivered here, with a terrific rhythmic snap to the finale. What a pity not to record the entire ballet with this outstanding élan. The disc could have contained it.
06 November 2009
SA-CD.net
John Broggio
4½ Stars
A disc that contains two highly stimulating performances.
The performance of Apollon musagete is quite wonderfully dispatched with the director Alexander Janiczek taking centre stage with the solo violin work. Compared to Stravinsky: The Rite of Spring - Zweden, this is a smaller scaled reading in terms of the size of ensemble but easily surpasses the reading in terms of imagination and sheer commitment that the Chamber Orchestra of Europe bring to the score. These virtuoso players seem alive to every nuance that Stravinsky places in front of them and the COE responds with relish; indeed the quality of the playing lingers long in the mind of the listener.
The Pulcinella Suite, heard here in the revised version from 1949 instead of the more usual 1922 edition, is given a tremendously spirited reading - it is impossible not to be caught up in the sheer zest that the COE approaches the faster movements. Nor do Janiczek or the COE ride over the many felicities that lie in movements such as the Serenata - at all times one is left in no doubt that this is one of the finest ensembles to have been captured on SACD. As Stravinsky's re-working of Pergolesi concludes, it is very hard to stop oneself reaching for the remote to set the train of events in progress once again.
The sound, captured in the Eglise Maronite Notre-Dame Du Liban (Paris), is very fine indeed; every detail of the scores and the inflections that the COE bring to the music are relayed with dramatic bite and fortunately without a high degree of resonance.
Very highly recommended.
01 November 2009
Hi-Fi News
Christopher Breunig
Beautiful though the string playing is in the 'ballet blanc' Apollo (Stravinsky's preferred title) I was even more impressed by the COE winds and brass in Pulcinella, eg François Leleux's oboe solo in Serenata, or the jolly Vivo - for once not a succession of raspberries. 'A backward look, of course, the first of many … but a look in the mirror too' Stravinsky said of this concoction 'after Pergolesi'. What sets Janiczek's interpretation apart is the contrasting tempi set for Menuetto and Finale. For Apollo with a more tart flavour, try the composer's 1958 London performance on BBCL 4253-2. In the Paris church venue here, Linn has found a very much better acoustic than for its Scottish CO/Janiczek Mozart series of SACDs.
01 - Apollon Musagete - Naissance d Apollon.flac
02 - Apollon Musagete - Variation d Apollon.flac
03 - Apollon Musagete - Pas d action.flac
04 - Apollon Musagete - Variation de Calliope.flac
05 - Apollon Musagete - Variation de Polymnie.flac
06 - Apollon Musagete - Variation de Terpsichore.flac
07 - Apollon Musagete - Variation d Apollon.flac
08 - Apollon Musagete - Pas de deux.flac
09 - Apollon Musagete - Coda Apollon et les Muses.flac
10 - Apollon Musagete - Apotheose.flac
11 - Pulcinella Suite - I Sinfonia.flac
12 - Pulcinella Suite - II Serenata.flac
13 - Pulcinella Suite - III a Scherzino.flac
14 - Pulcinella Suite - III b Allegro.flac
15 - Pulcinella Suite - III c Andantino.flac
16 - Pulcinella Suite - IV Tarantella.flac
17 - Pulcinella Suite - V Toccata.flac
18 - Pulcinella Suite - VI Gavotta.flac
19 - Pulcinella Suite - VII Vivo.flac
20 - Pulcinella Suite - VIII a Menuetto.flac
21 - Pulcinella Suite - VIII b Finale.flac


Part of Linn Products Ltd, world leaders in sound reproduction equipment, Linn Records was formed in 1983.

While Linn engineers were testing their flagship product, the Sondek LP12 turntable, they became frustrated with the poor quality of some of the specialist test LPs they were using. The measurements were swamped by record imperfections. Better test discs were needed so work began on an LP cutting lathe as a research product to improve testing for the LP12.

The first albums to be cut and subsequently released were Carol Kidd's debut album and A Walk Across the Rooftops by the Blue Nile. Thus Linn Records was born…

Today the label is one of the world's leading audiophile labels specialising in classical, jazz and Celtic music. We reproduce our music on CD (or SACD), Vinyl and now as high quality Downloads.

We exist to introduce the broadest range of involving musical experiences to a worldwide audience of discriminating individuals who are on a personal quest of musical ecstasy and enlightenment. The beautiful compositions and artistic performances are perfectly captured by our expert engineers on recordings of unprecedented truth.

There is a whole world of Linn music to explore. The high quality sound reproduction that results from our investment of time and effort means that as a listener you can simply hear more, and hear it more clearly. It can sound uncannily like the musicians are in the room with you. As the true qualities of the music are more audible, music that you never thought would move you starts to make sense, and its seductive power can be tremendous. Please have a listen to our music and judge for yourselves. Sound clips are available on all the album pages.

We believe music is essential for human well-being and the better it is reproduced the more benefit it delivers. Because of this we record our music to the highest specification. This means that great care is taken in recording sessions and in the manufacturing process to ensure that the atmosphere and integrity of the musical performance is maintained.

Our people all have a love of music and pay high attention to detail. Find out about the key personnel and read an interview with one of our top sound engineers.

We pride ourselves in looking after you and aim to provide an excellent service. We treat your details with confidentiality, we do not pass on or sell your details to other companies and we have put security certificates in place to protect your payment details.

We are a small team based in the countryside just South of Glasgow in Scotland.

Linn Records is a subsidiary company of Linn Products - an independent company specialising in precision engineered sound and vision. Linn Products was founded in 1972 by Ivor Tiefenbrun to produce the Linn Sondek record player, which is still in production. Today, Linn designs and manufactures an extensive range of original products, renowned for their performance, and sold around the world. Systems range from £1000 to £1m.

Downloads
http://rapidshare.com/files/321075221/straapol.r00
http://rapidshare.com/files/321074772/straapol.r01
http://rapidshare.com/files/321075219/straapol.r02
http://rapidshare.com/files/321074798/straapol.r03
http://rapidshare.com/files/321076424/straapol.r04
http://rapidshare.com/files/321076365/straapol.r05
http://rapidshare.com/files/321076814/straapol.r06
http://rapidshare.com/files/321076808/straapol.r07
http://rapidshare.com/files/321077490/straapol.r08
http://rapidshare.com/files/321077101/straapol.r09
http://rapidshare.com/files/321077781/straapol.rar