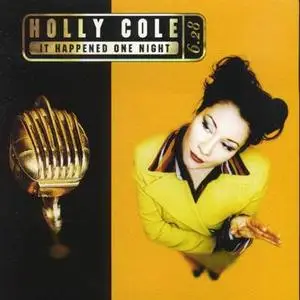 Holly Cole - It Happened One Night (1996 - Live)
MP3 | Lame Alt Preset Standard (160-192 Kbps) | Duration ~39:00 | 48,6 MB | No covers
Despite the few comments about my previous post on Holly Cole, I suppose quite a few people seemed to like her (If I may judge by the more than 200 downloads). So here is another special moment of her. Again I strongly recommend this both to raindogs and jazzcats ;-)
The CD was ripped with dBpowerAMP using Lame with Alt Preset Standard setting. If you like the music, you can support the artist by buying the album.
Album Information
This is an Enhanced CD, which contains both regular audio tracks and multimedia computer files.
Personnel: Holly Cole (vocals); Aaron Davis (piano); Kevin Breit (guitar); David Piltch (bass); Dougie Bowne (drums, percussion). Recorded live at St. Denis Theatre, Montreal, Quebec on June 28, 1995.
On this live record, Canadian diva Cole sings selections from each of her three earlier albums. She has added drums and guitar to her usual trio of vocals, bass and piano, while continuing to fuse a variety of musical styles and genres into one smooth, sophisticated sound. Defying categorization, Cole includes a wide range of material, from the polished "Don't Let the Teardrops Rust Your Shining Heart," by Ben Watt of Everything But the Girl, to Tom Waits' bluesy "Train Song." The band approaches these songs from a minimalist, laid-back angle, laying a solid, spare canvas for Cole to paint with her supple alto. Her voice is tinged with jazz and a sly, dark wit that appeals to a listener's rawest emotions without risking sentimentality; and she has the agility to slide from insouciance into passion.
Tracklist
Get Out Of Town (C. Porter) 5:15
Cry (If You Want To) (C.Scott) 3:15
Train Song (T.Waits) 3:31
Losing My Mind (S. Sondheim) 5:48
Tango Til They're Sore (T.Waits) 5:00
Don't Let The Teardrops Rust Your Shining Heart (B.Watt) 5:01
Que Sera Sera (B.Evans-J.Livingston) 5:43
Calling You (B.Telson) 5:29
I'm biased, so I let others speak…
User comments from amazon .com
I often trade recommendations with acquaintances, which is how I came by this album, which combines an audio with a visual CD (4 tunes by Holly, including one–"Little Boy Blue"–not on the audio version). There's a great sense of theater and presentation here, even in the exclusively audio portion. Which is not to say these aren't highly polished, even ultra, uh, "smooth" musicians (bassist David Piltch is the stand-out).

As for the voice itself and the song selections, what I'm hearing on this album is certainly more the music of Cher than of Ella, Sarah, Billie, or even Doris Day (despite the inclusion of "Que Sera" in a 6/8 gospel-feel update). Holly's voice on this album covers a single octave–from G below middle C to G above–but contains tough fiber and muscle–in fact, less "vulnerability" than any other singer who comes to mind. The vulnerability and innocense belong to percussionist Dougie Bown, who on "Little Boy Blue" sits on the floor to play brushes on a drum head and his tennis sneakers! The most enduring performance on the album is also the least contrived–"Calling You," the haunting movie theme that Holly meets on its own terms.

In the VCD portion, Holly praises the extemporaneousness of live, concert recordings such as "It Happened One Night." Based on the evidence here, I'm not quite sure what she's talking about.
Recorded from live performances (the best way to appreciate Holly Cole, whose studio releases have sometimes been uneven), this enhanced CD is a fabulous look at a very talented song stylist. Cole's premier gift is restyling chestnuts you thought you knew backwards and forwards (and maybe never wanted to hear again). "Que Sera Sera," Doris Day's gift to insomnia, turns into an absolute gem when Holly sings it. She is as comfortable with Stephen Sondheim ("Losing My Mind" from FOLLIES) as she is with Tom Waits ("Train Song," "Tango 'Til They're Sore") and Bob Telson ("Calling You," a little known diamond from the soundtrack of the Percy Adlon film BAGDAD CAFE).
Whatever you do, don't ignore the multimedia! Pop this into a computer, Mac or PC, and check out the videos. The video for "I Can See Clearly Now" will give you chills. Once you hear this album, you will become a Holly Cole fan. But please see her live; that's where all the real magic happens.
I got the CD for "Que Sera Sera" and discovered I also liked "Train Song" and quite a bit of the rest of the songs. Holly Cole is an artist I have only recently discovered and very much want to hear more from.
All those other 5 star reviews have it right, a great CD. What they don't mention is the multimedia part of the CD. It includes quicktime video of four songs from the concert (Including 'Little Boy Blue', which is not on the audio CD portion.), two music videos and various Q&A with Holly, stuff about the Band, etc. Not like being at a live concert, but it does add a lot to the experience of the album. So that's why it looks a little short on music! Try it, PC or Mac, you'll like it.
I have all of her CDs, but this one takes the cake. It's fairly short selection of live performances, but they are outstanding, especially "Train Song" - I haven't heard anything as fascinating and beautiful as this in a long time. Plus, there's plenty of multimedia stuff to keep you occupied. Enjoy!!!
I've owned this album for a year now and can say that it will always be one of my favorites. Cole's voice remains interesting no matter how many times you here these songs. The minimalistic accompanyment is both masterful and ideally suited to the material.
1 rar file with recovery record, 48,6 MB, usual password:
http://rapidshare.com/files/4190862/hcihon.rar
I hope I 'll manage to upload the 6 .mov clips which lie in the second session of the cd. Believe me, she's beautiful in
Train Song
&
Tango
.