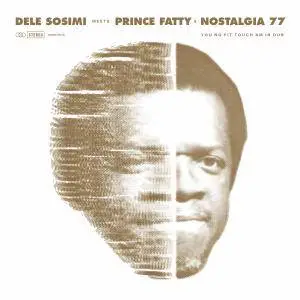 Dele Sosimi - You No Fit Touch Am in Dub (feat. Prince Fatty & Nostalgia 77) (2016)
Dub, Afrobeat, World, Africa | 45:18 min | WEB FLAC (tracks) | 264 MB
Label: Wah Wah 45s
"A dub version could be a stone killer", predicted David Hutchison in his 4 star Mojo review of 'You No Fit Touch Am'. And here it is: Afrobeat icon Dele Sosimi's recent album gloriously re-imagined in dub by two production masters, Prince Fatty and Nostalgia 77.
"It was such a rush to have Prince Fatty and Nostalgia 77 work their magic on Dele's album. With Fatty bringing the spirit of 80s On-U Sound, Mikey Dread and Mad Professor, and Ben Nostalgia having mixed Dele's original LP, this was always going to be something very special." Dom Servini (Wah Wah 45s)
'You No Fit Touch Am', Dele Sosimi's first full-length album in almost a decade, was released by Wah Wah 45s in May 2015. It represented where Dele is today - something of an untouchable force in the music scene that he has always been such a vital part of. The album provided a musical representation of Dele's strong socio-political opinions, as well as delivering classic song-writing that could have come straight out of 1970s Lagos.
Born in Hackney, East London, but soon to return to his parents' native Nigeria at the age of four, Dele Sosimi was schooled and raised in Fela Anikulapo Kuti's shadow at the height of early 70s Afrobeat. Having been chosen by Fela to join his band at somewhat of a tender age, he was still a young man when sharing
Fela's Glastonbury stage in 1984, and became both Musical Director for both Fela's Egypt 80 and FemiKuti's Positive Force. After Fela's passing in 1997, Dele went on to concentrate on his own solo career and, with diligent patience, carved out his own Afrobeat crown. In London, where he now resides, his Afrobeat Vibration all-nighters are charged with his passion, labours and his unrelenting spirit.
Tracklist:
1/6. Dele Sosimi - You No Fit Touch Am (Dub) [feat. Prince Fatty & Nostalgia 77]
2/6. Dele Sosimi - E Go Betta (Dub) [feat. Prince Fatty & Nostalgia 77]
3/6. Dele Sosimi - Sanctuary (Dub) [feat. Prince Fatty & Nostalgia 77]
4/6. Dele Sosimi - Na My Turn (Dub) [feat. Prince Fatty & Nostalgia 77]
5/6. Dele Sosimi - Dance Together (Dub) [feat. Prince Fatty & Nostalgia 77]
6/6. Dele Sosimi - I Don't Care (Dub) [feat. Prince Fatty & Nostalgia 77]
fooCDtect - foobar2000 + auCDtect, baralgin.

auCDtect: CD records authenticity detector, version 0.8.2
Copyright © 2004 Oleg Berngardt. All rights reserved.
Copyright © 2004 Alexander Djourik. All rights reserved.

mode: 0

===========================================
Track: 4-6. Dele Sosimi - Na My Turn (Dub) [feat. Prince Fatty & Nostalgia 77]

Processing file: [4-6. Dele Sosimi - Na My Turn (Dub) [feat. Prince Fatty & Nostalgia 77].aucdtect]
Detected average hi-boundary frequency: 2.020586e+004 Hz
Detected average lo-boundary frequency: 1.267989e+004 Hz
Detected average hi-cut frequency: 2.164398e+004 Hz
Detected average lo-cut frequency: 7.784091e+003 Hz

Maximum probablis boundary frequency: 2.189100e+004 Hz
Coefficient of nonlinearity of a phase: 4.106679e-001
First order smothness: 4.555012e-001
Second order smothness: 3.652347e-001

––––––––––––––––––––––––––––––
This track looks like CDDA with probability 100%

===========================================
Track: 3-6. Dele Sosimi - Sanctuary (Dub) [feat. Prince Fatty & Nostalgia 77]

Processing file: [3-6. Dele Sosimi - Sanctuary (Dub) [feat. Prince Fatty & Nostalgia 77].aucdtect]
Detected average hi-boundary frequency: 2.017625e+004 Hz
Detected average lo-boundary frequency: 1.287110e+004 Hz
Detected average hi-cut frequency: 2.168665e+004 Hz
Detected average lo-cut frequency: 9.353257e+003 Hz
Maximum probablis boundary frequency: 2.189100e+004 Hz
Coefficient of nonlinearity of a phase: 2.551770e-001
First order smothness: 4.221851e-001
Second order smothness: 3.580531e-001

––––––––––––––––––––––––––––––
This track looks like CDDA with probability 99%

===========================================
Track: 1-6. Dele Sosimi - You No Fit Touch Am (Dub) [feat. Prince Fatty & Nostalgia 77]

Processing file: [1-6. Dele Sosimi - You No Fit Touch Am (Dub) [feat. Prince Fatty & Nostalgia 77].aucdtect]
Detected average hi-boundary frequency: 2.007070e+004 Hz
Detected average lo-boundary frequency: 1.237985e+004 Hz
Detected average hi-cut frequency: 2.152128e+004 Hz
Detected average lo-cut frequency: 5.288017e+003 Hz
Maximum probablis boundary frequency: 2.189100e+004 Hz
Coefficient of nonlinearity of a phase: 7.838949e-001
First order smothness: 4.281644e-001
Second order smothness: 3.892959e-001

––––––––––––––––––––––––––––––
This track looks like CDDA with probability 100%

===========================================
Track: 2-6. Dele Sosimi - E Go Betta (Dub) [feat. Prince Fatty & Nostalgia 77]

Processing file: [2-6. Dele Sosimi - E Go Betta (Dub) [feat. Prince Fatty & Nostalgia 77].aucdtect]
Detected average hi-boundary frequency: 2.017702e+004 Hz
Detected average lo-boundary frequency: 1.336037e+004 Hz
Detected average hi-cut frequency: 2.170334e+004 Hz
Detected average lo-cut frequency: 6.157719e+003 Hz

Maximum probablis boundary frequency: 2.189100e+004 Hz
Coefficient of nonlinearity of a phase: 2.727037e-001
First order smothness: 4.659215e-001
Second order smothness: 3.916283e-001

––––––––––––––––––––––––––––––
This track looks like CDDA with probability 100%

===========================================
Track: 5-6. Dele Sosimi - Dance Together (Dub) [feat. Prince Fatty & Nostalgia 77]

Processing file: [5-6. Dele Sosimi - Dance Together (Dub) [feat. Prince Fatty & Nostalgia 77].aucdtect]
Detected average hi-boundary frequency: 2.029078e+004 Hz

Detected average lo-boundary frequency: 1.289569e+004 Hz
Detected average hi-cut frequency: 2.184321e+004 Hz
Detected average lo-cut frequency: 1.441805e+004 Hz
Maximum probablis boundary frequency: 2.175700e+004 Hz
Coefficient of nonlinearity of a phase: 6.238515e-001
First order smothness: 4.685982e-001
Second order smothness: 5.883067e-001

––––––––––––––––––––––––––––––
This track looks like CDDA with probability 100%

===========================================
Track: 6-6. Dele Sosimi - I Don't Care (Dub) [feat. Prince Fatty & Nostalgia 77]

Processing file: [6-6. Dele Sosimi - I Don't Care (Dub) [feat. Prince Fatty & Nostalgia 77].aucdtect]
Detected average hi-boundary frequency: 2.019185e+004 Hz
Detected average lo-boundary frequency: 1.328348e+004 Hz
Detected average hi-cut frequency: 2.169760e+004 Hz
Detected average lo-cut frequency: 7.517292e+003 Hz
Maximum probablis boundary frequency: 2.189100e+004 Hz
Coefficient of nonlinearity of a phase: 4.526342e-001
First order smothness: 4.691026e-001
Second order smothness: 3.815153e-001

––––––––––––––––––––––––––––––
This track looks like CDDA with probability 100%

===========================================