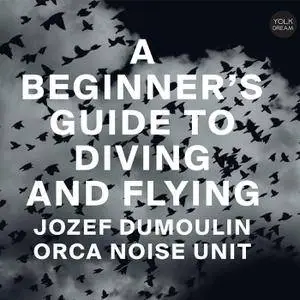 Jozef Dumoulin & Orca Noise Unit - A Beginner's Guide to Diving and Flying (2018)
free jazz, experimental, avant-garde | 51:35 min | WEB FLAC (tracks) | 209 MB
Label: Yolk
"Orca Noise Unit is based on an anagram of —oneironautics—, which refers to the ability to travel within a dream on a conscious basis. Those who have already kept a dream journal know what it feels like to go back and read over older parts. Some dream accounts have a lot of details, others evoke not much more than just a vibe. Some can be read like a full story, whereas others have no beginning, or no end, or neither. Sometimes we were genuinely lucid at the moment of the dream - or at least had a clear perception of things - whereas at other moments we were totally immersed in the projected reality.
But together the stories always make sense in a very particular way that is difficult to describe. When I was putting this record together I understood at some point that this was the perfect image for what I was trying to do. The feeling I got when listening to the whole of the final versions of the songs was very similar to the one I get when I'm dealing with my own dream world and my dream journal.
This was a new sensation for me. I let it be the guide for the final adjustments of the music and I'm very happy and excited to have been able to turn that atmosphere into a musical form."
"This record is dedicated to the loving memory of my father, Jacques Dumoulin."
Tracklist:
01. Jozef Dumoulin & Orca Noise Unit - As Above, so Below
02. Jozef Dumoulin & Orca Noise Unit - The Garden
03. Jozef Dumoulin & Orca Noise Unit - Imagined Rotation
04. Jozef Dumoulin & Orca Noise Unit - The Hand
05. Jozef Dumoulin & Orca Noise Unit - Second Room
06. Jozef Dumoulin & Orca Noise Unit - Little Lemon
07. Jozef Dumoulin & Orca Noise Unit - Mild
08. Jozef Dumoulin & Orca Noise Unit - Peering and Palpation
09. Jozef Dumoulin & Orca Noise Unit - Breathing Under Water
10. Jozef Dumoulin & Orca Noise Unit - The Bristlecone Pine
11. Jozef Dumoulin & Orca Noise Unit - The Other Side of the Month
12. Jozef Dumoulin & Orca Noise Unit - Something About a Horse
13. Jozef Dumoulin & Orca Noise Unit - Little Flower Expanding
14. Jozef Dumoulin & Orca Noise Unit - Aknowledgements
15. Jozef Dumoulin & Orca Noise Unit - As Below, so Above
Jozef Dumoulin - piano, percussion
Sylvaine Hélary - flutes
Antonin Tri Hoang - saxophone, clarinete, percussion
Bruno Chevillon - bass
Tom Gouband - percussions
fooCDtect - foobar2000 + auCDtect, baralgin.

auCDtect: CD records authenticity detector, version 0.8.2
Copyright © 2004 Oleg Berngardt. All rights reserved.
Copyright © 2004 Alexander Djourik. All rights reserved.

mode: 0

===========================================
Track: 01. Jozef Dumoulin & Orca Noise Unit - As Above, so Below

Processing file: [01. Jozef Dumoulin & Orca Noise Unit - As Above, so Below.aucdtect]
Detected average hi-boundary frequency: 2.039563e+004 Hz
Detected average lo-boundary frequency: 1.325768e+004 Hz
Detected average hi-cut frequency: 2.098040e+004 Hz
Detected average lo-cut frequency: 4.370514e+003 Hz
Maximum probablis boundary frequency: 2.150400e+004 Hz
Coefficient of nonlinearity of a phase: 1.013986e+000
First order smothness: 4.421769e-001
Second order smothness: 5.749778e-001

––––––––––––––––––––––––––––––
This track looks like CDDA with probability 100%

===========================================
Track: 04. Jozef Dumoulin & Orca Noise Unit - The Hand

Processing file: [04. Jozef Dumoulin & Orca Noise Unit - The Hand.aucdtect]
Detected average hi-boundary frequency: 2.032603e+004 Hz
Detected average lo-boundary frequency: 1.161787e+004 Hz
Detected average hi-cut frequency: 2.123981e+004 Hz
Detected average lo-cut frequency: 8.022701e+003 Hz
Maximum probablis boundary frequency: 2.147700e+004 Hz
Coefficient of nonlinearity of a phase: 4.837788e-001
First order smothness: 4.706994e-001
Second order smothness: 6.077505e-001

––––––––––––––––––––––––––––––
This track looks like CDDA with probability 100%

===========================================
Track: 03. Jozef Dumoulin & Orca Noise Unit - Imagined Rotation

Processing file: [03. Jozef Dumoulin & Orca Noise Unit - Imagined Rotation.aucdtect]
Detected average hi-boundary frequency: 2.041943e+004 Hz
Detected average lo-boundary frequency: 1.135386e+004 Hz
Detected average hi-cut frequency: 2.086509e+004 Hz
Detected average lo-cut frequency: 8.154971e+003 Hz
Maximum probablis boundary frequency: 2.146600e+004 Hz
Coefficient of nonlinearity of a phase: 7.973622e-001
First order smothness: 4.784689e-001
Second order smothness: 6.918660e-001

––––––––––––––––––––––––––––––
This track looks like CDDA with probability 92%

===========================================
Track: 02. Jozef Dumoulin & Orca Noise Unit - The Garden

Processing file: [02. Jozef Dumoulin & Orca Noise Unit - The Garden.aucdtect]
Detected average hi-boundary frequency: 2.041222e+004 Hz
Detected average lo-boundary frequency: 1.256772e+004 Hz
Detected average hi-cut frequency: 2.131935e+004 Hz
Detected average lo-cut frequency: 1.308133e+004 Hz
Maximum probablis boundary frequency: 2.149800e+004 Hz
Coefficient of nonlinearity of a phase: 1.126498e+000
First order smothness: 3.587786e-001
Second order smothness: 7.425785e-001

––––––––––––––––––––––––––––––
This track looks like CDDA with probability 100%

===========================================
Track: 05. Jozef Dumoulin & Orca Noise Unit - Second Room

Processing file: [05. Jozef Dumoulin & Orca Noise Unit - Second Room.aucdtect]
Detected average hi-boundary frequency: 2.027926e+004 Hz
Detected average lo-boundary frequency: 1.179172e+004 Hz
Detected average hi-cut frequency: 2.111712e+004 Hz
Detected average lo-cut frequency: 7.132369e+003 Hz
Maximum probablis boundary frequency: 2.135300e+004 Hz
Coefficient of nonlinearity of a phase: 2.362654e-001
First order smothness: 4.274662e-001
Second order smothness: 6.821406e-001

––––––––––––––––––––––––––––––
This track looks like CDDA with probability 100%

===========================================
Track: 06. Jozef Dumoulin & Orca Noise Unit - Little Lemon

Processing file: [06. Jozef Dumoulin & Orca Noise Unit - Little Lemon.aucdtect]
Detected average hi-boundary frequency: 2.033116e+004 Hz
Detected average lo-boundary frequency: 1.265969e+004 Hz
Detected average hi-cut frequency: 2.130304e+004 Hz
Detected average lo-cut frequency: 9.731978e+003 Hz
Maximum probablis boundary frequency: 2.154700e+004 Hz
Coefficient of nonlinearity of a phase: 5.919003e-001
First order smothness: 5.759645e-001
Second order smothness: 5.298737e-001

––––––––––––––––––––––––––––––
This track looks like CDDA with probability 100%

===========================================
Track: 07. Jozef Dumoulin & Orca Noise Unit - Mild

Processing file: [07. Jozef Dumoulin & Orca Noise Unit - Mild.aucdtect]
Detected average hi-boundary frequency: 2.035727e+004 Hz
Detected average lo-boundary frequency: 1.246415e+004 Hz
Detected average hi-cut frequency: 2.091792e+004 Hz
Detected average lo-cut frequency: 6.056299e+003 Hz
Maximum probablis boundary frequency: 2.140700e+004 Hz
Coefficient of nonlinearity of a phase: 7.415775e-001
First order smothness: 3.818572e-001
Second order smothness: 5.559301e-001


––––––––––––––––––––––––––––––
This track looks like CDDA with probability 100%

===========================================
Track: 08. Jozef Dumoulin & Orca Noise Unit - Peering and Palpation

Processing file: [08. Jozef Dumoulin & Orca Noise Unit - Peering and Palpation.aucdtect]
Detected average hi-boundary frequency: 2.109538e+004 Hz
Detected average lo-boundary frequency: 1.741901e+004 Hz
Detected average hi-cut frequency: 2.150963e+004 Hz
Detected average lo-cut frequency: 2.066755e+004 Hz
Maximum probablis boundary frequency: 2.088400e+004 Hz
Coefficient of nonlinearity of a phase: 3.697260e-001
First order smothness: 6.890034e-001
Second order smothness: 9.587629e-001

––––––––––––––––––––––––––––––
Could not qualify the source of this track.

===========================================
Track: 09. Jozef Dumoulin & Orca Noise Unit - Breathing Under Water

Processing file: [09. Jozef Dumoulin & Orca Noise Unit - Breathing Under Water.aucdtect]
Detected average hi-boundary frequency: 2.032099e+004 Hz
Detected average lo-boundary frequency: 1.257934e+004 Hz
Detected average hi-cut frequency: 2.098245e+004 Hz
Detected average lo-cut frequency: 6.613745e+003 Hz
Maximum probablis boundary frequency: 2.150900e+004 Hz
Coefficient of nonlinearity of a phase: 1.763816e+000
First order smothness: 4.193342e-001
Second order smothness: 5.742638e-001

––––––––––––––––––––––––––––––
This track looks like CDDA with probability 99%

===========================================
Track: 10. Jozef Dumoulin & Orca Noise Unit - The Bristlecone Pine

Processing file: [10. Jozef Dumoulin & Orca Noise Unit - The Bristlecone Pine.aucdtect]
Detected average hi-boundary frequency: 2.032769e+004 Hz
Detected average lo-boundary frequency: 1.399315e+004 Hz
Detected average hi-cut frequency: 2.141486e+004 Hz
Detected average lo-cut frequency: 9.674232e+003 Hz
Maximum probablis boundary frequency: 2.154700e+004 Hz
Coefficient of nonlinearity of a phase: 2.019547e-001
First order smothness: 4.895892e-001
Second order smothness: 5.588070e-001

––––––––––––––––––––––––––––––

This track looks like CDDA with probability 100%

===========================================
Track: 11. Jozef Dumoulin & Orca Noise Unit - The Other Side of the Month

Processing file: [11. Jozef Dumoulin & Orca Noise Unit - The Other Side of the Month.aucdtect]
Detected average hi-boundary frequency: 2.019432e+004 Hz
Detected average lo-boundary frequency: 1.210551e+004 Hz
Detected average hi-cut frequency: 2.153933e+004 Hz
Detected average lo-cut frequency: 4.244780e+003 Hz
Maximum probablis boundary frequency: 2.152500e+004 Hz
Coefficient of nonlinearity of a phase: 3.400716e-001
First order smothness: 4.711805e-001
Second order smothness: 4.938334e-001

––––––––––––––––––––––––––––––
This track looks like CDDA with probability 100%

===========================================
Track: 12. Jozef Dumoulin & Orca Noise Unit - Something About a Horse

Processing file: [12. Jozef Dumoulin & Orca Noise Unit - Something About a Horse.aucdtect]
Detected average hi-boundary frequency: 2.021523e+004 Hz
Detected average lo-boundary frequency: 1.230466e+004 Hz
Detected average hi-cut frequency: 2.127887e+004 Hz
Detected average lo-cut frequency: 8.063914e+003 Hz
Maximum probablis boundary frequency: 2.138000e+004 Hz
Coefficient of nonlinearity of a phase: 1.517909e+000
First order smothness: 3.592593e-001
Second order smothness: 6.888889e-001

––––––––––––––––––––––––––––––
This track looks like CDDA with probability 99%

===========================================
Track: 13. Jozef Dumoulin & Orca Noise Unit - Little Flower Expanding

Processing file: [13. Jozef Dumoulin & Orca Noise Unit - Little Flower Expanding.aucdtect]
Detected average hi-boundary frequency: 2.007034e+004 Hz
Detected average lo-boundary frequency: 1.164359e+004 Hz
Detected average hi-cut frequency: 2.160696e+004 Hz
Detected average lo-cut frequency: 8.412187e+003 Hz
Maximum probablis boundary frequency: 2.154100e+004 Hz
Coefficient of nonlinearity of a phase: 8.235269e-001
First order smothness: 3.885895e-001
Second order smothness: 4.450079e-001

––––––––––––––––––––––––––––––
This track looks like CDDA with probability 100%

===========================================
Track: 14. Jozef Dumoulin & Orca Noise Unit - Aknowledgements

Processing file: [14. Jozef Dumoulin & Orca Noise Unit - Aknowledgements.aucdtect]
Detected average hi-boundary frequency: 2.022164e+004 Hz
Detected average lo-boundary frequency: 1.177344e+004 Hz
Detected average hi-cut frequency: 2.146642e+004 Hz
Detected average lo-cut frequency: 9.133797e+003 Hz
Maximum probablis boundary frequency: 2.151400e+004 Hz
Coefficient of nonlinearity of a phase: 1.048011e+000
First order smothness: 5.269461e-001
Second order smothness: 6.247505e-001

––––––––––––––––––––––––––––––
This track looks like CDDA with probability 100%

===========================================
Track: 15. Jozef Dumoulin & Orca Noise Unit - As Below, so Above

Processing file: [15. Jozef Dumoulin & Orca Noise Unit - As Below, so Above.aucdtect]
Detected average hi-boundary frequency: 2.019732e+004 Hz
Detected average lo-boundary frequency: 1.186836e+004 Hz
Detected average hi-cut frequency: 2.142668e+004 Hz
Detected average lo-cut frequency: 4.372776e+003 Hz
Maximum probablis boundary frequency: 2.149800e+004 Hz
Coefficient of nonlinearity of a phase: 8.339378e-001
First order smothness: 3.971824e-001
Second order smothness: 5.916955e-001

––––––––––––––––––––––––––––––
This track looks like CDDA with probability 99%

===========================================