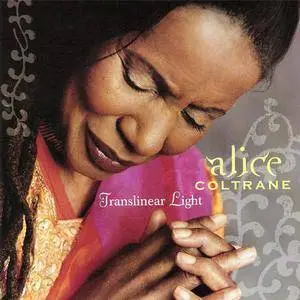 Alice Coltrane - Translinear Light (2004) {Impulse}
EAC Rip | FLAC with CUE and log | scans | 447 mb
MP3 CBR 320kbps | RAR | 189 mb
Genre: jazz
Translinear Light
is the 2004 album by American pianist Alice Coltrane. This was produced by her son, Ravi, and released on the Impulse label.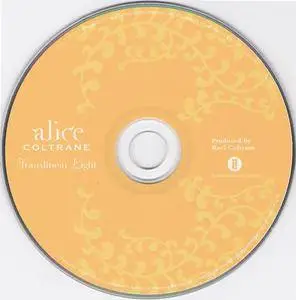 1. Sita Ram
2. Walk With Me
3. Translinear Light
4. Jagadishwar
5. This Train
6. The Hymn
7. Blue Nile
8. Crescent
9. Leo
10. Triloka
11. Satya Sai Isha
Produced by
Ravi Coltrane
Personnel
:
Alice Coltrane
(Wurlitzer organ, piano, synthesizer)
Jack DeJohnette
(synth drum, drums on "Sita Ram," "Translinear Light," "This Train," "Crescent," "Leo")
Ravi Coltrane
(percussion, soprano saxophone, tenor saxophone, sleigh bells on "Sita Ram," "Translinear Light," "Blue Nile," "Crescent," "Leo")
James Genus
(bass on "Walk With Me," "Blue Nile")
Jeff "Tain" Watts
(drums on "Walk With Me," "Blue Nile")
Charlie Haden
(bass on "Translinear Light," "This Train," "Crescent," "Triloka")
Oran Coltrane
(alto saxophone on "The Hymn")
The Sai Anantam Ashram Singers
(vocals on "Satya Sai Isha")
At its best, music is a reflection of who we are, where we've been and where we're going. It transcends classification and, instead, becomes something personal, a powerful force that paints a clear and honest picture of the spirit of the performer. While some artists are concerned with the mechanics of music, the logic of how notes and rhythms fit together in new and intriguing ways–and there's absolutely nothing wrong with that–others view music as more of a conduit, a means of giving a certain physicality to the incorporeal.

Alice Coltrane, whose life has been inextricably tied with her departed husband John, removed herself from the conventional music scene over twenty years ago to devote her life to pursuits of a spiritual nature. While she hasn't stopped playing music in that time, she has felt it unnecessary and perhaps even a little counterproductive to continue participating in an industry that has become more about product and less about pure musicality. Fortunately, her son Ravi, an accomplished saxophonist in his own right, has managed to draw her out of her more transcendent pursuits to create Translinear Light , a richly rewarding album of music that has little to do with music as an exercise in technique and more as a means of conveying deeper expression.

That's not to say there isn't a great deal of skill behind this programme that consists of original music, both composed and improvised, as well as a number of traditional spiritual tunes and two pieces by John Coltrane, "Crescent" and "Leo." The supporting group of musicians includes bassists Charlie Haden and James Genus, drummers Jack DeJohnette and Jeff "Tain" Watts, and Ravi Coltrane on various percussion, tenor and soprano saxophones; Ravi's brother Oran makes an appearance on alto saxophone. The level of musicianship and empathy is uncommonly high.

Alice Coltrane has always had a distinctive piano style that combines rooted knowledge with more spirited flights of fancy. And her use of Wurlitzer organ is truly unique. On the traditional opener, "Sita Ram," for example, she manages to make the instrument's reedy texture sound more like a Tibetan oboe than a keyboard, making the notes bend and twist remarkably. On "Jagadishwar" and "The Hymn" Coltrane creates resonant synthesizer washes that suit the tranquil ambience of both pieces.

Other pieces are, if not more conventional, more in synch with what some might expect from a jazz record. Her readings of "Blue Nile" and "Crescent" sound as if she has drawn a direct line back to the mid-'60s work of husband John. "Leo," where she again uses the Wurlitzer to create a surprising sonority, links more directly to the more outer-reaching free excursions near the end of John Coltrane's life, when Alice was an integral part of the group.

With Translinear Light Coltrane has created a work that honestly and unassumingly demonstrates the healing power of music, bypassing more intellectual concerns and instead going straight for the heart of the matter.
Respected, influential science-fiction author M. John Harrison returned from a long creative hiatus this year with the acclaimed Light, a book that ranged through millennia and interstellar distance, and from the disturbingly bizarre to the genuinely touching. Some of the journey to the visionary beauty of its ending can leave the reader feeling toyed with; Harrison is clearly vastly intelligent and imaginative, and consequently does himself no favours by flinging you into a bewilderingly vast universe whilst keeping certain plot-pertinent points hidden. However, from amongst the currents of science theory, sudden violence and existentialist dread so prevalent in the genre there emerge two repeated, glowing thoughts based not in belief or optimism but in logic and physics: "nothing ever really ends", and "there is always more".

For the past 30 years or so (at the very least), it's been something of a given that, were you a trendy member of the intelligentsia, you'd be patronising and/or pitying when faced with statements like the above two, and dismiss them as being spouted by some simple-minded, acid-riddled hippy, an easily misled victim of established religious dogma, or some faddish combination of the two. While quantum physicists have been busy proving that Buddhism is and was strangely bang on with regards to a lot of cosmic theory, jazz as a force of exciting, unifying intellectual innovation has retreated into the background radiation of popular culture; intertwining with (and invigorating) the shadier sides of hip-hop and electronica while the spotlight remains fixed on the attractive (and admittedly less incestuous) but blander figures of dinner party jazz like Diana Krall and Norah Jones. It seems shocking that within two generations the raw power, the tactile genius, the freedom inherent in the music of Davis, Ayler, Monk or a legion of other innovative titans has been defanged and homogenised, when they themselves should be just as enshrined in our daily lives as the classical composers, the Fab Four or the teen "talent" du jour. Whether you blame a racist music industry, the limited taste of the masses or the seemingly impossible task of following such collossi, jazz has asked a hugely influential but largely unacknowledged question that has yet to find any convincing answer. A saxophonist told me recently that barely 4% of Germany's population listens to jazz. I didn't have the heart to enquire what sub-percentage of that were people younger than 40.

Translinear Light is Alice Coltrane's first record for almost 25 years, during which time she has lived at her Vedantic Center ashram in California and released nothing outside some cassette-only devotional recordings. Already renowned before her retreat from the secular world for her Hindu beliefs, her albums had titles like "Universal Consciousness" or "Lord of All Lords", and wove Eastern-influenced playing, percussion and atmosphere into stunningly vast, soaring free-jazz compositions which preached simple messages of joy and praise. Journey in Satchidananda, which I tracked down after it was recommended by the hugely Coltrane-influenced Kieran "Four Tet" Hebden in a magazine article, sounds like a galactic battle between archangels and the asura (and possibly, as Terry Pratchett's CMOT Dibbler might have it, "a one thousand elephants!") being channeled through the frameworks of mythological tales with overwhelming force; it remains a record both uplifting and terrifying.

"At this time in history, I tried to share the light upon the greatness and Infinite Oneness of the humanity, the universe and the vast Beyond" goes a portion of Translinear Light's booklet dedication, but whilst the unabashed religious fervour is as plain as ever, the explosive drama of the music has ebbed, to be replaced by an unhurried calm of lambent depth, the group onslaught giving way to gently accompanied solos. The instrumental focus is on the leading lady's keyboard virtuosity (whether piano, synthesiser or her unique Wurlitzer organ sound) as set off by the tenor and alto saxophone playing of her two sons Oran and Ravi (the producer) and an understated frame of percussion and bass.

Lyrical and assured, this is playing of simple gorgeousness that glides along with the free progression of improvisation whilst retaining the harmony and melodic grace of jazz standards. Indeed, the album opens with traditional Indian piece "Sita Ram", on which Coltrane's Wurlitzer sounds eerily like a sitar in places, and takes in reinterpretations of "Walk With Me" and "This Train" as well as two of her legendary late husband's compositions, "Crescent" and "Leo", before ending on the Wurlitzer-accompanied chanting of "Satya Sai Isha".

The mounting three-way delirium (and manic two-minute percussion solo) of "Leo" aside, Translinear Light is a peaceful example of the sensuality and individuality at the heart of jazz's emphasis on personal expression within group dynamics, and a searing reminder of how mesmerisingly beautiful sound can be: the tone of Ravi's tenor sax on "Jagadishwar" alone is enough to make me want to cry. While it is therefore a sad disappointment that Coltrane has chosen not to exercise her wonderful harp playing on this album (Joanna Newsom's success going some way to reassuring me that I'm not alone in mourning the quasi-disappearance of this instrument from the face of modern music), as a collection of luminescent music by someone both utterly at peace with herself and very obviously in love with life and her family this has both the glow and the finesse to enrapture. With any luck it will tempt a few more into the ranks of the faithful willing to exchange easy listening for something freer, more challenging and more deeply felt.

Perhaps jazz (and life) is an answer in the form of a question, and perhaps not; either way there is much more to come, and jazz's legacy is very far from finished.
EAC extraction logfile from 23. January 2006, 15:39 for CD
Alice Coltrane / Translinear Light

Used drive : LITE-ON DVDRW SOHW-1633S Adapter: 0 ID: 0
Read mode : Secure with NO C2, accurate stream, disable cache
Read offset correction : 12
Overread into Lead-In and Lead-Out : No

Used output format : Internal WAV Routines
44.100 Hz; 16 Bit; Stereo

Other options :
Fill up missing offset samples with silence : Yes
Delete leading and trailing silent blocks : No
Installed external ASPI interface


Track 1
Filename D:\FLAC\Alice Coltrane - Translinear Light (2004) [FLAC] {Impulse}\01 - Sita Ram.wav

Pre-gap length 0:00:02.00

Peak level 67.4 %
Track quality 100.0 %
Test CRC D7760286
Copy CRC D7760286
Copy OK

Track 2
Filename D:\FLAC\Alice Coltrane - Translinear Light (2004) [FLAC] {Impulse}\02 - Walk With Me.wav

Pre-gap length 0:00:02.12

Peak level 100.0 %
Track quality 99.9 %
Test CRC 8A442CB4
Copy CRC 8A442CB4
Copy OK

Track 3
Filename D:\FLAC\Alice Coltrane - Translinear Light (2004) [FLAC] {Impulse}\03 - Translinear Light.wav

Pre-gap length 0:00:00.04

Peak level 100.0 %
Track quality 100.0 %
Test CRC CACC8051
Copy CRC CACC8051
Copy OK

Track 4
Filename D:\FLAC\Alice Coltrane - Translinear Light (2004) [FLAC] {Impulse}\04 - Jagadishwar.wav

Pre-gap length 0:00:00.04

Peak level 67.6 %
Track quality 100.0 %
Test CRC 784F1D15
Copy CRC 784F1D15
Copy OK

Track 5
Filename D:\FLAC\Alice Coltrane - Translinear Light (2004) [FLAC] {Impulse}\05 - This Train.wav

Pre-gap length 0:00:02.00

Peak level 64.1 %
Track quality 100.0 %
Test CRC 34983A9D
Copy CRC 34983A9D
Copy OK

Track 6
Filename D:\FLAC\Alice Coltrane - Translinear Light (2004) [FLAC] {Impulse}\06 - The Hymn.wav

Pre-gap length 0:00:00.04

Peak level 67.1 %
Track quality 100.0 %
Test CRC 84ABC1C4
Copy CRC 84ABC1C4
Copy OK

Track 7
Filename D:\FLAC\Alice Coltrane - Translinear Light (2004) [FLAC] {Impulse}\07 - Blue Nile.wav

Pre-gap length 0:00:00.04

Peak level 56.1 %
Track quality 100.0 %
Test CRC 05261AB3
Copy CRC 05261AB3
Copy OK

Track 8
Filename D:\FLAC\Alice Coltrane - Translinear Light (2004) [FLAC] {Impulse}\08 - Crescent.wav

Pre-gap length 0:00:00.02

Peak level 56.5 %
Track quality 100.0 %
Test CRC 386FDD6D
Copy CRC 386FDD6D
Copy OK

Track 9
Filename D:\FLAC\Alice Coltrane - Translinear Light (2004) [FLAC] {Impulse}\09 - Leo.wav

Pre-gap length 0:00:00.04

Peak level 68.2 %
Track quality 99.9 %
Test CRC 175D25A2
Copy CRC 175D25A2
Copy OK

Track 10
Filename D:\FLAC\Alice Coltrane - Translinear Light (2004) [FLAC] {Impulse}\10 - Triloka.wav

Pre-gap length 0:00:02.28

Peak level 66.7 %
Track quality 100.0 %
Test CRC 0C96591F
Copy CRC 0C96591F
Copy OK

Track 11
Filename D:\FLAC\Alice Coltrane - Translinear Light (2004) [FLAC] {Impulse}\11 - Satya Sai Isha.wav

Pre-gap length 0:00:00.04

Peak level 44.5 %
Track quality 100.0 %
Test CRC 2BE9AD63
Copy CRC 2BE9AD63
Copy OK

No errors occured


End of status report