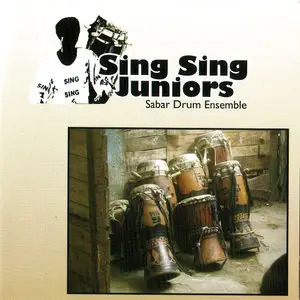 Sing Sing Juniors - Sabar Drum Ensemble (2007)
MP3 CBR 320kbps | RAR | 141 mb
Genre: world, African, percussion
Sing Sing Juniors is composed of the youth of the Faye family who are also known as the Sing Sing Family. Sing Sing Juniors was started in 2004 under the direction of Moustapha Faye, Doudou Faye and Isma Aw as a vehicle for the young generation of the family to present the music and dance traditions of the géwël. Ranging in age from mid-teens to mid-twenties, the full twenty-member ensemble of drummers and dancers skillfully use the sabar rhythms and movements to maintain and build upon the tradition they have inherited.
1. Ya Nu Moom (5:57)
2. Bakk Yini Burrit (5:49)
3. Ngewel Gii (3:29)
4. Thie Qui Ne Quine (5:11)
5. Ceebu Jen (5:29)
6. Baar Mbaye Ngewel (5:16)
7. Sing Sing Faye (5:55)
8. Ndougou Group Bii (7:59)
9. Teubel/Ardin (6:22)
10. Barr Mbaye (4:50)
11. Kaolack (6:14)