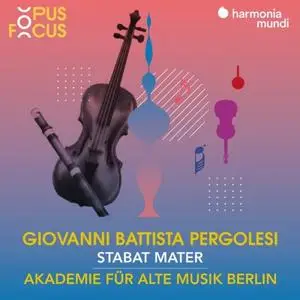 Akademie für Alte Musik Berlin, Bernarda Fink & Anna Prohaska - Pergolesi: Stabat Mater (2020)
FLAC tracks | 00:35:18 | 160 Mb
Genre: Classical / Label: harmonia mundi
Pergolesi completed his Stabat Mater a few days before his death, on 17 March 1736, prompting comparisons with another mythical figure, Mozart composing his Requiem. It is framed here by three more masterpieces of the pianto genre in a similar spirit of bittersweet sadness. Born in Buenos Aires to Slovenian parents, Bernarda Fink studied at the Instituto Superior de Arte del Teatro Colón. Today her repertoire ranges from the Baroque to the twentieth century, and she appears regularly with such great international orchestras as the Vienna Philharmonic and Berlin Philharmonic and with celebrated Baroque ensembles. Among the conductors with whom she works are Nikolaus Harnoncourt, René Jacobs, Mariss Jansons and Riccardo Muti. Since the start of her career, Bernarda Fink has been applauded in the leading concert halls of Europe and Argentina. She was recently heard in the role of Irene (Theodora) under the direction of Ivor Bolton at the Salzburg Festival and as Idamante in Luc Bondy's production of Idomeneo conducted by Jesús López-Cobos at the Teatro Real in Madrid; she has also recorded the latter role for harmonia mundi with René Jacobs. She gives song recitals in the principal European and American musical centres. Bernarda Fink has taken part in more than 50 recordings.
Track List:
01. Stabat Mater, P. 77 I. Duo Stabat Mater dolorosa
02. Stabat Mater, P. 77 II. Aria Cujus animam gementem (soprano)
03. Stabat Mater, P. 77 III. Duo O quam tristis et afflicta
04. Stabat Mater, P. 77 IV. Aria Quae moerebat et dolebat (alto)
05. Stabat Mater, P. 77 V. Duo Quis est homo qui non fleret
06. Stabat Mater, P. 77 VI. Aria Vidit suum dulcem natum
07. Stabat Mater, P. 77 VII. Aria Eja, mater, fons amoris (alto)
08. Stabat Mater, P. 77 VIII. Duo Fac, ut ardeat cor meum
09. Stabat Mater, P. 77 IX. Duo Sancta mater, istud agas
10. Stabat Mater, P. 77 X. Aria Fac, ut portem Christi mortem (alto)
11. Stabat Mater, P. 77 XI. Duo Inflammatus et accensus
12. Stabat Mater, P. 77 XII. Duo Quando corpus morietur - Amen
ANALYZER: auCDtect: CD records authenticity detector, version 0.8.2
Copyright © 2004 Oleg Berngardt. All rights reserved.
Copyright © 2004 Alexander Djourik. All rights reserved.


FILE: 04. Stabat Mater, P. 77 - IV. Aria ''Quae moerebat et dolebat'' (alto).flac
Size: 10241464 Hash: 14C6BC08FFDE104967DE7B640D9B7D23 Accuracy: -m40
Conclusion: CDDA 100%
Signature: B24875336507763BA1FE9C933C79CA7413D9DA1D
FILE: 05. Stabat Mater, P. 77 - V. Duo ''Quis est homo qui non fleret''.flac
Size: 12205628 Hash: FB14EC61133CCBCA816CB25F772C505B Accuracy: -m40
Conclusion: CDDA 100%
Signature: C7F06249296885C4509C372D29428C8EDDC75848
FILE: 06. Stabat Mater, P. 77 - VI. Aria ''Vidit suum dulcem natum''.flac
Size: 14142957 Hash: 9D739C5BD90D060AD36A759D9CCF1898 Accuracy: -m40
Conclusion: CDDA 100%
Signature: 85DD989350443AAB6F746F29AD9A34B4DD3F5946
FILE: 07. Stabat Mater, P. 77 - VII. Aria ''Eja, mater, fons amoris'' (alto).flac
Size: 10652866 Hash: 6F82AABB5F553E72C8FA273BC4CA6E1E Accuracy: -m40
Conclusion: CDDA 100%
Signature: 143F323DC050F7F2558B6083A54B50F3E9AE1D42
FILE: 08. Stabat Mater, P. 77 - VIII. Duo ''Fac, ut ardeat cor meum''.flac
Size: 11629056 Hash: ECDE20C9F3CAAC3405714A5C6E259A36 Accuracy: -m40
Conclusion: CDDA 100%
Signature: EB88658414ADFB249BD77B2926DC5F0255C935F1
FILE: 09. Stabat Mater, P. 77 - IX. Duo ''Sancta mater, istud agas''.flac
Size: 23925245 Hash: 3C3164E0F557011EFEEF85F066E904BE Accuracy: -m40
Conclusion: CDDA 100%
Signature: 4DAC64CA5D871D79A20ECF9F62F81ABE6347BFE0
FILE: 10. Stabat Mater, P. 77 - X. Aria ''Fac, ut portem Christi mortem'' (alto).flac
Size: 15194462 Hash: 654C45DBC77C421E68C6F68B60008F9F Accuracy: -m40
Conclusion: CDDA 100%
Signature: B8C94DEC0F7433860DF071F879B9AC283A0480D9
FILE: 11. Stabat Mater, P. 77 - XI. Duo ''Inflammatus et accensus''.flac
Size: 10025400 Hash: 48AA3DF1A96B61A5D6786115DF068D5B Accuracy: -m40
Conclusion: CDDA 100%
Signature: 3C38259A19BDB44F894F158391E0A43DC5F45D97
FILE: 12. Stabat Mater, P. 77 - XII. Duo ''Quando corpus morietur'' - ''Amen''.flac
Size: 19952532 Hash: B1AE512AD781337E7BA838978ABE859A Accuracy: -m40
Conclusion: CDDA 99%
Signature: 6B04D22835CBA29033CE28806731BE5BA59B91F7
FILE: 01. Stabat Mater, P. 77 - I. Duo ''Stabat Mater dolorosa''.flac
Size: 17347879 Hash: 0EE42C7F3DE8D8238FCD3C7D67B0C7CB Accuracy: -m40
Conclusion: CDDA 99%
Signature: 5F3B3FC86E33CC86CBB278726F123555C40720BF
FILE: 02. Stabat Mater, P. 77 - II. Aria ''Cujus animam gementem'' (soprano).flac
Size: 9732165 Hash: EADF02F355680A7AB9C828ADD76B8239 Accuracy: -m40
Conclusion: CDDA 100%
Signature: C1C0245572B9FEA4F62EC418089DAD0B1ED5E5E4
FILE: 03. Stabat Mater, P. 77 - III. Duo ''O quam tristis et afflicta''.flac
Size: 9256819 Hash: 62298E8259B5433CA5723C23989754EC Accuracy: -m40
Conclusion: CDDA 100%
Signature: 8C3C30D65FE7355930444D018E21EFAA1F4251B7