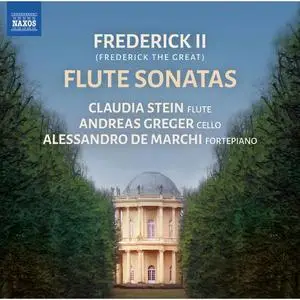 Alessandro de Marchi, Andreas Greger, Claudia Stein - Fredrick the Great & Others: Works (2020)
FLAC tracks | 01:17:35 | 337 Mb
Genre: Classical / Label: Naxos
Frederick II, King of Prussia, was a gifted musician who built up a court orchestra noted both for its quality and its size. Great musicians such as Graun, Quantz and C.P.E. Bach were members and contributed hugely to its standing. A patron of the fine arts, Frederick was a highly accomplished flautist whose works, performed in small private concerts, show a remarkable range of forms and expressive effects with slow movements offering long-breathed arcs of melody. The pieces by Alessandro De Marchi, conceived in the spirit of improvisation, provide a revealing impression of contemporary performance practice.
Track List:
01. Prelude in A minor
02. Flute Sonata in A Minor, SpiF 14: I. Andante ma sostenuto
03. Flute Sonata in A Minor, SpiF 14: II. Allegro assai
04. Flute Sonata in A Minor, SpiF 14: III. Allegro e scherzando
05. Flute Sonata in C Major, SpiF 82: I. Grave
06. Flute Sonata in C Major, SpiF 82: II. Allegro
07. Flute Sonata in C Major, SpiF 82: III. Tempo giusto
08. Variations on Tempo guisto: Var. 1
09. Variations on Tempo guisto: Var. 2
10. Variations on Tempo guisto: Var. 3
11. Variations on Tempo guisto: Var. 4
12. Fughe e capricci, Op. 1: I. Preludio
13. Flute Sonata in C Minor, SpiF 84: I. Recitativo
14. Flute Sonata in C Minor, SpiF 84: II. Andante e cantabile
15. Flute Sonata in C Minor, SpiF 84: III. Alla breve
16. Flute Sonata in A Major, SpiF 114: I. Affettuoso
17. Flute Sonata in A Major, SpiF 114: II. Allegro
18. Flute Sonata in A Major, SpiF 114: III. Presto
19. Flute Sonata in F Major, SpiF 118: I. Grave
20. Flute Sonata in F Major, SpiF 118: II. Staccato. Allegro di molto
21. Flute Sonata in F Major, SpiF 118: III. Tempo giusto
22. Prelude in G minor
23. Flute Sonata in G Minor, SpiF 116: I. Adagio
24. Flute Sonata in G Minor, SpiF 116: II. Moderato
25. Flute Sonata in G Minor, SpiF 116: III. Presto
ANALYZER: auCDtect: CD records authenticity detector, version 0.8.2
Copyright © 2004 Oleg Berngardt. All rights reserved.
Copyright © 2004 Alexander Djourik. All rights reserved.


FILE: 01 - Prelude in A Minor.flac
Size: 2214464 Hash: 2F0C0257DB5D5AFEC8AA440306995497 Accuracy: -m40
Conclusion: CDDA 100%
Signature: AA329E2FD5BD44FB638FF704590E5DC43B5BDCBE
FILE: 02 - Flute Sonata in A Minor, SpiF 14_ I. Andante ma sostenuto.flac
Size: 14558334 Hash: 546963AAB0B1C4214566E0485BDD48D0 Accuracy: -m40
Conclusion: CDDA 100%
Signature: 695F0B67A95B7CF17B443306EF98BB05FA5B9423
FILE: 03 - Flute Sonata in A Minor, SpiF 14_ II. Allegro assai.flac
Size: 11224273 Hash: 0B50905483304B52A3C2D71A2A6F572A Accuracy: -m40
Conclusion: CDDA 94%
Signature: 2BCBFC5AE72521683F8044DF3AB035374FCF39AF
FILE: 04 - Flute Sonata in A Minor, SpiF 14_ III. Allegro e scherzando.flac
Size: 12593099 Hash: 00FBA9A236019ADC0E91BEC936D53B86 Accuracy: -m40
Conclusion: CDDA 100%
Signature: 5B0FFC71398713AF3A84C0A394737ED11312EFCD
FILE: 05 - Flute Sonata in C Major, SpiF 82_ I. Grave.flac
Size: 15500202 Hash: 62FA36F38DC8A505F390BECA4A9B3BC1 Accuracy: -m40
Conclusion: CDDA 100%
Signature: C9145EB5B95CCCFCFEFF16138E33765EEFA6FA07
FILE: 06 - Flute Sonata in C Major, SpiF 82_ II. Allegro.flac
Size: 14587681 Hash: AA93986FD674DAB95601C6D0FF032E02 Accuracy: -m40
Conclusion: CDDA 100%
Signature: 710054D1381211BA70F8C2D7F7FA31964DA30376
FILE: 07 - Flute Sonata in C Major, SpiF 82_ III. Tempo giusto.flac
Size: 7772823 Hash: D53A0BD4ED7C42EA2B8BA5B62E063EC7 Accuracy: -m40
Conclusion: CDDA 100%
Signature: 8176D3B94DA9BBE1DE53560820CB19B399BF35E5
FILE: 08 - Variations on Tempo guisto (After Fredrick the Great's Sonata in C Major, SpiF 82)_ Var. 1.flac
Size: 6635078 Hash: 02A9FC329C5517DF81CE9559A471298E Accuracy: -m40
Conclusion: CDDA 100%
Signature: 419D6F1907B1DB727CA7AFF53D54D3AEB911186B
FILE: 09 - Variations on Tempo guisto (After Fredrick the Great's Sonata in C Major, SpiF 82)_ Var. 2.flac
Size: 7392769 Hash: A45301CA221BCD23F6FF3B23BE058EE5 Accuracy: -m40
Conclusion: CDDA 100%
Signature: 67FA2C1B4E033714635339AF9F338254930035BC
FILE: 10 - Variations on Tempo guisto (After Fredrick the Great's Sonata in C Major, SpiF 82)_ Var. 3.flac
Size: 6979394 Hash: FA39896B2A7724A6A461A2C18594268E Accuracy: -m40
Conclusion: CDDA 85%
Signature: A31A69AB0514061E0CA543644919DA0F1F00CFDF
FILE: 11 - Variations on Tempo guisto (After Fredrick the Great's Sonata in C Major, SpiF 82)_ Var. 4.flac
Size: 8477131 Hash: 658190AB793BF5230B321AD953179BBC Accuracy: -m40
Conclusion: CDDA 100%
Signature: AACEFB647580641E568E68F9D5F51AD21551EB41
FILE: 12 - Fughe e capricci, Op. 1_ I. Preludio.flac
Size: 9741130 Hash: 232CA24D1249064CDC06100211CBB137 Accuracy: -m40
Conclusion: CDDA 100%
Signature: E214FA74F82BD3EC817BD84C2B3B2417BDB17D7C
FILE: 13 - Flute Sonata in C Minor, SpiF 84_ I. Recitativo.flac
Size: 11139019 Hash: 3362379C8EE76C6C98EFAE871A82822F Accuracy: -m40
Conclusion: CDDA 100%
Signature: A6D1EAF1FBDEA45F976E6C15F942109F8BD77D3A
FILE: 14 - Flute Sonata in C Minor, SpiF 84_ II. Andante e cantabile.flac
Size: 27158164 Hash: 1589C5956F1C2C7593DBA52078BD7FA3 Accuracy: -m40
Conclusion: CDDA 100%
Signature: 1570139F65A6E47E98A9F013B4775910876696AD
FILE: 15 - Flute Sonata in C Minor, SpiF 84_ III. Alla breve.flac
Size: 6206633 Hash: 5D08F04F6BFFBF07377C3BBB4461D6BD Accuracy: -m40
Conclusion: CDDA 100%
Signature: 9C4A58FDEBCC521B53B05B9E643C867170A3681C
FILE: 16 - Flute Sonata in A Major, SpiF 114_ I. Affettuoso.flac
Size: 18400511 Hash: D1E7E58B9DBB55E919AD5E5D226C2DBB Accuracy: -m40
Conclusion: CDDA 100%
Signature: FF42CB9151715192DA80CB8F3293929150A446BB
FILE: 17 - Flute Sonata in A Major, SpiF 114_ II. Allegro.flac
Size: 28126270 Hash: B3D396297A991941BB30C95981E911AD Accuracy: -m40
Conclusion: CDDA 100%
Signature: C2F968836155A83678B84C80F4D95DAC5382E5CD
FILE: 18 - Flute Sonata in A Major, SpiF 114_ III. Presto.flac
Size: 14888293 Hash: 56E937D28F2B8BB06474ABC60799B698 Accuracy: -m40
Conclusion: CDDA 100%
Signature: 6211D440AC8FE83BA560D7D60D1EEE1A26DB2185
FILE: 19 - Flute Sonata in F Major, SpiF 118_ I. Grave.flac
Size: 15961495 Hash: A9C8731F1E4C4B9CBE59403ED16C9B21 Accuracy: -m40
Conclusion: CDDA 99%
Signature: E6C0A7495780ABF80F1F3C353048D1E386AD657C
FILE: 20 - Flute Sonata in F Major, SpiF 118_ II. Staccato. Allegro di molto.flac
Size: 29763331 Hash: CC8408095EEA73822D434EACA751FC67 Accuracy: -m40
Conclusion: CDDA 99%
Signature: CEFBB64F1A128E4350F2EA38700AAAB12E11B41E
FILE: 21 - Flute Sonata in F Major, SpiF 118_ III. Tempo giusto.flac
Size: 19408926 Hash: DB1612F0184CA72C76AC320DEC23E494 Accuracy: -m40
Conclusion: CDDA 100%
Signature: EB5EC64E89D08038F88C5588D0CC14E46699C5E4
FILE: 22 - Prelude in G Minor.flac
Size: 8743969 Hash: FFE84B161D5932589574FCE5CDADD468 Accuracy: -m40
Conclusion: CDDA 100%
Signature: 0B58861B97B92CE31F2493BBE47B7840B9E8BD97
FILE: 23 - Flute Sonata in G Minor, SpiF 116_ I. Adagio.flac
Size: 20046658 Hash: 73FEF7011188C991E5FA1C658B588657 Accuracy: -m40
Conclusion: CDDA 100%
Signature: 88D5622AD43D1C634F0D2F7E54E00BB3E4DA7E9D
FILE: 24 - Flute Sonata in G Minor, SpiF 116_ II. Moderato.flac
Size: 25653456 Hash: 38B380CA7AA7E9676D69C1D1939E5D94 Accuracy: -m40
Conclusion: CDDA 100%
Signature: 854A75321C9EBD04525ED07B757BDAAB9131D213
FILE: 25 - Flute Sonata in G Minor, SpiF 116_ III. Presto.flac
Size: 10816483 Hash: 275F4233F75A88ADB694BFCF58966D69 Accuracy: -m40
Conclusion: CDDA 99%
Signature: 38BD6CE983711460BDC9F8C79750B32704ACF466