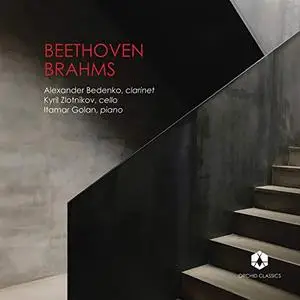 Alexander Bedenko - Beethoven Clarinet Trio in E-Flat Major, Op. 38 - Brahms Clarinet Trio in A Minor, Op. 114 (2019)
FLAC tracks +booklet | 01:02:12 | 223 Mb
Genre: Classical / Label: Orchid Classics
Delectable Trios by Beethoven and Brahms, performed by clarinettist Alexander Bedenko, cellist Kyril Zlotnikov and pianist Itamar Golan. Beethoven's Trio for clarinet, cello and piano, op.38, began life as his Septet, op.20, with which he was "delighted" – until it became outrageously popular. Nevertheless, Beethoven was happy to rearrange this expansive, six-movement work for clarinet, cello and piano, in which guise it takes on a charmingly intimate quality.
Track List:
[09:31] 01. Alexander Bedenko, Kyril Zlotnikov, Itamar Golan - Clarinet Trio in E-Flat Major, Op. 38: I. Adagio - Allegro con brio
[08:18] 02. Alexander Bedenko, Kyril Zlotnikov, Itamar Golan - Clarinet Trio in E-Flat Major, Op. 38: II. Adagio cantabile
[03:07] 03. Alexander Bedenko, Kyril Zlotnikov, Itamar Golan - Clarinet Trio in E-Flat Major, Op. 38: III. Tempo di menuetto
[07:08] 04. Alexander Bedenko, Kyril Zlotnikov, Itamar Golan - Clarinet Trio in E-Flat Major, Op. 38: IV. Tema con variazioni
[03:13] 05. Alexander Bedenko, Kyril Zlotnikov, Itamar Golan - Clarinet Trio in E-Flat Major, Op. 38: V. Scherzo. Allegro molto e vivace
[07:14] 06. Alexander Bedenko, Kyril Zlotnikov, Itamar Golan - Clarinet Trio in E-Flat Major, Op. 38: VI. Andante con molto, alla marcia - Presto
[07:43] 07. Alexander Bedenko, Kyril Zlotnikov, Itamar Golan - Clarinet Trio in A Minor, Op. 114: I. Allegro
[07:22] 08. Alexander Bedenko, Kyril Zlotnikov, Itamar Golan - Clarinet Trio in A Minor, Op. 114: II. Adagio
[04:05] 09. Alexander Bedenko, Kyril Zlotnikov, Itamar Golan - Clarinet Trio in A Minor, Op. 114: III. Andantino grazioso
[04:26] 10. Alexander Bedenko, Kyril Zlotnikov, Itamar Golan - Clarinet Trio in A Minor, Op. 114: IV. Allegro
ANALYZER: auCDtect: CD records authenticity detector, version 0.8.2
Copyright © 2004 Oleg Berngardt. All rights reserved.
Copyright © 2004 Alexander Djourik. All rights reserved.


FILE: 01. Clarinet Trio in E-Flat Major, Op. 38- I. Adagio - Allegro con brio.flac
Size: 37219402 Hash: CA64B79C30760C8008077BCA40FD88B5 Accuracy: -m40
Conclusion: CDDA 100%
Signature: 9165D1C4D2251A9B12767A8E9A4B8FBC409A9360
FILE: 02. Clarinet Trio in E-Flat Major, Op. 38- II. Adagio cantabile.flac
Size: 28447834 Hash: 930FF207575ABF5BB7F0AB0D3E8BB687 Accuracy: -m40
Conclusion: CDDA 100%
Signature: 863C36947E7F63297AC923FCE5471061F525F493
FILE: 03. Clarinet Trio in E-Flat Major, Op. 38- III. Tempo di menuetto.flac
Size: 11511634 Hash: B2E9469D722378DA9790EE52935CBD2B Accuracy: -m40
Conclusion: CDDA 99%
Signature: C343CD9D00B78D9B84E841A563EE3FA8C987AA2A
FILE: 04. Clarinet Trio in E-Flat Major, Op. 38- IV. Tema con variazioni.flac
Size: 25267202 Hash: D26CDB8FBE83ED27780EBED9A815C00A Accuracy: -m40
Conclusion: CDDA 100%
Signature: E864B71B563D1756BF8F65592F7380965E390210
FILE: 05. Clarinet Trio in E-Flat Major, Op. 38- V. Scherzo. Allegro molto e vivace.flac
Size: 12698333 Hash: 0B0F2ED6278DE4D9A62E8160779A4574 Accuracy: -m40
Conclusion: CDDA 100%
Signature: 5BBE91B055FC7A0044A06F46FCFA8FC6F9E556F5
FILE: 06. Clarinet Trio in E-Flat Major, Op. 38- VI. Andante con molto.flac
Size: 27256608 Hash: DAC42774338CA102DA59ABCB4AC42F34 Accuracy: -m40
Conclusion: CDDA 100%
Signature: 37F61FA6E92C1913013B5E185C667584DCE08A8B
FILE: 07. Clarinet Trio in A Minor, Op. 114- I. Allegro.flac
Size: 30560804 Hash: A2F94B202EEE1ABC6CEAECA3288A8B14 Accuracy: -m40
Conclusion: CDDA 99%
Signature: A1F706760D724FFC951A71519B545003D98A9D47
FILE: 08. Clarinet Trio in A Minor, Op. 114- II. Adagio.flac
Size: 26395165 Hash: 0528AF1AC14F8EFF4272691E2F7400F7 Accuracy: -m40
Conclusion: CDDA 99%
Signature: 0CE4BD3C4562522E91228A10E17DF570B4295067
FILE: 09. Clarinet Trio in A Minor, Op. 114- III. Andantino grazioso.flac
Size: 16339583 Hash: B1EF4A688DEA4E82058AC9CEA3799CE1 Accuracy: -m40
Conclusion: CDDA 100%
Signature: 2606A8BA6DD7B79ADA1BAB1B86B9AB61D9A5F4EA
FILE: 10. Clarinet Trio in A Minor, Op. 114- IV. Allegro.flac
Size: 18536544 Hash: 73D1D732A17F83AC8DD8E2E480855F71 Accuracy: -m40
Conclusion: MPEG 89%
Signature: 9480F11ADF9D7A2AFD5DA80DE69A0E055FC56A33