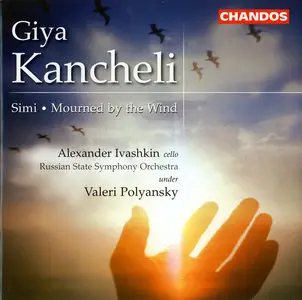 Giya Kancheli - Simi; Mourned by the Wind (2005)
Alexander Ivashkin, cello; Russian State Symphony Orchestra, conducted by Valeri Polyansky
EAC | FLAC | Image (Cue&Log) ~ 219 Mb | Mp3 (CBR320) ~ 151 Mb | Artwork included
Contemporary Classical | Label: Chandos | # CHAN 10297 | Time: 01:04:56
Giya Kancheli is one of Eastern Europe's most important contemporary composers, respected by musicologists and fellow composers alike. Schnittke said of him: 'His most striking quality…is the rare gift of being able to suspend all sense of time. From the very first note we are released from our ordinary, everyday time-sense to float, cloud-like, in eternity.' The political upheavals through which Kancheili has lived have greatly affected his music, which dwells on a complexity of interrelated themes - grief, fear, solitude, vigil, memory, nostalgia, innocence, intolerance, protest. It is profoundly influenced by the spirit of the folk music of his native Georgia.
Both pieces are written in the slow idiom so characteristic of Kancheli: they are slow moving, tonally rooted, laconic, deeply reflective, unworldly yet touched by the 'inner' qualities of the folk music of his native Georgia. Alexader Ivashkin's warmly toned cello (a 1710 Guarneri) sings most movingly. This is refined playing; a tendency to understate gives Ivahskin's performance the qualities of inwardness and fragility that seem to me wholly appropriate. Valeri Polyansky and the Russian State Symphony Orchestra meet him on exactly the same footing.



International Record Review
Distrustful of virtuosity for its own sake, and aware of his own technical limitations, Giya Kancheli has deliberately avoided using the term "concerto" for his works for cello and orchestra, Simi and Mourned by the Wind. It may be said, however, that these pieces are concerto-like, insofar as sustaining long pitches and controlling the instrument's tone are equally challenging to the performer, and both pieces display serene, chant-like phrases that require a light touch and a steady bow arm. Kancheli's expressions are decidedly somber and meditative – note the words in the subtitles, "bleak reflections" and "Liturgy in memoriam" – and it may become obvious why he chooses to score many passages in the cello's and orchestra's lowest range and seldom ventures into the brighter upper octaves, except for occasional eerie harmonics and fleeting "night music" sonorities. The cello's central role in Simi is reversed in Mourned by the Wind, where the orchestra is dominant and the cello reduced to a less active part; yet cellist Alexander Ivashkin is the musician listeners will follow, and his subdued but warm playing is always distinctly separated from the orchestral mass, even at its loudest. The Russian State Symphony Orchestra, conducted by Valery Polyansky, is fully engaged in these brooding performances, and Chandos' sound quality is evenly balanced.



Review by Blair Sanderson, Allmusic.com
These two works are fast becoming Kancheli repertoire pieces. Mourned by the Wind has been recorded by I Fiamminghi and Rudolf Werthen on Telarc, by the Bonn Beethovenhalle Orchestra under Dennis Russell Davies and by the Georgia State Symphony under Dzansug Kakhidze (Melodiya) amongst others. Simi has been graced by its dedicatee, Rostropovich, on another ECM disc, this time with the Royal Flanders Philharmonic but again with that great Kancheli proponent Kakhidze.

Both however have not yet appeared coupled, as far as I'm aware, so that this Chandos offering stakes a strong and persuasive claim in that respect. It is vital in pieces such as these that the recording is sympathetic and Chandos offers a spacious, all enveloping sound stage for these two works of enormous communing depth.

Simi, subtitled Bleak Reflections for cello and orchestra, means "string" in Georgian. It's a work not far short of half an hour in length and one that needs and demands absolute concentration; inattention will inevitably lead to a feeling of unease with the idiom and a break in the intense connective tissue that the work deploys – it may seem merely keening and sorrowful but there's a sure logic, both structural and emotive, that underlies it. The cello enters with rather bumpy lines, uneasy and unsure, over a veil of supporting orchestral sound; there's an outburst at about 4.10 though the skein of the piece remains essentially quiescently withdrawn. A bigger interjection at 6.15 threatens to derail the meditative focus but instead the music becomes, if anything, tinged almost with sentimental gestures. This is abruptly dispensed by a fascinatingly compact conjunction of burgeoning Boogie Woogie gestures (has anyone else noted this of Simi?) and Hitchcockian-Herrmannesque slash. The cello's shocked response is to ascend into the ethereal heights of the instrument's register and for the orchestra to venture some vaguely baroque tinged gestures and to ratchet tension with bold percussive writing. Even so the piece ends with quiescent serenity.

Mourned by the Wind might be known better by some as Liturgy. It's the bigger work, and has a greater range of dramatic outbursts. Written in four movements in memory of Givi Ordzhonikidze it strikes an immediate impression. The cello's rocking figures are accompanied by mournful orchestral writing and by some colouristic innovations, notably some fascinating harpsichord sonorities. The outbursts of the second movement are followed by reflective stillness. Kancheli makes use of the piano, coiling the cello over the treble insistence of the keyboard instrument, and unfolding a Larghetto that has a concise chant-hymnal quality to it. The finale is the longest work and bears the greatest brunt of the outsize, sudden and shocking orchestral outbursts. These are grim and unyielding if short – there are tension-fuelled moments throughout, and many moments of stillness and reflection, as if the mind has been becalmed and then with catastrophic clarity suddenly remembers the inescapable realities of disaster, and of death. Once more the consoling end comes as some balm, as an absorption into some kind, at least, of acceptance.

Ivashkin and Polyansky exert unremitting energy in these works; the fluid and the shocking are controlled with great understanding. To those who seek a coupling of this kind – sorrowful though it is – then this partnership keens with commitment and a bitter truthfulness.



Review by Jonathan Woolf, MusicWeb-International.com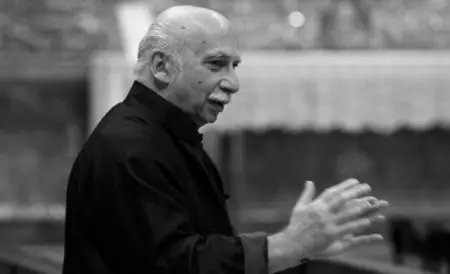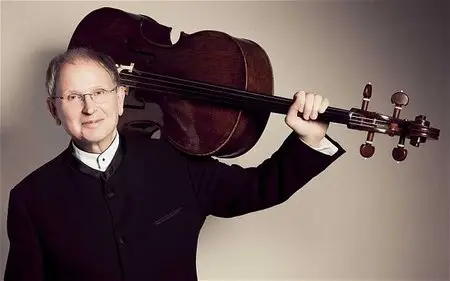 Tracklist:
01. Simi - Bleak Reflections for Cello and Orchestra (26:49)

Mourned by the Wind
Liturgy in memoriam Givi Ordzhonikidze
For symphony orchestra and solo cello
02. I - Largo (09:30)
03. II - Allegro moderato (08:13)
04. III - Larghetto (06:49)
05. IV - Andante maestoso (13:34)
Exact Audio Copy V1.0 beta 3 from 29. August 2011

Отчёт EAC об извлечении, выполненном 28. мая 2014, 3:14

Alexander Ivashkin, Russian State Symphony Orchestra, Valeri Polyansky / Simi - Mourned by the Wind

Дисковод: HL-DT-STDVDRAM GU71N Adapter: 2 ID: 0

Режим чтения : Достоверность
Использование точного потока : Да
Отключение кэша аудио : Да
Использование указателей C2 : Нет

Коррекция смещения при чтении : 6
Способность читать области Lead-in и Lead-out : Нет
Заполнение пропущенных сэмплов тишиной : Да
Удаление блоков с тишиной в начале и конце : Нет
При вычислениях CRC использовались нулевые сэмплы : Да
Интерфейс : Встроенный Win32-интерфейс для Win NT/2000

Выходной формат : Пользовательский кодировщик
Выбранный битрейт : 1024 kBit/s
Качество : Высокий
Добавление ID3-тега : Нет
Утилита сжатия : C:\Program Files (x86)\Exact Audio Copy\Flac\flac.exe
Дополнительные параметры : -8 -V -T "ALBUMARTIST=%albumartist%" -T "ALBUM=%albumtitle%" -T "DATE=%year%" -T "TRACKTOTAL=%numtracks%" -T "GENRE=%genre%" -T "COMMENT=%comment%" -T "PERFORMER=%albuminterpret%" -T "COMPOSER=%composer%" %source% -o %dest%


TOC извлечённого CD

Трек | Старт | Длительность | Начальный сектор | Конечный сектор
––––––––––––––––––––––––––––––––––-
1 | 0:00.00 | 26:49.33 | 0 | 120707
2 | 26:49.33 | 9:30.74 | 120708 | 163531
3 | 36:20.32 | 8:13.01 | 163532 | 200507
4 | 44:33.33 | 6:49.01 | 200508 | 231183
5 | 51:22.34 | 13:34.41 | 231184 | 292274


Характеристики диапазона извлечения и сообщения об ошибках

Выбранный диапазон

Имя файла H:\Rips\Giya Kancheli - Simi - Mourned by the Wind - Ivashkin, Polyansky - CHAN 10297\Simi - Mourned by the Wind.wav

Пиковый уровень 98.8 %
Скорость извлечения 2.1 X
Качество диапазона 99.9 %
CRC теста 51F8F20C
CRC копии 51F8F20C
Копирование… OK

Ошибок не произошло


AccurateRip: сводка

Трек 1 : извлечено точно (доверие 1) [45AAF393] (AR v1)
Трек 2 : извлечено точно (доверие 1) [D6BB3D7C] (AR v1)
Трек 3 : извлечено точно (доверие 1) [6D47195B] (AR v1)
Трек 4 : извлечено точно (доверие 1) [3506FA5C] (AR v1)
Трек 5 : извлечено точно (доверие 1) [0607CA5B] (AR v1)

Все треки извлечены точно

Конец отчёта

==== Контрольная сумма отчёта F9EB5F85BDF1717B05C9C494221D82C5113D1FAFEBBA46F00E2C19A238A1ADF5 ====
foobar2000 1.2 / Dynamic Range Meter 1.1.1
log date: 2015-12-18 03:55:40

––––––––––––––––––––––––––––––––––––––––
Analyzed: Alexander Ivashkin, Russian State Symphony Orchestra, Valeri Polyansky / Simi - Mourned by the Wind
––––––––––––––––––––––––––––––––––––––––

DR Peak RMS Duration Track
––––––––––––––––––––––––––––––––––––––––
DR16 -0.10 dB -23.19 dB 26:49 01-Simi - Bleak Reflections for Cello and Orchestra
DR15 -2.76 dB -26.40 dB 9:31 02-Mourned by the Wind - I - Largo
DR13 -0.12 dB -20.43 dB 8:13 03-II - Allegro moderato
DR18 -2.01 dB -32.95 dB 6:49 04-III - Larghetto
DR15 -0.38 dB -22.48 dB 13:35 05-IV - Andante maestoso
––––––––––––––––––––––––––––––––––––––––

Number of tracks: 5
Official DR value: DR15

Samplerate: 44100 Hz
Channels: 2
Bits per sample: 16
Bitrate: 465 kbps
Codec: FLAC
================================================================================