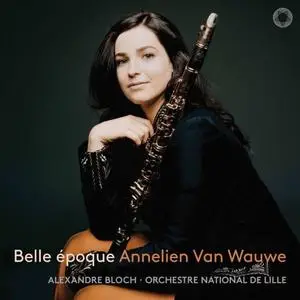 Alexandre Bloch, Orchestre National De Lille, Annelien van Wauwe - Belle époque (2019)
FLAC tracks | 59:43 | 216 Mb
Genre: Classical / Label: PentaTone
Belgian clarinettist Annelien Van Wauwe revives the golden glow of a bygone age on her PENTATONE debut album Belle époque, together with the Orchestre National de Lille and its music director Alexandre Bloch. The programme is built around treasures of French turn-of-thecentury music such as Debussy's Première Rhapsodie, Pierné's Canzonetta and Widor's Introduction et Rondo (the latter two in arrangements by Jelle Tassyns). Belle époque also offers works that display a spiritual kinship to the age, such as Brahms's first clarinet sonata, arranged by Luciano Berio, and a world-premiere recording of Parisbased contemporary composer Manfred Trojahn (Rhapsodie pour clarinette et orchestre).
Track List:
1. Première rhapsodie, L. 116 (Version for Clarinet & Orchestra)
2. Rhapsodie pour clarinette et orchestre: I. Rêverie
3. Rhapsodie pour clarinette et orchestre: II. Intermède avec valse à la musette
4. Rhapsodie pour clarinette et orchestre: III. Caprice
5. Canzonetta in E-Flat Major, Op. 19 (Arr. J. Tassyns for Clarinet & Orchestra)
6. Clarinet Sonata in F Minor, Op. 120 No. 1 (Arr. L. Berio for Clarinet & Orchestra): I. Allegro appassionato
7. Clarinet Sonata in F Minor, Op. 120 No. 1 (Arr. L. Berio for Clarinet & Orchestra): II. Andante un poco adagio
8. Clarinet Sonata in F Minor, Op. 120 No. 1 (Arr. L. Berio for Clarinet & Orchestra): III. Allegretto grazioso
9. Clarinet Sonata in F Minor, Op. 120 No. 1 (Arr. L. Berio for Clarinet & Orchestra): IV. Vivace
10. Introduction et rondo, Op. 72 (Arr. J. Tassyns for Clarinet & Orchestra)
ANALYZER: auCDtect: CD records authenticity detector, version 0.8.2
Copyright © 2004 Oleg Berngardt. All rights reserved.
Copyright © 2004 Alexander Djourik. All rights reserved.


FILE: 01. Première rhapsodie, L. 116 (Version for Clarinet & Orchestra).flac
Size: 28600367 Hash: 6ACFC432DB97FF1BD86C4290C32AD5ED Accuracy: -m40
Conclusion: CDDA 100%
Signature: 4A487133398DDE3F2A5160D9BC3DF01470805204
FILE: 02. Rhapsodie pour clarinette et orchestre I. Rêverie.flac
Size: 32867791 Hash: 6B30D65E8829A724BB83B07F17A9F979 Accuracy: -m40
Conclusion: CDDA 99%
Signature: DC91D8FA846666421E33614796C096A31BB0E163
FILE: 03. Rhapsodie pour clarinette et orchestre II. Intermède avec valse à la musette.flac
Size: 16535502 Hash: 9AA5DB51309A008C3D2394A33D9C591D Accuracy: -m40
Conclusion: CDDA 100%
Signature: B6A37F9AF84041CD228C72DC33D2F0772E27F568
FILE: 04. Rhapsodie pour clarinette et orchestre III. Caprice.flac
Size: 17671502 Hash: D459F35CD966B3A19F88E642E140B6CF Accuracy: -m40
Conclusion: CDDA 100%
Signature: 4D24A17BFAA4E37698EF096EAB62B1C53C85DC83
FILE: 05. Canzonetta in E-Flat Major, Op. 19 (Arr. J. Tassyns for Clarinet & Orchestra).flac
Size: 13477303 Hash: 42DF2A198AFB762BFEAB1FFFC74B4E77 Accuracy: -m40
Conclusion: CDDA 100%
Signature: 0B4EC6EA38D72E0056FBC729788ABBBA8EF6F125
FILE: 06. Clarinet Sonata in F Minor, Op. 120 No. 1 (Arr. L. Berio for Clarinet & Orchestra) I..flac
Size: 31874256 Hash: 33CC173EBCECA916C40D48094D232335 Accuracy: -m40
Conclusion: CDDA 100%
Signature: 1167D3D7219F6E38E5639F4F94C586FA37B7CE6E
FILE: 07. Clarinet Sonata in F Minor, Op. 120 No. 1 (Arr. L. Berio for Clarinet & Orchestra) II..flac
Size: 18584295 Hash: F40E18030A1E4DD87E6B456A344A2992 Accuracy: -m40
Conclusion: CDDA 100%
Signature: D2FBAC59AAFFEAE5A58CA3E163068D432FAC794F
FILE: 08. Clarinet Sonata in F Minor, Op. 120 No. 1 (Arr. L. Berio for Clarinet & Orchestra) III.flac
Size: 15233121 Hash: D0B97D87493B35FFCFD2462C949E4E24 Accuracy: -m40
Conclusion: CDDA 100%
Signature: 72F669962400D5068E554350ACC29678E7AEB7B1
FILE: 09. Clarinet Sonata in F Minor, Op. 120 No. 1 (Arr. L. Berio for Clarinet & Orchestra) IV..flac
Size: 20741893 Hash: FC9C58611CF34731C3118F7874D1802F Accuracy: -m40
Conclusion: CDDA 100%
Signature: C721048DC3B21277AC0068A2B9D143F704941C9E
FILE: 10. Introduction et rondo, Op. 72 (Arr. J. Tassyns for Clarinet & Orchestra).flac
Size: 31682994 Hash: FC386469014D7AC12EA63A301D64B44E Accuracy: -m40
Conclusion: CDDA 100%
Signature: FE0B28DE551AC155FD22CCC48C32372C7F18025E