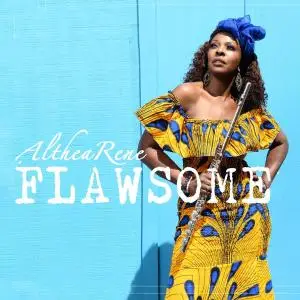 Althea Rene - Flawsome (2019)
WEB FLAC (tracks) - 257 MB | Tracks: 9 | 37:50 min
Style: Smooth Jazz | Label: Althea Rene
Born on December 25th in Detroit, Michigan Althea Rene began her musical journey at the tender age four-year-old. She studied classical music while attending Howard University. For more than 10 years she worked as a Wayne County Deputy Sheriff (in Detroit, Michigan) during the day and performed in jazz clubs at night. Today. she is a full-time performing/recording artist that gained musical inspiration from her father Dezie McCullers (one of Motown's original Funk Brothers).
Althea developed her own creative style. Some regard her as a "master of her craft" and one of the world's most exciting solo improvisational flutists. The multi-platinum and Grammy-nominated saxophonist Najee playfully refers to her as the "Maceo of the flute".
In May 2013. she released her CD entitled "In the Flow". Collaborating with Grammy award-winning Producer Michael Broening. she co-wrote the title track that reached the number one spot on both the Billboard and Smooth Jazz Charts. Althea Rene is the first flutist in history to have a "number one" ranked single on the Billboard chart. With a passionate mission to mentor women in the entertainment industry, Althea Rene authored an autobiography entitled "Becoming Chocolate Barbie – a guide for professional women in the music business" in June 2018.
Her creative advocacy for woman's empowerment is evident in her scorching hot June 2019 CD release: "Flawsome". The title of her eighth CD project is a newly coined expression that describes something that is extraordinary because of its imperfections. This project features an iconic lineup of guest artists like Maysa, Jeanette Harris, Euge Groove, and Gerald Albright. The album was produced by Chris "Big Dog" Davis.
Tracklist:
01. Inner Circle
02. Rock with You
03. Passion
04. Barbara Mae
05. Jump to It
06. Flawsome
07. We Are One
08. Let Me Love You
09. Life on Mars


FILE: 01. Inner Circle.flac
Size: 33497754 Hash: FACD5C9760430489D73CD3C0951C5DFD Accuracy: -m0
Conclusion: CDDA 99%
Signature: DF22A337CBF34CEAAAD85F2FBA319914635CD08D
FILE: 02. Rock with You.flac
Size: 28515896 Hash: F5D7DED768F5C6FA1232AE3551AEDEB6 Accuracy: -m0
Conclusion: CDDA 100%
Signature: 334D532E9533F0BEF74AA790B841E542D162BF9D
FILE: 03. Passion.flac
Size: 25286776 Hash: 342207D315E95424784DFED817D01509 Accuracy: -m0
Conclusion: CDDA 100%
Signature: 8CA95E3910E8F1CFB51209C354362B5E9E0DBC84
FILE: 04. Barbara Mae.flac
Size: 28553952 Hash: 20CBF147291738B9D193307D2565D287 Accuracy: -m0
Conclusion: CDDA 100%
Signature: 20D5629E0E307C568EDE61B8C4BD69C8D882B570
FILE: 05. Jump to It.flac
Size: 28179640 Hash: 061ED4170CB74765DF6D547738FA5086 Accuracy: -m0
Conclusion: CDDA 100%
Signature: A54687716544CCA9F92B6FEAB7502F8110A9C594
FILE: 06. Flawsome.flac
Size: 27346079 Hash: 2F32631CB3419C9992E5DB7403A21F0A Accuracy: -m0
Conclusion: CDDA 100%
Signature: AADAC6623952D387087A1C7CA3C71D4060EB82D0
FILE: 07. We Are One.flac
Size: 32588262 Hash: CFB965D2BEAEEE4D7AE4203320E27061 Accuracy: -m0
Conclusion: CDDA 100%
Signature: FC4F6641B99869B019CA940660A47F09B98D2367
FILE: 08. Let Me Love You.flac
Size: 28252540 Hash: 95A001D13DABBE89AFA6DBB3FAA56784 Accuracy: -m0
Conclusion: CDDA 100%
Signature: 8C64A154F22D3856E4E215A85A323F930572CEE8
FILE: 09. Life on Mars.flac
Size: 37461759 Hash: 8405C070720DE7E9CD711638A025442D Accuracy: -m0
Conclusion: CDDA 100%
Signature: 1C98BC9CAC38D3B9421EDB038C6805068EF4EAEA