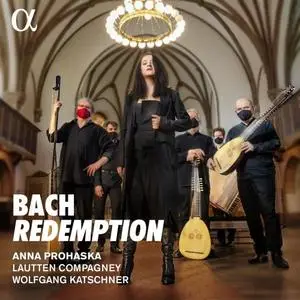 Anna Prohaska, Lautten Compagney & Wolfgang Katschner - Bach: Redemption (2020)
FLAC tracks | 01:19:39 | 372 Mb
Genre: Classical / Label: Alpha
Anna Prohaska asked Wolfgang Katschner and the Lautten Compagney at the outset of the coronavirus crisis whether they shouldn't spontaneously organize a musical get-together in this period. This has now resulted in #ERLÖSUNG/REDEMPTION, a sequence of music selected solely from Bach cantatas, compiled in keeping with the aforenamed conceptual association. We see the motto ERLÖSUNG/REDEMPTION as having multiple meanings, for instance: can music give us consolation in times of sickness and crisis; can it open up emotional and contemplative spaces for us; is it redemptive for us as musicians to be the "Instruments" in engendering music and therefore spirituality… ? Besides Anna as soloist and three other singers, we cast a larger group of musicians – around twenty instrumentalists – which stands for the lautten compagney and communes in accompanying the arias Anna sings, hence also initiating a statement or a kind of living sign of a collective such as the ensemble normally represents.
Track List:
1. Mache dich, mein Geist, bereit, BWV 115: IV. Air "Bete aber auch dabei" (5:56)
2. Es ist nichts gesundes an meinem Leibe, BWV 25: I. Chorus "Es ist nichts gesundes an meinem Leibe" (5:00)
3. Ach Herr, mich armen Sünder, BWV 135: VI. Chorale "Ehr sei ins Himmels Throne" (1:12)
4. Selig ist der Mann, BWV 57: VII. Air "Ich ende behende mein irdisches Leben" (3:28)
5. Was mir behagt, ist nur die muntre Jagd, BWV 208: IX. "Schafe können sicher weiden" (3:46)
6. Sie werden euch in den Bann tun, BWV 44: VI. Air "Es ist und bleibt der Christen Trost" (5:11)
7. Herr, gehe nicht ins Gericht mit deinem Knecht, BWV 105: III. Air "Wie zittern und wanken" (5:22)
8. Nach dir, Herr, verlanget mich, BWV 150: I. Sinfonia (1:12)
9. Nach dir, Herr, verlanget mich, BWV 150: II. Chorus "Nach dir, Herr, verlanget mich" (3:04)
10. Wenn mein Stündlein vorhanden ist, BWV 430: I. Chorale (0:52)
11. Der Himmel lacht! Die Erde jubilieret, BWV 31: VIII. Air "Letzte Stunde, brich herein" (3:44)
12. Wenn mein Stündlein vorhanden ist, BWV 430: II. Chorale (0:47)
13. Siehe zu, daß deine Gottesfurcht nicht Heuchelei sei, BWV 179: V. Air "Liebster Gott, erbarme dich" (5:14)
14. Nach dir, Herr, verlanget mich, BWV 150: IV. Chorus "Leite mich in deiner Wahrheit" (1:47)
15. Ich habe genug, BWV 82a: I. Air "Ich habe genug" (6:21)
16. Ich habe genug, BWV 82a: V. Air "Ich freue mich auf meinen Tod" (3:09)
17. Herr, gehe nicht ins Gericht mit deinem Knecht, BWV 105: VI. Chorale "Jesu, der du meine Seele" (2:56)
18. Herr Jesu Christ, wahr' Mensch und Gott, BWV 127: III. Air "Die Seele ruht in Jesu Händen" (7:04)
19. Weichet nur, betrübte Schatten, BWV 202: I. Air "Weichet nur betrübte Schatten" (5:23)
20. Nach dir, Herr, verlanget mich, BWV 150: VII. Chorus "Meine Tage in dem Leide" (3:20)
21. Mache dich, mein Geist, bereit, BWV 115: IV. Air "Bete aber auch dabei" (Lounge Version) (Bonus Track) (5:01)
ANALYZER: auCDtect: CD records authenticity detector, version 0.8.2
Copyright © 2004 Oleg Berngardt. All rights reserved.
Copyright © 2004 Alexander Djourik. All rights reserved.


FILE: 01 - Mache dich, mein Geist, bereit, BWV 115_ IV. Air _Bete aber auch dabei_.flac
Size: 28257497 Hash: 899DE5071CD12EA54BF40B80960713CA Accuracy: -m40
Conclusion: CDDA 100%
Signature: C61E4F08F87C94BA2F7A070D70C4832F45A31107
FILE: 02 - Es ist nichts gesundes an meinem Leibe, BWV 25_ I. Chorus _Es ist nichts gesundes an meinem Leibe_.flac
Size: 26649923 Hash: 6850EEEB1FAFDDA5C19C248F1BB77366 Accuracy: -m40
Conclusion: CDDA 100%
Signature: 887D608D4B950D96FDEB67EBCA2106F3F478A7F3
FILE: 03 - Ach Herr, mich armen Sünder, BWV 135_ VI. Chorale _Ehr sei ins Himmels Throne_.flac
Size: 3767399 Hash: 53B34FBD2481CB12F0C12588B77217E4 Accuracy: -m40
Conclusion: MPEG 100%
Signature: 79EB79D1D3F4E57ECBDF3FE2606FB6D027C1AED5
FILE: 04 - Selig ist der Mann, BWV 57_ VII. Air _Ich ende behende mein irdisches Leben_.flac
Size: 20389145 Hash: 092401C99BF509893AB8E3B564FDAF13 Accuracy: -m40
Conclusion: CDDA 99%
Signature: 9C57511898FA176A70638E1422988905EAE1BFD4
FILE: 05 - Was mir behagt, ist nur die muntre Jagd, BWV 208_ IX. _Schafe können sicher weiden_.flac
Size: 17822974 Hash: A4EB528C6BFF5901852E4766E9B2F6B4 Accuracy: -m40
Conclusion: CDDA 100%
Signature: EAE0A9D72EB4583B8449685D7BDB9135484593A6
FILE: 06 - Sie werden euch in den Bann tun, BWV 44_ VI. Air _Es ist und bleibt der Christen Trost_.flac
Size: 27664325 Hash: 9BC276DA76BFD70266E4785B52C309B5 Accuracy: -m40
Conclusion: CDDA 100%
Signature: 920C29455F5B2FB2AB544E19BA3E06F4EDF121DA
FILE: 07 - Herr, gehe nicht ins Gericht mit deinem Knecht, BWV 105_ III. Air _Wie zittern und wanken_.flac
Size: 24864196 Hash: C97E6E513CC0F8A99AFD9F79969FFDDD Accuracy: -m40
Conclusion: CDDA 100%
Signature: 037B0887628D730FC05F8897E6EF97CC6CAF5530
FILE: 08 - Nach dir, Herr, verlanget mich, BWV 150_ I. Sinfonia.flac
Size: 6205996 Hash: AA99C00CD035EEC899F3548647E2A202 Accuracy: -m40
Conclusion: CDDA 100%
Signature: B7AEE9197D3CA275583664291B8E0A92CA034AB4
FILE: 09 - Nach dir, Herr, verlanget mich, BWV 150_ II. Chorus _Nach dir, Herr, verlanget mich_.flac
Size: 17535138 Hash: CBD0097B3665BF2DD49336B4BF8F09C4 Accuracy: -m40
Conclusion: CDDA 100%
Signature: 35F3270ABC73A60CACD70AAC1835C04E0FAFFCD7
FILE: 10 - Wenn mein Stündlein vorhanden ist, BWV 430_ I. Chorale.flac
Size: 3229593 Hash: 519E715660801B273AE8E35FD0EADDD4 Accuracy: -m40
Conclusion: CDDA 100%
Signature: 345AA85F7F800175CB6914E4A263B2BC38FBE440
FILE: 11 - Der Himmel lacht! Die Erde jubilieret, BWV 31_ VIII. Air _Letzte Stunde, brich herein_.flac
Size: 18290203 Hash: F9938B4232D86EF6611A212A902DAFF2 Accuracy: -m40
Conclusion: CDDA 100%
Signature: 7F4D1B58C978BCB6643D75C3E0B079FD66B295FA
FILE: 12 - Wenn mein Stündlein vorhanden ist, BWV 430_ II. Chorale.flac
Size: 2751846 Hash: C49AD638E9AC10CB7688A2CD28E6FB18 Accuracy: -m40
Conclusion: CDDA 100%
Signature: 5AE3AC11E208A53FC8DF178D12F0D5666CB631B0
FILE: 13 - Siehe zu, daß deine Gottesfurcht nicht Heuchelei sei, BWV 179_ V. Air _Liebster Gott, erbarme dich_.flac
Size: 22494615 Hash: DD50FC2390D457031923214BCAFAB519 Accuracy: -m40
Conclusion: CDDA 100%
Signature: CF0D5C54DAC0A6FB0219C8DDD7E230254D98EE5B
FILE: 14 - Nach dir, Herr, verlanget mich, BWV 150_ IV. Chorus _Leite mich in deiner Wahrheit_.flac
Size: 10031200 Hash: 532D3210571A8FC0BFB784F992F43C24 Accuracy: -m40
Conclusion: CDDA 100%
Signature: 903836B123D1F1FC0A0D15BCB52422E191D1EE89
FILE: 15 - Ich habe genug, BWV 82a_ I. Air _Ich habe genug_.flac
Size: 31446119 Hash: EB2357FD98864F5A7061E69EC14A115C Accuracy: -m40
Conclusion: CDDA 99%
Signature: 6195F4BC541E5530BA80F16355CCEC49FBC73F5C
FILE: 16 - Ich habe genug, BWV 82a_ V. Air _Ich freue mich auf meinen Tod_.flac
Size: 18176967 Hash: E09C9BDC09D9CB5BDE117B2C42F20FC6 Accuracy: -m40
Conclusion: CDDA 100%
Signature: B31C16D6D4218B45CB5AE1A2C012C789259AB706
FILE: 17 - Herr, gehe nicht ins Gericht mit deinem Knecht, BWV 105_ VI. Chorale _Jesu, der du meine Seele_.flac
Size: 14164535 Hash: B7CD14AF22BEF44C2F3A8A220BC706CF Accuracy: -m40
Conclusion: CDDA 99%
Signature: 7A7DFE7DAF885129084A01593CE2C87D496BC3DD
FILE: 18 - Herr Jesu Christ, wahr' Mensch und Gott, BWV 127_ III. Air _Die Seele ruht in Jesu Händen_.flac
Size: 29544117 Hash: 20205FCECA262607B83EA1450DB5B01E Accuracy: -m40
Conclusion: CDDA 100%
Signature: 8C7FAC39CDBF10702A9A1F49BD6A074887689A4A
FILE: 19 - Weichet nur, betrübte Schatten, BWV 202_ I. Air _Weichet nur betrübte Schatten_.flac
Size: 25015314 Hash: 4EB9DB8E33E3CD27C07DC010B8E5BCB2 Accuracy: -m40
Conclusion: CDDA 100%
Signature: F568ABEE3160F015BE74FB82B9F4620989A0209B
FILE: 20 - Nach dir, Herr, verlanget mich, BWV 150_ VII. Chorus _Meine Tage in dem Leide_.flac
Size: 18250257 Hash: 7C77AB8531A7ECA625A121C443CF5F48 Accuracy: -m40
Conclusion: CDDA 100%
Signature: BA3C1CD3B197140EEF791E0722A82B2843C427E1
FILE: 21 - Mache dich, mein Geist, bereit, BWV 115_ IV. Air _Bete aber auch dabei_ (Lounge Version) (Bonus Track).flac
Size: 23542476 Hash: 5EA69973F909EDB52971830670D38E2B Accuracy: -m40
Conclusion: CDDA 100%
Signature: 155E37AA228C68CBF4F250AFB325B7259C474AB5