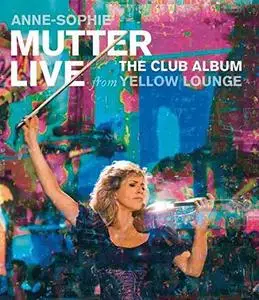 Anne-Sophie Mutter - The Club Album: Live from Yellow Lounge (2015) [Blu-Ray]
BluRay | BDMV | MPEG-4 AVC Video / 26000 kbps / 1080i / 29,970 fps | 102 min | 28,3 Gb
Audio1: LPCM Audio / 2.0 / 96 kHz / 4608 kbps / 24-bit | Audio2: DTS-HD Master Audio / 5.0 / 96 kHz / 6385 kbps / 24-bit
Classical | Deutsche Grammophon | Sub: English
DG s iconic artist Anne-Sophie Mutter is breaking new grounds with her new album Live from Yellow Lounge. Inspired by the huge success of her first Yellow Lounge in Berlin in 2013, the new album was recorded live at two special Yellow Lounges, which makes for the first ever YL production on tape, 15 years after the concept was introduced. The events took place on two consecutive nights on 7 and 8 May, 2015 at one of Berlin s hippest venues Neue Heimat and was filmed in cooperation with ZDF and DEF Media.
Beyond Mutter s Virtousi, one of DG s rising stars, Mahan Esfahani on harpsichord, and her long-time companion Lambert Orkis were accompanying her.
The audio and video features accessible virtuosic and lyrical repertoire in fresh, cutting edge interpretations as well as great visuals from a club film, setting new standards.
Cast:
Anne-Sophie Mutter, violin
Lambert Orkis, piano
Mahan Esfahani, harpsichord
Mutter's Virtuosi
Track List:
01. Opening Credits
Antonio Vivaldi
02. The Four Seasons - Concerto In G Minor, Rv 315 "Summer": 3. Presto
George Gershwin
Three Preludes
03. Allegro Ben Ritmato e Deciso
04. Andante Con Moto e Poco Rubato
05. Allegro Ben Ritmato e Deciso
Johann Sebastian Bach
06. Doble Concerto, BWV 1043: 3. Allegro
Pyotr Ilyich Tchaikovsky
07. Souvenir D'un Lieu Cher, Op. 42
Antonio Vivaldi
08. The Four Seasons - Concerto In F Minor, Rv 297 "Winter": 1. Allegro Non Molto
Johann Sebastian Bach
09. Doble Concerto, BWV 1043: 1. Vivace
Johannes Brahms
10. Hungarian Dance No.1 In G Minor, Woo 1
Claude Achille Debussy
11. Golliwogg's Cakewalk (Arranged By Jascha Heifetz)
Camille Saint-Saëns
12. Introduction et Rondo Capriccioso, Op. 28
Claude Achille Debussy
13. Clair De Lune (Arranged By Alexandre Rolens)
Aaron Copland
14. Hoe-Down (Original Version)
Johann Sebastian Bach
15. Ave Maria (Arranged Bu Gounod)
Arthur Benjamin
16. Jamaican Rumba
John Williams
17. Theme from Schindler's List
18. Credits

Disc Title: LIVE FROM YELLOW LOUNGE
Disc Size: 30 414 934 571 bytes
Protection: AACS
Playlist: 00003.MPLS
Size: 20 152 264 704 bytes
Length: 1:08:50.593
Total Bitrate: 39.03 Mbps
Video: MPEG-4 AVC Video / 26000 kbps / 1080i / 29.970 fps / 16:9 / High Profile 4.1
Audio: Undetermined / DTS-HD Master Audio / 5.0 / 96 kHz / 6385 kbps / 24-bit (DTS Core: 5.0 / 48 kHz / 1509 kbps / 24-bit)
Audio: Undetermined / LPCM Audio / 2.0 / 96 kHz / 4608 kbps / 24-bit
Subtitle: English / 4.401 kbps