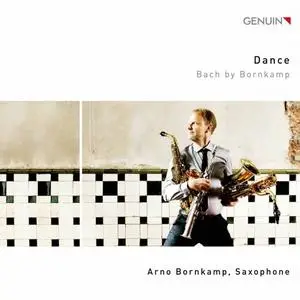 Arno Bornkamp - Dance: Bach by Bornkamp (2020)
FLAC tracks | 01:08:15 | 236 Mb
Genre: Classical / Label: Genuin
Johann Sebastian Bach composed timeless music for solo instruments and invented his own musical worlds for violin, violoncello, flute wonderful, pure architectural beauty. For his GENUIN CD, the saxophonist Arno Bornkamp has arranged solo sonatas by Bach, choosing a different register for each work by using the baritone, soprano and alto saxophones. The symbiosis between instrument and music seems ideal, and, guided by the principles of historical performance practice, the co-founder of the Aurelia Saxophone Quartet plays with great ease and flow.
Track List:
01. Cello Suite No. 2 in D Minor, BWV 1008 (Arr. for Saxophone) I. Prelude
02. Cello Suite No. 2 in D Minor, BWV 1008 (Arr. for Saxophone) II. Allemande
03. Cello Suite No. 2 in D Minor, BWV 1008 (Arr. for Saxophone) III. Courante
04. Cello Suite No. 2 in D Minor, BWV 1008 (Arr. for Saxophone) IV. Sarabande
05. Cello Suite No. 2 in D Minor, BWV 1008 (Arr. for Saxophone) V. Menuets I & II
06. Cello Suite No. 2 in D Minor, BWV 1008 (Arr. for Saxophone) VI. Gigue
07. Partita in A Minor for Solo Flute, BWV 1013 (Arr. for Saxophone) I. Allemande
08. Partita in A Minor for Solo Flute, BWV 1013 (Arr. for Saxophone) II. Courante
09. Partita in A Minor for Solo Flute, BWV 1013 (Arr. for Saxophone) III. Sarabande
10. Partita in A Minor for Solo Flute, BWV 1013 (Arr. for Saxophone) IV. Bourree anglaise
11. Partita No. 2 in D Minor for Solo Violin, BWV 1004 (Arr. for Saxophone) I. Allemande
12. Partita No. 2 in D Minor for Solo Violin, BWV 1004 (Arr. for Saxophone) II. Courante
13. Partita No. 2 in D Minor for Solo Violin, BWV 1004 (Arr. for Saxophone) III. Sarabande
14. Partita No. 2 in D Minor for Solo Violin, BWV 1004 (Arr. for Saxophone) IV. Gigue
15. Partita No. 2 in D Minor for Solo Violin, BWV 1004 (Arr. for Saxophone) V. Chaconne
ANALYZER: auCDtect: CD records authenticity detector, version 0.8.2
Copyright © 2004 Oleg Berngardt. All rights reserved.
Copyright © 2004 Alexander Djourik. All rights reserved.


FILE: 01. Cello Suite No. 2 in D Minor, BWV 1008 (Arr. for Saxophone) - I. Prélude.flac
Size: 14088270 Hash: 3A17A900CBECEF21D5DCFFDAB04FBED6 Accuracy: -m40
Conclusion: CDDA 100%
Signature: 5805E7BF791E74711A61ECC9FDE4630365792042
FILE: 02. Cello Suite No. 2 in D Minor, BWV 1008 (Arr. for Saxophone) - II. Allemande.flac
Size: 12590367 Hash: 955B537D5AFF11C88EF77BCDB2104C40 Accuracy: -m40
Conclusion: CDDA 100%
Signature: 0A629F26DD68733B76375FCA6434367569C6F6D9
FILE: 03. Cello Suite No. 2 in D Minor, BWV 1008 (Arr. for Saxophone) - III. Courante.flac
Size: 8742817 Hash: C730124D13EE846BD33632D6E9D16447 Accuracy: -m40
Conclusion: CDDA 100%
Signature: 282EB1F07635FAB46617C32F6A363AD7D250FDB5
FILE: 04. Cello Suite No. 2 in D Minor, BWV 1008 (Arr. for Saxophone) - IV. Sarabande.flac
Size: 15603232 Hash: E55D40E5D31CEAC76BB2D022F8CEF992 Accuracy: -m40
Conclusion: CDDA 100%
Signature: 1573728777D42AB42464296F6E4C361ADAE81B03
FILE: 05. Cello Suite No. 2 in D Minor, BWV 1008 (Arr. for Saxophone) - V. Menuets I & II.flac
Size: 10558546 Hash: 2668A73CCD155322EDAEB94CFFA94E33 Accuracy: -m40
Conclusion: CDDA 100%
Signature: F5618C530C484DF3BF492063AABA192378615587
FILE: 06. Cello Suite No. 2 in D Minor, BWV 1008 (Arr. for Saxophone) - VI. Gigue.flac
Size: 10231812 Hash: FC5E3A8F2384EBF20481C6263A5F87D9 Accuracy: -m40
Conclusion: CDDA 100%
Signature: 6301E2E9BE528FD05D312A83E9A24991DF86C642
FILE: 07. Partita in A Minor for Solo Flute, BWV 1013 (Arr. for Saxophone) - I. Allemande.flac
Size: 17106831 Hash: 4187D1EFA86EBD3DA515DAC01571F42D Accuracy: -m40
Conclusion: CDDA 99%
Signature: 52B1FFBA6F14272C0AB51A1F186D3165C2C3811C
FILE: 08. Partita in A Minor for Solo Flute, BWV 1013 (Arr. for Saxophone) - II. Courante.flac
Size: 11408228 Hash: C2093D61C59CF5ABF80D19ED178F7F85 Accuracy: -m40
Conclusion: CDDA 100%
Signature: 0B0C0BD6DE37E5710632E3790BA7F0EC23E11F4B
FILE: 09. Partita in A Minor for Solo Flute, BWV 1013 (Arr. for Saxophone) - III. Sarabande.flac
Size: 11304981 Hash: A14A2EB50ACCBF32DD1A65E998B52E41 Accuracy: -m40
Conclusion: CDDA 100%
Signature: ED6638822F0E756D2B703920D018A6D216047545
FILE: 10. Partita in A Minor for Solo Flute, BWV 1013 (Arr. for Saxophone) - IV. Bourrée anglaise.flac
Size: 7727567 Hash: 5600FA083D750CC01C83A27338B788CB Accuracy: -m40
Conclusion: CDDA 100%
Signature: 73BAF75B0C842202155CA9FD83190FFB491E2351
FILE: 11. Partita No. 2 in D Minor for Solo Violin, BWV 1004 (Arr. for Saxophone) - I. Allemande.flac
Size: 19596036 Hash: 8D15074450D34E9FD91D8015C130A875 Accuracy: -m40
Conclusion: CDDA 100%
Signature: 06FBC7A5D5AD8A38B5819EA6800C1A6D19B58268
FILE: 12. Partita No. 2 in D Minor for Solo Violin, BWV 1004 (Arr. for Saxophone) - II. Courante.flac
Size: 11738717 Hash: 1749B44C510E67819E7D1520BA9D1F1C Accuracy: -m40
Conclusion: CDDA 100%
Signature: 6AAE54ABC1F8E4CED4B705AF6235ED56B097A690
FILE: 13. Partita No. 2 in D Minor for Solo Violin, BWV 1004 (Arr. for Saxophone) - III. Sarabande.flac
Size: 14990325 Hash: 7C2B79B95D73F92FE9B055F925D6CB5C Accuracy: -m40
Conclusion: CDDA 100%
Signature: 22010F8F219931CF840FA9FF90C7D3DD3C390D4B
FILE: 14. Partita No. 2 in D Minor for Solo Violin, BWV 1004 (Arr. for Saxophone) - IV. Gigue.flac
Size: 21469837 Hash: 123E6713B08955A10EDCCD3143B8EAE3 Accuracy: -m40
Conclusion: CDDA 100%
Signature: 299F029F6A2E48C0CCDEA0C4454C7226A62B99CB
FILE: 15. Partita No. 2 in D Minor for Solo Violin, BWV 1004 (Arr. for Saxophone) - V. Chaconne.flac
Size: 60981530 Hash: 5FA8996E7DEFA588A31A57DBDB9B9E3C Accuracy: -m40
Conclusion: CDDA 99%
Signature: D3DBF4BB6F008FEBAF252BD2EE16C6B816C292C7