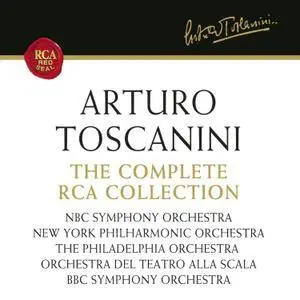 Arturo Toscanini - The Complete RCA Collection (85CD Box Set, 2012)
EAC Rip | APE (*image + .cue,log) | Run Time: 92:44:55 | 18,1 Gb | Scans - 7,4 Mb
Genre: Classical | Label: RCA Red Seal
Back by popular demand, The Toscanini Collection is a reissue of RCA's 1992 compendium that encompassed all of the recordings Toscanini made with the New York Philharmonic, Philadelphia Orchestra, and NBC Symphony. A new addition to this amazing collection is his approved recordings with the BBC Symphony from the 1930s that were not included in the 1992 edition. This limited-edition package is the complete RCA Toscanini Collection on 84 CDs plus a bonus DVD, "The Maestro." The deluxe hardcover book contains liner notes by Toscanini biographers Mortimer F. Frank and Michael Stegemann. From the Maestro's acoustic recordings of 1920-21 with La Scala orchestra, to his 1954 retirement, The Toscanini Collection spans all the years in which Toscanini's career veered away from the opera house as it moved exclusively to the concert hall. As with his NBC broadcasts and recordings, the BBC and Philadelphia accounts disprove the specious notion that Arturo Toscanini was always the same from one performance of a given work to the next.
The BBC recordings have special value for occurring in Queen's Hall, acoustically London's finest concert venue. Particularly interesting are three NBC performances of Beethoven's Eroica Symphony, two from broadcasts (October 28, 1939 and December 6, 1953), and the third from a 1949 Carnegie Hall recording session. With each performance being somewhat different from the other, they serve as a reminder of how Toscanini was invariably rethinking his approach to a particular work.
There are 72 volumes, however 11 of the volumes contain 2 discs and 1 of the volumes contains 3 discs, making it a total of 85 discs.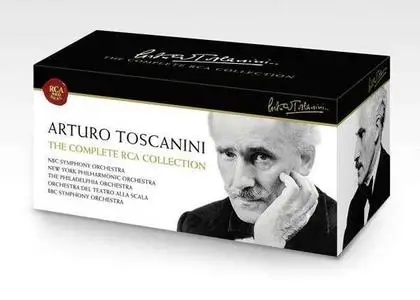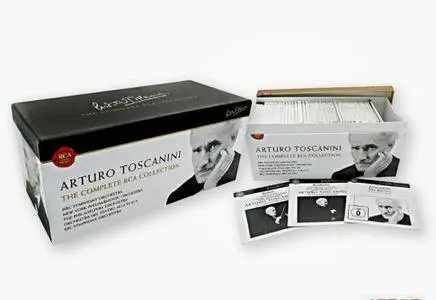 Contents:
Disc 1-5 Beethoven
Disc 6-9 Brahms
Disc 10-11 Mozart
Disc 12-13 Haydn
Disc 14-15 Schubert
Disc 16 Schumann
Disc 17 Mendelssohn
Disc 18-19 Tchaikovsky
Disc 20 Franck, Saint-Saëns
Disc 21 Sibelius
Disc 22 Shostakovich
Disc 23 Beethoven
Disc 24 Dvorák, Kodály, Smetana
Disc 25 Beethoven
Disc 26 Brahms
Disc 27 Cherubini , Cimarosa
Disc 28 Prokofiev
Disc 29 Beethoven, Mozart
Disc 30-31 Strauss, Wagner
Disc 32 Respighi
Disc 33-35 Berlioz , Bizet
Disc 36 Maurice Ravel; Modest Mussorgsky, Elgar
Disc 37 Felix Mendelssohn-Bartholdy
Disc 38 Claude Debussy
Disc 39 George Gershwin , John Philip Sousa, Ferde Grofé, Samuel Barber, John Philip Sousa; Arturo Toscanini, John Stafford Smith;
Disc 40 Maurice Ravel, Paul Dukas, Camille Saint-Saëns, Berlioz, César Franck, Ambroise Thomas
Disc 41 Leopold Mozart, Johann Strauss, Jr., Franz von Suppe, Amilcare Ponchielli, Niccolò Paganini; Arturo Toscanini, Johann Sebastian Bach, Carl Maria von Weber; Hector Berlioz, Michail Glinka
Disc 42-43 Beethoven
Disc 44-45 Johannes Brahms, Piotr Ilich Tchaikovsky, Modest Mussorgsky
Disc 46 Beethoven
Disc 47 Christoph Willibald Gluck, Ranieri de' Calzabigi, Ludwig van Beethoven; Joseph Sonnleithner
Disc 48 Gioacchino Rossini
Disc 49-50 Richard Wagner
Disc 51 Wolfgang Amadeus Mozart, Gaetano Donizetti, Gioacchino Rossini, Alfredo Catalani, Giacomo Puccini, Giuseppe Verdi,
Disc 52 Ferdinand Hérold, Engelbert Humperdinck, Dmitri Kabalevsky, Mozart
Disc 53-54 Richard Wagner
Disc 55-56 Ludwig van Beethoven; Stephen Van Breuning; Joseph Sonnleithner; Georg Friedrich Treitschke
Disc 57-58 Giuseppe Giacosa; Giacomo Puccini; Luigi Illica
Disc 59-61 Giuseppe Verdi; Antonio Ghislanzoni
Disc 62-65 Giuseppe Verdi; Arrigo Boito
Disc 66-67 Giuseppe Verdi; Antonio Somma
Disc 68-69 Giuseppe Verdi; Francesco Maria Piave
Disc 70 Ludwig van Beethoven
Disc 71 Luigi Cherubini
Disc 72 Arrigo Boito, Temistocle Solera; Giuseppe Verdi, Giuseppe Verdi; Francesco Maria Piave, Giuseppe Verdi
Disc 73 Giuseppe Verdi
Disc 74 Temistocle Solera; Giuseppe Verdi, Salvatore Cammarano, Giuseppe Verdi
Disc 75 Ludwig van Beethoven, Joseph Haydn, Felix Mendelssohn-Bartholdy
Disc 76 Wolfgang Amadeus Mozart, Felix Mendelssohn-Bartholdy, Johannes Brahms
Disc 77 Christoph Willibald Gluck, Gioacchino Rossini, Giuseppe Verdi, Richard Wagner; Arturo Toscanini, Richard Wagner
Disc 78 Claude Debussy, Ottorino Respighi,
Disc 79 Piotr Ilich Tchaikovsky, Richard Strauss
Disc 80 Franz Schubert
Disc 81 Felix Mendelssohn-Bartholdy, Hector Berlioz
Disc 82 Ludwig van Beethoven, Hector Berlioz, Georges Bizet, Gaetano Donizetti, Ottorino Respighi, Jules Massenet, Felix Mendelssohn-Bartholdy, Wolfgang Amadeus Mozart, Ildebrando Pizzetti, Ermanno Wolf-Ferrari
Disc 83 Ludwig van Beethoven, Wolfgang Amadeus Mozart, Gioacchino Rossini, Carl Maria von Weber; Hector Berlioz
Disc 84 Ludwig van Beethoven, Johannes Brahms
Disc: 1
1. I. Allegro con brio
2. II. Marcia funebre. Adagio assai
3. III. Scherzo. Allegro vivace - Trio
4. IV. Finale. Allegro molto - Poco andante - Presto
5. I. Adagio molto - Allegro con brio
6. II. Andante cantabile con moto
7. III. Menuetto. Allegro molto e vivace
8. IV. Adagio - Allegro molto e vivace

Disc: 2
1. I. Poco sostenuto - Vivace
2. II. Allegretto
3. III. Presto - Assai meno presto - Presto
4. IV. Allegro con brio
5. I. Adagio molto - Allegro con brio
6. II. Larghetto
7. III. Scherzo - Trio
8. IV. Allegro molto
9. Egmont, Op. 84: Overture

Disc: 3
1. I. Erwachen heiterer Gefühle bei der Ankunft auf dem Lande. Allegro ma non troppo
2. II. Szene am Bach. Andante molto mosso
3. III. Lustiges Zusammensein der Landleute. Allegro
4. IV. Gewitter, Sturm. Allegro
5. V. Hirtengesang. Frohe und dankbare Gefühle nach dem Sturm. Allegretto
6. I. Adagio - Allegro vivace
7. II. Adagio
8. III. Menuetto. Allegro vivace
9. IV. Allegro ma non troppo

Disc: 4
1. I. Allegro con brio
2. II. Andante con moto
3. III. Allegro
4. IV. Allegro
5. I. Allegro vivace e con brio
6. II. Allegretto scherzando
7. III. Tempo di Menuetto
8. IV. Allegro vivace
9. Leonore Overture No. 3, Op. 72a

Disc: 5
1. I. Allegro ma non troppo, un poco maestoso
2. Scherzo. Molto vivace - Presto
3. III. Adagio molto e cantabile - Andante moderato
4. IV. Presto - Allegro assai

Disc: 6
1. I. Un poco sostenuto - Allegro
2. II. Andante sostenuto
3. III. Un poco allegretto e grazioso
4. IV. Adagio - Più andante - Allegro non troppo, ma con brio
5. Academic Festival Overture, Op. 80
6. No. 1 in G Minor. Allegro molto
7. No. 17 in F-Sharp Minor. Andantino
8. No. 20 in E Minor. Poco allegretto
9. No. 21 in E Minor. Vivace

Disc: 7
1. I. Allegro non troppo
2. II. Adagio non troppo
3. III. Allegretto grazioso (Quasi andantino)
4. IV. Allegro con spirito
5. Chorale St. Antoni. Andante
6. Variation I. Poco più animato
7. Variation II. Più vivace
8. Variation III. Con moto
9. Variation IV. Andante con moto
10. Variation V. Vivace
11. Variation VI. Vivace
12. Variation VII. Grazioso
13. Variation VIII. Presto non troppo
14. Finale. Andante
15. Tragic Overture, Op. 81

Disc: 8
1. I. Allegro con brio
2. II. Andante
3. III. Poco allegretto
4. IV. Allegro
5. I. Allegro
6. II. Andante
7. III. Vivace non troppo

Disc: 9
1. I. Allegro non troppo
2. II. Andante moderato
3. III. Allegro giocoso
4. IV. Allegro energico e passionata
5. 1. Rede, Mädchen, allzu liebes
6. 2. Am Gesteine rauscht die Flut
7. 3. O die Frauen
8. 4. Wie des Abends schöne Röte
9. 5. Die grüne Hopfenranke
10. 6. Ein kleiner, hübscher Vogel
11. 7. Wohl schön bewandt war es
12. 8. Wenn so lind dein Auge mir
13. 9. Am Donaustrande
14. 10. O wie sanft die Quelle
15. 11. Nein, es ist nicht auszukommen
16. 12. Schlosser auf, und mache Schlösser
17. 13. Vögelein durchrauscht die Luft
18. 14. Sieh, wie ist die Welle klar
19. 15. Nachtigall, sie singt so schön
20. 16. Ein dunkeler Schacht ist Liebe
21. 17. Nicht wandle, mein Licht
22. 18. Es bebet das Gesträuche
23. Gesang der Parzen, Op. 89

Disc: 10
1. Overture
2. I. Allegro con spirito
3. II. Andante
4. III. Menuetto - Trio
5. IV. Finale. Presto
6. I. Allegro - Leonard Sharrow
7. II. Andante ma adagio - Leonard Sharrow
8. III. Rondo. Tempo di menuetto - Leonard Sharrow
9. I. Allegro
10. a) Theme. Andante grazioso
11. b) Variation I
12. c) Variation II
13. d) Variation III
14. e) Variation IV
15. f) Variation V
16. g) Variation VI
17. III. Menuetto
18. IV. Adagio
19. V. Andante - Allegro molto

Disc: 11
1. I. Adagio - Allegro
2. II. Andante con moto
3. III. Menuetto. Allegretto - Trio
4. IV. Finale. Allegro
5. I. Allegro molto
6. II. Andante
7. III. Menuetto. Allegretto - Trio
8. IV. Finale. Allegro assai
9. I. Allegro vivace
10. II. Andante cantabile
11. III. Menuetto. Allegretto - Trio
12. IV. Molto allegro

Disc: 12
1. I. Adagio - Allegro
2. II. Largo
3. III. Menuetto. Allegretto - Trio
4. IV. Finale. Allegro con spirito
5. I. Adagio - Vivace assai
6. II. Andante
7. III. Menuetto. Allegretto - Trio
8. IV. Finale. Presto ma non troppo
9. I. Adagio - Allegro
10. II. Adagio cantabile
11. III. Menuetto. Allegretto - Trio
12. IV. Finale. Presto

Disc: 13
1. I. Adagio - Presto
2. II. Andante
3. III. Menuetto. Allegretto - Trio
4. IV. Finale. Vivace
5. I. Adagio - Vivace assai
6. II. Adagio
7. III. Menuetto. Allegretto - Trio
8. IV. Finale. Vivace
9. I. Allegro
10. II. Andante
11. III. Allegro con spirito

Disc: 14
1. I. Allegro moderato
2. II. Andante con moto
3. I. Andante - Allegro, ma non troppo - Più moto
4. II. Andante con moto
5. III. Scherzo. Allegro vivace - Trio
6. IV. Finale. Allegro vivace

Disc: 15
1. I. Allegro
2. II. Andante con moto
3. III. Menuetto. Allegro molto - Trio
4. IV. Allegro vivace
5. I. Andante - Allegro, ma non troppo - Più moto
6. II. Andante con moto
7. III. Scherzo. Allegro vivace - Trio
8. IV. Finale. Allegro vivace

Disc: 16
1. I. Lebhaft
2. II. Scherzo. Sehr mäßig
3. III. Nicht schnell
4. IV. Feierlich
5. V. Lebhaft
6. Manfred Overture, Op. 115
7. Overture
8. Overture
9. Overture

Disc: 17
1. I. Allegro vivace
2. II. Andante con moto
3. III. Con moto moderato
4. IV. Saltarello. Presto
5. I. Andante - Allegro con fuoco
6. II. Allegro vivace
7. III. Andante
8. IV. Andante con moto. Chorale: Ein' feste Burg ist unser Gott
9. Scherzo
10. III. Scherzo. Allegro leggierissimo

Disc: 18
1. I. Adagio - Allegro non troppo
2. II. Allegro con grazia
3. III. Allegro molto vivace
4. IV. Adagio lamentoso
5. I. Miniature Overture
6. II. March
7. III. Dance of the Sugar-Plum Fairy
8. IV. Russian Dance. Trépak
9. V. Arabian Dance
10. VI. Chinese Dance
11. VII. Dance of the Flutes
12. VIII. Waltz of the Flowers

Disc: 19
1. I. Lento lugubre
2. II. Vivace con spirito
3. III. Pastorale. Andante con moto
4. IV. Allegro con fuoco
5. Romeo and Juliet, TH 42

Disc: 20
1. I. Lento - Allegro non troppo
2. II. Allegretto
3. III. Allegro non troppo
4. I. Adagio - Allegro moderato
5. II. Poco adagio
6. III. Allegro moderato - Presto
7. IV. Maestoso - Allegro

Disc: 21
1. I. Allegretto
2. II. Tempo andante, ma rubato
3. III. Vivacissimo
4. IV. Finale. Allegro moderato
5. Pohjola's Daughter, Op. 49
6. No. 2, The Swan of Tuonela
7. Finlandia, Op. 26

Disc: 22
1. I. Allegretto
2. II. Moderato (poco allegretto)
3. III. Adagio
4. IV. Allegro non troppo

Disc: 23
1. I. Allegro con brio
2. II. Marcia funebre. Adagio assai
3. III. Scherzo. Allegro vivace - Trio
4. IV. Finale. Allegro molto - Poco andante - Presto
5. I. Allegro vivace e con brio
6. II. Allegretto scherzando
7. III. Tempo di Menuetto
8. IV. Allegro vivace

Disc: 24
1. I. Adagio - Allegro molto
2. II. Largo
3. III. Scherzo. Molto vivace
4. IV. Allegro con fuoco
5. I. Prelude. The Fairy Tale Begins
6. II. Viennese Musical Clock
7. III. Song
8. IV. The Battle and Defeat of Napoleon
9. V. Intermezzo
10. VI. Entrance of the Emperor and His Court
11. Má vlast, JB 1:112: II. Vltava (Die Moldau)

Disc: 25
1. I. Allegro con brio
2. II. Andante con moto
3. III. Scherzo. Allegro
4. IV. Allegro
5. I. Adagio - Allegro con brio
6. II. Adagio cantabile
7. III. Tempo di Menuetto
8. Tema. Andante
9. Variation I
10. Variation II
11. Variation III
12. Variation IV
13. Variation V
14. V. Scherzo. Allegro molto vivace
15. VI. Andante con moto alla marcia - Presto
16. Egmont Overture, Op. 84

Disc: 26
1. I. Un poco sostenuto - Allegro
2. II. Andante sostenuto
3. III. Un poco allegretto e grazioso
4. IV. Adagio - Più andante - Allegro non troppo, ma con brio
5. I. Allegro moderato
6. II. Scherzo. Vivace
7. III. Adagio non troppo
8. IV. Quasi menuetto
9. V. Rondo. Allegro

Disc: 27
1. I. Largo - Allegro
2. II. Larghetto cantabile
3. III. Menuetto. Allegro non tanto
4. IV. Allegro assai
5. Ali-Baba: Overture
6. Anacréon: Overture
7. Médée: Overture
8. Il matrimonio segreto: Overture
9. Il matrimonio per raggiro: Overture

Disc: 28
1. I. Allegro
2. II. Intermezzo. Larghetto
3. III. Gavotte. Non troppo allegro
4. IV. Finale. Molto vivace
5. I. Allegretto - Allegro non troppo
6. II. Allegro
7. III. Lento
8. IV. Lento - Allegro molto
9. Kamarinskaya
10. Kikimora, Op. 63
11. I. Vivace
12. II. Le tour de passe-passe
13. III. Danse russe
14. I. Poco più mosso
15. II. Danse des nourrices
16. III. Danse du paysan et de l'ours
17. IV. Danse des Tziganes
18. V. Danse des cochers
19. VI. Les Dégiusés

Disc: 29
1. I. Allegro con brio
2. II. Marcia funèbre. Adagio assai
3. III. Scherzo. Allegro vivace - Trio
4. IV. Finale. Allegro molto - Poco andante - Presto
5. I. Molto Allegro
6. II. Andante
7. III. Menuetto. Allegretto - Trio
8. IV. Finale. Allegro assai

Disc: 30
1. Introduction
2. Theme: Don Quixote, the Knight of the Sorrowful Countenance
3. Variation I (The Adventure with the Windmills)
4. Variation II (The Battle with the Sheep)
5. Variation III (Dialogue between Knight and Squire)
6. Variation IV (The Adventure with the Penitents)
7. Variation V (The Knight's Vigil)
8. Variation VI (The False Dulcinea)
9. Variation VII (The Ride Through the Air)
10. Variation VIII (The Adventure of the Enchanted Boat)
11. Variation IX (The Combat with the Two Magicians)
12. Variation X (The Defeat of Don Quixote by the Knight of the White Moon)
13. Finale (The Death of Don Quixote)
14. I. Largo (Glückliche Erinnerungen an die Kindheit)
15. II. Allegro molto agitato (Todeskampf)
16. III. Meno mosso, ma sempre alla breve (Träume des Sterbenden, Tod)
17. IV. Moderato (Verklärung)

Disc: 31
1. Don Juan, Op. 20
2. I. Der Schelm wird vorgestellt
3. II. Tills Streiche
4. III. Tills Prozess
5. IV. Urteil und Hinrichtung
6. V. Epilog
7. Tanz der sieben Schleier
8. Morgendämmerung und Siegfrieds Rheinfahrt
9. Siegfried Idyll, WWV 103

Disc: 32
1. The Pines of the Villa Borghese
2. Pines Near a Catacomb
3. The Pines of the Janiculum
4. The Pines of the Appian Way
5. 1. The Fountain of Valle Giulia at Dawn
6. 2. The Triton Fountain in the Morning
7. 3. The Trevi Fountain at Noon
8. 4. The Villa Medici Fountain at Sunset
9. 1. Circuses
10. 2. The Jubilee
11. 3. The October Festival
12. 4. Epiphany

Disc: 33
1. I. Harold aux montagnes. Scènes de mélancolie, de bonheur, et de joie
2. II. Marche de pélerins chantant la prière du soir
3. III. Sérénade d'un montagnard des Abruzzes à sa maîtresse
4. IV. Orgie de brigands. Souvenirs des scènes précédentes
5. Roméo seul
6. Tristesse
7. Bruits lointaines de concert et de bal
8. Grande fête chez Capulet
9. Scène d'amour

Disc: 34
1. Introduction. Combats - Tumulte - Intervention du Prince
2. Prologue. D'anciennes haines endormies
3. Strophes. Permiers transports que nul n'oublie!
4. Bientôt de Roméo la pâle rêverie
5. Roméo seul
6. Tristesse
7. Bruits lointaines de concert et de bal
8. Grande fête chez Capulet
9. Nuit sereine
10. Scène d'amour
11. La reine Mab (Scherzo)

Disc: 35
1. Convoi funèbre de Juliette
2. Roméo au tombeau des Capulets
3. Invocation
4. Réveil de Juliette
5. Mort des deux amants
6. Quoi! Roméo de retour!
7. Je vais dévoiler le mystére
8. Pauvre enfants que je pleure - Nicola Moscona
9. Jurez donc par l'auguste symbole
10. I. Overture
11. II. Menuetto
12. III. Adagietto
13. L'Arlésienne Suite No. 2: I. Pastorale
14. IV. Carillon
15. Carmen Suite No. 1

Disc: 36
1. Promenade
2. 1. Gnomus
3. Promenade. Moderato commodo assai e con delicatezza
4. 2. Il vecchio castello
5. Promenade. Moderato non tanto, pesamente
6. 3. Tuileries
7. 4. Bydlo
8. Promenade. Tranquillo
9. 5. Ballet of the Unhatched Chicks
10. 6. Samuel Goldenberg and Schmuyle
11. 7. Limoges - The Market
12. 8. Catacombae (Sepulchrum romanum)
13. Con mortuis in lingua mortua
14. 9. The Hut on Fowl's Legs
15. 10. The Great Gate of Kiev
16. Thema (Enigma). Andante
17. Variation I. L'istesso tempo "C.A.E."
18. Variation II. Allegro "H.D.S-P."
19. Variation III. Allegretto "R.B.T."
20. Variation IV. Allegro di molto "W.M.B."
21. Variation V. Moderato "R.P.A."
22. Variation VI. Andantino "Ysobel"
23. Variation VII. Presto "Troyte"
24. Variation VIII. Allegretto "W.N."
25. Variation IX. Adagio "Nimrod"
26. Variation X. Intermezzo: Allegretto "Dorabella"
27. Variation XI. Allegro di molto "G.R.S."
28. Variation XII. Andante "B.G.N."
29. Variation XIII. Romanza: Moderato "***"
30. Variation XIV. Finale: Allegro Presto "E.D.U."

Disc: 37
1. Overture, Op. 21
2. Allegro appassionato - Allegro molto comodo
3. Con moto tranquillo
4. Scherzo. Allegro vivace
5. Wedding March
6. Finale. Allegro di molto
7. I. Allegro moderato con fuoco
8. II. Andante
9. Scherzo. Allegro leggierissimo
10. IV. Presto

Disc: 38
1. I. De l'aube a midi sur la mer
2. II. Jeux de vagues
3. III. Dialogue du vent et de la mer
4. Prélude à l'après midi d'un faune, L. 86
5. I. Par les rues et les chemins
6. II. Les parfums de la nuit
7. III. Le matin d'un jour de fête
8. 1. Nuages
9. 2. Fêtes

Disc: 39
1. An American in Paris
2. El Capitan
3. I. Sunrise
4. II. Painted Desert
5. III. On the Trail
6. IV. Sunset
7. V. Cloudburst
8. Adagio for Strings, Op.11
9. The Stars and Stripes Forever
10. The Star-Spangled Banner

Disc: 40
1. Lever du jour
2. Pantomime
3. Danse générale
4. L'apprenti sorcier
5. Danse macabre, Op. 40
6. Roman Carnival Overture, Op. 9
7. 5. Psyché et Eros
8. Scherzo (La reine Mab)
9. Rákóczy March
10. Overture

Disc: 41
1. The Skaters Waltz, Op. 183
2. I. Allegro
3. II. Minuetto
4. III. Allegro
5. Tritsch-Tratsch Polka, Op. 214
6. An der schönen, blauen Donau, Op. 314
7. Poet and Peasant: Overture
8. Dance of the Hours
9. Moto perpetuo, Op. 11
10. Orchestral Suite No. 3 in D Major, BWV 1068: II. Air
11. Invitation to the Dance, Op. 65
12. Jota aragonesa (Spanish Overture No. 2), G.ii 3

Disc: 42
1. I. Allegro, ma non troppo - Jascha Heifetz
2. II. Larghetto - Jascha Heifetz
3. III. Rondo. Allegro - Jascha Heifetz
4. I. Allegro con brio - Arthur Rubinstein
5. II. Largo - Arthur Rubinstein
6. III. Rondo. Allegro - Presto - Arthur Rubinstein

Disc: 43
1. I. Allegro moderato - Rudolf Serkin
2. II. Andante con moto - Rudolf Serkin
3. III. Rondo. Vivace - Rudolf Serkin
4. I. Allegro con brio - Ania Dorfmann
5. II. Largo - Ania Dorfmann
6. III. Rondo. Allegro - Ania Dorfmann

Disc: 44
1. I. Allegro non troppo - Vladimir Horowitz
2. II. Allegro appassionato - Vladimir Horowitz
3. III. Andante - Vladimir Horowitz
4. IV. Allegretto grazioso - Vladimir Horowitz
5. I. Allegro non troppo e molto maestoso - Vladimir Horowitz
6. II. Andantino semplice - Vladimir Horowitz
7. III. Allegro con fuoco - Vladimir Horowitz

Disc: 45
1. I. Allegro non troppo e molto maestoso - Vladimir Horowitz
2. II. Andantino semplice - Vladimir Horowitz
3. III. Allegro con fuoco - Vladimir Horowitz
4. Promenade - Vladimir Horowitz
5. 1. Gnomus - Vladimir Horowitz
6. Promenade. Moderato commodo assai e con delicatezza - Vladimir Horowitz
7. 2. Il vecchio castello - Vladimir Horowitz
8. Promenade. Moderato non tanto, pesamente - Vladimir Horowitz
9. 3. Tuileries - Vladimir Horowitz
10. 4. Bydlo - Vladimir Horowitz
11. Promenade. Tranquillo - Vladimir Horowitz
12. 5. Ballet of the Unhatched Chicks - Vladimir Horowitz
13. 6. Samuel Goldenberg and Schmuyle - Vladimir Horowitz
14. 7. Limoges, the Market - Vladimir Horowitz
15. 8. Catacombae (Sepulchrum romanum) - Vladimir Horowitz
16. Cum mortuis in lingua mortua - Vladimir Horowitz
17. 9. The Hut on Fowl's Legs - Vladimir Horowitz
18. The Great Gate of Kiev - Vladimir Horowitz

Disc: 46
1. Leonore Overture No. 3, Op. 72b
2. Consecration of the House Overture, Op. 124
3. Coriolan Overture, Op. 62
4. Egmont, Op. 84: Overture
5. The Creatures of Prometheus, Op. 43: Overture
6. Leonore Overture No. 2, Op. 72a
7. III. Lento assai, cantante e tranquillo
8. II. Vivace

Disc: 47
1. Overture
2. Orchestral Interlude - Chi mai dell'Erebo
3. Dance of a Fury
4. Chi mai dell'Erebo
5. Deh! placatevi con me! - Nan Merriman
6. Misero giovane!
7. Mille pene, ombre sdegnose
8. Ah! quale incognito, affetto flebile
9. Men tiranne, ah, voi sareste
10. Ah! quale incognito
11. Dance of the Furies
12. Air
13. Melody
14. Air II
15. Questo asilo ameno e grato
16. Dance of the Heroes and Heroines
17. Che puro ciel! Che chiaro sol!
18. Giunge Euridice. Vieni ai regni del riposo
19. Dance of the Heroes
20. O voi, ombre felici
21. Torna, o bella, al tuo consorte
22. Dance of the Blessed Spirits
23. Abscheulicher! Wo eilst du hin?

Disc: 48
1. Overture
2. Overture
3. Overture
4. Overture
5. Overture
6. Overture
7. Overture
8. Overture

Disc: 49
1. Prelude
2. Prelude
3. Prelude
4. Prelude
5. Prelude
6. Good Friday Spell
7. A Faust Overture, WWV 59

Disc: 50
1. Overture and Bacchanale
2. Prelude
3. Liebestod
4. Ride of the Valkyries
5. Dawn and Siegfried's Rhine Journey
6. Siegfried's Death and Funeral Music

Disc: 51
1. Overture
2. Overture
3. Passo a sei
4. Prelude
5. The Dance of the Water Nymphs
6. Intermezzo
7. Overture
8. Prelude
9. Prelude
10. Overture
11. Overture
12. Ballabili

Disc: 52
1. Overture
2. Vorspiel
3. Overture
4. Overture
5. Overture
6. Overture
7. Overture
8. Overture
9. Overture

Disc: 53
1. Ein Schwert verhiess mir der Vater
2. Der Männer Sippe
3. Winterstürme wichen dem Wonnemond
4. Du bist der Lenz
5. Ein Minnetraum
6. Siegmund heiss' ich
7. Ride of the Valkyries
8. Siegfried Idyll, WWV 103
9. Prelude
10. Liebestod

Disc: 54
1. Forest Murmurs
2. Dawn
3. Zu neuen Taten, teurer Helde
4. Willst du mir Minne schenken
5. O heilige Götter
6. Siegfried's Rhine Journey
7. Siegfried's Death and Funeral Music
8. Starke Scheite schichtet mir dort
9. Wie Sonne lauter strahlt mir sein Licht
10. Mein Erbe nun nehm' ich zu eigen
11. Fliegt heim, ihr Raben!
12. Grane, mein Roß, sei mir gegrüßt!

Disc: 55
1. Overture
2. Jetzt, Schätzchen, jetzt sind wir allein
3. O wär' ich schon mit dir vereint
4. Mir ist so wunderbar
5. Hat man nicht auch Gold beineben
6. Gut, Söhnchen, gut!
7. March
8. Ha! Welch ein Augenblick!
9. Jetzt, Alter, hat es Eile!
10. Abscheulicher! Wo eilst du hin?
11. O welche Lust in freier Luft
12. Nun sprecht, wie gings?
13. Wir müssen gleich zu Werke schreiten
14. Ach, Vater, eilet!
15. Verwegner Alter, welche Rechte
16. Leb' wohl, du warmes Sonnenlicht

Disc: 56
1. Gott! Welch ein Dunkel hier!
2. In des Lebens Frühlingstagen
3. Wie kalt ist es
4. Nur hurtig fort, nur frisch gegraben!
5. Euch werde Lohn in bessern Welten
6. Er sterbe! Doch er soll erst wissen
7. Ach! Du bist gerettet!
8. Es schlägt der Rache Stunde
9. O namenlose Freude!
10. Leonore Overture No. 3
11. Heil sei dem Tag!
12. Des besten Königs Wink und Wille
13. Du schlossest auf des Edlen Grab
14. Wer ein solches Weib errungen

Disc: 57
1. Questo Mar Rosso
2. Nei cieli bigi
3. Già dell'Apocalisse appariscono i segni
4. Pensier profondo!
5. Legna! - Sigari! - Bordò!
6. Si può? - Chi è là? - Benoit!
7. Timido in gioventù
8. Chi è là - Scusi. - Una donna!
9. Oh! sventata!
10. Che gelida manina
11. Mi chiamano Mimì
12. Ehi! Rodolfo!
13. O soave fanciulla
14. Aranci, ninnoli!
15. Questa è Mimì
16. Una cuffietta a pizzi
17. Oh! - Essa! - Musetta!
18. Quando me'n vo' (Musetta's Waltz Song)
19. Gioventù mia - Sciogli, slaccia!
20. Caro! - Fuori il danaro!

Disc: 58
1. Ohè, là, le guarde! Aprite!
2. Chi nel ber trovò il piacer
3. Sa dirmi, scusi, qual' è l'osteria
4. O buon Marcello, aiuto!
5. Marcello, finalmente!
6. Mimì è una civetta
7. Addio, senza rancor! (Mimì's Farewell)
8. Che facevi, che dicevi
9. In un coupé?
10. O Mimì, tu più non torni
11. Eccoci - Ebben?
12. Vezzosa damigella
13. The Duel
14. C'è Mimì che mi seque e che sta male
15. Vecchia zimarra, senti
16. Sono andati? Fingevo di dormire
17. Che ha detto il medico

Disc: 59
1. Prelude
2. Sì, corre voce che l'Etiope
3. Se quel guerrier io fossi! … Celeste Aida
4. Quale insolita gioia nel tuo sguardo!
5. Dessa!
6. Ohimè! Di guerra fremere
7. Alta cagion v'aduna
8. Il sacro suolo dell'Egitto è invaso
9. Su! del Nilo al sacro lido
10. Ritorna vincitor!
11. Possente, possente Fthà
12. Sacred Dance of the Priestesses
13. Mortal, diletto ai numi
14. Nume, custode e vindice

Disc: 60
1. Chi mai fra gl'inni e i plausi
2. Dance of the Moorish Slaves
3. Vieni, sul crin ti piovano
4. Silenzio! Aida verso noi s'avanza
5. Pietà, ti prenda del mio dolor
6. Su! del Nilo al sacro lido
7. Gloria all'Egitto, ad Iside
8. March and Ballet
9. Vieni, o guerriero vindice
10. Salvator della patria
11. Concedi in pria
12. Che veggo! Egli? Mio padre!
13. Quest'assisa ch'io vesto vi dica
14. Ma tu, re, tu, signore possente
15. O re, pei sacri numi
16. Gloria all'Egitto, ad Iside
17. Fa cor, della tua patria

Disc: 61
1. O tu che sei d'Osiride
2. Vieni d'Iside al tempio
3. Qui Radamès verrà!
4. O patria mia
5. Ciel! Mio padre!
6. Rivedrai le foreste imbalsamate
7. In armi ora si desta il popol nostro
8. Padre! A costoro schiava non sono
9. Pur ti riveggo, mia dolce Aida
10. Nel fiero anelito di nuova guerra
11. Fuggiam gli ardori inospiti
12. Aida! - Tu non m'ami
13. Ah no! Fuggiamo!
14. Ma, dimmi
15. Traditor!
16. L'abborrita rivale a me sfuggia
17. Io l'amo, io l'amo sempre!
18. Già i sacerdoti adunansi
19. Ah! tu dêi vivere!
20. Chi ti salva, sciagurato
21. Ohimè! morir mi sento
22. Spirto del nume, sovra noi discendi!
23. Radamès! Radamès! Radamès!
24. A lui vivo la tomba!
25. La fatal pietra sovra me si chiuse
26. Presago il core della tua condanna
27. Vedi? Di morte l'angelo
28. O terra, addio

Disc: 62
1. Falstaff!
2. Ssss. Sei polli: sei scellini
3. So che se andiam
4. V'è noto un tal
5. L'Onore! Ladri!
6. Ma, per tornare a voi
7. Alice - Meg
8. Fulgida Alice! Amor t'offro
9. Quell'otre! quel tino!
10. È un ribaldo, un furbo, un ladro
11. Pst, pst, Nanetta
12. Falstaff m'ha canzonetta
13. Torno all'assalto
14. Udrai quanta eglie sfoggia
15. Del tuo barbaro diagnostico
16. Qui più non si vagoli
17. Siam pentiti e contriti
18. Alice è mia!
19. Padron, di là c'è un certo Maestro Fontana
20. Signore, v'assista il cielo!
21. Io l'amo e lei non m'ama
22. Il diavolo se lo porti all'inferno
23. È sogno? o realtà?
24. Eccomi qua

Disc: 63
1. Presenteremo un bill, per una tassa
2. Giunta all'Albergo della Giarrettiera
3. Nannetta, e tu non ridi?
4. Gaie comari di Windsor!
5. Alfin t'ho colto
6. Quand'ero paggio
7. Mia signora!
8. Il diavolo cavalca
9. Vien qua
10. Al ladro!
11. Se t'agguanto!
12. Ned! Will! Tom! Isaac!
13. Ehi! Taverniere!
14. Reverenza.
15. Legge
16. Quando il rintocco
17. Provvedi le lanterne
18. Dal labbro il canto
19. Nossignore!
20. Una, due, tre, quattro
21. Odo un soave passo!
22. Ninfe! Elfi! Silfi!
23. Sul fil d'un soffio etesio
24. Alto là! - Chi va là?
25. Ruzzola, ruzzola
26. Naso vermiglio!
27. Cavaliero - Reverenza
28. Ogni sorta di gente dozzinale
29. Ah! Ah! Ah! Ah!
30. Tutto nel mondo è burla

Disc: 64
1. Una vela!
2. Esultate!
3. Fuoco di gioia!
4. Rodrigo, beviam!
5. Inaffia l'ugola!
6. Capitano, v'attende
7. Olà! che avvien?
8. Già nella notte
9. Quando narravi
10. Venga la morte!
11. Non ti crucciar
12. Credo in un Dio crudel (Iago's Credo)
13. Eccola
14. Ciò m'accora
15. Dove guardi splendono
16. D'un uom che geme
17. Desdemona rea!
18. Ora e per sempre addio
19. Era la notte
20. Si, pel ciel

Disc: 65
1. Introduction
2. La vedetta del porto
3. Dio ti giocondi, o sposo
4. Dio! mi potevi scagliar
5. Vieni, l'aula è deserta
6. Questa è una ragna
7. Come la ucciderò?
8. Viva il Leon di San Marco!
9. A terra!…sì…nel livido fango
10. Era più calmo?
11. Mia madre aveva una povera ancella (Willow Song)
12. Ave Maria
13. Chi è la?
14. Calma come la tomba
15. Niun mi tema

Disc: 66
1. Act I, Prelude
2. Posa in pace, a'bei sogni ristora
3. Libero è il varco a voi
4. Alla vita che t'arride
5. Il primo giudice
6. Volta la terrea fronte alle stelle
7. Signori, oggi d'Ulrica
8. Ogni cura si doni al diletto
9. Zitti! L'incanto non dèssi turbare
10. Re dell'abisso affrettati
11. Sù, fatemi largo
12. Si batte! - Che veggo!
13. Della città all'occaso
14. Sù, profetessa, monta il treppiè
15. Di' tu se fedele
16. Chi voi siate, l'audace parola
17. E' scherzo, od è follia
18. Finisci il vaticinio
19. Ma la sventura è cosa
20. Act II, Prelude
21. Ecco l'orrido campo
22. Ma dall'arido stelo divulsa
23. Teco io sto

Disc: 67
1. Ahimè! S'appressa alcun!
2. Odi tu come fremono cupi
3. Seguitemi - Mio Dio!
4. Ve', se di notte, qui colla sposa
5. Act III, A tal colpa è nulla il pianto
6. Morrò, ma prima in grazia
7. Alzati! Là, tuo figlio
8. Eri tu
9. Siam soli. Udite!
10. Dunque l'onta di tutti sol una
11. Qual è dunque l'eletto?
12. Il messagio entri
13. Ah! di che fulgor
14. Forse la soglia attinse
15. Ma se m'è forza perderti
16. Ah! dessa è là
17. Fervono amori e danze
18. Altro de' nostri è questo
19. Saper vorreste
20. Fervono amori e danze (Cont.)
21. So che tu sai distinguere
22. Ah! Perchè qui! Fuggite!
23. E tu ricevi il mio!
24. No, no, lasciatelo

Disc: 68
1. Act I, Prelude
2. Dell'invito trascorsa è già l'ora
3. Libiamo ne' lieti calici (Brindisi)
4. Che è ciò (Waltz-Duet)
5. Un dì felice eterea
6. Ebben? Che diavol fate?
7. Si ridesta in ciel l'aurora
8. E strano. è strano! Ah, fors è lui
9. Follie! Follie! Delirio vano
10. Sempre libera
11. Lunga de lei; De'miei bollenti spiriti
12. Annina, donde vieni?
13. Alfredo? - Per Parigi or or partiva
14. Pura siccome un angelo
15. Non sapete quale affetto
16. Ah, dite alla giovine
17. Morrò! Morrò!
18. Dammi tu forza, o cielo!
19. Ah, vive sol quel core all'amor mio!
20. Di Provenza
21. Nè rispondi

Disc: 69
1. Avrem lieta di maschere la notte
2. Noi siamo zingarelle
3. Di Madride noi siam mattadori
4. Alfredo! Voi?
5. Invitato a qui seguirmi
6. Ogni suo aver tal femmina
7. Di sprezzo degno sè stesso rende
8. Act III, Prelude
9. Annina? - Commandate?
10. Tenesta la promessa …
11. Addio del passato
12. Largo al quadrupede
13. Signora - Che t'accadde?
14. Parigi, o cara
15. Ah, non più
16. Ah, gran Dio, morir si giovane
17. Ah, Violetta! - Voi, signor!
18. Prendi, quest'è l'immagine
19. E strano!

Disc: 70
1. I. Kyrie
2. II. Gloria
3. III. Credo
4. IV. Sanctus
5. V. Agnus Dei

Disc: 71
1. I. Introitus & Kyrie
2. II. Graduale
3. III. Dies Irae
4. IV. Offertorium
5. V. Sanctus
6. VI. Pie Jesu
7. VII. Agnus Dei

Disc: 72
1. Ave, Signor degli angeli
2. Ave, Signor. Perdona
3. T'è noto Faust?
4. Siam nimbi volanti
5. Salve, Regina!
6. Orchestral Opening
7. Qui posa il fianco!
8. E l'ami? - Sempre
9. La donna è mobile
10. Un dì, se ben rammentomi
11. Bella figlia dell'amore (Quartet)
12. M'odi! Ritorna a casa
13. E amabile in vero cotal giovinotto!
14. Della vendetta alfin
15. Chi è mai?
16. V'ho ingannato
17. Lassù in cielo

Disc: 73
1. Requiem & Kyrie
2. Dies irae
3. Tuba mirum
4. Mors stupebit
5. Liber scriptus
6. Quid sum miser
7. Rex tremendae
8. Recordare
9. Ingemisco
10. Confutatis
11. Lacrymosa
12. Domine Jesu Christe
13. Hostias
14. Sanctus
15. Agnus dei
16. Lux aeterna
17. Libera me, Domine
18. Dies irae - Requiem aeternam
19. Libera me

Disc: 74
1. Quattro Pezzi Sacri: 4. Te Deum
2. Va, pensiero, sull'ali dorate
3. Oh! fede negar potassi - quando le sere al placido
4. Inno delle nazioni

Disc: 75
1. I. Poco sostenuto - Vivace
2. II. Allegretto
3. III. Presto
4. IV. Allegro con brio
5. I. Adagio - Presto
6. II. Andante
7. III. Menuet (Allegretto) - Trio
8. IV. Finale - Vivace
9. Scherzo

Disc: 76
1. I. Allegro con spirito
2. II. Andante
3. III. Menuetto - Trio
4. IV. Finale - Presto
5. Scherzo
6. Nocturne
7. I. Theme. Andante
8. II. Variation I. Poco più animato
9. III. Variation II. Più vivace
10. IV. Variation III. Con moto
11. V. Variation IV. Andante con moto
12. VI. Variation V. Vivace
13. VII. Variation VI. Vivace
14. VIII. Variation VII. Grazioso
15. IX. Variation VIII. Presto non troppo
16. X. Finale. Andante
17. Siegfried Idyll, WWV 103
18. L'apprenti sorcier

Disc: 77
1. Dance of the Blessed Spirits
2. Overture
3. Overture
4. Overture
5. Act I, Prelude
6. Act III, Prelude
7. Dawn and Siegfried's Rhine Journey
8. Act I, Prelude
9. Act III, Prelude

Disc: 78
1. I. De l'aube à midi sur la mer
2. II. Jeux des vagues
3. III. Dialogue du vent et de la mer
4. I. Par les rues et par les chemins
5. II. Les parfums de la nuit
6. III. Le matin d'un jour de fête
7. I. Circenses
8. II. Giubilio
9. III. L'Ottobrata
10. IV. La Befana

Disc: 79
1. I. Adagio - Allegro non troppo
2. II. Allegro con grazia
3. III. Allegro molto vivace
4. IV. Allegro lamentoso
5. Largo
6. Allegro molto agitato
7. Meno mosso, ma sempre alla breve
8. Moderato

Disc: 80
1. I. Andante - Allegro ma non troppo
2. II. Andante con moto
3. III. Scherzo. Allegro vivace
4. IV. Allegro vivace

Disc: 81
1. Overture, Op. 21
2. No. 5, Intermezzo. Allegro appassionato
3. No. 7, Con moto tranquillo (Nocturne)
4. No. 3, Song with Chorus
5. No. 9, Wedding March
6. No. 1, Scherzo. Allegro vivace
7. No. 12, Melodrama & Finale
8. Scherzo (La Reine Mab)

Disc: 82
1. IV. Finale. Adagio - Allegro molto e vivace
2. IV. Allegro
3. Rákóczy March
4. IV. Farandole
5. Aragonaise (Act IV Entr'acte)
6. Overture
7. II. Gagliarda
8. IV. Fête bohème
9. Scherzo
10. Wedding March
11. III. Menuetto
12. IV. Finale. Allegro
13. II. Le quai du porte de Famagouste
14. Overture

Disc: 83
1. Adagio - Allegro vivace
2. Adagio
3. Menuetto: Allegro vivace
4. Allegro ma non troppo
5. Beethoven: Leonore Overture No. 1
6. Mozart: Overture to Magic Flute
7. Rossini: Overture to la Scala di Seta
8. Weber: Invitation to the Dance

Disc: 84
1. Allegro ma non troppo (Cheerful impressions awakened by arrinving in the country)
2. Andante molto moto (Scene by the brook)
3. Allegro (Peasants' merrymaking)
4. Allegro (Thunderstorm)
5. Allegretto (Shepherds' Song: Joyous thanksgiving after the storm)
6. Adagio molto - Allegro con brio
7. Andante cantabile con moto
8. Menuetto: Allegro molto e vivace
9. Adagio: Allegro molto e vivace
10. Brahms: Tragic Overture
Exact Audio Copy V1.0 beta 3 from 29. August 2011

EAC extraction logfile from 2. January 2013, 14:09

Beethoven / Symphonies Nos. 1 & 3 "Eroica" - Arturo Toscanini - NBC Symphony Orchestra

Used drive : SONY DVD RW DRU-510A Adapter: 2 ID: 0

Read mode : Secure
Utilize accurate stream : Yes
Defeat audio cache : Yes
Make use of C2 pointers : Yes

Read offset correction : 120
Overread into Lead-In and Lead-Out : No
Fill up missing offset samples with silence : Yes
Delete leading and trailing silent blocks : No
Null samples used in CRC calculations : Yes
Used interface : Installed external ASPI interface

Used output format : Monkey's Audio Lossless Encoder v3.99 DLL
Sample format : Fast Lossless Compression


TOC of the extracted CD

Track | Start | Length | Start sector | End sector
––––––––––––––––––––––––––––-
1 | 0:00.00 | 13:52.40 | 0 | 62439
2 | 13:52.40 | 15:39.20 | 62440 | 132884
3 | 29:31.60 | 5:12.25 | 132885 | 156309
4 | 34:44.10 | 11:17.35 | 156310 | 207119
5 | 46:01.45 | 8:22.06 | 207120 | 244775
6 | 54:23.51 | 6:23.66 | 244776 | 273566
7 | 60:47.42 | 3:24.38 | 273567 | 288904
8 | 64:12.05 | 5:38.44 | 288905 | 314298


Range status and errors

Selected range

Filename E:\APE\rip\Toscanini\01\Beethoven - Symphonies Nos. 1 & 3 ''Eroica'' - Arturo Toscanini - NBC Symphony Orchestra.ape

Peak level 96.6 %
Extraction speed 8.4 X
Range quality 100.0 %
Copy CRC 79DF85FE
Copy OK

No errors occurred


AccurateRip summary

Track 1 not present in database
Track 2 not present in database
Track 3 not present in database
Track 4 not present in database
Track 5 not present in database
Track 6 not present in database
Track 7 not present in database
Track 8 not present in database

None of the tracks are present in the AccurateRip database

End of status report

==============================================================================================

Exact Audio Copy V1.0 beta 3 from 29. August 2011

EAC extraction logfile from 2. January 2013, 14:19

Arturo Toscanini: NBC Symphony Orchestra / Toscanini: The Complete RCA Collection 02. Beethoven: Symphonies Nos. 7, 2, Egmont Overture

Used drive : SONY DVD RW DRU-510A Adapter: 2 ID: 0

Read mode : Secure
Utilize accurate stream : Yes
Defeat audio cache : Yes
Make use of C2 pointers : Yes

Read offset correction : 120
Overread into Lead-In and Lead-Out : No
Fill up missing offset samples with silence : Yes
Delete leading and trailing silent blocks : No
Null samples used in CRC calculations : Yes
Used interface : Installed external ASPI interface

Used output format : Monkey's Audio Lossless Encoder v3.99 DLL
Sample format : Fast Lossless Compression


TOC of the extracted CD

Track | Start | Length | Start sector | End sector
––––––––––––––––––––––––––––-
1 | 0:00.00 | 11:08.31 | 0 | 50130
2 | 11:08.31 | 7:59.23 | 50131 | 86078
3 | 19:07.54 | 6:56.67 | 86079 | 117345
4 | 26:04.46 | 6:48.31 | 117346 | 147976
5 | 32:53.02 | 9:24.38 | 147977 | 190314
6 | 42:17.40 | 10:03.55 | 190315 | 235594
7 | 52:21.20 | 3:20.10 | 235595 | 250604
8 | 55:41.30 | 6:05.04 | 250605 | 277983
9 | 61:46.34 | 7:45.09 | 277984 | 312867


Range status and errors

Selected range

Filename E:\APE\rip\Toscanini\02\Arturo Toscanini- NBC Symphony Orchestra - Toscanini- The Complete RCA Collection 02. Beethoven- Symphonies Nos. 7, 2, Egmont Overture.ape

Peak level 96.6 %
Extraction speed 8.5 X
Range quality 100.0 %
Copy CRC 7479E791
Copy OK

No errors occurred


AccurateRip summary

Track 1 accurately ripped (confidence 2) [0A6D6DDA] (AR v2)
Track 2 accurately ripped (confidence 2) [5C377CDC] (AR v2)
Track 3 accurately ripped (confidence 2) [7CAD0CAD] (AR v2)
Track 4 accurately ripped (confidence 2) [B09E3E9A] (AR v2)
Track 5 accurately ripped (confidence 2) [C6F1D499] (AR v2)
Track 6 accurately ripped (confidence 2) [69661D65] (AR v2)
Track 7 accurately ripped (confidence 2) [B4449277] (AR v2)
Track 8 accurately ripped (confidence 2) [0BB8D2A1] (AR v2)
Track 9 accurately ripped (confidence 2) [E30F8332] (AR v2)

All tracks accurately ripped

End of status report

==============================================================

Exact Audio Copy V1.0 beta 3 from 29. August 2011

EAC extraction logfile from 2. January 2013, 14:35

Beethoven, Ludwig van / Symphonies Nos. 4 & 6 "Pastorale" - Arturo Toscanini - NBC

Used drive : SONY DVD RW DRU-510A Adapter: 2 ID: 0

Read mode : Secure
Utilize accurate stream : Yes
Defeat audio cache : Yes
Make use of C2 pointers : Yes

Read offset correction : 120
Overread into Lead-In and Lead-Out : No
Fill up missing offset samples with silence : Yes
Delete leading and trailing silent blocks : No
Null samples used in CRC calculations : Yes
Used interface : Installed external ASPI interface

Used output format : Monkey's Audio Lossless Encoder v3.99 DLL
Sample format : Fast Lossless Compression


TOC of the extracted CD

Track | Start | Length | Start sector | End sector
––––––––––––––––––––––––––––-
1 | 0:00.00 | 11:53.01 | 0 | 53475
2 | 11:53.01 | 11:33.14 | 53476 | 105464
3 | 23:26.15 | 5:01.35 | 105465 | 128074
4 | 28:27.50 | 3:31.12 | 128075 | 143911
5 | 31:58.62 | 8:50.27 | 143912 | 183688
6 | 40:49.14 | 9:56.58 | 183689 | 228446
7 | 50:45.72 | 8:47.73 | 228447 | 268044
8 | 59:33.70 | 4:59.67 | 268045 | 290536
9 | 64:33.62 | 6:56.30 | 290537 | 321766


Range status and errors

Selected range

Filename E:\APE\rip\Toscanini\03\Beethoven, Ludwig van - Symphonies Nos. 4 & 6 ''Pastorale'' - Arturo Toscanini - NBC.ape

Peak level 92.1 %
Extraction speed 8.3 X
Range quality 99.9 %
Copy CRC B2F75C64
Copy OK

No errors occurred


AccurateRip summary

Track 1 accurately ripped (confidence 1) [3DFD9597] (AR v2)
Track 2 accurately ripped (confidence 1) [A42D768E] (AR v2)
Track 3 accurately ripped (confidence 1) [6527E9A3] (AR v2)
Track 4 accurately ripped (confidence 1) [0BEBFE14] (AR v2)
Track 5 accurately ripped (confidence 1) [DDC13FD2] (AR v2)
Track 6 accurately ripped (confidence 1) [8FA7E8A1] (AR v2)
Track 7 accurately ripped (confidence 1) [7B4546B1] (AR v2)
Track 8 accurately ripped (confidence 1) [9E439607] (AR v2)
Track 9 accurately ripped (confidence 1) [BB1D4C8B] (AR v2)

All tracks accurately ripped

End of status report
All 84 log files included…