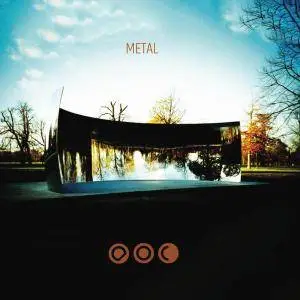 Autumn Of Communion - Metal (2017)
WEB FLAC (tracks) - 370 MB | MP3 CBR 320 kbps (LAME 3.93) - 168 MB | Front cover
Genre: IDM, Ambient | RAR 3% Rec. | Label: …txt
United in a spirit of inquiry into head and ear-space, Lee Norris and Michael Gainford return with Metal. Blending post-digital now-voyaging with a hefty hark-back, these sub-genre archaeologists draw on trajectories of early-mid '90s halcyon days and hybrids of IDM experimentalism and environmental space music.
Tracklist:
01. Actinium
02. Tungsten
03. Neptunium
04. Molybdenum
05. Manganese
06. Radium
Total time:
01:11:12

PERFORMER: auCDtect Task Manager, ver. 1.5.1RC6 build 1.5.1.7
Copyright © 2008-2010 y-soft. All rights reserved

ANALYZER: auCDtect: CD records authenticity detector, version 0.8.2
Copyright © 2004 Oleg Berngardt. All rights reserved.
Copyright © 2004 Alexander Djourik. All rights reserved.


FILE: 05. Manganese.flac
Size: 51113697 Hash: ACD4519218EB0FFE82300C545E541858 Accuracy: -m0
Conclusion: CDDA 100%
Signature: 588A7847A17207D31914E661459A4D6A7774CA03
FILE: 04. Molybdenum.flac
Size: 88278050 Hash: 346FBC9E895A6E98179AA74A8795E197 Accuracy: -m0
Conclusion: MPEG 95%
Signature: 97D4DA1D9E640D2E737B8864AAD0CAA73CF0EC78
FILE: 03. Neptunium.flac
Size: 62401251 Hash: FA6356AC9B1CBC93BD10C1C0C768D715 Accuracy: -m0
Conclusion: CDDA 100%
Signature: 1888BDA447CD0875F0B9391EA14086736CD149CF
FILE: 02. Tungsten.flac
Size: 55692351 Hash: 5C3516604F0AF02D8B3F546AB8F21C1B Accuracy: -m0
Conclusion: CDDA 76%
Signature: F9A07791072A5F3090D0F696BEC19C40D9D94168
FILE: 01. Actinium.flac
Size: 58497698 Hash: 3FB9252B087688FA33897B6DC2782192 Accuracy: -m0
Conclusion: CDDA 100%
Signature: 2C0813ECE57F15231E31239526D87BC050147124
FILE: 06. Radium.flac
Size: 60920903 Hash: B94F57DE857B084D503C7BF5F820C9B3 Accuracy: -m0
Conclusion: CDDA 100%
Signature: 1F36BCE7DE44253E5A81AC4AA2CB29897F0ED67A