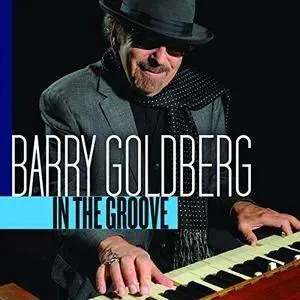 Barry Goldberg - In the Groove (2018)
WEB FLAC (Tracks) - 208 MB | Cover | MP3 CBR 320 kbps - 89 MB | 00:37:52
Blues, Blues Rock | Label: Sunset Blvd. Records
Barry Goldberg has a hell of a credit score. And he never leaves home without it. A professional keyboard player since his teenage years in Chicago, he's racked up points and enjoyed numerous rewards as a blues acolyte accompanying greats like Howlin Wolf and Muddy Waters; helping Bob Dylan shake rock & roll history at Newport in 1965; organizing Mitch Ryder's torrid Devil with a Blue Dress On; co-founding the genre-busting Electric Flag, and composing best-selling songs for Jackie Wilson, Tom Jones, Rod Stewart and others. For the last five years he's performed as one third of the Rides, with Stephen Stills and Kenny Wayne Shepherd, touring widely and topping Billboard's blues chart with the albums Can't Get Enough and Pierced Arrow. With In the Groove he has realized his long-held ambition. The album finds Goldberg cooking on B-3 and piano on a compelling mix of new, first-rate originals and revisited instrumental classics from the late Fifties and early Sixties.
TRACKLIST
01. Guess I Had Enough of You
02. The Mighty Mezz
03. Westside Girl
04. In the Groove
05. Mighty Low
06. Dumplin's
07. Bullwhip Rock
08. Lazy
09. Tall Cool One
10. Slow Walk
11. Ghosts in My Basement
12. Alberta
–––––––––––-

DON'T MODIFY THIS FILE

–––––––––––-

PERFORMER: auCDtect Task Manager, ver. 1.6.0 RC1 build 1.6.0.1
Copyright © 2008-2010 y-soft. All rights reserved

ANALYZER: auCDtect: CD records authenticity detector, version 0.8.2
Copyright © 2004 Oleg Berngardt. All rights reserved.
Copyright © 2004 Alexander Djourik. All rights reserved.


FILE: 12. Barry Goldberg - Alberta.flac
Size: 8191037 Hash: 09D07979DAF88427628AF4F1AA8A09F5 Accuracy: -m0
Conclusion: MPEG 100%
Signature: AD63DE451A3839748335C37D3D200964A400F189
FILE: 11. Barry Goldberg - Ghosts in My Basement.flac
Size: 20460867 Hash: 428ABB8336AC0400BFE061B78776518B Accuracy: -m0
Conclusion: CDDA 100%
Signature: 7FE93A4E64D1A00AC31823199F9C61846A7D58B7
FILE: 10. Barry Goldberg - Slow Walk.flac
Size: 16101811 Hash: 105649BC5481005BEAC4F4A223C93168 Accuracy: -m0
Conclusion: CDDA 100%
Signature: 6E9A63D3B3AE051855F7F1A7A7FB95C3EDF21FF9
FILE: 09. Barry Goldberg - Tall Cool One.flac
Size: 18712543 Hash: 9CC0C98A7C8A2E0DBED550A1A8019098 Accuracy: -m0
Conclusion: CDDA 100%
Signature: 79169EE528C1BE095A1ED14AF7340A69AF99B044
FILE: 08. Barry Goldberg - Lazy.flac
Size: 14474611 Hash: 4AEE0FAB722000FA997A06E41DC65D6C Accuracy: -m0
Conclusion: CDDA 100%
Signature: 0C03873AE46A311CB0EE2AF22769FBB8AE7E55A4
FILE: 07. Barry Goldberg - Bullwhip Rock.flac
Size: 13353776 Hash: 7B39C5CF4E0B3AA76F8F8B4161D52A95 Accuracy: -m0
Conclusion: CDDA 100%
Signature: 2AB298E1306DB32B2EEA40AFA6FB7642AD789387
FILE: 06. Barry Goldberg - Dumplin's.flac
Size: 19993848 Hash: 5BE8E7F7D3C22FD69700EAE80D9CD439 Accuracy: -m0
Conclusion: CDDA 100%
Signature: 5E3E52C5476134D0B6F18B181F6B1B39CC8BE45A
FILE: 05. Barry Goldberg - Mighty Low.flac
Size: 16863318 Hash: A47D319F23A742B3C2D7B5264408D117 Accuracy: -m0
Conclusion: CDDA 100%
Signature: 7FE215A5C1D17715B34ECC220EA1DD2C8C6FE7FD
FILE: 04. Barry Goldberg - In the Groove.flac
Size: 20594787 Hash: C12B5A734F305CF7B44F862A709068DC Accuracy: -m0
Conclusion: CDDA 100%
Signature: CCA9811927178EB82FB116FF7E35F207B50154C4
FILE: 03. Barry Goldberg - Westside Girl.flac
Size: 26470714 Hash: EA8D4A07B40559CAE7D611A9DA28F4EE Accuracy: -m0
Conclusion: CDDA 100%
Signature: 874EF8274CD7A5A9BAE0D49CD878CB98005B2631
FILE: 02. Barry Goldberg - Mighty Mezz.flac
Size: 21344063 Hash: 0708A34C8F948E574633E24E67D993D4 Accuracy: -m0
Conclusion: CDDA 99%
Signature: 6256C79743C1EB4631DE0D25DCB22A1603F34711
FILE: 01. Barry Goldberg - Guess I Had Enough of You.flac
Size: 21617741 Hash: F0FB29C6DA98530EEE3132F0D2CAD931 Accuracy: -m0
Conclusion: CDDA 100%
Signature: 3362CC68DB6EDC4C3BE76AB8E8BECE72809CF3EB
All thanks go to the original releaser