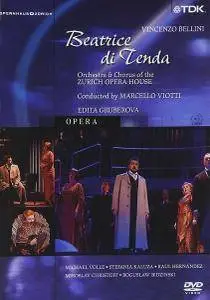 Marcello Viotti, Orchestra of the Zurich Opera House, Edita Gruberova - Bellini: Beatrice di Tenda (2003)
PAL 16:9 (720x576) | Italiano | LinearPCM, 2 ch | Dolby AC3, 6 ch | DTS, 6 ch | 7.52 Gb+4.23 Gb (DVD9+DVD5) | 170 min
Classical | TDK | Sub: English, Deutsch, Francais, Espanol, Italiano
Vincenzo Bellini (1801-1835) wanted to move the audience of his operas to tears. And this is exactly what Beatrice di Tenda manages to do: it has great music and the story really touches the heart. In this production by Daniel Schmid, one can experience the stunning singers Edita Gruberova and Michael Volle in the main roles – with Marcello Viotti conducting the Orchestra of the Zurich Opera House. In Beatrice di Tenda, Bellini departs from the belcanto style, which he used in Norma, and explores a new way of musical expression, which brought to the fore a new warmth and different characteristics. The story is based on true events from the 15th century. It focuses on the impressive Beatrice di Tenda, who is wrongly accused by her husband to be unfaithful and is ultimately beheaded. The premiere of the opera was given at the Teatro la Fenice in Venice on 16 March 1873. Although Beatrice di Tenda is not Bellini's most successful opera, the title role is a popular showpiece among sopranos. In this production, Beatrice is brilliantly interpreted by the "Queen of Belcanto", Edita Gruberova.
Cast:
Beatrice di Tenda - Edita Gruberova
Filippo Maria Visconti - Michael Volle
Agnese del Maino - Stefania Kaluza
Orombello - Raúl Hernández
Anichino - Miroslav Christoff
Rizzardo del Maino - Bogusław Bidziński
Orchestra and Chorus of the Zurich Opera House
Conductor - Marcello Viotti

DVD 1
01. Preludio
Act I
02. Tu signor! Lasciar sì presto
03. Ah! Non pensar che pieno
04. O divina Agnese!… Come t'adoro e quanto
05. Silenzio - E notte intorno
06. Sì: rivale… regnante
07. Et la mia?… spietato!
08. Respiro io qui
09. Ma la sola, ohimè!
10. Ah! La pena in lor piombo
11. Vidi? La tua presenza
12. E quali? Quali? Spergiura
13. Qui di ribelli sudditi
14. Lo vedeste?
15. Il mio dolore, e l'ira
16. Ciascun non io
17. A ciascun fidar vorrei
18. Deh! Perdona
19. Ah, tal onta io meritai
20. Al castigo a lor dovuto
21. Né tra voi!
22. Interview with Marcello Viotti
DVD 2
Act II
01. Lassa! E può il ciel permettere
02. Oh, troppo a mie preghiere
03. Di grave accusa il peso
04. Ti rinfranca
05. Orombello!
06. Al tuo fallo ammenda festi
07. Filippo!… Tu! Ti apressa
08. Rimorso in lei?
09. Qui mi accolse oppresso, errante
10. Non son io
11. Prega. Ah! Non sia la misera
12. Nulla diss'io
13. Angiol di pace
14. Chi giunge?
15. Ah! Se un'urma è a me concessa
16. Oh! Infelice!
17. Ah! La morte a cui m'appresso
18. Closing Credits