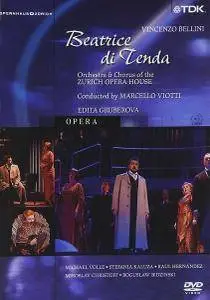 Marcello Viotti, Orchestra of the Zurich Opera House, Edita Gruberova - Bellini: Beatrice di Tenda (2003)
PAL 16:9 (720x576) | Italiano | LinearPCM, 2 ch | Dolby AC3, 6 ch | DTS, 6 ch | 7.52 Gb+4.23 Gb (DVD9+DVD5) | 170 min
Classical | TDK | Sub: English, Deutsch, Francais, Espanol, Italiano
Vincenzo Bellini (1801-1835) wanted to move the audience of his operas to tears. And this is exactly what Beatrice di Tenda manages to do: it has great music and the story really touches the heart. In this production by Daniel Schmid, one can experience the stunning singers Edita Gruberova and Michael Volle in the main roles – with Marcello Viotti conducting the Orchestra of the Zurich Opera House. In Beatrice di Tenda, Bellini departs from the belcanto style, which he used in Norma, and explores a new way of musical expression, which brought to the fore a new warmth and different characteristics.