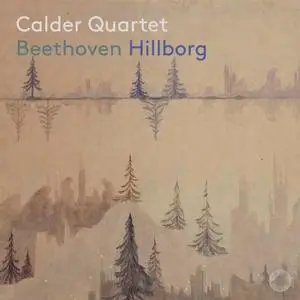 Calder Quartet - Beethoven & Hillborg: Chamber Works (2019)
FLAC (tracks) | 01:19:01 | 340 Mb
Genre: Classical / Label: PentaTone
The Calder Quartet invites you on a journey from early to late Beethoven, passing through an exciting contemporary piece by Swedish composer Anders Hillborg along the way. Beethoven's Op. 131 string quartet, that concludes this album, is already a great adventure in its own right, with its seven movements full of fugal writing, harmonic explorations, variations and passages filled with operatic drama. Hearing this late masterpiece together with the much more classical, but equally lively, Op. 18 no. 3 quartet opens our ears to the exceptional richness of Beethoven's musical universe. Hillborg's Kongsgaard Variations reveals unexpected sonic relationships to Beethoven's variation technique, underlining the modernity of the older composer. This all leads to a program that is lively, layered and ravishingly beautiful.
Track List:
1. String Quartet in D Major, Op. 18 No. 3: I. Allegro (08:16)
2. String Quartet in D Major, Op. 18 No. 3: II. Andante con moto (08:08)
3. String Quartet in D Major, Op. 18 No. 3: III. Allegro (02:57)
4. String Quartet in D Major, Op. 18 No. 3: IV. Presto (07:02)
5. Kongsgaard Variations (14:07)
6. String Quartet No. 14 in C-Sharp Minor, Op. 131: I. Adagio (06:14)
7. String Quartet No. 14 in C-Sharp Minor, Op. 131: II. Allegro molto vivace (03:14)
8. String Quartet No. 14 in C-Sharp Minor, Op. 131: III. Allegro moderato (00:47)
9. String Quartet No. 14 in C-Sharp Minor, Op. 131: IV. Andante (13:20)
10. String Quartet No. 14 in C-Sharp Minor, Op. 131: V. Presto (05:49)
11. String Quartet No. 14 in C-Sharp Minor, Op. 131: VI. Adagio (02:03)
12. String Quartet No. 14 in C-Sharp Minor, Op. 131: VII. Allegro (07:04)
ANALYZER: auCDtect: CD records authenticity detector, version 0.8.2
Copyright © 2004 Oleg Berngardt. All rights reserved.
Copyright © 2004 Alexander Djourik. All rights reserved.


FILE: 01. String Quartet in D Major, Op. 18 No. 3 I. Allegro.flac
Size: 37856243 Hash: B73CE3E29FC753CC7E2CE93E9A7E23DD Accuracy: -m40
Conclusion: CDDA 100%
Signature: 723B6802456463DCD1E4D4584D4B9A9A7887E1D5
FILE: 02. String Quartet in D Major, Op. 18 No. 3 II. Andante con moto.flac
Size: 34309736 Hash: D3219D434C79A14BEA223BCDD5C9D49A Accuracy: -m40
Conclusion: CDDA 100%
Signature: 741CE092D4AC9F1FCE9DA5A316C05C7EC48D48C4
FILE: 03. String Quartet in D Major, Op. 18 No. 3 III. Allegro.flac
Size: 13164206 Hash: 6B1B6E88C36C78E068C3986F9ADB4FCE Accuracy: -m40
Conclusion: CDDA 100%
Signature: 4A40F5433D808BD25BEFE32398866F0ACA9F5E82
FILE: 04. String Quartet in D Major, Op. 18 No. 3 IV. Presto.flac
Size: 33734678 Hash: C650BB5AC36CDC7E3AE6279ADD5E8A01 Accuracy: -m40
Conclusion: CDDA 100%
Signature: 8D41EDA3FA5F74BBD3268DAC8651D22B43A5D021
FILE: 05. Kongsgaard Variations.flac
Size: 62551251 Hash: F14B24A46B95D364F5AABAA8DBC8ED13 Accuracy: -m40
Conclusion: CDDA 100%
Signature: AE470FEABFE86898319B958BB5D40A7C689E6503
FILE: 06. String Quartet No. 14 in C-Sharp Minor, Op. 131 I. Adagio.flac
Size: 27861196 Hash: B34BFCB83AB278A8CBE2C5C9FB5E426B Accuracy: -m40
Conclusion: CDDA 100%
Signature: BA44EAA0052CF6B8D5F99F4473EECE1444090A58
FILE: 07. String Quartet No. 14 in C-Sharp Minor, Op. 131 II. Allegro molto vivace.flac
Size: 15271079 Hash: 6A54F09866B72F3B08A832975B7E8C57 Accuracy: -m40
Conclusion: CDDA 99%
Signature: AFCADF53A1563859CDBCD1F2795944A6C32591D4
FILE: 08. String Quartet No. 14 in C-Sharp Minor, Op. 131 III. Allegro moderato.flac
Size: 3142993 Hash: 696504C841E5C0921779280907665AD0 Accuracy: -m40
Conclusion: CDDA 100%
Signature: 23A3B14F8758C572E67768553220B7B72FE1BE4A
FILE: 09. String Quartet No. 14 in C-Sharp Minor, Op. 131 IV. Andante.flac
Size: 58424242 Hash: 0B6E9D8A8424CC42FD4136D9286BA0A1 Accuracy: -m40
Conclusion: CDDA 100%
Signature: 5818F59E6597E8A97BBC43EF6007CABDAD214578
FILE: 10. String Quartet No. 14 in C-Sharp Minor, Op. 131 V. Presto.flac
Size: 26666199 Hash: 2AA7788B1078E7EA08ED47C703A367A2 Accuracy: -m40
Conclusion: CDDA 100%
Signature: CE8E9BF376ADF6620A8685931EDCB492C6B3AFEA
FILE: 11. String Quartet No. 14 in C-Sharp Minor, Op. 131 VI. Adagio.flac
Size: 9013401 Hash: 51A67C3F8B84685520266240BB411787 Accuracy: -m40
Conclusion: CDDA 100%
Signature: C087FB9CF9D59A4EC80BE762EC312922033CD514
FILE: 12. String Quartet No. 14 in C-Sharp Minor, Op. 131 VII. Allegro.flac
Size: 34882826 Hash: CE9E74A32D17EE5A3ED5DD1072B8416F Accuracy: -m40
Conclusion: CDDA 99%
Signature: A6AF4676A8B604DB043CE2BA91262DC384E03A54