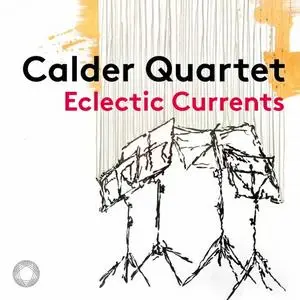 Calder Quartet - Eclectic Currents (2020)
FLAC tracks | 01:16:27 | 349 Mb
Genre: Classical / Label: PentaTone
"Eclectic Currents" explores the endless possibility of the string quartet at the beginning of the twenty-first century. During the past decades, the Calder Quartet has commissioned works by many of the most imaginative young composers writing today. From the acoustic sonorities, dramatic rhythms, and unique timbres of Norman, Akiho, and Hearne, to the creaking amplifications of Davis, the glitchy electronic dirges of Wohl, and the primitive electronics of Perich, this album offers a snapshot of this body of work. The time-honored combination of instruments sounds entirely new in the hands of the many composers involved in this project.
Track List:
01. Sabina (Version for String Quartet) (Andrew Norman)
02. String Quartet No. 1 "Mobile on a Stream into the Sound" (Andy Akiho): I. Alexander's Triangle
03. String Quartet No. 1 "Mobile on a Stream into the Sound" (Andy Akiho): II. Remembrance
04. String Quartet No. 1 "Mobile on a Stream into the Sound" (Andy Akiho): III. In the Sound
05. The One You Guard the Most (Ted Hearne): The One You Guard the Most
06. Skrzyp skrzyń (Nathan Davis)
07. Interface (Tristan Perich)
08. Glitch (Version for String Quartet) (Daniel Wohl): I. Skip
09. Glitch (Version for String Quartet) (Daniel Wohl): II. Postal
10. Glitch (Version for String Quartet) (Daniel Wohl): III. Old Timey
11. Glitch (Version for String Quartet) (Daniel Wohl): IV. I Drone
ANALYZER: auCDtect: CD records authenticity detector, version 0.8.2
Copyright © 2004 Oleg Berngardt. All rights reserved.
Copyright © 2004 Alexander Djourik. All rights reserved.


FILE: 01 - Sabina (Version for String Quartet).flac
Size: 35315617 Hash: 599125EC102A7027AF35D8854DFEEA57 Accuracy: -m40
Conclusion: CDDA 100%
Signature: 355CD73B0DA0AB972B4D6A4888BD0C74081421ED
FILE: 02 - String Quartet No. 1 "Mobile on a Stream into the Sound"_ I. Alexander's Triangle.flac
Size: 45497076 Hash: 70B6128D1187065D320CB5DDB59EEB68 Accuracy: -m40
Conclusion: CDDA 85%
Signature: 81D2F5396714F91A973CC247821D5E8D2F89F54B
FILE: 03 - String Quartet No. 1 "Mobile on a Stream into the Sound"_ II. Remembrance.flac
Size: 16397309 Hash: 87C28BDD098F09CB290B415F9D12288D Accuracy: -m40
Conclusion: MPEG 89%
Signature: 0ADB26D8B55A4FA96DC7EA0C01D058148A723659
FILE: 04 - String Quartet No. 1 "Mobile on a Stream into the Sound"_ III. In the Sound.flac
Size: 33959305 Hash: DE7E1F6C3DA82C7A4D5BB1A7946B3B54 Accuracy: -m40
Conclusion: CDDA 100%
Signature: 7E8DF4F8F0BA506FBAD4AD60C144CA329B968C09
FILE: 05 - The One You Guard the Most.flac
Size: 30985400 Hash: 1CD3FFF0AB8B1319D8C979CD48092CBE Accuracy: -m40
Conclusion: CDDA 100%
Signature: 24F5D7DA86DB16622B36CB88FA34DD99782B1477
FILE: 06 - Skrzyp skrzyń.flac
Size: 63981233 Hash: AC3D8B3A6FB51518B2AE70BC6224CA22 Accuracy: -m40
Conclusion: CDDA 100%
Signature: C0F0D85049DD79327AABA2A4EA6B96A36D6BB05A
FILE: 07 - Interface.flac
Size: 45719629 Hash: 22B411E7E18C93BB2F1E8A4ACBD91B20 Accuracy: -m40
Conclusion: CDDA 99%
Signature: 58A239190317E4E1F0F523999CE3BBDD80F65227
FILE: 08 - Glitch (Version for String Quartet)_ I. Skip.flac
Size: 22709577 Hash: 7248A5A676ACA97B080E74BBC081A68B Accuracy: -m40
Conclusion: CDDA 100%
Signature: ADF1DC8FE772C25BB9FDAC6E8D9409A2BFD1387C
FILE: 09 - Glitch (Version for String Quartet)_ II. Postal.flac
Size: 13093267 Hash: 0F77EDE40CA1B3953E9F309662D7A2D2 Accuracy: -m40
Conclusion: CDDA 100%
Signature: 7EA0094FCD1C01B83CBEFAB4BDECF8C7C7201A29
FILE: 10 - Glitch (Version for String Quartet)_ III. Old Timey.flac
Size: 26636471 Hash: A8850C51810070EEDF9103E47D31BEA6 Accuracy: -m40
Conclusion: CDDA 100%
Signature: 725FBBB91D45CE7C798771785C1B4B471649C8D2
FILE: 11 - Glitch (Version for String Quartet)_ IV. I Drone.flac
Size: 29276003 Hash: CFB7B7ACCE7596C3F5A6671D873DEFEA Accuracy: -m40
Conclusion: CDDA 100%
Signature: E2D88CDB2E85E882A9FBA881C9342590D37CBB7C