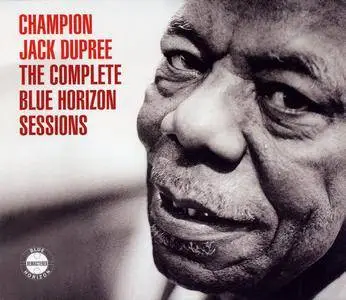 Champion Jack Dupree - The Complete Blue Horizon Sessions (2005) 2CDs
EAC | FLAC | Image (Cue&Log) ~ 927 Mb | Mp3 (CBR320) ~ 363 Mb | Scans included
Label: Blue Horizon, Columbia | # 518518 2, 5185162000 | Time: 02:31:43
Piano Blues, New Orleans Blues, Chicago Blues, Boogie-Woogie, Rhythm & Blues
Born in New Orleans in 1910, this blues artist started off as a boxer. After a defeat sometime in the late '30s, he went on to pursue a career in music. After signing to Columbia Records in 1940, he went on to have a fruitful career spanning many years and many record labels. These sessions, recorded for Blue Horizon during the late '60s have been lovingly restored and re-mastered, and include previously unreleased tracks, including six live recordings. Includes liner notes by Mike Vernon and never before seen photos.
Champion Jack Dupree was one of the first American blues performers to leave the States and settle in Europe, where racial restrictions were less prominent. Arriving on the Continent in 1959, Dupree was well established and in a good position to take advantage of the British blues boom when it hit in the early to mid-'60s. Never one to let contractual obligations stand in the way of a recording session, Dupree tracked sides for a wide array of European labels, including several for Mike Vernon's Blue Horizon Records in 1968 and 1969, which resulted in two LPs, When You Feel the Feeling You Was Feeling and Scooby Dooby Doo, a scattering of singles, and a live set for a projected third album that was never released. All of that material – 38 tracks in all – is presented here in this wonderfully varied two-disc compilation. Dupree began his musical journey as a barrelhouse New Orleans piano player, and elements of that driving style stayed with him throughout his 50-year recording career (he first cut a record in 1940 and was still active as a performer when he died in 1992), but along the way he also developed into a complete entertainer, exceedingly casual and comfortable around audiences, capable of delivering thundering, gutbucket blues pieces, but also able to turn things smooth and elegant (witness his almost Vegas-styled jazz take on "The Sheik of Araby," included on the second disc here). That versatility is certainly on display in this anthology, which features Dupree working both solo and with crackerjack young British blues musicians, and the live tracks included allow a glimpse at Dupree's loose and confident stage manner. Among the highlights in this well-sequenced set are his signature "See My Milk Cow," a stomping version of "A Racehorse Called Mae," a delightfully wry "My Home's in Hell," and the absolutely churning, burning, and rocking "Grandma (You're a Bit Too Slow)." Dupree's huge personality shines through in track after track, and because of that, and because of the variety of musical settings, The Complete Blue Horizon Sessions makes a nice and substantial introduction to this engaging musician.



Review by Steve Leggett, Allmusic.com
UK released September 2005 on Sony/Blue Horizon 518516 2 (Barcode 5099751851622) - this fabulous double CD in a card wrap finally makes available for the first time on the format both of Champion Jack Dupree's notoriously rare UK albums on the cult Blue Horizon Label. These sessions also featured hidden musical contributions from members of FREE and THE ROLLING STONES.

The original analogue tapes were transferred and remastered by DUNCAN COWELL and MIKE VERNON and the sound quality is just gorgeous - lively, warm and clear. The booklet features both albums' artwork, full session discography, knowledgeable liner notes and even has a classy card wrap on the outside.

Champion Jack Dupree's style was boogie-woogie, his rolling piano licks accompanied by witty lyrics - often spoken before being sung (he wrote all tracks on Disc 1). You can just tell by looking at a photograph of his mischievous face - and the huge chomper of a cigar hanging out of the side of his mouth - that this man and his music are going to be infectious and endearing - and they are. Even when the recordings are just Dupree and his piano, the sound he makes is huge - and so entertaining - almost as if there's more going on than there is. And as if this wasn't good enough, both albums are bolstered up with heavy-hitter musicians from the British Rock, Blues and Jazz scene of the late Sixties. Four of the "When You Feel The Feeling…" tracks feature Paul Kossoff on Guitar and Simon Kirke on Drums of FREE. The songs are "Income Tax", "Roll On", "A Racehorse Called Mae" and "My Home's In Hell". STAN WEBB of CHICKEN SHACK contributes guitar on "I've Been Mistreated". Webb is also featured on the A-side of Dupree's 1st BH 7" single and Kossoff/Kirke on the B - the single being sought after for years for these reasons. The really cool news for FREE fans is the last two songs on Disc 1 which are previously unreleased - both contain Kossoff & Kirke in unheard songs. The takes are a bit rough and ready, but still fascinating to hear - even then with that `Free' feel they brought to everything. One of those last two tracks, "Black Cat Shuffle", also features fellow label mate DUSTER BENNETT on Guitar and a Deram label favourite, JOHNNY ALMOND on Sax - this is on top of the FREE types - bit of a Supergroup going there!

Moving on to Disc 2, the "Scoobydoobydoo" album featured Mick Taylor of THE ROLLING STONES on guitar on every track (including the A&B of the 2nd BH 7" single) - and the album also features turns from drummers KEEF HARTLEY and AYNSLEY DUNBAR. The last six live tracks were recorded on 1 June 1969 in The Angel Hotel in Goldaming in Surrey, England. My heart always sinks when I see live tracks, but these are great and the quality of the recordings is excellent - capturing the crowd singing along to his cover of Sticks McGhee's "Drinkin' Wine Spo-Dee-O-Dee".

A great release then - I urge to take a chance on it - and top marks to all the good people involved. Long may Champion reign! And my God - when you think of the debt Rock owes to Black music and Black musicians…



Review by Mark Barry, Amazon HALL OF FAME, TOP 10 Reviewer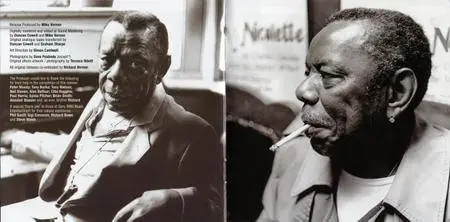 Tracklist:
CD1:

01. See My Milk Cow (4:32)
02. Mr. Dupree Blues (5:34)
03. Yellow Pocahontas [Extended Version] (4:13)
04. Gutbucket Blues / Ugly Woman (4:36)
05. Street Walking Woman (4:37)
06. Income Tax (4:52)
07. Roll On (4:21)
08. I've Been Mistreated [Extended Version] (5:30)
09. A Race Horse Called Mae (2:43)
10. My Home's In Hell (4:57)
11. How Am I Doing It (2:50)
12. I Haven't Done No One No Harm (2:40)
13. Street Walking Woman [Alternate Version / Previously Unreleased] (5:19)
14. Big Fat Woman [Previously Unreleased] (4:50)
15. Whiskey, Look What You Done To Me [Previously Unreleased] (5:07)
16. Going Down To The Blue Horizon [Previously Unreleased] (4:57)
17. Juke Box Jump [Previously Unreleased] (2:09)
18. Black Cat Shuffle [Previously Unreleased] (2:25)

CD2:

01. I Want To Be A Hippy (4:31)
02. Grandma (You're A Bit Too Slow) (3:19)
03. Puff Puff (2:10)
04. Blues Before Sunrise (3:22)
05. I'll Try (4:28)
06. Going Back To Louisiana (3:11)
07. Ain't That A Shame (3:34)
08. Stumbling Block (2:28)
09. Old And Grey (4:34)
10. Who Threw The Whiskey In The Well (2:22)
11. Postman Blues (3:14)
12. Lawdy, Lawdy (2:40)
13. Kansas City (2:06)
14. Ba' La Fourche (2:23)
15. Rub A Little Boogie [Live / Previously Unreleased] (3:19)
16. Black And White Blues [Live / Previously Unreleased] (9:03)
17. Drinkin' Wine Spo-Dee-O-Dee (5:03)
18. The Sheik Of Araby (4:30)
19. You Make Me Feel Alright [Live / Previously Unreleased] (4:06)
20. Do The Boogie Woogie [Live / Previously Unreleased] (5:09)
Exact Audio Copy V0.99 prebeta 4 from 23. January 2008

Отчёт EAC об извлечении, выполненном 27. декабря 2008, 23:55

Unknown Artist / Unknown Title

Дисковод: HL-DT-STDVDRAM GSA-E40L Adapter: 2 ID: 0

Режим чтения : Достоверность
Использование точного потока : Да
Отключение кэша аудио : Да
Использование указателей C2 : Нет

Коррекция смещения при чтении : 667
Способность читать области Lead-in и Lead-out : Нет
Заполнение пропущенных сэмплов тишиной : Да
Удаление блоков с тишиной в начале и конце : Нет
При вычислениях CRC использовались нулевые сэмплы : Да
Интерфейс : Встроенный Win32-интерфейс для Win NT/2000

Выходной формат : Пользовательский кодировщик
Выбранный битрейт : 896 kBit/s
Качество : Высокий
Добавление ID3-тэга : Нет
Утилита сжатия : C:\Program Files\Exact Audio Copy\FLAC\FLAC.EXE
Дополнительные параметры : -8 -V -T "ARTIST=%a" -T "TITLE=%t" -T "ALBUM=%g" -T "DATE=%y" -T "TRACKNUMBER=%n" %s


TOC извлечённого CD

Трек | Старт | Длительность | Начальный сектор | Конечный сектор
––––––––––––––––––––––––––––––––––-
1 | 0:00.00 | 4:32.24 | 0 | 20423
2 | 4:32.24 | 5:33.53 | 20424 | 45451
3 | 10:06.02 | 4:12.51 | 45452 | 64402
4 | 14:18.53 | 4:36.02 | 64403 | 85104
5 | 18:54.55 | 4:36.54 | 85105 | 105858
6 | 23:31.34 | 4:51.38 | 105859 | 127721
7 | 28:22.72 | 4:21.15 | 127722 | 147311
8 | 32:44.12 | 5:29.66 | 147312 | 172052
9 | 38:14.03 | 2:43.08 | 172053 | 184285
10 | 40:57.11 | 4:57.19 | 184286 | 206579
11 | 45:54.30 | 2:49.51 | 206580 | 219305
12 | 48:44.06 | 2:40.10 | 219306 | 231315
13 | 51:24.16 | 5:19.09 | 231316 | 255249
14 | 56:43.25 | 4:50.17 | 255250 | 277016
15 | 61:33.42 | 5:07.01 | 277017 | 300042
16 | 66:40.43 | 4:57.13 | 300043 | 322330
17 | 71:37.56 | 2:08.64 | 322331 | 331994
18 | 73:46.45 | 2:25.06 | 331995 | 342875


Характеристики диапазона извлечения и сообщения об ошибках

Выбранный диапазон

Имя файла I:\Music\BLUES\Champion Jack Dupree - The Complete Blue Horizon Sessions\CD 1\Champion Jack Dupree - The Complete Blue Horizon Sessions CD 1.wav

Пиковый уровень 100.0 %
Качество диапазона 100.0 %
CRC копии 280DE4CB
Копирование… OK

Ошибок не произошло


AccurateRip: сводка

Трек 1 точное извлечение (доверие 2) [BC1AAF6B]
Трек 2 точное извлечение (доверие 2) [FC211E89]
Трек 3 точное извлечение (доверие 2) [BEDA523C]
Трек 4 точное извлечение (доверие 2) [40E4BECC]
Трек 5 точное извлечение (доверие 2) [89918E2C]
Трек 6 точное извлечение (доверие 2) [3E5AFF9D]
Трек 7 точное извлечение (доверие 2) [FC1276BB]
Трек 8 точное извлечение (доверие 2) [B3690A24]
Трек 9 точное извлечение (доверие 2) [1059A834]
Трек 10 точное извлечение (доверие 2) [D458E20F]
Трек 11 точное извлечение (доверие 2) [12683936]
Трек 12 точное извлечение (доверие 2) [1A2B7DDA]
Трек 13 точное извлечение (доверие 2) [0296AD66]
Трек 14 точное извлечение (доверие 2) [661B0A4B]
Трек 15 точное извлечение (доверие 2) [52142597]
Трек 16 точное извлечение (доверие 2) [CFF2B1BE]
Трек 17 точное извлечение (доверие 2) [117FB44B]
Трек 18 точное извлечение (доверие 2) [2358469C]

Все треки извлечены точно

Конец отчёта
[CUETools log; Date: 26.06.2018 15:46:17; Version: 2.1.4]
[CTDB TOCID: 0XQvdXwayk95rWPFOnivYTPOLz0-] found.
Track | CTDB Status
1 | (8/8) Accurately ripped
2 | (8/8) Accurately ripped
3 | (8/8) Accurately ripped
4 | (8/8) Accurately ripped
5 | (8/8) Accurately ripped
6 | (8/8) Accurately ripped
7 | (8/8) Accurately ripped
8 | (8/8) Accurately ripped
9 | (8/8) Accurately ripped
10 | (8/8) Accurately ripped
11 | (8/8) Accurately ripped
12 | (8/8) Accurately ripped
13 | (8/8) Accurately ripped
14 | (8/8) Accurately ripped
15 | (8/8) Accurately ripped
16 | (8/8) Accurately ripped
17 | (8/8) Accurately ripped
18 | (8/8) Accurately ripped
[AccurateRip ID: 00347ae2-02b44b37-1411db12] found.
Track [ CRC | V2 ] Status
01 [bc1aaf6b|f6b83655] (05+05/16) Accurately ripped
02 [fc211e89|22aff2fe] (05+05/16) Accurately ripped
03 [beda523c|4578b418] (05+05/16) Accurately ripped
04 [40e4becc|2880decc] (05+05/16) Accurately ripped
05 [89918e2c|2fb45365] (05+05/16) Accurately ripped
06 [3e5aff9d|587ca0bc] (05+05/16) Accurately ripped
07 [fc1276bb|f31fbe3e] (05+05/16) Accurately ripped
08 [b3690a24|9098adc2] (05+05/16) Accurately ripped
09 [1059a834|78413e07] (05+05/16) Accurately ripped
10 [d458e20f|2b5f9549] (05+05/16) Accurately ripped
11 [12683936|d997dddf] (05+05/16) Accurately ripped
12 [1a2b7dda|235a098f] (05+05/16) Accurately ripped
13 [0296ad66|888c195e] (05+05/16) Accurately ripped
14 [661b0a4b|e97b0721] (05+05/16) Accurately ripped
15 [52142597|f717c6af] (05+05/16) Accurately ripped
16 [cff2b1be|7708a0c4] (05+05/16) Accurately ripped
17 [117fb44b|8f715b05] (05+05/16) Accurately ripped
18 [2358469c|fde3f086] (05+05/16) Accurately ripped
Offsetted by -652:
01 [1a1f70f1] (03/16) Accurately ripped
02 [d8030540] (03/16) Accurately ripped
03 [ef830f83] (03/16) Accurately ripped
04 [1d255656] (03/16) Accurately ripped
05 [ba77e3f6] (03/16) Accurately ripped
06 [6f5b4035] (03/16) Accurately ripped
07 [5e527273] (03/16) Accurately ripped
08 [c72f7554] (03/16) Accurately ripped
09 [9dd1dcf0] (03/16) Accurately ripped
10 [d79716bb] (03/16) Accurately ripped
11 [6eef09aa] (03/16) Accurately ripped
12 [4368afae] (03/16) Accurately ripped
13 [6ff5d606] (03/16) Accurately ripped
14 [08861527] (03/16) Accurately ripped
15 [7b964943] (03/16) Accurately ripped
16 [1de2ef16] (03/16) Accurately ripped
17 [39f0c7b7] (03/16) Accurately ripped
18 [384324e4] (03/16) Accurately ripped

Track Peak [ CRC32 ] [W/O NULL] [ LOG ]
– 100,0 [280DE4CB] [797FBB08] CRC32
01 95,0 [C1084AB9] [1B6A0780]
02 99,3 [9EA73380] [C3AD17BF]
03 100,0 [DAF80F74] [EEB460FE]
04 96,2 [06FD2FC5] [D19640C9]
05 97,1 [AB64C2CF] [B9482735]
06 97,1 [757C6888] [AE7985A7]
07 97,1 [DE03A53F] [0E5BB628]
08 97,0 [B2D24EB8] [15C3BFFA]
09 97,1 [DD73371C] [BDEE662F]
10 97,1 [9FFA2082] [EB2ABA18]
11 97,1 [4287C863] [998F83FB]
12 94,8 [76E893F5] [4AC79D6C]
13 97,1 [605028C8] [02D8877A]
14 96,1 [E498F5D1] [593D3C3E]
15 95,6 [F959BD8B] [9843504A]
16 96,2 [C1D1CDE7] [3CA636F9]
17 91,8 [654B9772] [5687541E]
18 96,9 [3B023224] [AF99FDA5]
foobar2000 1.2 / Dynamic Range Meter 1.1.1
log date: 2018-06-26 16:36:00

––––––––––––––––––––––––––––––––––––––––
Analyzed: Champion Jack Dupree / The Complete Blue Horizon Sessions - Disc 1
––––––––––––––––––––––––––––––––––––––––

DR Peak RMS Duration Track
––––––––––––––––––––––––––––––––––––––––
DR11 -0.44 dB -12.79 dB 4:32 01-See My Milk Cow
DR11 -0.05 dB -13.30 dB 5:34 02-Mr. Dupree Blues
DR10 0.00 dB -13.89 dB 4:13 03-Yellow Pocahontas [Extended Version]
DR12 -0.34 dB -13.74 dB 4:36 04-Gutbucket Blues / Ugly Woman
DR10 -0.26 dB -13.33 dB 4:37 05-Street Walking Woman
DR8 -0.25 dB -10.39 dB 4:52 06-Income Tax
DR10 -0.25 dB -11.62 dB 4:21 07-Roll On
DR10 -0.26 dB -13.00 dB 5:30 08-I've Been Mistreated [Extended Version]
DR8 -0.25 dB -9.67 dB 2:43 09-A Race Horse Called Mae
DR10 -0.25 dB -12.71 dB 4:57 10-My Home's In Hell
DR9 -0.25 dB -11.04 dB 2:50 11-How Am I Doing It
DR9 -0.46 dB -10.58 dB 2:40 12-I Haven't Done No One No Harm
DR10 -0.25 dB -13.36 dB 5:19 13-Street Walking Woman [Alternate Version / Previously Unreleased]
DR9 -0.34 dB -11.91 dB 4:50 14-Big Fat Woman [Previously Unreleased]
DR10 -0.39 dB -12.37 dB 5:07 15-Whiskey, Look What You Done To Me [Previously Unreleased]
DR10 -0.34 dB -12.94 dB 4:57 16-Going Down To The Blue Horizon [Previously Unreleased]
DR8 -0.73 dB -10.12 dB 2:09 17-Juke Box Jump [Previously Unreleased]
DR8 -0.27 dB -9.64 dB 2:25 18-Black Cat Shuffle [Previously Unreleased]
––––––––––––––––––––––––––––––––––––––––

Number of tracks: 18
Official DR value: DR10

Samplerate: 44100 Hz
Channels: 2
Bits per sample: 16
Bitrate: 782 kbps
Codec: FLAC
================================================================================
Exact Audio Copy V0.99 prebeta 4 from 23. January 2008

Отчёт EAC об извлечении, выполненном 28. декабря 2008, 1:23

Unknown Artist / Unknown Title

Дисковод: HL-DT-STDVDRAM GSA-E40L Adapter: 2 ID: 1

Режим чтения : Достоверность
Использование точного потока : Да
Отключение кэша аудио : Да
Использование указателей C2 : Нет

Коррекция смещения при чтении : 667
Способность читать области Lead-in и Lead-out : Нет
Заполнение пропущенных сэмплов тишиной : Да
Удаление блоков с тишиной в начале и конце : Нет
При вычислениях CRC использовались нулевые сэмплы : Да
Интерфейс : Установленный внешний ASPI-интерфейс

Выходной формат : Пользовательский кодировщик
Выбранный битрейт : 896 kBit/s
Качество : Высокий
Добавление ID3-тэга : Нет
Утилита сжатия : C:\Program Files\Exact Audio Copy\FLAC\FLAC.EXE
Дополнительные параметры : -8 -V -T "ARTIST=%a" -T "TITLE=%t" -T "ALBUM=%g" -T "DATE=%y" -T "TRACKNUMBER=%n" %s


TOC извлечённого CD

Трек | Старт | Длительность | Начальный сектор | Конечный сектор
––––––––––––––––––––––––––––––––––-
1 | 0:00.00 | 4:31.27 | 0 | 20351
2 | 4:31.27 | 3:18.50 | 20352 | 35251
3 | 7:50.02 | 2:09.56 | 35252 | 44982
4 | 9:59.58 | 3:21.49 | 44983 | 60106
5 | 13:21.32 | 4:27.49 | 60107 | 80180
6 | 17:49.06 | 3:10.63 | 80181 | 94493
7 | 20:59.69 | 3:33.51 | 94494 | 110519
8 | 24:33.45 | 2:28.18 | 110520 | 121637
9 | 27:01.63 | 4:34.06 | 121638 | 142193
10 | 31:35.69 | 2:21.44 | 142194 | 152812
11 | 33:57.38 | 3:14.34 | 152813 | 167396
12 | 37:11.72 | 2:40.02 | 167397 | 179398
13 | 39:51.74 | 2:06.27 | 179399 | 188875
14 | 41:58.26 | 2:23.18 | 188876 | 199618
15 | 44:21.44 | 3:18.50 | 199619 | 214518
16 | 47:40.19 | 9:03.11 | 214519 | 255254
17 | 56:43.30 | 5:02.56 | 255255 | 277960
18 | 61:46.11 | 4:30.16 | 277961 | 298226
19 | 66:16.27 | 4:05.72 | 298227 | 316673
20 | 70:22.24 | 5:09.35 | 316674 | 339883


Характеристики диапазона извлечения и сообщения об ошибках

Выбранный диапазон

Имя файла I:\Music\BLUES\Champion Jack Dupree - The Complete Blue Horizon Sessions\CD 2\Champion Jack Dupree - The Complete Blue Horizon Sessions CD 2.wav

Пиковый уровень 100.0 %
Качество диапазона 100.0 %
CRC копии 9CC7DFAC
Копирование… OK

Ошибок не произошло


AccurateRip: сводка

Трек 1 нет в базе данных
Трек 2 нет в базе данных
Трек 3 нет в базе данных
Трек 4 нет в базе данных
Трек 5 нет в базе данных
Трек 6 нет в базе данных
Трек 7 нет в базе данных
Трек 8 нет в базе данных
Трек 9 нет в базе данных
Трек 10 нет в базе данных
Трек 11 нет в базе данных
Трек 12 нет в базе данных
Трек 13 нет в базе данных
Трек 14 нет в базе данных
Трек 15 нет в базе данных
Трек 16 нет в базе данных
Трек 17 нет в базе данных
Трек 18 нет в базе данных
Трек 19 нет в базе данных
Трек 20 нет в базе данных

Ни одного трека нет в базе AccurateRip

Конец отчёта
[CUETools log; Date: 26.06.2018 15:46:40; Version: 2.1.4]
[CTDB TOCID: dwr3IOkuL3bkA7_HV8sw_yF4ibs-] found.
Track | CTDB Status
1 | (7/8) Accurately ripped
2 | (8/8) Accurately ripped
3 | (8/8) Accurately ripped
4 | (8/8) Accurately ripped
5 | (8/8) Accurately ripped
6 | (8/8) Accurately ripped
7 | (8/8) Accurately ripped
8 | (8/8) Accurately ripped
9 | (8/8) Accurately ripped
10 | (8/8) Accurately ripped
11 | (8/8) Accurately ripped
12 | (8/8) Accurately ripped
13 | (8/8) Accurately ripped
14 | (8/8) Accurately ripped
15 | (8/8) Accurately ripped
16 | (8/8) Accurately ripped
17 | (8/8) Accurately ripped
18 | (8/8) Accurately ripped
19 | (8/8) Accurately ripped
20 | (8/8) Accurately ripped
[AccurateRip ID: 00325bf9-02e7c28b-1111b314] found.
Track [ CRC | V2 ] Status
01 [8c4bb5ee|01f9ddad] (03+05/14) Accurately ripped
02 [9180d514|1b84c6f9] (03+05/14) Accurately ripped
03 [ee1251d3|8dfbacbf] (03+05/14) Accurately ripped
04 [cec49bee|928c24ae] (03+05/14) Accurately ripped
05 [f092a4f0|85fba0e8] (03+05/14) Accurately ripped
06 [87467701|23d81a3b] (03+05/14) Accurately ripped
07 [92ce1d3a|14597870] (03+05/14) Accurately ripped
08 [09500c8e|5040cc41] (03+05/14) Accurately ripped
09 [dca38787|7bbad5ec] (03+05/14) Accurately ripped
10 [c894d35b|b17dcfb3] (03+05/14) Accurately ripped
11 [d84249c0|4c231a55] (03+05/14) Accurately ripped
12 [2f6ae10f|0b9c3b00] (03+05/14) Accurately ripped
13 [e2bb6008|12fb5d42] (03+05/14) Accurately ripped
14 [c398d19d|779f7906] (03+05/14) Accurately ripped
15 [0bfcbd99|b814dc7d] (03+05/14) Accurately ripped
16 [ad034c48|d992c27f] (03+05/14) Accurately ripped
17 [b0283a3f|75700e2c] (03+05/14) Accurately ripped
18 [b1309495|9a3897f1] (03+05/14) Accurately ripped
19 [1e65fb4e|32a38ea3] (03+05/14) Accurately ripped
20 [537eb67c|e1183f85] (03+05/14) Accurately ripped
Offsetted by -641:
01 [cd06275f] (03/14) Accurately ripped
02 [b7619767] (03/14) Accurately ripped
03 [ff573978] (03/14) Accurately ripped
04 [1b520bd4] (03/14) Accurately ripped
05 [871a9cb6] (03/14) Accurately ripped
06 [033f0457] (03/14) Accurately ripped
07 [13539517] (03/14) Accurately ripped
08 [ca5530c0] (03/14) Accurately ripped
09 [538f1c05] (03/14) Accurately ripped
10 [c7d7abc7] (03/14) Accurately ripped
11 [2f8aa68e] (03/14) Accurately ripped
12 [cb5b9e89] (03/14) Accurately ripped
13 [9cbbe086] (03/14) Accurately ripped
14 [927648f5] (03/14) Accurately ripped
15 [7b4889b4] (03/14) Accurately ripped
16 [297f5dcf] (03/14) Accurately ripped
17 [45ee5904] (03/14) Accurately ripped
18 [f46c9b77] (03/14) Accurately ripped
19 [6641eb10] (03/14) Accurately ripped
20 [5603d7c2] (03/14) Accurately ripped

Track Peak [ CRC32 ] [W/O NULL] [ LOG ]
– 100,0 [9CC7DFAC] [CB5E5A59] CRC32
01 97,1 [C57A29D8] [1C8745E2]
02 97,1 [3C67A7F8] [272D4349]
03 97,1 [6F68B70A] [4A671CDF]
04 97,2 [09C0F2FA] [7105B84D]
05 97,1 [6323C67A] [B82FBDF5]
06 97,1 [D07E15AB] [15873CA6]
07 97,1 [073B8F47] [86570A18]
08 97,1 [F1A7F5A5] [F26FBB15]
09 97,1 [4807E44F] [0B94EA4B]
10 97,1 [9705000C] [3F2FBC64]
11 97,1 [E008BED4] [E0B7C305]
12 97,1 [6198917A] [F712E6AB]
13 97,1 [F560DE09] [5963379D]
14 97,1 [BAAED015] [F1AD8688]
15 97,1 [3C62C020] [D5657FCD]
16 97,1 [B57DCAE2] [B0CA0793]
17 98,9 [A21A1F71] [083ACE6B]
18 97,1 [CE0E4245] [A9B81B63]
19 97,1 [7FE6FE0C] [260525D2]
20 100,0 [CA8330F4] [F4FE0BAB]
foobar2000 1.2 / Dynamic Range Meter 1.1.1
log date: 2018-06-26 16:36:40

––––––––––––––––––––––––––––––––––––––––
Analyzed: Champion Jack Dupree / The Complete Blue Horizon Sessions - Disc 2
––––––––––––––––––––––––––––––––––––––––

DR Peak RMS Duration Track
––––––––––––––––––––––––––––––––––––––––
DR9 -0.25 dB -11.03 dB 4:31 01-I Want To Be A Hippy
DR8 -0.25 dB -9.49 dB 3:19 02-Grandma (You're A Bit Too Slow)
DR10 -0.25 dB -10.63 dB 2:10 03-Puff Puff
DR8 -0.25 dB -9.33 dB 3:22 04-Blues Before Sunrise
DR10 -0.25 dB -13.15 dB 4:28 05-I'll Try
DR9 -0.25 dB -10.32 dB 3:11 06-Going Back To Louisiana
DR7 -0.25 dB -8.76 dB 3:34 07-Ain't That A Shame
DR7 -0.25 dB -8.99 dB 2:28 08-Stumbling Block
DR9 -0.25 dB -10.89 dB 4:34 09-Old And Grey
DR8 -0.25 dB -9.42 dB 2:22 10-Who Threw The Whiskey In The Well
DR8 -0.25 dB -9.24 dB 3:14 11-Postman Blues
DR8 -0.25 dB -9.49 dB 2:40 12-Lawdy, Lawdy
DR8 -0.25 dB -9.98 dB 2:06 13-Kansas City
DR8 -0.25 dB -9.98 dB 2:23 14-Ba' La Fourche
DR7 -0.25 dB -8.83 dB 3:19 15-Rub A Little Boogie [Live / Previously Unreleased]
DR10 -0.25 dB -12.62 dB 9:03 16-Black And White Blues [Live / Previously Unreleased]
DR6 -0.09 dB -7.78 dB 5:03 17-Drinkin' Wine Spo-Dee-O-Dee
DR10 -0.25 dB -13.80 dB 4:30 18-The Sheik Of Araby
DR8 -0.25 dB -10.41 dB 4:06 19-You Make Me Feel Alright [Live / Previously Unreleased]
DR9 0.00 dB -12.51 dB 5:09 20-Do The Boogie Woogie [Live / Previously Unreleased]
––––––––––––––––––––––––––––––––––––––––

Number of tracks: 20
Official DR value: DR8

Samplerate: 44100 Hz
Channels: 2
Bits per sample: 16
Bitrate: 898 kbps
Codec: FLAC
================================================================================