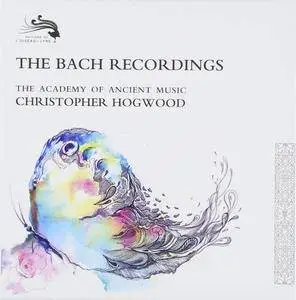 Christopher Hogwood, The Academy Of Ancient Music: The Bach Recordings (20CD Box Set, 2015)
EAC Rip | FLAC (*image+.cue+.log) | Run Time: 18:59:15 | 5,70 Gb
Genre: Classical, Vocal | Label: Decca
Christopher Hogwood is an irreplaceable figure in a marvelous period that spans over thirty years, the time of the rebirth of the ancient and baroque repertoire: a time of so-called performances with original instruments, as they were hastily defined in an urge to simplify. A period in which, amid the initial skepticism of the critics and their subsequent appreciation, important artists and philologists restored to music lovers the joy of rediscovering masterpieces that had often been forgotten and performing practices that had long been abandoned, recreating enormous interest in a repertoire that is still continuing to reveal the existence of great forgotten musical treasures.
Thanks to this movement, the program of music associations and opera theaters are now very different from the past.
It was a period in which artists such as Hogwood, Gardiner, Brueggen, Harnoncourt, Savall and Pickett to name only a few seemed almost to compete and surpass each other in a constant succession of new discoveries and worlds first recordings. Yet really the only competition was in the minds of the public, who often split into factions that did not always have a proper raison d être, in favor of one performer or another.
It is a fact that the studies, recordings and activities of these great musicians have revolutionized public taste. Indeed, some particularly bold individuals, who with hindsight may seem to have gone too far in their performances, were nevertheless useful in sparking off discussions and debates and deeper studies.
Those who were acquainted with Christopher Hogwood know how far he was from the performing extremism of which these artists are often and nearly always wrongly accused. It is no coincidence that, like other illustrious colleagues, he also devoted himself to conducting traditional orchestras in the classical and baroque repertoire, always respecting the practices that he had studied so profoundly.
Hogwood will long be remembered also for his research and writings (his book on George Friedrich Handel, to give just one example), as well as for his very carefully prepared critical editions, of baroque and also romantic music (Mendelssohn), which nowadays one can hardly do without.
We wish to remember him also for his passion and enthusiasm. Unfortunately this box set, which is being released only a few months after his death and which was planned in conjunction with him, has not been able to benefit from his illustrative notes, which enhanced previous releases of Haydn and Vivaldi.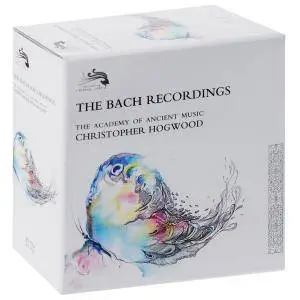 Contents:
CD1-2: Brandenburg Concertos 1-6
CD3: 3 Harpsichord Concertos BWV 1052, 1054, 1056
CD4: 3 Harpsichord Concertos BWV 1053, 1055, 1058
Harpsichord: Christophe Rousset
CD5: Concerto for 3 Harpsichords, Strings, and Continuo No.2 in C, BWV 1064 - Arr. Hogwood for 3 Violins
Concerto for 3 Harpsichords, Strings, and Continuo No.2 in C, BWV 1064
Concerto for 3 Harpsichords, Strings, and Continuo No.1 in D minor, BWV 1063
Concerto for 4 Harpsichords, Strings, and Continuo in A minor, BWV 1065
CD6: Concertos BWV 1041, 1042, 1057, 1044
CD7: Double Concertos BWV 1060, 1060R, 1062, 1043,
CD8: French Suites BWV 819, 819a, 818a, 812, 813
CD9: French Suites BWV 814, 815, 816, 817
Harpsichord: Christopher Hogwood
CD10: Four Orchestral Suites BWV 1068, 1066
CD11: Four Orchestral Suites BWV 1067, 1069
CD12: Musical Offering (excerpts), Christmas Oratorio (Sinfonia), Trio Sonata BWV 1039, Fugue 579* (on a theme by Corelli - Arr. Hogwood)
*Saint Paul Chamber Orchestra
CD13: Coffee Cantata; Peasant Cantata
CD14: Wedding Cantatas
C.P.E. BACH
CD15-16: 8 Symphonies; 3 Quartets; Fantasy
CD17: Sonatas & Sonatinas
clavichord: Christopher Hogwood
CD18: Sonata V, Trio in E; JC Bach: Sonata op. 18
J.C. BACH
CD19: Six Favourite Overtures, Duo in F, Trio in A minor
CD20: Works for two harpsichords
J.S. BACH: Concerto for 2 Harpsichords, Strings, and Continuo in C, BWV 1061
W.F. BACH: Concerto for 2 Harpsichords in F (Concerto â duoi Cembali Concertati)
C.P.E. BACH: Four Duets Wq 115
Harpsichord: Christopher Hogwood & Christophe Rousset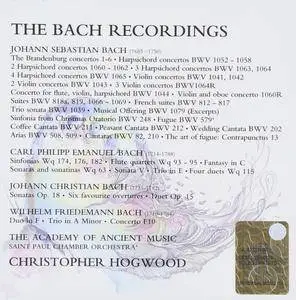 Disc: 1
1. 1. (Allegro) - Catherine Mackintosh, Michel Piguet, Ku Ebbinge, Clare Shanks, Felix Warnock, The Academy of Ancient Music, Christopher Hogwood
2. 2. Adagio - Catherine Mackintosh, Michel Piguet, Ku Ebbinge, Clare Shanks, Felix Warnock, The Academy of Ancient Music, Christopher Hogwood
3. 3. Allegro - Catherine Mackintosh, Michel Piguet, Ku Ebbinge, Clare Shanks, Felix Warnock, The Academy of Ancient Music, Christopher Hogwood
4. 1. (Allegro) - Friedemann Immer, Catherine Mackintosh, Michel Piguet, Ku Ebbinge, The Academy of Ancient Music, Christopher Hogwood
5. 2. Andante - Michel Piguet, Ku Ebbinge, Catherine Mackintosh, The Academy of Ancient Music, Christopher Hogwood
6. 3. Allegro assai - Friedemann Immer, Catherine Mackintosh, Michel Piguet, Ku Ebbinge, The Academy of Ancient Music, Christopher Hogwood
7. 1. (Allegro) - The Academy of Ancient Music, Christopher Hogwood
8. Adagio - The Academy of Ancient Music, Christopher Hogwood
9. 3. Allegro - The Academy of Ancient Music, Christopher Hogwood

Disc: 2
1. 1. Allegro - Michel Piguet, Sabine Weill, Jaap Schröder, The Academy of Ancient Music, Christopher Hogwood
2. 2. Andante - Michel Piguet, Sabine Weill, Jaap Schröder, The Academy of Ancient Music, Christopher Hogwood
3. 3. Presto - Michel Piguet, Sabine Weill, Jaap Schröder, The Academy of Ancient Music, Christopher Hogwood
4. 1. Allegro - Stephen Preston, Catherine Mackintosh, The Academy of Ancient Music, Christopher Hogwood
5. 2. Affetuoso - Stephen Preston, Catherine Mackintosh, The Academy of Ancient Music, Christopher Hogwood
6. 3. Allegro - Stephen Preston, Catherine Mackintosh, The Academy of Ancient Music, Christopher Hogwood
7. 1. – - Trevor Jones, Jan Schlapp, Timothy Mason, The Academy of Ancient Music, Christopher Hogwood
8. 2. Adagio ma non tanto - Trevor Jones, Jan Schlapp, Timothy Mason, The Academy of Ancient Music, Christopher Hogwood
9. 3. Allegro - Trevor Jones, Jan Schlapp, Timothy Mason, The Academy of Ancient Music, Christopher Hogwood

Disc: 3
1. 1. Allegro - Christophe Rousset, The Academy of Ancient Music, Christopher Hogwood
2. 2. Adagio - Christophe Rousset, The Academy of Ancient Music, Christopher Hogwood
3. 3. Allegro - Christophe Rousset, The Academy of Ancient Music, Christopher Hogwood
4. 1. – - Christophe Rousset, The Academy of Ancient Music, Christopher Hogwood
5. 2. Adagio e piano sempre - Christophe Rousset, The Academy of Ancient Music, Christopher Hogwood
6. 3. Allegro - Christophe Rousset, The Academy of Ancient Music, Christopher Hogwood
7. 1. (Allegro) - Christophe Rousset, The Academy of Ancient Music, Christopher Hogwood
8. 2. Largo - Christophe Rousset, The Academy of Ancient Music, Christopher Hogwood
9. 3. Presto - Christophe Rousset, The Academy of Ancient Music, Christopher Hogwood

Disc: 4
1. 1. (Allegro) - Christophe Rousset, The Academy of Ancient Music, Christopher Hogwood
2. 2. Siciliano - Christophe Rousset, The Academy of Ancient Music, Christopher Hogwood
3. 3. Allegro - Christophe Rousset, The Academy of Ancient Music, Christopher Hogwood
4. 1. (Allegro moderato) - Christophe Rousset, The Academy of Ancient Music, Christopher Hogwood
5. 2. Larghetto - Christophe Rousset, The Academy of Ancient Music, Christopher Hogwood
6. 3. Allegro ma non tanto - Christophe Rousset, The Academy of Ancient Music, Christopher Hogwood
7. 1. – - Christophe Rousset, The Academy of Ancient Music, Christopher Hogwood
8. 2. Andante - Christophe Rousset, The Academy of Ancient Music, Christopher Hogwood
9. 3. Allegro assai - Christophe Rousset, The Academy of Ancient Music, Christopher Hogwood

Disc: 5
1. 1. (Allegro) - Christopher Hirons, Monica Huggett, Catherine Mackintosh, The Academy of Ancient Music, Christopher Hogwood
2. 2. Adagio - Christopher Hirons, Monica Huggett, Catherine Mackintosh, The Academy of Ancient Music, Christopher Hogwood
3. 3. Allegro - Christopher Hirons, Monica Huggett, Catherine Mackintosh, The Academy of Ancient Music, Christopher Hogwood
4. 1. (Allegro) - Davitt Moroney, Christophe Rousset, Christopher Hogwood, The Academy of Ancient Music
5. 2. Adagio - Davitt Moroney, Christophe Rousset, Christopher Hogwood, The Academy of Ancient Music
6. 3. Allegro - Davitt Moroney, Christophe Rousset, Christopher Hogwood, The Academy of Ancient Music
7. 1. (Allegro) - Christophe Rousset, Davitt Moroney, Colin Tilney, The Academy of Ancient Music, Christopher Hogwood
8. 2. Alla siciliana - Christophe Rousset, Davitt Moroney, Colin Tilney, The Academy of Ancient Music, Christopher Hogwood
9. 3. Allegro - Christophe Rousset, Davitt Moroney, Colin Tilney, The Academy of Ancient Music, Christopher Hogwood
10. 1. (Allegro) - Colin Tilney, Christophe Rousset, Davitt Moroney, Christopher Hogwood, The Academy of Ancient Music
11. 2. Largo - Colin Tilney, Christophe Rousset, Davitt Moroney, Christopher Hogwood, The Academy of Ancient Music
12. 3. Allegro - Colin Tilney, Christophe Rousset, Davitt Moroney, Christopher Hogwood, The Academy of Ancient Music

Disc: 6
1. 1. (Allegro moderato) - Jaap Schröder, The Academy of Ancient Music, Christopher Hogwood
2. 2. Andante - Jaap Schröder, The Academy of Ancient Music, Christopher Hogwood
3. 3. Allegro assai - Jaap Schröder, The Academy of Ancient Music, Christopher Hogwood
4. 1. Allegro - Jaap Schröder, The Academy of Ancient Music, Christopher Hogwood
5. 2. Adagio - Jaap Schröder, The Academy of Ancient Music, Christopher Hogwood
6. 3. Allegro assai - Jaap Schröder, The Academy of Ancient Music, Christopher Hogwood
7. 1. – - Christophe Rousset, The Academy of Ancient Music, Christopher Hogwood
8. 2. Andante - Christophe Rousset, The Academy of Ancient Music, Christopher Hogwood
9. 3. Allegro assai - Christophe Rousset, The Academy of Ancient Music, Christopher Hogwood
10. 1. Allegro - Rachel Brown, Simon Standage, The Academy of Ancient Music, Christopher Hogwood
11. 2. Adagio ma non tanto e dolce - Rachel Brown, Simon Standage, The Academy of Ancient Music, Christopher Hogwood
12. 3. Tempo di Allabreve - Rachel Brown, Simon Standage, The Academy of Ancient Music, Christopher Hogwood

Disc: 7
1. Allegro - Catherine Mackintosh, Stephen Hammer, The Academy of Ancient Music, Christopher Hogwood
2. Adagio - Catherine Mackintosh, Stephen Hammer, The Academy of Ancient Music, Christopher Hogwood
3. Allegro - Catherine Mackintosh, Stephen Hammer, The Academy of Ancient Music, Christopher Hogwood
4. 1. Allegro - Christophe Rousset, Christopher Hogwood, The Academy of Ancient Music
5. 2. Adagio - Christophe Rousset, Christopher Hogwood, The Academy of Ancient Music
6. 3. Allegro - Christophe Rousset, Christopher Hogwood, The Academy of Ancient Music
7. 1. (Allegro) - Christophe Rousset, Christopher Hogwood, The Academy of Ancient Music
8. 2. Andante e piano - Christophe Rousset, The Academy of Ancient Music, Christopher Hogwood
9. 3. Allegro assai - Christophe Rousset, Christopher Hogwood, The Academy of Ancient Music
10. 1. Vivace - Jaap Schröder, Christopher Hirons, The Academy of Ancient Music, Christopher Hogwood
11. 2. Largo ma non tanto - Jaap Schröder, Christopher Hirons, The Academy of Ancient Music, Christopher Hogwood
12. 3. Allegro - Jaap Schröder, Christopher Hirons, The Academy of Ancient Music, Christopher Hogwood

Disc: 8
1. Allemande - Christopher Hogwood
2. Courante - Christopher Hogwood
3. Sarabande - Christopher Hogwood
4. Bourée - Christopher Hogwood
5. Menuet I - Christopher Hogwood
6. Menuet II - Christopher Hogwood
7. Allemande, BWV819a - Christopher Hogwood
8. Fort gai - Christopher Hogwood
9. Allemande - Christopher Hogwood
10. Courante - Christopher Hogwood
11. Sarabande - Christopher Hogwood
12. Menuet - Christopher Hogwood
13. Gigue - Christopher Hogwood
14. 1. Allemande - Christopher Hogwood
15. 2. Courante - Christopher Hogwood
16. 3. Sarabande - Christopher Hogwood
17. 4. Menuet I - II - Christopher Hogwood
18. 5. Gigue - Christopher Hogwood
19. 6. Gigue - Christopher Hogwood
20. 1. Allemande - Christopher Hogwood
21. 2. Courante - Christopher Hogwood
22. 3. Sarabande - Christopher Hogwood
23. 4. Air - Christopher Hogwood
24. 5a. Menuet I - Christopher Hogwood
25. 6a. Menuet II - Christopher Hogwood
26. 6. Gigue - Christopher Hogwood

Disc: 9
1. 1. Allemande - Christopher Hogwood
2. 2. Courante - Christopher Hogwood
3. 3. Sarabande - Christopher Hogwood
4. 4. Anglaise - Christopher Hogwood
5. Minuet I - Christopher Hogwood
6. Minuet II - Christopher Hogwood
7. 6. Gigue - Christopher Hogwood
8. 1. Allemande - Christopher Hogwood
9. 2. Courante - Christopher Hogwood
10. 3. Sarabande - Christopher Hogwood
11. 4. Gavotte - Christopher Hogwood
12. 5. Menuet - Christopher Hogwood
13. 6. Air - Christopher Hogwood
14. 7. Gigue - Christopher Hogwood
15. 1. Allemande - Christopher Hogwood
16. 2. Courante - Christopher Hogwood
17. 3. Sarabande - Christopher Hogwood
18. 4. Gavotte - Christopher Hogwood
19. 5. Bourrée - Christopher Hogwood
20. 6. Loure - Christopher Hogwood
21. 7. Gigue - Christopher Hogwood
22. 1. Allemande - Christopher Hogwood
23. 2. Courante - Christopher Hogwood
24. 3. Sarabande - Christopher Hogwood
25. 4. Gavotte - Christopher Hogwood
26. 5. Polonaise - Christopher Hogwood
27. 7. Bourrée - Christopher Hogwood
28. 6. Menuet - Christopher Hogwood
29. 8. Gigue - Christopher Hogwood

Disc: 10
1. 1. Ouverture - The Academy of Ancient Music, Christopher Hogwood
2. 2. Air - The Academy of Ancient Music, Christopher Hogwood
3. 3. Gavotte I-II - The Academy of Ancient Music, Christopher Hogwood
4. 4. Bourrée - The Academy of Ancient Music, Christopher Hogwood
5. 5. Gigue - The Academy of Ancient Music, Christopher Hogwood
6. 1. Ouverture - The Academy of Ancient Music, Christopher Hogwood
7. 2. Courante - The Academy of Ancient Music, Christopher Hogwood
8. 3. Gavotte I-II - The Academy of Ancient Music, Christopher Hogwood
9. 4. Forlane - The Academy of Ancient Music, Christopher Hogwood
10. 5. Menuet I-II - The Academy of Ancient Music, Christopher Hogwood
11. 6. Bourrée I-II - The Academy of Ancient Music, Christopher Hogwood
12. 7. Passepied I-II - The Academy of Ancient Music, Christopher Hogwood

Disc: 11
1. 1. Ouverture - Lisa Beznosiuk, The Academy of Ancient Music, Christopher Hogwood
2. 2. Rondeau - Lisa Beznosiuk, The Academy of Ancient Music, Christopher Hogwood
3. 3. Sarabande - Lisa Beznosiuk, The Academy of Ancient Music, Christopher Hogwood
4. 4. Bourrée I-II - Lisa Beznosiuk, The Academy of Ancient Music, Christopher Hogwood
5. 5. Polonaise - Lisa Beznosiuk, The Academy of Ancient Music, Christopher Hogwood
6. 6. Menuet - Lisa Beznosiuk, The Academy of Ancient Music, Christopher Hogwood
7. 7. Badinerie - Lisa Beznosiuk, The Academy of Ancient Music, Christopher Hogwood
8. 1. Ouverture - The Academy of Ancient Music, Christopher Hogwood
9. 2. Bourrée I-II - The Academy of Ancient Music, Christopher Hogwood
10. 3. Gavotte - The Academy of Ancient Music, Christopher Hogwood
11. 4. Menuet I-II - The Academy of Ancient Music, Christopher Hogwood
12. 5. Réjouissance - The Academy of Ancient Music, Christopher Hogwood

Disc: 12
1. Trio Sonata in G, BWV 1039 - Stephen Preston, Nicholas McGegan, Jane Ryan, Christopher Hogwood
2. Ricercar a 3 - The Academy of Ancient Music, Christopher Hogwood
3. Canon perpetuus - The Academy of Ancient Music, Christopher Hogwood
4. Trio Sonata For Flute, Violin & Continuo - The Academy of Ancient Music, Christopher Hogwood
5. No.10 Sinfonia - The Academy of Ancient Music, Christopher Hogwood
6. Fugue in B minor, BWV 579 on a theme by Corelli - Arr. Hogwood - St. Paul Chamber Orchestra, Christopher Hogwood

Disc: 13
1. Schweigt stille, plaudert nicht…Hat man nicht mit seinen Kindern - Emma Kirkby, Rogers Covey-Crump, David Thomas, The Academy of Ancient Music, Christopher Hogwood
2. "Ei! wie schmeckt der Coffee susse" - Emma Kirkby, David Thomas, The Academy of Ancient Music, Christopher Hogwood
3. Mädchen, die von harten Sinnen - Emma Kirkby, David Thomas, The Academy of Ancient Music, Christopher Hogwood
4. Heute noch - Emma Kirkby, Rogers Covey-Crump, David Thomas, The Academy of Ancient Music, Christopher Hogwood
5. Die Katze lässt das Mausen nicht - Emma Kirkby, Rogers Covey-Crump, David Thomas, The Academy of Ancient Music, Christopher Hogwood
6. 1. Ouverture - The Academy of Ancient Music, Christopher Hogwood
7. 2-3. Mer hahn en neue Oberkeet…Nu, Mieke, gib dein Guschel immer her - Emma Kirkby, David Thomas, The Academy of Ancient Music, Christopher Hogwood
8. 4-5 Ach es schmeckt doch gar zu gut - Emma Kirkby, David Thomas, The Academy of Ancient Music, Christopher Hogwood
9. 6-7. Ach, Herr Schösser, geht nicht gar zu schlimm - Emma Kirkby, David Thomas, The Academy of Ancient Music, Christopher Hogwood
10. 8-9. Unser trefflicher, lieber Kammerherr - Emma Kirkby, David Thomas, The Academy of Ancient Music, Christopher Hogwood
11. 10-11: Das ist galant, es spricht niemand - Emma Kirkby, David Thomas, The Academy of Ancient Music, Christopher Hogwood
12. 12-13. Fünfzig Taler bares Geld - Emma Kirkby, David Thomas, The Academy of Ancient Music, Christopher Hogwood
13. 14-15: Klein-Zsocher müsse so zart und süße - Emma Kirkby, David Thomas, The Academy of Ancient Music, Christopher Hogwood
14. 16-17: Es nehme zehntausend Dukaten - Emma Kirkby, David Thomas, The Academy of Ancient Music, Christopher Hogwood
15. 18-19: Gib, Schöne, viel Söhne - Emma Kirkby, David Thomas, The Academy of Ancient Music, Christopher Hogwood
16. 20-21: Dein Wachstum sei feste - Emma Kirkby, David Thomas, The Academy of Ancient Music, Christopher Hogwood
17. 22. Arie: Und daß ihr's alle wißt - Emma Kirkby, David Thomas, The Academy of Ancient Music, Christopher Hogwood
18. 24. Chor (Duetto): Wir gehn nun, wo der Dudelsack - Emma Kirkby, David Thomas, The Academy of Ancient Music, Christopher Hogwood

Disc: 14
1. 1. Adagio: Weichet nur, betrübte Schatten - Emma Kirkby, The Academy of Ancient Music, Christopher Hogwood
2. 2. Recit: Die Welt wird wieder neu - Emma Kirkby, The Academy of Ancient Music, Christopher Hogwood
3. 3. Aria: Phöbus eilt mit schnellen Pferden - Emma Kirkby, The Academy of Ancient Music, Christopher Hogwood
4. 4. Recit: D'rum sucht auch Amor sein Vergnügen - Emma Kirkby, The Academy of Ancient Music, Christopher Hogwood
5. 5. Aria: Wenn die Frühlingslüfte streichen - Emma Kirkby, The Academy of Ancient Music, Christopher Hogwood
6. 6. Recit: Und dieses ist das Glücke - Emma Kirkby, The Academy of Ancient Music, Christopher Hogwood
7. 7. Aria: Sich üben im Lieben - Emma Kirkby, The Academy of Ancient Music, Christopher Hogwood
8. 8. Recit: So sei das Band der keuschen Liebe - Emma Kirkby, The Academy of Ancient Music, Christopher Hogwood
9. 9. Gavotte: Sehet in Zufriedenheit - Emma Kirkby, The Academy of Ancient Music, Christopher Hogwood
10. "Bist du bei mir", BWV 508 Aria - Emma Kirkby, The Academy of Ancient Music, Christopher Hogwood
11. Gedenke doch, mein Geist zurücke - Emma Kirkby, The Academy of Ancient Music, Christopher Hogwood
12. 2. Recitativo: Ich habe genug! Mein Trost ist nur allein - Emma Kirkby, The Academy of Ancient Music, Christopher Hogwood
13. 3. Aria: Schlummert ein, ihr matten Augen - Emma Kirkby, The Academy of Ancient Music, Christopher Hogwood
14. 1. Recit: O holder Tag, erwünschte Zeit - Emma Kirkby, The Academy of Ancient Music, Christopher Hogwood
15. 2. Aria: Spielet, ihr beseelten Lieder - Emma Kirkby, The Academy of Ancient Music, Christopher Hogwood
16. 3. Recit: Doch haltet ein, ihr muntern Saiten - Emma Kirkby, The Academy of Ancient Music, Christopher Hogwood
17. 4. Aria: Ruhet hie, matte Töne - Emma Kirkby, The Academy of Ancient Music, Christopher Hogwood
18. 5. Recit: So glaubt man denn, daß die Musik verführe - Emma Kirkby, The Academy of Ancient Music, Christopher Hogwood
19. 6. Aria: Schweigt, ihr Flöten, schweigt ihr Töne - Emma Kirkby, The Academy of Ancient Music, Christopher Hogwood
20. 7. Recit: Was Luft? was Grab? - Emma Kirkby, The Academy of Ancient Music, Christopher Hogwood
21. 8. Aria: Großer Gönner, dein Vergnügen - Emma Kirkby, The Academy of Ancient Music, Christopher Hogwood
22. 9. Recit: Hochteurer Mann, so fahre ferner fort - Emma Kirkby, The Academy of Ancient Music, Christopher Hogwood
23. 10. Aria: Seid beglückt - Emma Kirkby, The Academy of Ancient Music, Christopher Hogwood

Disc: 15
1. 1. Allegro di molto - The Academy of Ancient Music, Christopher Hogwood
2. 2. Poco adagio - The Academy of Ancient Music, Christopher Hogwood
3. 3. Presto - The Academy of Ancient Music, Christopher Hogwood
4. 1. Allegro di molto - The Academy of Ancient Music, Christopher Hogwood
5. 2. Poco adagio - The Academy of Ancient Music, Christopher Hogwood
6. 3. Presto - The Academy of Ancient Music, Christopher Hogwood
7. 1. Allegro assai - The Academy of Ancient Music, Christopher Hogwood
8. 2. Adagio - The Academy of Ancient Music, Christopher Hogwood
9. 3. Allegretto - The Academy of Ancient Music, Christopher Hogwood
10. 1. Allegro ma non troppo - The Academy of Ancient Music, Christopher Hogwood
11. 2. Largo ma inocentemente - The Academy of Ancient Music, Christopher Hogwood
12. 3. Allegro assai - The Academy of Ancient Music, Christopher Hogwood
13. 1. Allegretto - The Academy of Ancient Music, Christopher Hogwood
14. 2. Larghetto - The Academy of Ancient Music, Christopher Hogwood
15. 3. Presto - The Academy of Ancient Music, Christopher Hogwood
16. 1. Allegro di molto - The Academy of Ancient Music, Christopher Hogwood
17. 2. Poco andante - The Academy of Ancient Music, Christopher Hogwood
18. 3. Allegro spiritoso - The Academy of Ancient Music, Christopher Hogwood

Disc: 16
1. 1. Allegro assai - The Academy of Ancient Music, Christopher Hogwood
2. 2. Andante - The Academy of Ancient Music, Christopher Hogwood
3. 3. Allegro - The Academy of Ancient Music, Christopher Hogwood
4. 1. Allegro assai - The Academy of Ancient Music, Christopher Hogwood
5. 2. Andante - The Academy of Ancient Music, Christopher Hogwood
6. 3. Presto - The Academy of Ancient Music, Christopher Hogwood
7. 1. Andantino - Nicholas McGegan, Catherine Mackintosh, Anthony Pleeth, Christopher Hogwood
8. 2. Largo e sostenuto - Nicholas McGegan, Catherine Mackintosh, Anthony Pleeth, Christopher Hogwood
9. 3. Allegro assai - Nicholas McGegan, Catherine Mackintosh, Anthony Pleeth, Christopher Hogwood
10. 1. Allegretto - Nicholas McGegan, Catherine Mackintosh, Anthony Pleeth, Christopher Hogwood
11. 2. Adagio - Nicholas McGegan, Catherine Mackintosh, Anthony Pleeth, Christopher Hogwood
12. 3. Allegro di molto - Nicholas McGegan, Catherine Mackintosh, Anthony Pleeth, Christopher Hogwood
13. Fantasy In C Major - Nicholas McGegan, Catherine Mackintosh, Anthony Pleeth, Christopher Hogwood
14. 1. Allegretto - Nicholas McGegan, Catherine Mackintosh, Anthony Pleeth, Christopher Hogwood
15. 2. Adagio - Nicholas McGegan, Catherine Mackintosh, Anthony Pleeth, Christopher Hogwood
16. 3. Presto - Nicholas McGegan, Catherine Mackintosh, Anthony Pleeth, Christopher Hogwood

Disc: 17
1. No. 1 Allegro - Christopher Hogwood
2. No. 2 Largo - Christopher Hogwood
3. No. 3 Allegretto - Christopher Hogwood
4. No. 4 Allegretto - Christopher Hogwood
5. No. 5 Andante - Christopher Hogwood
6. No. 6 Prestissimo - Christopher Hogwood
7. Allegretto tranquillamente - Christopher Hogwood
8. Andante mà innocentemente - Christopher Hogwood
9. Tempo di Minuetto con tenerezza - Christopher Hogwood
10. Allegro con spirito - Christopher Hogwood
11. Adagio sostenuto - Christopher Hogwood
12. Presto - Christopher Hogwood
13. Poco Allegro mà cantabile - Christopher Hogwood
14. Andante lusingando - Christopher Hogwood
15. Allegro - Christopher Hogwood
16. Allegretto grazioso - Christopher Hogwood
17. Largo maestoso - Christopher Hogwood
18. Allegro Siciliano e scherzando - Christopher Hogwood
19. Allegro di molto - Christopher Hogwood
20. Adagio assai mesto e sostenuto - Christopher Hogwood
21. Allegretto arioso ed amoroso - Christopher Hogwood
22. Allegro di molto - Christopher Hogwood
23. Adagio affetuoso e sostenuto - Christopher Hogwood
24. Fantasia. Allegro moderato - Christopher Hogwood

Disc: 18
1. Sonata V in C Major (The Prussian Sonatas) - The Academy of Ancient Music, Christopher Hogwood
2. Trio in E Major (2 flutes and b.c.) - Stephen Preston, Nicholas McGegan, Anthony Pleeth, Christopher Hogwood
3. Sonata in C Major (Op.18, No.1) - Nicholas McGegan, Christopher Hogwood
4. Sonata in D Major (Op.18) - Nicholas McGegan, Christopher Hogwood
5. Sonata in E flat Major (op.18) - Nicholas McGegan, Christopher Hogwood
6. Sonata in G Major (op.18) - Nicholas McGegan, Christopher Hogwood

Disc: 19
1. 1. (Allegro con brio) - The Academy of Ancient Music, Christopher Hogwood
2. 2. Andante - The Academy of Ancient Music, Christopher Hogwood
3. 3. Allegro - The Academy of Ancient Music, Christopher Hogwood
4. 1. (Allegro) - The Academy of Ancient Music, Christopher Hogwood
5. 2. Andante - The Academy of Ancient Music, Christopher Hogwood
6. 3. Presto - The Academy of Ancient Music, Christopher Hogwood
7. 1. Allegro assai - The Academy of Ancient Music, Christopher Hogwood
8. 2. Andante - The Academy of Ancient Music, Christopher Hogwood
9. 3. Presto - The Academy of Ancient Music, Christopher Hogwood
10. 1. Allegro di molto - The Academy of Ancient Music, Christopher Hogwood
11. 2. Andante - The Academy of Ancient Music, Christopher Hogwood
12. 3. Presto - The Academy of Ancient Music, Christopher Hogwood
13. 1. Allegro assai - The Academy of Ancient Music, Christopher Hogwood
14. 2. Andante grazioso - The Academy of Ancient Music, Christopher Hogwood
15. 3. Presto - The Academy of Ancient Music, Christopher Hogwood
16. 1. Allegro con spirito - The Academy of Ancient Music, Christopher Hogwood
17. 2. Andante - The Academy of Ancient Music, Christopher Hogwood
18. 3. Allegro assai - The Academy of Ancient Music, Christopher Hogwood
19. Duo in F Major - Stephen Preston, Nicholas McGegan
20. Trio in A Minor - Stephen Preston, Nicholas McGegan, Anthony Pleeth, Christopher Hogwood

Disc: 20
1. 1. (Allegro) - Christopher Hogwood, Christophe Rousset
2. 2. Adagio - Christopher Hogwood, Christophe Rousset
3. 3. Vivace - Christopher Hogwood, Christophe Rousset
4. Contrapunctus 13 " Rectus" Fuga a 2 Clav. - Christopher Hogwood, Christophe Rousset
5. Contrapunctus 13 "Inversus" Fuga a 2 Clav. - Christopher Hogwood, Christophe Rousset
6. 1. Allegro moderato - Christopher Hogwood, Christophe Rousset
7. 2. Andante - Christopher Hogwood, Christophe Rousset
8. 3. Presto - Christopher Hogwood, Christophe Rousset
9. Allegro - Christopher Hogwood, Christophe Rousset
10. Poco Adagio - Christopher Hogwood, Christophe Rousset
11. Poco Adagio - Christopher Hogwood, Christophe Rousset
12. Allegro - Christopher Hogwood, Christophe Rousset
13. Allegro - Christopher Hogwood, Christophe Rousset
14. Tempo di menuetto - Christopher Hogwood, Christophe Rousset
Exact Audio Copy V1.0 beta 3 from 29. August 2011

EAC extraction logfile from 28. October 2015, 10:17

Bach, J S: / Bach: Bach Recordings Hogwood; Hogwood/AAM

Used drive : MATSHITADVD-RAM UJ-831S Adapter: 1 ID: 0

Read mode : Secure
Utilize accurate stream : Yes
Defeat audio cache : Yes
Make use of C2 pointers : No

Read offset correction : 102
Overread into Lead-In and Lead-Out : No
Fill up missing offset samples with silence : Yes
Delete leading and trailing silent blocks : No
Null samples used in CRC calculations : Yes
Used interface : Native Win32 interface for Win NT & 2000

Used output format : Monkey's Audio Lossless Encoder
Selected bitrate : Fast Lossless Compression
Quality : High
Add ID3 tag : No
Command line compressor : C:\Program Files\Monkey's Audio\MAC.exe


TOC of the extracted CD

Track | Start | Length | Start sector | End sector
––––––––––––––––––––––––––––-
1 | 0:00.00 | 3:57.62 | 0 | 17836
2 | 3:57.62 | 3:37.25 | 17837 | 34136
3 | 7:35.12 | 6:04.63 | 34137 | 61499
4 | 13:40.00 | 5:05.57 | 61500 | 84431
5 | 18:45.57 | 3:25.48 | 84432 | 99854
6 | 22:11.30 | 2:51.57 | 99855 | 112736
7 | 25:03.12 | 5:44.40 | 112737 | 138576
8 | 30:47.52 | 0:15.00 | 138577 | 139701
9 | 31:02.52 | 4:37.28 | 139702 | 160504


Range status and errors

Selected range

Filename E:\Loseless\Bach hogwood\01\Bach, J S- - Bach- Bach Recordings Hogwood; Hogwood,AAM.wav

Peak level 97.5 %
Extraction speed 3.6 X
Range quality 99.9 %
Copy CRC 221B58F8
Copy OK

No errors occurred


AccurateRip summary

Track 1 accurately ripped (confidence 2) [83A7E39F] (AR v2)
Track 2 accurately ripped (confidence 2) [42C52EF8] (AR v2)
Track 3 accurately ripped (confidence 2) [85770B99] (AR v2)
Track 4 accurately ripped (confidence 2) [1C1B452E] (AR v2)
Track 5 accurately ripped (confidence 2) [9DA190BC] (AR v2)
Track 6 accurately ripped (confidence 2) [70969E9D] (AR v2)
Track 7 accurately ripped (confidence 2) [E2D1C250] (AR v2)
Track 8 accurately ripped (confidence 2) [B3771A85] (AR v2)
Track 9 accurately ripped (confidence 2) [D3FF2387] (AR v2)

All tracks accurately ripped

End of status report

==== Log checksum 479F0FDF9A56C89BD2AEB85613B1CBC18CB9761D3485C7FD20E7B2AA97B848B6 ====
===============================
Exact Audio Copy V1.0 beta 3 from 29. August 2011

EAC extraction logfile from 27. October 2015, 10:40

Bach, J S: / Bach: Bach Recordings Hogwood; Hogwood/AAM

Used drive : MATSHITADVD-RAM UJ-831S Adapter: 1 ID: 0

Read mode : Secure
Utilize accurate stream : Yes
Defeat audio cache : Yes
Make use of C2 pointers : No

Read offset correction : 102
Overread into Lead-In and Lead-Out : No
Fill up missing offset samples with silence : Yes
Delete leading and trailing silent blocks : No
Null samples used in CRC calculations : Yes
Used interface : Native Win32 interface for Win NT & 2000

Used output format : Monkey's Audio Lossless Encoder
Selected bitrate : Fast Lossless Compression
Quality : High
Add ID3 tag : No
Command line compressor : C:\Program Files\Monkey's Audio\MAC.exe


TOC of the extracted CD

Track | Start | Length | Start sector | End sector
––––––––––––––––––––––––––––-
1 | 0:00.00 | 6:55.28 | 0 | 31152
2 | 6:55.28 | 3:18.55 | 31153 | 46057
3 | 10:14.08 | 4:39.60 | 46058 | 67042
4 | 14:53.68 | 7:46.70 | 67043 | 102062
5 | 22:40.63 | 5:28.57 | 102063 | 126719
6 | 28:09.45 | 5:11.00 | 126720 | 150044
7 | 33:20.45 | 6:04.38 | 150045 | 177382
8 | 39:25.08 | 4:52.10 | 177383 | 199292
9 | 44:17.18 | 5:34.30 | 199293 | 224372


Range status and errors

Selected range

Filename E:\Loseless\Bach hogwood\02\Bach, J S- - Bach- Bach Recordings Hogwood; Hogwood,AAM.wav

Peak level 99.2 %
Extraction speed 3.9 X
Range quality 99.9 %
Copy CRC 0D20DC99
Copy OK

No errors occurred


AccurateRip summary

Track 1 accurately ripped (confidence 2) [95E9AF61] (AR v2)
Track 2 accurately ripped (confidence 2) [49DBBE3B] (AR v2)
Track 3 accurately ripped (confidence 2) [09FB3136] (AR v2)
Track 4 accurately ripped (confidence 2) [1853AB04] (AR v2)
Track 5 accurately ripped (confidence 2) [63281F0E] (AR v2)
Track 6 accurately ripped (confidence 2) [064336E0] (AR v2)
Track 7 accurately ripped (confidence 2) [A8F72512] (AR v2)
Track 8 accurately ripped (confidence 2) [BB134580] (AR v2)
Track 9 accurately ripped (confidence 2) [8D7BF1D1] (AR v2)

All tracks accurately ripped

End of status report

==== Log checksum 27C33CD8BD8584A1CA926A6AFA6A1AF4609E9BD38D23530456573802AA9AB071 ====
========================================
Exact Audio Copy V1.0 beta 3 from 29. August 2011

EAC extraction logfile from 28. October 2015, 9:28

Bach, J S: / Bach: Bach Recordings Hogwood; Hogwood/AAM

Used drive : MATSHITADVD-RAM UJ-831S Adapter: 1 ID: 0

Read mode : Secure
Utilize accurate stream : Yes
Defeat audio cache : Yes
Make use of C2 pointers : No

Read offset correction : 102
Overread into Lead-In and Lead-Out : No
Fill up missing offset samples with silence : Yes
Delete leading and trailing silent blocks : No
Null samples used in CRC calculations : Yes
Used interface : Native Win32 interface for Win NT & 2000

Used output format : Monkey's Audio Lossless Encoder
Selected bitrate : Fast Lossless Compression
Quality : High
Add ID3 tag : No
Command line compressor : C:\Program Files\Monkey's Audio\MAC.exe


TOC of the extracted CD

Track | Start | Length | Start sector | End sector
––––––––––––––––––––––––––––-
1 | 0:00.00 | 7:30.38 | 0 | 33787
2 | 7:30.38 | 6:02.25 | 33788 | 60962
3 | 13:32.63 | 7:29.00 | 60963 | 94637
4 | 21:01.63 | 7:36.37 | 94638 | 128874
5 | 28:38.25 | 5:33.38 | 128875 | 153887
6 | 34:11.63 | 2:43.00 | 153888 | 166112
7 | 36:54.63 | 3:13.12 | 166113 | 180599
8 | 40:08.00 | 2:48.13 | 180600 | 193212
9 | 42:56.13 | 3:16.58 | 193213 | 207970


Range status and errors

Selected range

Filename E:\Loseless\Bach hogwood\03\Bach, J S- - Bach- Bach Recordings Hogwood; Hogwood,AAM.wav

Peak level 97.9 %
Extraction speed 3.9 X
Range quality 99.9 %
Copy CRC 25260EAD
Copy OK

No errors occurred


AccurateRip summary

Track 1 accurately ripped (confidence 2) [C6B9DEA2] (AR v2)
Track 2 accurately ripped (confidence 2) [3C690033] (AR v2)
Track 3 accurately ripped (confidence 2) [75C1EBDA] (AR v2)
Track 4 accurately ripped (confidence 2) [16EF401C] (AR v2)
Track 5 accurately ripped (confidence 2) [190B93E3] (AR v2)
Track 6 accurately ripped (confidence 2) [2A59618D] (AR v2)
Track 7 accurately ripped (confidence 2) [D0538A3A] (AR v2)
Track 8 accurately ripped (confidence 2) [CA698E50] (AR v2)
Track 9 accurately ripped (confidence 2) [E3BC87DE] (AR v2)

All tracks accurately ripped

End of status report

==== Log checksum 3075B7CF1EFB5BCDFE312401B027303F3FA2681874F1420957D293798F18D1F2 ====
All 20 log files included…