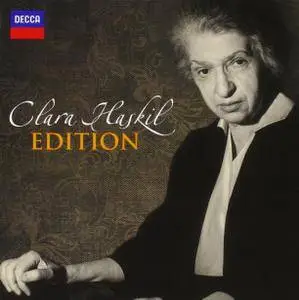 Clara Haskil - Clara Haskil Edition (17CDs, 2010)
Classical | MP3 CBR 320 kbps | 2,67 Gb
Label: Decca (Universal Music)
The first comprehensive edition containing the entire of Clara Haskil's recordings for the Decca, Philips, Deutsche Grammophon and Westminster labels. The 17-CD set is released to mark the 50th anniversary (6 December 1960) of the death of the great Romanian-born pianist. The accompanying booklet also includes an infrormative article on Haskil "A prodigy of nature" by piano specialist Jeremy Siepmann.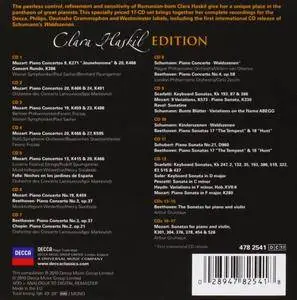 Tracklist:CD 1
[1]-[3] Mozart: Piano Concerto No.7 in E flat major, K271
Wiener Symphoniker / Paul Sacher
[4]-[6] Mozart: Piano Concerto No.20 in D minor, K466
[7] Concert Rondo in A major, K386
Wiener Symphoniker / Bernhard Paumgartner
CD 2
[1]-[3] Mozart: Piano Concerto No.20 in D minor, K466
[4]-[6] Piano Concerto No.24 in C minor, K491
Orchestre des Concerts Lamoureux / Igor Markevitch
CD 3
[1]-[3] Mozart: Piano Concerto No.19 in F major, K459
Berliner Philharmoniker / Ferenc Fricsay
[4]-[6] Mozart: Piano Concerto No.23 in A major, K488
Wiener Symphoniker / Paul Sacher
CD 4
[1]-[3] Mozart: Piano Concerto No.20 in D minor, K466
RIAS Symphony Orchestra / Ferenc Fricsay
[4]-[6] Mozart: Piano Concerto No.27 in B flat major, K595
Bayerisches Staatsorchester / Ferenc Fricsay
CD 5
[1]-[3] Mozart: Piano Concerto No.13 in C major, K415
Lucerne Festival Strings / Rudolf Baumgartner
[4]-[6] Mozart: Piano Concerto No.20 in D minor, K466
Winterthur Symphony Orchestra / Henry Swoboda
[7]-[9] Falla: Noches en los jardines de España
Orchestre des Concerts Lamoureux / Igor Markevitch
CD 6
[1]-[3] Mozart: Piano Concerto No.19 in F major, K459
[4]-[6] Beethoven: Piano Concerto No.3 in C minor, op.37
Winterthur Symphony Orchestra / Henry Swoboda
CD 7
[1]-[3] Beethoven: Piano Concerto No.3 in C minor, op.37
[4]-[6] Chopin: Piano Concerto No.2 in F minor, op.21
Orchestre des Concerts Lamoureux / Igor Markevitch
CD 8
[1]-[3] Schumann: Piano Concerto in A minor, op.54
Hague Philhrmonic Orchestra / Willem van Otterloo
[4]-12] Waldszenen, op.82
[13]-[15] Beethoven: Piano Concerto No.4 in G major, op.58
London Philharmonic Orchestra / Carlo Zecchi
CD 9
Domenico Scarlatti
[1] Sonata in E flat, K193
[2] Sonata in B minor K87
[3] Sonata in F minor, K386
[4] Mozart: 9 Variations, K573 on a minuet by Jean-Pierre Duport
[5]-[7] Sonata in C, K330
[8]-[10] Ravel: Sonatine
[11]-[18] Schumann: Bunte Blätter, op.99
[19] Variations on the name ABEGG, Op.1
CD 10
[1]-[13] Schumann: Kinderszenen, op.15
[14]-[22] Waldszenen, op.82
Beethoven
[23]-[25] Piano Sonata No.17 in D minor, op.31 no.2 "Tempest"
[26]-[29] Piano Sonata No.18 in E flat major, op.31 no.3 "Hunt"
CD 11
Schubert: [1]-[4] Piano Sonata No.21 in B flat major, D960
Beethoven: [5-[7] Piano Sonata No.17 in D minor, op.31 no.2 "Tempest"
[8]-[11] Piano Sonata No.18 in E flat major, op.31 no.3 "Hunt"
CD 12
Domenico Scarlatti: 11 Sonatas
[1] Sonata in C sharp minor, K247
[2] Sonata in G major, K2
[3] Sonata in C major, K132
[4] Sonata in G minor, K35
[5] Sonata in E flat major, K193
[6] Sonata in F minor, K386
[7] Sonata in F minor, K519
[8] Sonata in A major, K322
[9] Sonata in B minor, K87
[10] Sonata in C major, K515
[11] Sonata in F major, K437
[12] Soler: Sonata in D
[13] Pescetti: Sonata in C minor
[14] Haydn: Variations in F minor
[15] Mozart: 12 Variations in C, K265 "Ah, vous dirai-je Maman"
[16]-[18] Mozart: Piano Sonata in F, K280
CD 13
Beethoven: Violin Sonatas
[1]-[3] Sonata No.1 in D major, op.12 no.1
[4]-[6] Sonata No.2 in A major, op.12 no.2
[7]-[9] Sonata No.3 in E flat, op.12 no.3
[10]-[12] Sonata No.4 in A minor, op.23
CD 14
[1]-[4] Sonata No.5 in F major, op.24 "Spring"
[5]-[7] Sonata No.6 in A major, op.30 no.1
[8]-[11] Sonata No.7 in C minor, op.30 no.2
CD 15
[1]-[3] Sonata No.8 in G major, op.30 no.3
[4]-[11] Sonata No.9 in A major, op.47 "Kreutzer"
[12]-[15] Sonata No.10 in G major, op.96
CD 16
Mozart: Sonatas for piano and violin
[1]-[2] Sonata in G major, K301
[3]-[4] Sonata in E minor, K304
[5]-[7] Sonata in F major, K376
[8]-[10] Sonata in B flat major, K378
CD 17
[1]-[3] Sonata in B flat, K454
[4]-[6] Sonata in A major, K526
Arthur Grumiaux - violin