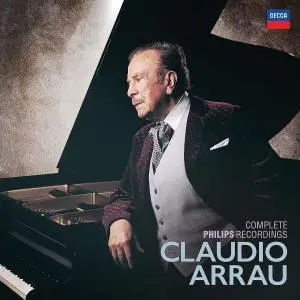 Claudio Arrau - Complete Philips Recordings (80CD Box Set) (2018) Part 3
EAC Rip | FLAC (*image+.cue+.log) | Run Time: 23:35:12 | 5,24 Gb
Genre: Classical | Label: Decca (Universal Music)
Limited Edition 80-CD set presenting Claudio Arrau's complete Philips and American Decca recordings plus his live recording of Beethoven's Piano Concerto No.4 with Leonard Bernstein (Amnesty International) on Deutsche Grammophon. Balancing invincible technical accuracy and virtuosity with rigorous intellectual and spiritual stimulation, Claudio Arrau played to probe, divine and to interpret the will of the composer, always faithful to the text. He viewed technique and virtuosity as inseparable from musical expression and constantly stressed the expressive, spiritual and creative power of virtuosity while downplaying its sensational aspect and suffusing every note with meaning. Eschewing superfluous gestures, his naturally relaxed manner of playing resulted in a very distinctive sound of amazing clarity, great tonal depth, nuance and beauty which could fill a concert hall with no apparent physical tension.
Arrau's career spanned the developments in sound recording from the acoustic era to modern digital recording and he emerged on those upland plateaus where the real heroes of music dwell. But he never remained on those plateaus as he explained in an interview in 1960: "It's a question of evolution. Any artist who is alive develops all the time and what he thought was good a week ago is bad a week later." Through the best part of the 20th Century, every recording of Arrau's was considered an event. This was much helped by the close and warm, glorious sound the Philips engineers gave him on his records, starting with the Beethoven sonata cycle through to his recording of Bach's G Major Partita, recorded only months before his death at the age of 88 in 1991.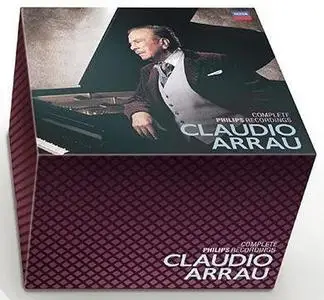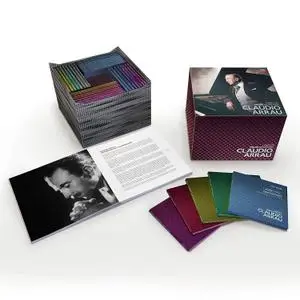 Contents:
CD 41: Schubert: 3 Impromptus, D.946; 6 Moments Musicaux, D.780
CD 42: Chopin: 24 Preludes, Op.28
CD 43: Chopin: Waltzes
CD 44: Chopin: 4 Ballades; Barcarolle, Op.60; Fantaisie, Op.49
CD 45: Chopin: 4 Scherzi; Polonaise, Op.61
CD 46: Chopin: Nocturnes Nos. 1-11
CD 47: Chopin: Nocturnes Nos. 12-21
CD 48: Chopin: Piano Concertos Nos. 1 & 2
CD 49: Chopin: Variations on "Don Giovanni"; Fantasy on Polish Airs; Krakowiak; Andante spianato
CD 50: Schumann: Abegg Variations; Fantasie, Op.17; Nachtstücke, Op.23
CD 51: Schumann: Carnaval, Op.9; Piano Sonata No.1; Fantasiestück, Op.12
CD 52: Schumann: Fantasiestücke, Op.12; Sinfonische Etüden, Op.13
CD 53: Schumann: Kinderszenen, Op.15; Kreisleriana, Op.16; Waldszenen, Op.80
CD 54: Schumann: Davidsbündlertanze, Op.6; Humoresque, Op.20
CD 55: Schumann: Noveletten, Op.21; Piano Sonata No.2, Op.22
CD 56: Schumann: Faschingsschwank aus Wien, Op.26; 3 Romanzen, Op.28; Piano Concerto in A Minor
CD 57: Liszt: Sonata in B Minor; Piano Concertos Nos. 1 & 2
CD 58: Liszt: 12 Etudes d'exécution transcendante, S.139
CD 59: Liszt: 6 Chants de Chopin; Bénédiction de Dieu dans la solitude
CD 60: Liszt: Liebestraum No.3; Concert Paraphrases after Verdi; Mephisto Waltz No.1
CD 41: Schubert: 3 Impromptus, D.946; 6 Moments Musicaux, D.780

Franz Schubert (1797 - 1828)
3 Klavierstücke, D.946
1. No.1 In E Flat Minor (Allegro assai)
14:57
2. No.2 In E Flat (Allegretto)
15:27
3. No.3 In C (Allegro)
5:44
6 Moments musicaux, Op. 94, D.780
4. 1. Moderato
5:55
5. 2. Andantino
6:53
6. 3. Allegro moderato
2:09
7. 4. Moderato
6:05
8. 5. Allegro vivace
2:50
9. 6. Allegretto
7:56
10. Allegretto In C Minor, D. 915
6:45
Claudio Arrau
Total Playing Time 1:14:41
CD 42: Chopin: 24 Preludes, Op.28

Frédéric Chopin (1810 - 1849)
24 Préludes, Op. 28, C. 166-189
1. 1. Agitato in C Major, C. 166
0:45
2. 2. Lento in A Minor, C. 167
1:47
3. 3. Vivace in G Major, C. 168
1:07
4. 4. Largo in E Minor, C. 169
2:01
5. 5. Molto allegro in D Major, C. 170
0:41
6. 6. Lento assai in B Minor, C. 171
2:19
7. 7. Andantino in A Major, C. 172
0:53
8. 8. Molto agitato in F-Sharp Minor, C. 173
1:58
9. 9. Largo in E Major, C. 174
1:30
10. 10. Molto allegro in C-Sharp Minor, C. 175
0:34
11. 11. Vivace in B Major, C. 176
0:40
12. 12. Presto in G-Sharp Minor, C. 177
1:08
13. 13. Lento in F-Sharp Major, C. 178
3:16
14. 14. Allegro in E-Flat Minor, C. 179
0:49
15. 15. Sostenuto in D-Flat Major, C. 180 "Raindrop"
5:30
16. 16. Presto con fuoco in B-Flat Minor, C. 181
1:11
17. 17. Allegretto in A-Flat Major, C. 182
3:28
18. 18. Molto allegro in F Minor, C. 183
0:58
19. 19. Vivace in E-Flat Major, C. 184
1:24
20. 20. Largo in C Minor, C. 185
1:45
21. 21. Cantabile in B-Flat Major, C. 186
2:10
22. 22. Molto agitato in G Minor, C. 187
0:53
23. 23. Moderato in F Major, C. 188
1:01
24. 24. Allegro appassionato in D Minor, C. 189
2:24
25. Prélude in C-Sharp Minor, Op. 45
5:29
26. Prélude No.26 in A flat, Op.posth.
1:03
27. Impromptu No.1 In A Flat, Op.29
4:52
28. Impromptu No.2 in F sharp, Op.36
6:13
29. Impromptu No.3 in G flat, Op.51
6:28
30. Impromptu No.4 In C Sharp Minor, Op.66 "Fantaisie-Impromptu"
5:52
Claudio Arrau
Total Playing Time 1:10:09
CD 43: Chopin: Waltzes

Frédéric Chopin (1810 - 1849)
1. Waltz No.1 in E flat, Op.18 -"Grande valse brillante"
6:08
2. Waltz No.2 in A flat, Op.34 No.1 - "Valse brillante"
6:15
3. Waltz No.3 in A minor, Op.34 No.2
6:26
4. Waltz No.4 In F Major, Op.34 No.3 "Grande Valse Brilliante"
2:49
5. Waltz No.5 in A flat, Op.42 - "Grande valse"
4:35
6. Waltz No.6 in D flat, Op.64 No.1 -"Minute"
2:28
7. Waltz No.7 in C sharp minor, Op.64 No.2
4:20
8. Waltz No.8 in A flat, Op.64 No.3
4:03
9. Waltz No.9 in A flat, Op.69 No.1 -"Farewell"
4:44
10. Waltz No.10 in B minor, Op.69 No.2
5:02
11. Waltz No.11 in G flat, Op.70 No.1
2:25
12. Waltz No.12 in F minor/A flat, Op.70 No.2
3:37
13. Waltz No.13 in D flat, Op.70 No.3
3:53
14. Waltz No.14 in E minor, Op.posth.
3:46
15. Waltz No.16 in A flat, Op.posth. 1:36
16. Waltz No.15 in E, Op.posth. 2:35
17. Waltz No.19 in A minor, Op.posth. 2:32
18. Waltz No.18 in E flat, Op.posth. 1:51
19. Waltz No.17 in E flat, Op.posth. 3:04
Claudio Arrau
Total Playing Time 1:12:09
CD 44: Chopin: 4 Ballades; Barcarolle, Op.60; Fantaisie, Op.49

Frédéric Chopin (1810 - 1849)
1. Ballade No. 1 in G Minor, Op. 23 9:13
2. Ballade No. 2 in F Major, Op. 38
8:11
3. Ballade No. 3 in A-Flat Major, Op. 47
7:49
4. Ballade No. 4 in F Minor, Op. 52
12:13
5. Barcarolle in F-Sharp Major, Op. 60
9:46
6. Fantaisie in F Minor, Op. 49 12:34
Claudio Arrau
Total Playing Time 59:46
CD 45: Chopin: 4 Scherzi; Polonaise, Op.61

Frédéric Chopin (1810 - 1849)
1. Scherzo No.1 In B Minor, Op.20
11:21
2. Scherzo No. 2 in B-Flat Minor, Op. 31
10:28
3. Scherzo No. 3 in C-Sharp Minor, Op. 39
8:04
4. Scherzo No.4 in E, Op.54
12:11
5. Polonaise No.7 in A flat, Op.61 Polonaise-Fantaisie
13:00
Claudio Arrau
Total Playing Time 55:04
CD 46: Chopin: Nocturnes Nos. 1-11

Frédéric Chopin (1810 - 1849)
1. Nocturne No.1 in B flat minor, Op.9 No.1
5:49
2. Nocturne No.2 in E flat, Op.9 No.2
4:49
3. Nocturne No.3 in B, Op.9 No.3
7:16
4. Nocturne No.4 in F, Op.15 No.1
5:09
5. Nocturne No.5 in F sharp, Op.15 No.2
3:48
6. Nocturne No.6 in G minor, Op.15 No.3
4:45
7. Nocturne No.7 in C sharp minor, Op.27 No.1
5:28
8. Nocturne No. 8 in D-Flat Major, Op. 27 No. 2
6:20
9. Nocturne No.9 in B, Op.32 No.1
5:43
10. Nocturne No.10 in A flat, Op.32 No.2
5:20
11. Nocturne No.11 in G minor, Op.37 No.1
7:21
Claudio Arrau
Total Playing Time 1:01:48
CD 47: Chopin: Nocturnes Nos. 12-21

Frédéric Chopin (1810 - 1849)
1. Nocturne No.12 in G, Op.37 No.2
7:04
2. Nocturne No.13 In C Minor, Op.48 No.1
6:25
3. Nocturne No.14 in F sharp minor, Op.48 No.2
7:49
4. Nocturne No.15 in F minor, Op.55 No.1
5:48
5. Nocturne No.16 in E flat, Op.55 No.2
5:30
6. Nocturne No.17 in B, Op.62 No.1
7:48
7. Nocturne No.18 in E, Op.62 No.2
7:11
8. Nocturne No.19 in E minor, Op.72 No.1
4:16
9. Nocturne No. 20 in C-Sharp Minor, Op. posth.
4:33
10. Nocturne No.21 in C minor, Op.posth.
3:44
Claudio Arrau
Total Playing Time 1:00:08
CD 48: Chopin: Piano Concertos Nos. 1 & 2

Frédéric Chopin (1810 - 1849)
Piano Concerto No. 1 in E Minor, Op. 11
1. 1. Allegro maestoso 20:46
2. 2. Romance (Larghetto)
11:25
3. 3. Rondo (Vivace) 10:16
Piano Concerto No. 2 in F Minor, Op. 21
4. 1. Maestoso
14:48
5. 2. Larghetto
10:10
6. 3. Allegro vivace
9:20
Claudio Arrau, London Philharmonic Orchestra, Eliahu Inbal
Total Playing Time 1:16:45
CD 49: Chopin: Variations on "Don Giovanni"; Fantasy on Polish Airs; Krakowiak; Andante spianato

Frédéric Chopin (1810 - 1849)
1. Variations In B-Flat "La ci darem la mano" From Mozart's "Don Giovanni", Op.2
19:24
Fantasy On Polish Airs, Op. 13
2. Fantasy On Polish Airs, Op. 13
14:13
3. Krakowiak - Concert Rondo in F, Op.14
14:33
4. Andante Spianato & Grande Polonaise Brillante in G Major / E Flat Major, Op. 22
15:15
Claudio Arrau, London Philharmonic Orchestra, Eliahu Inbal
Total Playing Time 1:03:25
CD 50: Schumann: Abegg Variations; Fantasie, Op.17; Nachtstücke, Op.23

Robert Schumann (1810 - 1856)
Abegg Variations, Op. 1
1. Thema 0:54
2. Variation I 1:04
3. Variation II 1:14
4. Variation III 1:07
5. Cantabile 1:45
6. Finale alla fantasia 2:55
7. Papillons, Op.2 15:51
Fantasie in C, Op. 17
8. 1. Durchaus fantastisch und leidenschaftlich vorzutragen - Im Legendenton - Erstes Tempo
14:29
9. 2. Mäßig. Durchaus energisch - Etwas langsamer - Viel bewegter
8:21
10. 3. Langsam getragen. Durchweg leise zu halten - Etwas bewegter
11:40
Nachtstücke, Op.23
11. 1. Mehr langsam, oft zurückhaltend
5:07
12. 2. Markiert und lebhaft
4:56
13. 3. Mit grosser Lebhaftigkeit
3:46
14. 4. Einfach
3:05
Claudio Arrau
Total Playing Time 1:16:14
CD 51: Schumann: Carnaval, Op.9; Piano Sonata No.1; Fantasiestück, Op.12

Robert Schumann (1810 - 1856)
Carnaval, Op. 9
1. 1. Préambule 2:24
2. 2. Pierrot 1:43
3. 3. Arlequin 1:04
4. 4. Valse noble 1:57
5. 5. Eusebius 1:54
6. 6. Florestan 1:01
7. 7. Coquette 1:37
8. 8a. Réplique 0:53
9. 9. Papillons 0:46
10. 10. A.S.C.H.-S.C.H.A. (Lettres dansantes) 1:07
11. 11. Chiarina 1:22
12. 12. Chopin 1:26
13. 13. Estrella 0:43
14. 14. Reconnaissance 2:02
15. 15. Pantalon et Colombine 0:58
16. 16. Valse allemande - Intermezzo: Paganini 2:12
17. 17. Aveu 1:12
18. 18. Promenade 2:35
19. 19. Pause 0:20
20. 20. Marche des "Davidsbündler" contre les Philistins 4:07
Piano Sonata No.1 In F Sharp Minor, Op.11
21. 1. Introduzione (Un poco adagio - Allegro vivace - Più lento) 13:50
22. 2. Aria 4:09
23. 3. Scherzo (Allegrissimo) ed Intermezzo 5:52
24. 4. Finale (Allegro un poco maestoso - Più allegro) 12:40
3 Fantasiestücke, Op.111
25. 1. Molto vivace et appassionatamente 2:04
26. 2. Piu tosto lento - un poco più mosso - Tempo I 4:29
27. 3. Con forza, assai marcato 3:22
Claudio Arrau
Total Playing Time 1:17:49
CD 52: Schumann: Fantasiestücke, Op.12; Sinfonische Etüden, Op.13

Robert Schumann (1810 - 1856)
8 Fantasiestücke, Op. 12
1. 1. Des Abends 4:14
2. 2. Aufschwung 3:36
3. 3. Warum? 3:15
4. 4. Grillen 3:24
5. Fantasiestück No. 9 2:00
6. 5. In der Nacht 4:05
7. 6. Fabel 3:04
8. 7. Traumes-Wirren 2:33
9. 8. Ende vom Lied 5:14
Symphonic Studies, Op.13
1852 version
10. Theme: Andante 1:35
Version 1852 with Etudes from 1837 version
11. Variation I. Un poco più vivo 1:26
12. Post. Variation I 1:58
13. Variation II. Marcato il canto 3:42
14. Etude III. Vivace 1:32
15. Variation III 1:03
16. Variation IV 1:29
17. Post. Variation IV 3:23
18. Variation V. Agitato 1:12
19. Variation VI. Allegro molto 1:21
20. Post. Variation II 2:39
21. Post. Variation V 3:00
22. Variation VII 1:54
23. Etude IX. Presto possibile 0:48
24. Post. Variation III 1:22
25. Variation Vlll 1:27
26. Variation IX. Con espressione 1:57
27. Finale. Allegro brillante 7:43
28. Arabeske In C, Op.18 6:12
Claudio Arrau
Total Playing Time 1:17:08
CD 53: Schumann: Kinderszenen, Op.15; Kreisleriana, Op.16; Waldszenen, Op.80

Robert Schumann (1810 - 1856)
Kinderszenen, Op. 15
1. 1. Von fremden Ländern und Menschen
1:37
2. 2. Kuriose Geschichte 1:04
3. 3. Hasche-Mann 0:33
4. 4. Bittendes Kind 0:52
5. 5. Glückes genug 1:36
6. 6. Wichtige Begebenheit 0:55
7. 7. Träumerei
3:03
8. 8. Am Kamin 1:25
9. 9. Ritter vom Steckenpferd 0:44
10. 10. Fast zu ernst 2:05
11. 11. Fürchtenmachen 1:47
12. 12. Kind im Einschlummern 2:05
13. 13. Der Dichter spricht 2:21
Kreisleriana, Op. 16
14. 1. Äusserst bewegt 2:41
15. 2a. Sehr innig und nicht zu rasch 2:42
16. 2b. Intermezzo I (Sehr lebhaft) 0:39
17. 2c. Tempo I 2:25
18. 2d. Intermezzo II (Etwas bewegter) 3:17
19. 2e. Tempo I 1:48
20. 3. Sehr aufgeregt 4:45
21. 4. Sehr langsam 4:17
22. 5. Sehr lebhaft 3:30
23. 6. Sehr langsam 4:47
24. 7. Sehr rasch 2:16
25. 8. Schnell und spielend 3:39
Waldszenen, Op. 82
26. 1. Eintritt 1:51
27. 2. Jäger auf der Lauer 1:27
28. 3. Einsame Blumen 1:58
29. 4. Verrufene Stelle 2:50
30. 5. Freundliche Landschaft 1:15
31. 6. Herberge 2:02
32. 7. Vogel als Prophet
3:02
33. 8. Jagdlied 2:36
34. 9. Abschied 3:43
Claudio Arrau
Total Playing Time 1:17:37
CD 54: Schumann: Davidsbündlertanze, Op.6; Humoresque, Op.20

Robert Schumann (1810 - 1856)
Davidsbündlertänze, Op.6
1. 1. Lebhaft 1:24
2. 2. Innig 1:41
3. 3. Etwas hahnbüchen 1:33
4. 4. Ungeduldig 0:55
5. 5. Einfach 1:58
6. 6. Sehr rasch 2:01
7. 7. Nicht schnell 4:29
8. 8. Frisch 1:02
9. 9. Lebhaft 1:33
10. 10. Balladenmässig, sehr rasch 1:28
11. 11. Einfach 1:23
12. 12. Mit Humor 0:52
13. 13. Wild und lustig 3:06
14. 14. Zart und singend 3:05
15. 15. Frisch 2:02
16. 16. Mit gutem Humor 1:47
17. 17. Wie aus der Ferne 4:17
18. 18. Nicht schnell 2:23
19. Blumenstück, Op.19 8:42
Humoreske, Op.20
20. 1. Einfach
2:19
21. 2. Sehr rasch und leicht
3:44
22. 3. Hastig
4:30
23. 4. Einfach und zart
2:06
24. 5. Intermezzo
3:02
25. 6. Innig
3:03
26. 7. Sehr lebhaft
3:10
27. 8. Finale
6:02
Claudio Arrau
Total Playing Time 1:13:37
CD 55: Schumann: Noveletten, Op.21; Piano Sonata No.2, Op.22

Robert Schumann (1810 - 1856)
Noveletten, Op.21
1. No.1 In F (Markiert und kräftig) 5:46
2. No.2 In D (Äusserst rasch und mit Bravour) 6:02
3. No.3 In D (Leicht und mit Humor) 5:07
4. No.4 In D (Ballmässig, sehr munter) 3:58
5. No.5 In D (Rauschend und festlich) 9:36
6. No.6 In A (Sehr lebhaft, mit vielem Humor) 4:18
7. No.7 In E (Äusserst rasch) 3:14
8. No.8 In F Sharp Minor (Sehr lebhaft) 11:28
Piano Sonata No.2 in G minor, Op.22
9. 1. So rasch wie möglich - Schneller - Noch schneller 6:38
10. 2. Andantino 5:04
11. 3. Scherzo (Sehr rasch und markiert) 1:51
12. 4. Rondo (Presto - Etwas langsamer - Prestissimo, quasi cadenza - Immer schneller und schneller) 5:33
Original finale (rejected by Schumann)
13. 4. Presto passionato 6:52
Claudio Arrau
Total Playing Time 1:15:27
CD 56: Schumann: Faschingsschwank aus Wien, Op.26; 3 Romanzen, Op.28; Piano Concerto in A Minor

Robert Schumann (1810 - 1856)
Faschingsschwank aus Wien, Op.26
1. 1. Allegro (Vivace assai) 8:52
2. 2. Romanze (Piuttosto lento) 2:34
3. 3. Scherzino 2:19
4. 4. Intermezzo (Colla più grande energia) 1:59
5. 5. Finale (Il più vivace possibile) 6:12
3 Romanzen, Op.28
6. No. 1 in B flat minor (Sehr markiert) 3:33
7. No. 2 In F Sharp (Einfach) 4:04
8. No. 3 in B (Sehr markiert) 7:19
Claudio Arrau
Piano Concerto in A Minor, Op. 54
9. 1. Allegro affettuoso 16:04
10. 2. Intermezzo (Andantino grazioso) 5:51
11. 3. Allegro vivace 11:15
Claudio Arrau, Boston Symphony Orchestra, Colin Davis
Total Playing Time 1:10:02
CD 57: Liszt: Sonata in B Minor; Piano Concertos Nos. 1 & 2

Franz Liszt (1811 - 1886)
Piano Sonata in B Minor, S. 178
1. Lento assai - Allegro energico
3:19
2. Grandioso - Recitativo -
9:26
3. 2. Andante sostenuto
8:22
4. Allegro energico - Andante sostenuto - Lento assai
11:13
Claudio Arrau
Piano Concerto No. 1 in E-Flat Major, S. 124
5. 1. Allegro maestoso 6:13
6. 2. Quasi adagio - Allegretto vivace 5:40
7. 2. Allegro animato 4:35
8. 3. Allegro marziale animato 4:42
Piano Concerto No. 2 in A Major, S. 125
9. 1. Adagio sostenuto assai - Allegro agitato assai
7:52
10. 2. Allegro moderato
5:32
11. 3. Allegro deciso - Marziale un poco meno allegro
7:08
12. 4. Allegro animato
1:50
Claudio Arrau, London Symphony Orchestra, Colin Davis
Total Playing Time 1:15:52
CD 58: Liszt: 12 Etudes d'exécution transcendante, S.139

Franz Liszt (1811 - 1886)
12 Études d'exécution transcendante, S.139
1. No.1 Prélude (Presto)
1:01
2. No.2 Molto vivace
2:13
3. No.3 Paysage (Poco adagio)
4:16
4. No.4 Mazeppa (Presto)
7:35
5. No.5 Feux follets (Allegretto)
4:22
6. No.6 Vision (Lento)
6:01
7. No.7 Eroica (Allegro)
4:50
8. No.8 Wilde Jagd (Presto furioso)
5:04
9. No.9 Ricordanza (Andantino)
10:58
10. No.10 Allegro agitato molto
4:44
11. No.11 Harmonies du soir (Andantino)
8:50
12. No.12 Chasse neige (Andante con moto)
6:04
Claudio Arrau
Total Playing Time 1:05:58
CD 59: Liszt: 6 Chants de Chopin; Bénédiction de Dieu dans la solitude

Franz Liszt (1811 - 1886)
1. Valse oubliée No.1 in F sharp, S.215 4:02
Frédéric Chopin (1810 - 1849)
6 Chants polonais de Frédéric Chopin, S.480
2. 1. The Maiden's Wish
4:23
3. 2. Spring 2:56
4. 3. The Ring 3:24
5. 4. Drinking Song 1:56
6. 5. My Darling
4:03
7. 6. Return Home 1:52
Franz Liszt (1811 - 1886)
10 Harmonies poétiques et religieuses, S. 173
8. No. 7 Funérailles 13:08
3.Bénédiction de Dieu dans la solitude
9. Moderato -
8:09
10. Andante -
2:18
11. Più sostenuto quasi preludio - Andante semplice
8:47
12. Ballade No.2 in B minor, S.171 14:04
Claudio Arrau
Total Playing Time 1:09:02
CD 60: Liszt: Liebestraum No.3; Concert Paraphrases after Verdi; Mephisto Waltz No.1

Franz Liszt (1811 - 1886)
1. Liebestraum No. 3 In A-Flat, S. 541 (Arr. by Liszt from: O lieb, so lang du lieben kannst, S.298)
5:06
Concert Paraphrase on Rigoletto, S.434 after Verdi's opera
2. "Rigoletto" 7:26
Franz Liszt (1811 - 1886), Giuseppe Verdi (1813 - 1901)
3. Ernani: Concert Paraphrase, S.432 8:46
4. Il Trovatore: Miserere, S.433 8:15
5. I Lombardi: Salve Maria: Concert Paraphrase, S.431 6:04
6. Aida: Danza sacre e Duetto finale: Concert Paraphrase, S.436
11:42
7. Don Carlo: Coro di festa e Marcia funebre: Concert Paraphrase, S.435 7:45
8. Réminiscences de Simone Boccanegra, S.438 after Verdi's opera
10:56
Franz Liszt (1811 - 1886)
9. Mephisto Waltz No.1, S. 110 No.2 "The Dance in the Village Inn" (after Lenau)
12:49
Claudio Arrau
Total Playing Time 1:18:49
Exact Audio Copy V1.3 from 2. September 2016

EAC extraction logfile from 8. October 2018, 9:42

Schubert - Les sonates / CD 5

Used drive : MATSHITADVD-RAM UJ-831S Adapter: 1 ID: 0

Read mode : Secure
Utilize accurate stream : Yes
Defeat audio cache : Yes
Make use of C2 pointers : No

Read offset correction : 102
Overread into Lead-In and Lead-Out : No
Fill up missing offset samples with silence : Yes
Delete leading and trailing silent blocks : No
Null samples used in CRC calculations : Yes
Used interface : Native Win32 interface for Win NT & 2000

Used output format : User Defined Encoder
Selected bitrate : 1024 kBit/s
Quality : High
Add ID3 tag : No
Command line compressor : C:\Program Files (x86)\Exact Audio Copy\Flac\flac.exe
Additional command line options : -T "artist=%artist%" -T "title=%title%" -T "album=%albumtitle%" -T "date=%year%" -T "tracknumber=%tracknr%" -T "genre=%genre%" -5 %source%


TOC of the extracted CD

Track | Start | Length | Start sector | End sector
––––––––––––––––––––––––––––-
1 | 0:00.00 | 14:57.06 | 0 | 67280
2 | 14:57.06 | 15:26.74 | 67281 | 136804
3 | 30:24.05 | 5:43.68 | 136805 | 162597
4 | 36:07.73 | 5:55.02 | 162598 | 189224
5 | 42:03.00 | 6:53.05 | 189225 | 220204
6 | 48:56.05 | 2:08.74 | 220205 | 229878
7 | 51:05.04 | 6:04.73 | 229879 | 257251
8 | 57:10.02 | 2:49.71 | 257252 | 269997
9 | 59:59.73 | 7:55.60 | 269998 | 305682
10 | 67:55.58 | 6:44.44 | 305683 | 336026


Range status and errors

Selected range

Filename F:\Loseless\Arrau 80CD\41\Schubert - Les sonates - CD 5.wav

Peak level 97.8 %
Extraction speed 4.4 X
Range quality 99.9 %
Copy CRC 04AB77F6
Copy OK

No errors occurred


AccurateRip summary

Track 1 accurately ripped (confidence 4) [0A3AE19A] (AR v2)
Track 2 accurately ripped (confidence 4) [BD6E5795] (AR v2)
Track 3 accurately ripped (confidence 4) [B4A921A3] (AR v2)
Track 4 accurately ripped (confidence 4) [05A08B99] (AR v2)
Track 5 accurately ripped (confidence 4) [68C50701] (AR v2)
Track 6 accurately ripped (confidence 4) [FA9D7DC0] (AR v2)
Track 7 accurately ripped (confidence 4) [7D38AF3D] (AR v2)
Track 8 accurately ripped (confidence 4) [761DBCF1] (AR v2)
Track 9 accurately ripped (confidence 4) [E3FC6992] (AR v2)
Track 10 accurately ripped (confidence 4) [CB843CE1] (AR v2)

All tracks accurately ripped

End of status report

–– CUETools DB Plugin V2.1.6

[CTDB TOCID: qB62ua7A1GpcH_cRRXEEtSldDvU-] database access error: 操作超时


==== Log checksum 511287925190292C3DD26652127D5171FA92D234F3989C50A0F7DEC7DE441254 ====

=========================================================================================

Exact Audio Copy V1.3 from 2. September 2016

EAC extraction logfile from 8. October 2018, 14:05

Claudio Arrau / CD42-1973-Chopin: 24 Préludes op.28 u.a.

Used drive : MATSHITADVD-RAM UJ-831S Adapter: 1 ID: 0

Read mode : Secure
Utilize accurate stream : Yes
Defeat audio cache : Yes
Make use of C2 pointers : No

Read offset correction : 102
Overread into Lead-In and Lead-Out : No
Fill up missing offset samples with silence : Yes
Delete leading and trailing silent blocks : No
Null samples used in CRC calculations : Yes
Used interface : Native Win32 interface for Win NT & 2000

Used output format : User Defined Encoder
Selected bitrate : 1024 kBit/s
Quality : High
Add ID3 tag : No
Command line compressor : C:\Program Files (x86)\Exact Audio Copy\Flac\flac.exe
Additional command line options : -T "artist=%artist%" -T "title=%title%" -T "album=%albumtitle%" -T "date=%year%" -T "tracknumber=%tracknr%" -T "genre=%genre%" -5 %source%


TOC of the extracted CD

Track | Start | Length | Start sector | End sector
––––––––––––––––––––––––––––-
1 | 0:00.00 | 0:44.41 | 0 | 3340
2 | 0:44.41 | 1:47.33 | 3341 | 11398
3 | 2:31.74 | 1:07.17 | 11399 | 16440
4 | 3:39.16 | 2:00.45 | 16441 | 25485
5 | 5:39.61 | 0:41.13 | 25486 | 28573
6 | 6:20.74 | 2:19.00 | 28574 | 38998
7 | 8:39.74 | 0:53.00 | 38999 | 42973
8 | 9:32.74 | 1:58.00 | 42974 | 51823
9 | 11:30.74 | 1:30.00 | 51824 | 58573
10 | 13:00.74 | 0:34.00 | 58574 | 61123
11 | 13:34.74 | 0:40.25 | 61124 | 64148
12 | 14:15.24 | 1:07.50 | 64149 | 69223
13 | 15:22.74 | 3:16.00 | 69224 | 83923
14 | 18:38.74 | 0:49.00 | 83924 | 87598
15 | 19:27.74 | 5:30.00 | 87599 | 112348
16 | 24:57.74 | 1:11.00 | 112349 | 117673
17 | 26:08.74 | 3:28.00 | 117674 | 133273
18 | 29:36.74 | 0:58.00 | 133274 | 137623
19 | 30:34.74 | 1:24.00 | 137624 | 143923
20 | 31:58.74 | 1:45.35 | 143924 | 151833
21 | 33:44.34 | 2:09.40 | 151834 | 161548
22 | 35:53.74 | 0:53.00 | 161549 | 165523
23 | 36:46.74 | 1:01.37 | 165524 | 170135
24 | 37:48.36 | 2:24.37 | 170136 | 180972
25 | 40:12.73 | 5:29.00 | 180973 | 205647
26 | 45:41.73 | 1:03.00 | 205648 | 210372
27 | 46:44.73 | 4:52.00 | 210373 | 232272
28 | 51:36.73 | 6:13.00 | 232273 | 260247
29 | 57:49.73 | 6:28.00 | 260248 | 289347
30 | 64:17.73 | 5:52.13 | 289348 | 315760


Range status and errors

Selected range

Filename F:\Loseless\Arrau 80CD\42\Claudio Arrau - CD42-1973-Chopin- 24 Préludes op.28 u.a..wav

Peak level 91.5 %
Extraction speed 2.7 X
Range quality 100.0 %
Copy CRC 3C9B3E67
Copy OK

No errors occurred


AccurateRip summary

Track 1 accurately ripped (confidence 5) [FBB9622A] (AR v2)
Track 2 accurately ripped (confidence 5) [AD97DE46] (AR v2)
Track 3 accurately ripped (confidence 5) [8830C569] (AR v2)
Track 4 accurately ripped (confidence 5) [7AB1A385] (AR v2)
Track 5 accurately ripped (confidence 5) [BAA6E7ED] (AR v2)
Track 6 accurately ripped (confidence 5) [DD5B6056] (AR v2)
Track 7 accurately ripped (confidence 5) [5CEDA64D] (AR v2)
Track 8 accurately ripped (confidence 5) [E5CCD74C] (AR v2)
Track 9 accurately ripped (confidence 5) [D29E4B4C] (AR v2)
Track 10 accurately ripped (confidence 5) [5580ED31] (AR v2)
Track 11 accurately ripped (confidence 5) [B5A18FC2] (AR v2)
Track 12 accurately ripped (confidence 5) [C6D09888] (AR v2)
Track 13 accurately ripped (confidence 5) [F75045BC] (AR v2)
Track 14 accurately ripped (confidence 5) [08BA5920] (AR v2)
Track 15 accurately ripped (confidence 5) [1F81AD74] (AR v2)
Track 16 accurately ripped (confidence 5) [51D755F0] (AR v2)
Track 17 accurately ripped (confidence 5) [32958F4E] (AR v2)
Track 18 accurately ripped (confidence 5) [E8DAA29C] (AR v2)
Track 19 accurately ripped (confidence 5) [C6156A47] (AR v2)
Track 20 accurately ripped (confidence 5) [D182FD53] (AR v2)
Track 21 accurately ripped (confidence 5) [3695A6A7] (AR v2)
Track 22 accurately ripped (confidence 5) [ACFF9248] (AR v2)
Track 23 accurately ripped (confidence 5) [D106922F] (AR v2)
Track 24 accurately ripped (confidence 5) [8C299598] (AR v2)
Track 25 accurately ripped (confidence 5) [DB27BE6C] (AR v2)
Track 26 accurately ripped (confidence 5) [D68485C3] (AR v2)
Track 27 accurately ripped (confidence 5) [E8E2CBBE] (AR v2)
Track 28 accurately ripped (confidence 5) [3E58AD37] (AR v2)
Track 29 accurately ripped (confidence 5) [AD4E3A54] (AR v2)
Track 30 accurately ripped (confidence 5) [4E08A307] (AR v2)

All tracks accurately ripped

End of status report

–– CUETools DB Plugin V2.1.6

[CTDB TOCID: 07jLPvAMEDcr6DJ0qkVsf_RFxaI-] found
Submit result: 07jLPvAMEDcr6DJ0qkVsf_RFxaI- has been confirmed
Track | CTDB Status
1 | (12/12) Accurately ripped
2 | (12/12) Accurately ripped
3 | (12/12) Accurately ripped
4 | (12/12) Accurately ripped
5 | (12/12) Accurately ripped
6 | (12/12) Accurately ripped
7 | (12/12) Accurately ripped
8 | (12/12) Accurately ripped
9 | (12/12) Accurately ripped
10 | (12/12) Accurately ripped
11 | (12/12) Accurately ripped
12 | (12/12) Accurately ripped
13 | (12/12) Accurately ripped
14 | (12/12) Accurately ripped
15 | (12/12) Accurately ripped
16 | (12/12) Accurately ripped
17 | (12/12) Accurately ripped
18 | (12/12) Accurately ripped
19 | (12/12) Accurately ripped
20 | (12/12) Accurately ripped
21 | (12/12) Accurately ripped
22 | (12/12) Accurately ripped
23 | (12/12) Accurately ripped
24 | (12/12) Accurately ripped
25 | (12/12) Accurately ripped
26 | (12/12) Accurately ripped
27 | (12/12) Accurately ripped
28 | (12/12) Accurately ripped
29 | (12/12) Accurately ripped
30 | (12/12) Accurately ripped

==== Log checksum A2CEAABC8C75CDDE61FAB0049FC1AB701D1E5718EA4F57312E12BFAFD7769849 ====

========================================================================================

Exact Audio Copy V1.3 from 2. September 2016

EAC extraction logfile from 8. October 2018, 14:24

Claudio Arrau / CD43-1979-Chopin- 19 Waltzes

Used drive : MATSHITADVD-RAM UJ-831S Adapter: 1 ID: 0

Read mode : Secure
Utilize accurate stream : Yes
Defeat audio cache : Yes
Make use of C2 pointers : No

Read offset correction : 102
Overread into Lead-In and Lead-Out : No
Fill up missing offset samples with silence : Yes
Delete leading and trailing silent blocks : No
Null samples used in CRC calculations : Yes
Used interface : Native Win32 interface for Win NT & 2000

Used output format : User Defined Encoder
Selected bitrate : 1024 kBit/s
Quality : High
Add ID3 tag : No
Command line compressor : C:\Program Files (x86)\Exact Audio Copy\Flac\flac.exe
Additional command line options : -T "artist=%artist%" -T "title=%title%" -T "album=%albumtitle%" -T "date=%year%" -T "tracknumber=%tracknr%" -T "genre=%genre%" -5 %source%


TOC of the extracted CD

Track | Start | Length | Start sector | End sector
––––––––––––––––––––––––––––-
1 | 0:00.00 | 6:08.02 | 0 | 27601
2 | 6:08.02 | 6:14.74 | 27602 | 55725
3 | 12:23.01 | 6:26.00 | 55726 | 84675
4 | 18:49.01 | 2:49.00 | 84676 | 97350
5 | 21:38.01 | 4:35.00 | 97351 | 117975
6 | 26:13.01 | 2:28.01 | 117976 | 129076
7 | 28:41.02 | 4:19.74 | 129077 | 148575
8 | 33:01.01 | 4:03.00 | 148576 | 166800
9 | 37:04.01 | 4:44.00 | 166801 | 188100
10 | 41:48.01 | 5:02.00 | 188101 | 210750
11 | 46:50.01 | 2:25.00 | 210751 | 221625
12 | 49:15.01 | 3:37.00 | 221626 | 237900
13 | 52:52.01 | 3:53.00 | 237901 | 255375
14 | 56:45.01 | 3:46.00 | 255376 | 272325
15 | 60:31.01 | 1:36.00 | 272326 | 279525
16 | 62:07.01 | 2:35.00 | 279526 | 291150
17 | 64:42.01 | 2:32.00 | 291151 | 302550
18 | 67:14.01 | 1:51.00 | 302551 | 310875
19 | 69:05.01 | 3:04.13 | 310876 | 324688


Range status and errors

Selected range

Filename F:\Loseless\Arrau 80CD\43\Claudio Arrau - CD43-1979-Chopin- 19 Waltzes.wav

Peak level 92.3 %
Extraction speed 4.4 X
Range quality 100.0 %
Copy CRC A6E733A9
Copy OK

No errors occurred


AccurateRip summary

Track 1 accurately ripped (confidence 5) [31224B0E] (AR v2)
Track 2 accurately ripped (confidence 5) [35261BA7] (AR v2)
Track 3 accurately ripped (confidence 5) [8A7C847D] (AR v2)
Track 4 accurately ripped (confidence 5) [97496D70] (AR v2)
Track 5 accurately ripped (confidence 5) [ABFB6846] (AR v2)
Track 6 accurately ripped (confidence 5) [979D083E] (AR v2)
Track 7 accurately ripped (confidence 5) [952CC047] (AR v2)
Track 8 accurately ripped (confidence 5) [2DD93B09] (AR v2)
Track 9 accurately ripped (confidence 5) [8B59FE3E] (AR v2)
Track 10 accurately ripped (confidence 5) [E8A8CB34] (AR v2)
Track 11 accurately ripped (confidence 5) [E3CEC46B] (AR v2)
Track 12 accurately ripped (confidence 5) [FFFF404C] (AR v2)
Track 13 accurately ripped (confidence 5) [D2800A66] (AR v2)
Track 14 accurately ripped (confidence 4) [79ECDD75] (AR v2)
Track 15 accurately ripped (confidence 4) [3DDD065B] (AR v2)
Track 16 accurately ripped (confidence 4) [A4845F22] (AR v2)
Track 17 accurately ripped (confidence 5) [F8103479] (AR v2)
Track 18 accurately ripped (confidence 5) [6FEF6A89] (AR v2)
Track 19 accurately ripped (confidence 5) [16C4864E] (AR v2)

All tracks accurately ripped

End of status report

–– CUETools DB Plugin V2.1.6

[CTDB TOCID: GgO9DKbabKtnbWdKaWeLovigN1Q-] found
Submit result: GgO9DKbabKtnbWdKaWeLovigN1Q- has been confirmed
Track | CTDB Status
1 | (15/15) Accurately ripped
2 | (15/15) Accurately ripped
3 | (15/15) Accurately ripped
4 | (15/15) Accurately ripped
5 | (15/15) Accurately ripped
6 | (15/15) Accurately ripped
7 | (15/15) Accurately ripped
8 | (15/15) Accurately ripped
9 | (15/15) Accurately ripped
10 | (15/15) Accurately ripped
11 | (15/15) Accurately ripped
12 | (15/15) Accurately ripped
13 | (15/15) Accurately ripped
14 | (14/15) Accurately ripped
15 | (14/15) Accurately ripped
16 | (13/15) Accurately ripped
17 | (15/15) Accurately ripped
18 | (15/15) Accurately ripped
19 | (15/15) Accurately ripped

==== Log checksum ED6E2C320B5867120646B82334F1973877926EA392063496BFEF6EA945D7E3E8 ====

=========================================================================================

Exact Audio Copy V1.3 from 2. September 2016

EAC extraction logfile from 8. October 2018, 13:19

未知艺术家 / 未知标题

Used drive : MATSHITADVD-RAM UJ-831S Adapter: 1 ID: 0

Read mode : Secure
Utilize accurate stream : Yes
Defeat audio cache : Yes
Make use of C2 pointers : No

Read offset correction : 102
Overread into Lead-In and Lead-Out : No
Fill up missing offset samples with silence : Yes
Delete leading and trailing silent blocks : No
Null samples used in CRC calculations : Yes
Used interface : Native Win32 interface for Win NT & 2000

Used output format : User Defined Encoder
Selected bitrate : 1024 kBit/s
Quality : High
Add ID3 tag : No
Command line compressor : C:\Program Files (x86)\Exact Audio Copy\Flac\flac.exe
Additional command line options : -T "artist=%artist%" -T "title=%title%" -T "album=%albumtitle%" -T "date=%year%" -T "tracknumber=%tracknr%" -T "genre=%genre%" -5 %source%


TOC of the extracted CD

Track | Start | Length | Start sector | End sector
––––––––––––––––––––––––––––-
1 | 0:00.00 | 9:13.32 | 0 | 41506
2 | 9:13.32 | 8:11.00 | 41507 | 78331
3 | 17:24.32 | 7:49.00 | 78332 | 113506
4 | 25:13.32 | 12:13.00 | 113507 | 168481
5 | 37:26.32 | 9:46.00 | 168482 | 212431
6 | 47:12.32 | 12:34.13 | 212432 | 268994


Range status and errors

Selected range

Filename F:\Loseless\Arrau 80CD\44\未知艺术家 - 未知标题.wav

Peak level 97.6 %
Extraction speed 4.0 X
Range quality 99.9 %
Copy CRC F2E5CB68
Copy OK

No errors occurred


AccurateRip summary

Track 1 accurately ripped (confidence 4) [1652968A] (AR v2)
Track 2 accurately ripped (confidence 4) [C7ABEF3F] (AR v2)
Track 3 accurately ripped (confidence 4) [EB095BAA] (AR v2)
Track 4 accurately ripped (confidence 4) [405BF417] (AR v2)
Track 5 accurately ripped (confidence 4) [AED08471] (AR v2)
Track 6 accurately ripped (confidence 4) [3CBDB9C8] (AR v2)

All tracks accurately ripped

End of status report

–– CUETools DB Plugin V2.1.6

[CTDB TOCID: JCEPGf.3XKartmX_Nd2v0certMU-] found
Submit result: JCEPGf.3XKartmX_Nd2v0certMU- has been confirmed
Track | CTDB Status
1 | (12/12) Accurately ripped
2 | (12/12) Accurately ripped
3 | (12/12) Accurately ripped
4 | (12/12) Accurately ripped
5 | (12/12) Accurately ripped
6 | (12/12) Accurately ripped

==== Log checksum 8BC7FF5867D1EF358E7461AB25E76D5CAA4A2455D272DE5129A68DF96A715DCB ====

============================================================================================

Exact Audio Copy V1.3 from 2. September 2016

EAC extraction logfile from 8. October 2018, 13:36

Claudio Arrau / CD45-1984-Chopin- 4 Scherzi

Used drive : MATSHITADVD-RAM UJ-831S Adapter: 1 ID: 0

Read mode : Secure
Utilize accurate stream : Yes
Defeat audio cache : Yes
Make use of C2 pointers : No

Read offset correction : 102
Overread into Lead-In and Lead-Out : No
Fill up missing offset samples with silence : Yes
Delete leading and trailing silent blocks : No
Null samples used in CRC calculations : Yes
Used interface : Native Win32 interface for Win NT & 2000

Used output format : User Defined Encoder
Selected bitrate : 1024 kBit/s
Quality : High
Add ID3 tag : No
Command line compressor : C:\Program Files (x86)\Exact Audio Copy\Flac\flac.exe
Additional command line options : -T "artist=%artist%" -T "title=%title%" -T "album=%albumtitle%" -T "date=%year%" -T "tracknumber=%tracknr%" -T "genre=%genre%" -5 %source%


TOC of the extracted CD

Track | Start | Length | Start sector | End sector
––––––––––––––––––––––––––––-
1 | 0:01.00 | 11:21.33 | 75 | 51182
2 | 11:22.33 | 10:28.00 | 51183 | 98282
3 | 21:50.33 | 8:04.00 | 98283 | 134582
4 | 29:54.33 | 12:11.00 | 134583 | 189407
5 | 42:05.33 | 13:00.00 | 189408 | 247907


Range status and errors

Selected range

Filename F:\Loseless\Arrau 80CD\45\Claudio Arrau - CD45-1984-Chopin- 4 Scherzi.wav

Peak level 90.4 %
Extraction speed 4.0 X
Range quality 99.9 %
Copy CRC 6190EB5B
Copy OK

No errors occurred


AccurateRip summary

Track 1 accurately ripped (confidence 4) [574C25FE] (AR v2)
Track 2 accurately ripped (confidence 2) [F7D118DD] (AR v2)
Track 3 accurately ripped (confidence 4) [F31DA91E] (AR v2)
Track 4 accurately ripped (confidence 4) [B6DFB4F6] (AR v2)
Track 5 accurately ripped (confidence 4) [91166EB7] (AR v2)

All tracks accurately ripped

End of status report

–– CUETools DB Plugin V2.1.6

[CTDB TOCID: Y_9vFDhFi73WCDfjmyGb1LOizOY-] found
Submit result: Y_9vFDhFi73WCDfjmyGb1LOizOY- has been confirmed
Track | CTDB Status
1 | (12/12) Accurately ripped
2 | (12/12) Accurately ripped
3 | (12/12) Accurately ripped
4 | (12/12) Accurately ripped
5 | (12/12) Accurately ripped

==== Log checksum 501A94878D9FC54041E360BCC3A7FFDEE911FEF2CAD8D814773654F111A6779B ====

==============================================================================
All 20 log files included…