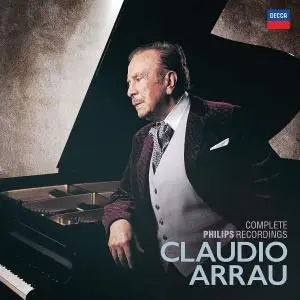 Claudio Arrau - Complete Philips Recordings (80CD Box Set) (2018) Part 4
EAC Rip | FLAC (*image+.cue+.log) | Run Time: 21:12:59 | 4,25 Gb
Genre: Classical | Label: Decca (Universal Music)
Limited Edition 80-CD set presenting Claudio Arrau's complete Philips and American Decca recordings plus his live recording of Beethoven's Piano Concerto No.4 with Leonard Bernstein (Amnesty International) on Deutsche Grammophon. Balancing invincible technical accuracy and virtuosity with rigorous intellectual and spiritual stimulation, Claudio Arrau played to probe, divine and to interpret the will of the composer, always faithful to the text. He viewed technique and virtuosity as inseparable from musical expression and constantly stressed the expressive, spiritual and creative power of virtuosity while downplaying its sensational aspect and suffusing every note with meaning. Eschewing superfluous gestures, his naturally relaxed manner of playing resulted in a very distinctive sound of amazing clarity, great tonal depth, nuance and beauty which could fill a concert hall with no apparent physical tension.
Arrau's career spanned the developments in sound recording from the acoustic era to modern digital recording and he emerged on those upland plateaus where the real heroes of music dwell. But he never remained on those plateaus as he explained in an interview in 1960: "It's a question of evolution. Any artist who is alive develops all the time and what he thought was good a week ago is bad a week later." Through the best part of the 20th Century, every recording of Arrau's was considered an event. This was much helped by the close and warm, glorious sound the Philips engineers gave him on his records, starting with the Beethoven sonata cycle through to his recording of Bach's G Major Partita, recorded only months before his death at the age of 88 in 1991.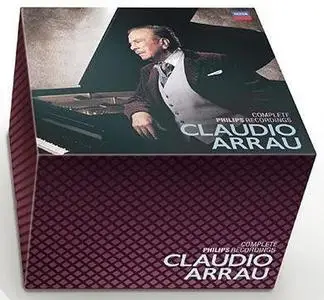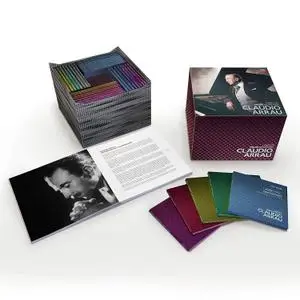 Contents:
CD 60: Liszt: Liebestraum No.3; Concert Paraphrases after Verdi; Mephisto Waltz No.1
CD 61: Liszt: Sonata in B Minor; 5 Etudes de Concert
CD 62: Liszt: Années de Pelerinage - Suisse & Italie
CD 63: Brahms: 4 Ballades, Op.10; Handel & Paganini Variations
CD 64: Brahms: Piano Sonatas Nos. 2 & 3; Scherzo, Op.4
CD 65: Brahms: Piano Concerto No.1 in D Minor
CD 66: Brahms: Piano Concerto No.2 in B Flat
CD 67: Tchaikovsky: Piano Concerto No.1 in B Flat Minor; Grieg: Piano Concerto in A Minor
CD 68: Grieg: Piano Concerto in A Minor; Schumann: Piano Concerto in A Minor
CD 69: Debussy: Preludes Book 1
CD 70: Debussy: Preludes Book 2
CD 71: Debussy: Suite bergamasque
CD 72: Bach, J.S.: Partitas Nos. 2 & 1
CD 73: Bach, J.S.: Partitas Nos.5 & 3
CD 74: Beethoven: Piano Sonata No.23 - Appassionata; Liszt: Ballade No.2; Chopin: Scherzo No.1
CD 75: Beethoven: 33 Variations on a Waltz by Diabelli, Op.120; Eroica Variations
CD 76: Beethoven: Piano Sonata No.29 - "Hammerklavier" & No. 8 - "Pathétique"
CD 77: Beethoven: Piano Sonata No.14 - "Moonlight", No.23 - "Appassionata" & No.26 - "Les Adieux"
CD 78: Chopin: 4 Scherzi; 4 Ballades
CD 79: Chopin: 4 Impromptus; Barcarolle, Op.60; 2 Interviews
CD 80: Beethoven: Piano Concerto No.4 in G Major
CD 60: Liszt: Liebestraum No.3; Concert Paraphrases after Verdi; Mephisto Waltz No.1

Franz Liszt (1811 - 1886)
1. Liebestraum No. 3 In A-Flat, S. 541 (Arr. by Liszt from: O lieb, so lang du lieben kannst, S.298)
5:06
Concert Paraphrase on Rigoletto, S.434 after Verdi's opera
2. "Rigoletto" 7:26
Franz Liszt (1811 - 1886), Giuseppe Verdi (1813 - 1901)
3. Ernani: Concert Paraphrase, S.432 8:46
4. Il Trovatore: Miserere, S.433 8:15
5. I Lombardi: Salve Maria: Concert Paraphrase, S.431 6:04
6. Aida: Danza sacre e Duetto finale: Concert Paraphrase, S.436
11:42
7. Don Carlo: Coro di festa e Marcia funebre: Concert Paraphrase, S.435 7:45
8. Réminiscences de Simone Boccanegra, S.438 after Verdi's opera
10:56
Franz Liszt (1811 - 1886)
9. Mephisto Waltz No.1, S. 110 No.2 "The Dance in the Village Inn" (after Lenau)
12:49
Claudio Arrau
Total Playing Time 1:18:49
CD 61: Liszt: Sonata in B Minor; 5 Etudes de Concert

Franz Liszt (1811 - 1886)
2 Etudes de Concert, S.145
1. No.1 Waldesrauschen
4:32
2. No.2 Gnomenreigen
3:16
3 Etudes de Concert, S.144
3. No.1 In A Flat "Il lamento" (A capriccio - Allegro cantabile) 10:48
4. No.2 In F Minor "La leggierezza" (A capriccio - Quasi allegretto) 5:34
5. No.3 In D Flat "Un sospiro" (Allegro affettuoso)
6:03
Piano Sonata in B Minor, S. 178
6. Lento assai - Allegro energico - Grandioso - Recitativo
12:49
7. 2. Andante sostenuto
7:51
8. 3. Allegro energico
8:24
9. Andante sostenuto - Lento assai
3:16
Claudio Arrau
Total Playing Time 1:02:33
CD 62: Liszt: Années de Pelerinage - Suisse & Italie

Franz Liszt (1811 - 1886)
Années de pèlerinage: Troisième année, S.163
1. 4. Les jeux d'eau à la Villa d'Este
8:50
Années de pèlerinage: Première année: Suisse, S. 160
2. 6. Vallée d'Obermann
15:05
Années de pèlerinage: Deuxième année: Italie, S.161
3. 7. Après une lecture du Dante (Fantasia quasi Sonata) 18:25
4. 5. Sonetto 104 del Petrarca 7:12
5. 6. Sonetto 123 del Petrarca 8:54
Années de pèlerinage: Première année: Suisse, S. 160
6. 1. Chapelle de Guilaume Tell
7:06
Claudio Arrau
Total Playing Time 1:05:32
CD 63: Brahms: 4 Ballades, Op.10; Handel & Paganini Variations

Johannes Brahms (1833 - 1897)
4 Ballades, Op.10
1. No.1 in D minor 3:53
2. No.2 in D 7:34
3. No.3 in B minor 3:19
4. No.4 in B 9:18
5. Variations and Fugue on a Theme by Handel, Op. 24 29:07
Variations On A Theme By Paganini, Op.35
Book 1
6. Variation I 14:07
7. Variation II 11:29
Claudio Arrau
Total Playing Time 1:18:47
CD 64: Brahms: Piano Sonatas Nos. 2 & 3; Scherzo, Op.4

Johannes Brahms (1833 - 1897)
Piano Sonata No.2 in F sharp minor, Op.2
1. 1. Allegro non troppo, ma energico
6:26
2. 2. Andante con espressione
5:22
3. 3. Scherzo. Allegro
3:53
4. 4. Finale (Introduzione. Sostenuto - Allegro non troppo e rubato)
12:16
Piano Sonata No.3 In F Minor, Op.5
5. 1. Allegro maestoso 10:41
6. 2. Andante espressivo 13:48
7. 3. Scherzo 4:58
8. 4. Intermezzo (Andante molto) 4:16
9. 5. Finale (Allegro moderato ma rubato) 7:47
10. Scherzo in E flat minor, Op.4 9:23
Claudio Arrau
Total Playing Time 1:18:50
CD 65: Brahms: Piano Concerto No.1 in D Minor

Johannes Brahms (1833 - 1897)
Piano Concerto No. 1 in D Minor, Op. 15
1. 1. Maestoso - Poco più moderato
24:19
2. 2. Adagio
15:53
3. 3. Rondo (Allegro non troppo)
13:00
Claudio Arrau, Royal Concertgebouw Orchestra, Bernard Haitink
Total Playing Time 53:12
CD 66: Brahms: Piano Concerto No.2 in B Flat

Johannes Brahms (1833 - 1897)
Piano Concerto No. 2 in B-Flat Major, Op. 83
1. 1. Allegro non troppo
19:18
2. 2. Allegro appassionato
9:20
3. 3. Andante - Più adagio
12:08
4. 4. Allegretto grazioso - Un poco più presto
10:06
Claudio Arrau, Royal Concertgebouw Orchestra, Bernard Haitink
Total Playing Time 50:52
CD 67: Tchaikovsky: Piano Concerto No.1 in B Flat Minor; Grieg: Piano Concerto in A Minor

Pyotr Ilyich Tchaikovsky (1840 - 1893)
Piano Concerto No. 1 in B-Flat Minor, Op. 23, TH 55
1. 1. Allegro non troppo e molto maestoso - Allegro con spirito 21:39
2. 2. Andantino semplice - Prestissimo - Tempo I 7:53
3. 3. Allegro con fuoco 7:19
Edvard Grieg (1843 - 1907)
Piano Concerto in A Minor, Op. 16
4. 1. Allegro molto moderato 14:48
5. 2. Adagio 7:33
6. 3. Allegro moderato molto e marcato - Quasi presto - Andante maestoso 10:55
Claudio Arrau, Boston Symphony Orchestra, Colin Davis
Total Playing Time 1:10:07
CD 68: Grieg: Piano Concerto in A Minor; Schumann: Piano Concerto in A Minor

Edvard Grieg (1843 - 1907)
Piano Concerto in A Minor, Op. 16
1. 1. Allegro molto moderato 14:28
2. 2. Adagio 7:07
3. 3. Allegro moderato molto e marcato - Quasi presto - Andante maestoso 11:08
Robert Schumann (1810 - 1856)
Piano Concerto in A Minor, Op. 54
4. 1. Allegro affettuoso 16:27
5. 2. Intermezzo (Andantino grazioso) 6:11
6. 3. Allegro vivace 11:18
Claudio Arrau, Royal Concertgebouw Orchestra, Christoph von Dohnányi
Total Playing Time 1:06:39
CD 69: Debussy: Preludes Book 1

Claude Debussy (1862 - 1918)
Préludes / Book 1, L. 117
1. 1. Danseuses de Delphes
3:15
2. 2. Voiles
4:25
3. 3. Le vent dans la plaine
2:11
4. 4. Les sons et les parfums tournent dans l'air du soir
3:52
5. 5. Les collines d'Anacapri
3:02
6. 6. Des pas sur la neige
4:03
7. 7. Ce qu'a vu le vent d'ouest
3:29
8. 8. La fille aux cheveux de lin
2:47
9. 9. La sérénade interrompue
2:57
10. 10. La cathédrale engloutie
6:44
11. 11. La danse de Puck
3:29
12. 12. Minstrels
2:19
Images - Book 1, L. 110
13. 1. Reflets dans l'eau
5:23
14. 2. Hommage à Rameau
7:31
15. 3. Mouvement
3:24
Estampes, L. 100
16. 1. Pagodes
5:04
17. 2. La soirée dans Grenade
5:41
18. 3. Jardins sous la pluie
4:06
Claudio Arrau
Total Playing Time 1:13:42
CD 70: Debussy: Preludes Book 2

Claude Debussy (1862 - 1918)
Préludes / Book 2, L. 123
1. 1. Brouillards
3:38
2. 2. Feuilles mortes
3:55
3. 3. La puerta del vino
3:36
4. 4. Les fées sont d'exquises danseuses
3:17
5. 5. Bruyères
2:59
6. 6. General Lavine - eccentric
2:46
7. 7. La terrasse des audiences du clair de lune
5:31
8. 8. Ondine
3:31
9. 9. Hommage à S. Pickwick, Esq., P.P.M.P.C.
2:53
10. 10. Canope
3:33
11. 11. Les tierces alternées
2:58
12. 12. Feux d'artifice
4:46
Images - Book 2, L. 111
13. 1. Cloches à travers les feuilles
5:23
14. 2. Et la lune descend sur le temple qui fût
6:10
15. 3. Poissons d'or
4:31
Claudio Arrau
Total Playing Time 59:27
CD 71: Debussy: Suite bergamasque

Claude Debussy (1862 - 1918)
Suite bergamasque, L. 75
1. 1. Prélude
6:09
2. 2. Menuet
5:13
3. 3. Clair de lune
6:48
4. 4. Passepied
5:38
Pour le piano, L. 95
5. 2. Sarabande
5:14
6. La plus que lente, L.121
6:23
7. Valse romantique, L.71
5:03
Claudio Arrau
Total Playing Time 40:28
CD 72: Bach, J.S.: Partitas Nos. 2 & 1

Johann Sebastian Bach (1685 - 1750)
Partita No.2 In C Minor, BWV 826
1. 1. Sinfonia (Grave adagio - Andante)
5:34
2. 2. Allemande
4:55
3. 3. Courante
3:22
4. 4. Sarabande
3:59
5. 5. Rondeaux
1:53
6. 6. Capriccio
4:08
Partita No.1 In B-Flat Major, BWV 825
7. 1. Praeludium
1:57
8. 2. Allemande
4:07
9. 3. Corrente
3:57
10. 4. Sarabande
5:06
11. 5/6. Menuet I - Menuet II
2:39
12. 7. Giga
3:43
Claudio Arrau
Total Playing Time 45:20
CD 73: Bach, J.S.: Partitas Nos.5 & 3

Johann Sebastian Bach (1685 - 1750)
Partita No.5 In G Major, BWV 829
1. 1. Praeambulum
2:34
2. 2. Allemande
5:44
3. 3. Corrente
2:03
4. 4. Sarabande
5:37
5. 5. Tempo di minuetto
1:46
6. 6. Passepied
1:49
7. 7. Gigue
4:22
Partita No.3 In A Minor, BWV 827
8. 1. Fantasia
2:49
9. 2. Allemande
3:04
10. 3. Corrente
3:26
11. 4. Sarabande
3:59
12. 5. Burlesca
2:32
13. 6. Scherzo
1:20
14. 7. Gigue
4:04
Claudio Arrau
Total Playing Time 45:09
CD 74: Beethoven: Piano Sonata No.23 - Appassionata; Liszt: Ballade No.2; Chopin: Scherzo No.1

Ludwig van Beethoven (1770 - 1827)
Piano Sonata No. 23 in F Minor, Op. 57 "Appassionata"
1. 1. Allegro assai 11:38
2. 2. Andante con moto 7:07
3. 3. Allegro ma non troppo 8:28
Franz Liszt (1811 - 1886)
4. Ballade No.2 in B minor, S.171 13:47
Frédéric Chopin (1810 - 1849)
5. Scherzo No.1 In B Minor, Op.20 11:15
Claudio Arrau
Total Playing Time 52:15
CD 75: Beethoven: 33 Variations on a Waltz by Diabelli, Op.120; Eroica Variations

Ludwig van Beethoven (1770 - 1827)
33 Piano Variations In C Major, Op.120 On A Waltz By Anton Diabelli
1. Tema (Vivace)
0:53
2. Variation 1 (Alla marcia maestoso)
1:44
3. Variation 2 (Poco allegro)
1:07
4. Variation 3 (L'istesso tempo)
1:36
5. Variation 4 (Un poco più vivace)
1:06
6. Variation 5 (Allegro vivace)
0:55
7. Variation 6 (Allegro ma non troppo e serioso)
1:36
8. Variation 7 (Un poco più allegro)
1:04
9. Variation 8 (Poco vivace)
1:27
10. Variation 9 (Allegro pesante e risoluto)
1:42
11. Variation 10 (Presto)
0:37
12. Variation 11 (Allegretto)
1:10
13. Variation 12 (Un poco più moto)
1:04
14. Variation 13 (Vivace)
0:53
15. Variation 14 (Grave e maestoso)
3:13
16. Variation 15 (Presto scherzando)
0:41
17. Variation 16 (Allegro)
0:59
18. Variation 17
0:57
19. Variation 18 (Poco moderato)
2:06
20. Variation 19 (Presto)
0:52
21. Variation 20 (Andante)
2:50
22. Variation 21 (Allegro con brio - Meno allegro - Tempo I)
1:22
23. Variation 22 (Allegro molto): Alla "Notte e giorno faticar" di Mozart
0:43
24. Variation 23 (Allegro assai)
0:59
25. Variation 24 Fughetta (Andante)
3:44
26. Variation 25 (Allegro)
0:50
27. Variation 26
1:26
28. Variation 27 (Vivace)
1:04
29. Variation 28 (Allegro)
1:00
30. Variation 29 (Adagio ma non troppo)
1:15
31. Variation 30 (Andante, sempre cantabile)
2:29
32. Variation 31 (Largo, molto espressivo)
4:56
33. Variation 32 Fuga (Allegro - Poco adagio)
2:53
34. Variation 33 (Tempo di minuetto moderato, ma non tirarsi dietro)
4:11
35. 15 Variations and Fugue in E-Flat Major, Op. 35, "Eroica Variations" 26:48
Claudio Arrau
Total Playing Time 1:22:12
CD 76: Beethoven: Piano Sonata No.29 - "Hammerklavier" & No. 8 - "Pathétique"

Ludwig van Beethoven (1770 - 1827)
Piano Sonata No. 29 in B-Flat Major, Op. 106 -"Hammerklavier"
1. 1. Allegro
11:03
2. 2. Scherzo. Assai vivace
2:23
3. 3. Adagio sostenuto
20:42
4. 4. Largo - Allegro risoluto
11:42
Piano Sonata No. 8 in C Minor, Op. 13 "Pathétique"
5. 1. Grave - Allegro di molto e con brio
8:37
6. 2. Adagio cantabile
5:38
7. 3. Rondo (Allegro)
4:18
Claudio Arrau
Total Playing Time 1:04:23
CD 77: Beethoven: Piano Sonata No.14 - "Moonlight", No.23 - "Appassionata" & No.26 - "Les Adieux"

Ludwig van Beethoven (1770 - 1827)
Piano Sonata No. 14 in C-Sharp Minor, Op. 27 No. 2 "Moonlight"
1. 1. Adagio sostenuto
6:50
2. 2. Allegretto
2:23
3. 3. Presto agitato
7:25
Piano Sonata No. 23 in F Minor, Op. 57 "Appassionata"
4. 1. Allegro assai
10:34
5. 2. Andante con moto
7:33
6. 3. Allegro ma non troppo
8:11
Piano Sonata No. 26 in E-Flat Major, Op. 81a "Les Adieux"
7. 1. Das Lebewohl (Adagio - Allegro)
7:02
8. 2. Abwesenheit (Andante espressivo)
3:46
9. 3. Das Wiedersehen (Vivacissimamente)
5:58
Frédéric Chopin (1810 - 1849)
10. Fantaisie in F Minor, Op. 49
13:08
Claudio Arrau
Total Playing Time 1:12:50
CD 78: Chopin: 4 Scherzi; 4 Ballades

Frédéric Chopin (1810 - 1849)
1. Scherzo No.1 In B Minor, Op.20
10:42
2. Scherzo No. 2 in B-Flat Minor, Op. 31
10:26
3. Scherzo No. 3 in C-Sharp Minor, Op. 39
8:03
4. Scherzo No.4 in E, Op.54
12:36
5. Ballade No. 1 in G Minor, Op. 23
9:16
6. Ballade No. 2 in F Major, Op. 38
8:45
7. Ballade No. 3 in A-Flat Major, Op. 47
7:58
8. Ballade No. 4 in F Minor, Op. 52
12:33
Claudio Arrau
Total Playing Time 1:20:19
CD 79: Chopin: 4 Impromptus; Barcarolle, Op.60; 2 Interviews

Frédéric Chopin (1810 - 1849)
1. Impromptu No.1 In A Flat, Op.29
4:32
2. Impromptu No.2 in F sharp, Op.36
6:19
3. Impromptu No.3 in G flat, Op.51
6:10
4. Impromptu No.4 In C Sharp Minor, Op.66 "Fantaisie-Impromptu"
5:34
5. Barcarolle in F-Sharp Major, Op. 60
9:14
Mily Alexeyevich Balakirev (1837 - 1910)
6. Islamey 7:47
7. Claudio Arrau Interview 1964 12:49
8. Claudio Arrau - Thoughts On Beethoven Sonatas 21:48
Claudio Arrau
Total Playing Time 1:14:13
CD 80: Beethoven: Piano Concerto No.4 in G Major

Ludwig van Beethoven (1770 - 1827)
1. Overture "Leonore No.3", Op. 72b
14:25
Symphonieorchester des Bayerischen Rundfunks, Leonard Bernstein
Piano Concerto No. 4 in G Major, Op. 58
2. 1. Allegro moderato
20:00
3. 2. Andante con moto
5:40
4. 3. Rondo (Vivace)
10:08
Claudio Arrau, Symphonieorchester des Bayerischen Rundfunks, Leonard Bernstein
Total Playing Time 50:13
Exact Audio Copy V1.3 from 2. September 2016

EAC extraction logfile from 10. October 2018, 14:54

Claudio Arrau / CD61-1970-Liszt- Sonate h-Moll S178 u.a.

Used drive : MATSHITADVD-RAM UJ-831S Adapter: 1 ID: 0

Read mode : Secure
Utilize accurate stream : Yes
Defeat audio cache : Yes
Make use of C2 pointers : No

Read offset correction : 102
Overread into Lead-In and Lead-Out : No
Fill up missing offset samples with silence : Yes
Delete leading and trailing silent blocks : No
Null samples used in CRC calculations : Yes
Used interface : Native Win32 interface for Win NT & 2000

Used output format : User Defined Encoder
Selected bitrate : 1024 kBit/s
Quality : High
Add ID3 tag : No
Command line compressor : C:\Program Files (x86)\Exact Audio Copy\Flac\flac.exe
Additional command line options : -T "artist=%artist%" -T "title=%title%" -T "album=%albumtitle%" -T "date=%year%" -T "tracknumber=%tracknr%" -T "genre=%genre%" -5 %source%


TOC of the extracted CD

Track | Start | Length | Start sector | End sector
––––––––––––––––––––––––––––-
1 | 0:00.00 | 4:34.31 | 0 | 20580
2 | 4:34.31 | 3:20.59 | 20581 | 35639
3 | 7:55.15 | 10:50.00 | 35640 | 84389
4 | 18:45.15 | 5:36.00 | 84390 | 109589
5 | 24:21.15 | 6:07.74 | 109590 | 137188
6 | 30:29.14 | 12:48.65 | 137189 | 194853
7 | 43:18.04 | 7:51.10 | 194854 | 230188
8 | 51:09.14 | 8:24.00 | 230189 | 267988
9 | 59:33.14 | 3:16.00 | 267989 | 282688


Range status and errors

Selected range

Filename F:\Loseless\Arrau 80CD\61\Claudio Arrau - CD61-1970-Liszt- Sonate h-Moll S178 u.a..wav

Peak level 97.7 %
Extraction speed 2.6 X
Range quality 99.9 %
Copy CRC 48F36F14
Copy OK

No errors occurred


AccurateRip summary

Track 1 accurately ripped (confidence 11) [E1EF80DA] (AR v2)
Track 2 accurately ripped (confidence 11) [79CFC59F] (AR v2)
Track 3 accurately ripped (confidence 11) [BD29748A] (AR v2)
Track 4 accurately ripped (confidence 11) [1883EA82] (AR v2)
Track 5 accurately ripped (confidence 11) [6DA48F6E] (AR v2)
Track 6 accurately ripped (confidence 11) [D02AAA77] (AR v2)
Track 7 accurately ripped (confidence 11) [550C8003] (AR v2)
Track 8 accurately ripped (confidence 11) [6A0845E0] (AR v2)
Track 9 accurately ripped (confidence 11) [F86CC242] (AR v2)

All tracks accurately ripped

End of status report

–– CUETools DB Plugin V2.1.6

[CTDB TOCID: S9sa3JV91WdeyJ.3t1toQj8gC2o-] database access error: 操作超时


==== Log checksum 7D256495E797FCD57A8D02DC08F59368045D27FE6196D9A3F6AC2AE63DA6C13F ====

======================================================================================

Exact Audio Copy V1.3 from 2. September 2016

EAC extraction logfile from 10. October 2018, 15:19

Claudio Arrau / CD62-1969-Liszt- Les Années de pèlerinage - Auszüge

Used drive : MATSHITADVD-RAM UJ-831S Adapter: 1 ID: 0

Read mode : Secure
Utilize accurate stream : Yes
Defeat audio cache : Yes
Make use of C2 pointers : No

Read offset correction : 102
Overread into Lead-In and Lead-Out : No
Fill up missing offset samples with silence : Yes
Delete leading and trailing silent blocks : No
Null samples used in CRC calculations : Yes
Used interface : Native Win32 interface for Win NT & 2000

Used output format : User Defined Encoder
Selected bitrate : 1024 kBit/s
Quality : High
Add ID3 tag : No
Command line compressor : C:\Program Files (x86)\Exact Audio Copy\Flac\flac.exe
Additional command line options : -T "artist=%artist%" -T "title=%title%" -T "album=%albumtitle%" -T "date=%year%" -T "tracknumber=%tracknr%" -T "genre=%genre%" -5 %source%


TOC of the extracted CD

Track | Start | Length | Start sector | End sector
––––––––––––––––––––––––––––-
1 | 0:00.00 | 8:55.00 | 0 | 40124
2 | 8:55.00 | 15:10.00 | 40125 | 108374
3 | 24:05.00 | 18:29.50 | 108375 | 191599
4 | 42:34.50 | 7:17.00 | 191600 | 224374
5 | 49:51.50 | 8:59.00 | 224375 | 264799
6 | 58:50.50 | 7:05.74 | 264800 | 296748


Range status and errors

Selected range

Filename F:\Loseless\Arrau 80CD\62\Claudio Arrau - CD62-1969-Liszt- Les Années de pèlerinage - Auszüge.wav

Peak level 100.0 %
Extraction speed 4.4 X
Range quality 100.0 %
Copy CRC 860C0560
Copy OK

No errors occurred


AccurateRip summary

Track 1 accurately ripped (confidence 11) [9734BC56] (AR v2)
Track 2 accurately ripped (confidence 11) [DDE2162C] (AR v2)
Track 3 accurately ripped (confidence 11) [6808D31B] (AR v2)
Track 4 accurately ripped (confidence 11) [CB995E02] (AR v2)
Track 5 accurately ripped (confidence 11) [2FA6CF50] (AR v2)
Track 6 accurately ripped (confidence 11) [70ACBBD7] (AR v2)

All tracks accurately ripped

End of status report

–– CUETools DB Plugin V2.1.6

[CTDB TOCID: ffy2FPWdXXXnjCXDlalBqk9YDUY-] found
Submit result: ffy2FPWdXXXnjCXDlalBqk9YDUY- has been confirmed
Track | CTDB Status
1 | (33/33) Accurately ripped
2 | (33/33) Accurately ripped
3 | (33/33) Accurately ripped
4 | (33/33) Accurately ripped
5 | (33/33) Accurately ripped
6 | (33/33) Accurately ripped


==== Log checksum C31C996E8C282EC2C2F8A94E3E6FC38539DC63F8E5CC81F14A1524A8FD5876AC ====

===============================================================

Exact Audio Copy V1.3 from 2. September 2016

EAC extraction logfile from 10. October 2018, 9:45

Claudio Arrau / CD63-1974-Brahms- 4 Balladen op.10 u.a.

Used drive : MATSHITADVD-RAM UJ-831S Adapter: 1 ID: 0

Read mode : Secure
Utilize accurate stream : Yes
Defeat audio cache : Yes
Make use of C2 pointers : No

Read offset correction : 102
Overread into Lead-In and Lead-Out : No
Fill up missing offset samples with silence : Yes
Delete leading and trailing silent blocks : No
Null samples used in CRC calculations : Yes
Used interface : Native Win32 interface for Win NT & 2000

Used output format : User Defined Encoder
Selected bitrate : 1024 kBit/s
Quality : High
Add ID3 tag : No
Command line compressor : C:\Program Files (x86)\Exact Audio Copy\Flac\flac.exe
Additional command line options : -T "artist=%artist%" -T "title=%title%" -T "album=%albumtitle%" -T "date=%year%" -T "tracknumber=%tracknr%" -T "genre=%genre%" -5 %source%


TOC of the extracted CD

Track | Start | Length | Start sector | End sector
––––––––––––––––––––––––––––-
1 | 0:00.00 | 3:55.37 | 0 | 17661
2 | 3:55.37 | 7:35.38 | 17662 | 51824
3 | 11:31.00 | 3:21.00 | 51825 | 66899
4 | 14:52.00 | 9:22.74 | 66900 | 109123
5 | 24:14.74 | 29:09.00 | 109124 | 240298
6 | 53:23.74 | 14:09.00 | 240299 | 303973
7 | 67:32.74 | 11:28.74 | 303974 | 355647


Range status and errors

Selected range

Filename F:\Loseless\Arrau 80CD\63\Claudio Arrau - CD63-1974-Brahms- 4 Balladen op.10 u.a..wav

Peak level 99.4 %
Extraction speed 4.4 X
Range quality 99.9 %
Copy CRC F3A086CC
Copy OK

No errors occurred


AccurateRip summary

Track 1 accurately ripped (confidence 10) [7216BF9E] (AR v2)
Track 2 accurately ripped (confidence 10) [4C31F756] (AR v2)
Track 3 accurately ripped (confidence 10) [A0288021] (AR v2)
Track 4 accurately ripped (confidence 10) [B52D48EA] (AR v2)
Track 5 accurately ripped (confidence 10) [9B747AAC] (AR v2)
Track 6 accurately ripped (confidence 10) [3D4823D4] (AR v2)
Track 7 accurately ripped (confidence 10) [C7BE4A53] (AR v2)

All tracks accurately ripped

End of status report

–– CUETools DB Plugin V2.1.6

[CTDB TOCID: JLG9Rj0RxjNCWnl6T1U6F08yi8s-] found
Submit result: JLG9Rj0RxjNCWnl6T1U6F08yi8s- has been confirmed
Track | CTDB Status
1 | (23/23) Accurately ripped
2 | (23/23) Accurately ripped
3 | (23/23) Accurately ripped
4 | (23/23) Accurately ripped
5 | (22/23) Accurately ripped
6 | (22/23) Accurately ripped
7 | (23/23) Accurately ripped


==== Log checksum 4E13C0AAD7B6A1270B3FFDA6D76ADA76379A1CAB9F546A0F87155BB618963E4D ====

=====================================================

Exact Audio Copy V1.3 from 2. September 2016

EAC extraction logfile from 10. October 2018, 10:16

Claudio Arrau / CD64-1971-Brahms- Klaviersonate Nr.2,3,Scherzo

Used drive : MATSHITADVD-RAM UJ-831S Adapter: 1 ID: 0

Read mode : Secure
Utilize accurate stream : Yes
Defeat audio cache : Yes
Make use of C2 pointers : No

Read offset correction : 102
Overread into Lead-In and Lead-Out : No
Fill up missing offset samples with silence : Yes
Delete leading and trailing silent blocks : No
Null samples used in CRC calculations : Yes
Used interface : Native Win32 interface for Win NT & 2000

Used output format : User Defined Encoder
Selected bitrate : 1024 kBit/s
Quality : High
Add ID3 tag : No
Command line compressor : C:\Program Files (x86)\Exact Audio Copy\Flac\flac.exe
Additional command line options : -T "artist=%artist%" -T "title=%title%" -T "album=%albumtitle%" -T "date=%year%" -T "tracknumber=%tracknr%" -T "genre=%genre%" -5 %source%


TOC of the extracted CD

Track | Start | Length | Start sector | End sector
––––––––––––––––––––––––––––-
1 | 0:00.00 | 6:26.00 | 0 | 28949
2 | 6:26.00 | 5:22.25 | 28950 | 53124
3 | 11:48.25 | 3:52.50 | 53125 | 70574
4 | 15:41.00 | 12:16.00 | 70575 | 125774
5 | 27:57.00 | 10:41.00 | 125775 | 173849
6 | 38:38.00 | 13:48.00 | 173850 | 235949
7 | 52:26.00 | 4:58.00 | 235950 | 258299
8 | 57:24.00 | 4:16.00 | 258300 | 277499
9 | 61:40.00 | 7:47.00 | 277500 | 312524
10 | 69:27.00 | 9:22.74 | 312525 | 354748


Range status and errors

Selected range

Filename F:\Loseless\Arrau 80CD\64\Claudio Arrau - CD64-1971-Brahms- Klaviersonate Nr.2,3,Scherzo.wav

Peak level 97.5 %
Extraction speed 4.4 X
Range quality 99.9 %
Copy CRC 9651534A
Copy OK

No errors occurred


AccurateRip summary

Track 1 accurately ripped (confidence 9) [4B4D04E9] (AR v2)
Track 2 accurately ripped (confidence 9) [9F617EC5] (AR v2)
Track 3 accurately ripped (confidence 9) [9DD918D3] (AR v2)
Track 4 accurately ripped (confidence 9) [A5CA2F61] (AR v2)
Track 5 accurately ripped (confidence 9) [3372B257] (AR v2)
Track 6 accurately ripped (confidence 9) [05346B34] (AR v2)
Track 7 accurately ripped (confidence 9) [5BE8DEF3] (AR v2)
Track 8 accurately ripped (confidence 9) [919CA9D3] (AR v2)
Track 9 accurately ripped (confidence 9) [3152322F] (AR v2)
Track 10 accurately ripped (confidence 9) [9D198303] (AR v2)

All tracks accurately ripped

End of status report

–– CUETools DB Plugin V2.1.6

[CTDB TOCID: wo0Eu.5i_Ve2dgCFvVf6d1R2EvY-] database access error: 操作超时


==== Log checksum 55E3748A0FDF02A464554DF67E30A89CEDAA276450EFF6060BF86F2D2FE51522 ====

===================================================================

Exact Audio Copy V1.3 from 2. September 2016

EAC extraction logfile from 10. October 2018, 11:18

Claudio Arrau, Royal Concertgebouw, Bernard Haitink / Claudio Arrau plays Brahms (CD 3)

Used drive : MATSHITADVD-RAM UJ-831S Adapter: 1 ID: 0

Read mode : Secure
Utilize accurate stream : Yes
Defeat audio cache : Yes
Make use of C2 pointers : No

Read offset correction : 102
Overread into Lead-In and Lead-Out : No
Fill up missing offset samples with silence : Yes
Delete leading and trailing silent blocks : No
Null samples used in CRC calculations : Yes
Used interface : Native Win32 interface for Win NT & 2000

Used output format : User Defined Encoder
Selected bitrate : 1024 kBit/s
Quality : High
Add ID3 tag : No
Command line compressor : C:\Program Files (x86)\Exact Audio Copy\Flac\flac.exe
Additional command line options : -T "artist=%artist%" -T "title=%title%" -T "album=%albumtitle%" -T "date=%year%" -T "tracknumber=%tracknr%" -T "genre=%genre%" -5 %source%


TOC of the extracted CD

Track | Start | Length | Start sector | End sector
––––––––––––––––––––––––––––-
1 | 0:00.00 | 24:19.00 | 0 | 109424
2 | 24:19.00 | 15:53.00 | 109425 | 180899
3 | 40:12.00 | 13:00.00 | 180900 | 239399


Range status and errors

Selected range

Filename F:\Loseless\Arrau 80CD\65\Claudio Arrau, Royal Concertgebouw, Bernard Haitink - Claudio Arrau plays Brahms (CD 3).wav

Peak level 99.9 %
Extraction speed 4.0 X
Range quality 100.0 %
Copy CRC 1C651B57
Copy OK

No errors occurred


AccurateRip summary

Track 1 not present in database
Track 2 not present in database
Track 3 not present in database

None of the tracks are present in the AccurateRip database

End of status report

–– CUETools DB Plugin V2.1.6

[CTDB TOCID: E5g63nr0IM8DKuJHahD7zYkob.A-] found
Submit result: E5g63nr0IM8DKuJHahD7zYkob.A- has been confirmed
Track | CTDB Status
1 | (24/24) Accurately ripped
2 | (24/24) Accurately ripped
3 | (23/24) Accurately ripped


==== Log checksum 78EAC858D42E1F8A2ACFCFAD4DEC909D3EE0478E320C808AAB69E9A5938BBCF7 ====

===============================================================
All 20 log files included…