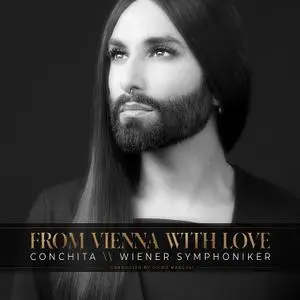 Conchita Wurst & Wiener Symphoniker - From Vienna with Love (2018)
WEB FLAC (Tracks) 300 MB | Cover | 49:13 | MP3 CBR 320 kbps | 113 MB
Pop | Label: Rca Deutschland
Conchita Wurst wurde von ihrem Alter Ego, dem österreichischen Sänger Thomas Neuwirth, 2011 ins Leben gerufen. 2014 gewann Conchita den Eurovision Song Contest und wurde mit den Worten "We are unstoppable!" über Nacht zur globalen Galionsfigur der LGBTI-Community. Es folgten ihr Debütalbum, zahlreiche Awards, Auftritte und TV-Shows in mehr als 20 Ländern weltweit, Tour mit Live-Band sowie Konzerte u.a. in der Oper von Sydney und mit verschiedenen Orchestern in Europa, zuletzt in der ausverkauften Berliner Philharmonie, sowie Auftritte als Host für das Mega-Aids-Charity-Event Lifeball, die Wiener Festwochen und den Amadeus Austrian Music Award 2018. Beflügelt vom gemeinsamen Erfolg bei den Wiener Festwochen kooperieren Conchita und die Wiener Symphoniker nun für ein weiteres Projekt. Am 19. Oktober 2018 erscheint das Album "From Vienna With Love".
Bekannte Balladen und hingebungsvolle Diven-Songs - symphonisch arrangiert für den einzigartigen Klang des Wiener Traditionsorchesters und meisterhaft interpretiert von Österreichs atemberaubendem Weltstar.
TRACKLIST
1. Writing's on the Wall
2. Have I Ever Been in Love
3. Colors of the Wind
4. The Sound of Music
5. Get Here
6. Where Do I Begin
7. All by Myself
8. The Way We Were
9. Rise Like a Phoenix
10. Moonraker
11. Uninvited
12. Für mich soll's rote Rosen regnen
–––––––––––-
DON'T MODIFY THIS FILE
–––––––––––-
PERFORMER: auCDtect Task Manager, ver. 1.6.0 RC1 build 1.6.0.1
Copyright © 2008-2010 y-soft. All rights reserved
http://y-soft.org
ANALYZER: auCDtect: CD records authenticity detector, version 0.8.2
Copyright © 2004 Oleg Berngardt. All rights reserved.
Copyright © 2004 Alexander Djourik. All rights reserved.
FILE: 12 Für mich soll's rote Rosen regnen.flac
Size: 21651407 Hash: C761D44040A7D851BC0818EBAA7C3B02 Accuracy: -m0
Conclusion: CDDA 100%
Signature: 5E257BF2DF71AC6E34FDB6C1624A03A9EC784117
FILE: 11 Uninvited.flac
Size: 32055654 Hash: 7F394440548473D44A78B119FE6BEF56 Accuracy: -m0
Conclusion: CDDA 100%
Signature: 4E9BD4DE43BEFC18437A363103297C248F009638
FILE: 10 Moonraker.flac
Size: 22299526 Hash: 65F566F49106AF0CF41ED6CCFC7CAEF7 Accuracy: -m0
Conclusion: CDDA 100%
Signature: E63D8649359AAAD0DB1872AE13E7B270F74065FE
FILE: 09 Rise Like a Phoenix.flac
Size: 31075232 Hash: FB8831B6456E1143EE2FC8AB3AAF6AE4 Accuracy: -m0
Conclusion: CDDA 100%
Signature: AA92D314F29397495E6995184660F839C2F522DB
FILE: 08 The Way We Were.flac
Size: 23087710 Hash: B90A1DC6DD3E1431D1F5B98E2CB14A56 Accuracy: -m0
Conclusion: CDDA 99%
Signature: 8754DAB5D68222B9BBBA0A12199D759D8F00D393
FILE: 07 All by Myself.flac
Size: 35626585 Hash: 84D10BB47CCE3EDCD00839F93F55C11E Accuracy: -m0
Conclusion: CDDA 100%
Signature: A4DC935A2D0F372FD488E41F48D9D0402CCA21C2
FILE: 06 Where Do I Begin.flac
Size: 22300415 Hash: 323FE3DF23DFAAD4EDDC9294A2321D55 Accuracy: -m0
Conclusion: CDDA 100%
Signature: 110C14842BCE10410BF8CA7B75006A891275C076
FILE: 05 Get Here.flac
Size: 29180947 Hash: F6660E8EE2AB915A8865A858341ED81D Accuracy: -m0
Conclusion: CDDA 99%
Signature: EB116C5B4D287AA017B47449251F67319F121575
FILE: 04 The Sound of Music.flac
Size: 17374318 Hash: D2309E3060F2C1605AEE03F20A593C9C Accuracy: -m0
Conclusion: CDDA 100%
Signature: 36686537543AAF8257A91724174BB4DDCC683DBE
FILE: 03 Colors of the Wind.flac
Size: 25194294 Hash: EF14C472945E6FEA7B8370E4607DBB47 Accuracy: -m0
Conclusion: CDDA 99%
Signature: DB5067442EA9E8AD2704462426F272EB022D3741
FILE: 02 Have I Ever Been in Love.flac
Size: 24071113 Hash: 01194BECA2FE87569FC1947C84AAE58B Accuracy: -m0
Conclusion: CDDA 100%
Signature: C6F568B46DEED6C6A0E80F1FE4CA4BC8EA337D20
FILE: 01 Writing's on the Wall.flac
Size: 30525890 Hash: 295941FB0EECC3B3B7AD60DBE45509D6 Accuracy: -m0
Conclusion: CDDA 100%
Signature: B5DE0BD7A24FA69FA3FBD80741DA93FC2B711FCA