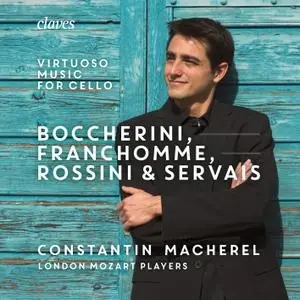 Constantin Macherel, London Mozart Players - Boccherini, Franchomme Rossini & Servais: Virtuoso Music for Cello and Strings
FLAC tracks | 01:05:00| 271 Mb
Genre: Classical / Label: Claves Records
Derived from the viole da braccio family rather than that of the viols, the cello gained its independence in the Cremona cradle of Italian instrument making between the 16th and early 18th century. It adopted the shape of a large violin – so large that it cannot rest on the shoulder like a violin or viola and is therefore held between the legs; an adjustable pin planted in the ground was added from the middle of the 19th century to make it more stable and easier to hold. At the beginning, the cello suffered from the "competition" of other low-register string instruments, also held between the legs and played with a bow : the bass viol, very popular in aristocratic circles. The development of its technique throughout the 18th century, conveyed by ever more virtuoso musicians, was to bring about its "revenge". Thanks to these ambassadors, more and more composers were indeed able to understand its fantastic expressive potential and decided to give it more than a shadow role as member of the continuo (next to the organ or harpsichord), to which it had been confined up until then. Vivaldi was among them, writing 27 concertos and 11 sonatas for it, Johann-Sebastian Bach, whose six Suites for Cello solo marked an apex in the exploitation of its polyphonic attributes, and then Boccherini, himself a cellist, who truly launched the instrument with his magnificent concertos.
Track List:
[11:50] 01. Constantin Macherel, London Mozart Players & Sebastian Comberti - Variations sur deux thèmes (russe et écossais), Op. 6
[16:38] 02. Constantin Macherel, London Mozart Players & Sebastian Comberti - Souvenirs de Spa, Op. 2
[07:26] 03. Constantin Macherel, London Mozart Players & Sebastian Comberti - Cello Concerto in D Major, G. 479: I. Allegro
[05:42] 04. Constantin Macherel, London Mozart Players & Sebastian Comberti - Cello Concerto in D Major, G. 479: II. Adagio
[05:25] 05. Constantin Macherel, London Mozart Players & Sebastian Comberti - Cello Concerto in D Major, G. 479: III. Allegro
[09:53] 06. Constantin Macherel, London Mozart Players & Sebastian Comberti - Péchés de vieillesse: Une larme. Thème et variations
[08:04] 07. Constantin Macherel, London Mozart Players & Sebastian Comberti - Chant d'Adieux, Op. 9
ANALYZER: auCDtect: CD records authenticity detector, version 0.8.2
Copyright © 2004 Oleg Berngardt. All rights reserved.
Copyright © 2004 Alexander Djourik. All rights reserved.


FILE: 01. Variations sur deux thèmes (russe et écossais), Op. 6.flac
Size: 50820641 Hash: 4B9F06E53D45E115FFBCCE18276B5AB2 Accuracy: -m40
Conclusion: CDDA 99%
Signature: B8BD42CFC11E170E2594071DA21BAE66832493E5
FILE: 02. Souvenirs de Spa, Op. 2.flac
Size: 73733368 Hash: 7D148E87E5069DF2D796943A1D7A4DDF Accuracy: -m40
Conclusion: CDDA 100%
Signature: FC0FFA5FB23E03F9AB07D51BF55CB1B9C49A53E2
FILE: 03. Cello Concerto in D Major, G. 479- I. Allegro.flac
Size: 33898790 Hash: 74C786BA1FBDF3ED8D6D06B33C530F23 Accuracy: -m40
Conclusion: CDDA 100%
Signature: FAB7DFC469C68A9263F61F87EFBB4C7C8C7AED98
FILE: 04. Cello Concerto in D Major, G. 479- II. Adagio.flac
Size: 24044794 Hash: BE8A43B61362825476370AFBE76F27DC Accuracy: -m40
Conclusion: CDDA 100%
Signature: CCDC4501C0DB6D29B526ACF898C0A48EA55E1EB2
FILE: 05. Cello Concerto in D Major, G. 479- III. Allegro.flac
Size: 25070287 Hash: EB88C395A1A8835AAB928BE3FA121B79 Accuracy: -m40
Conclusion: CDDA 100%
Signature: B26E3792D5879D1FC044DADA1C099C016F7B723D
FILE: 06. Péchés de vieillesse- Une larme. Thème et variations.flac
Size: 40977267 Hash: 9E0C3E46661C1CCABABDB9627B5B4FFF Accuracy: -m40
Conclusion: CDDA 100%
Signature: 1FDA27802ABA235649E324461CC45CA21717A838
FILE: 07. Chant d'Adieux, Op. 9.flac
Size: 36126677 Hash: 36129E8286834BD2C95DB059A356577A Accuracy: -m40
Conclusion: CDDA 100%
Signature: A1450981133DA0CE9D9A1B39D249711AF3D0582E