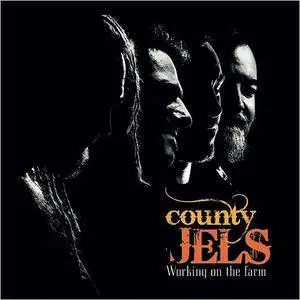 County Jels - Working On The Farm (2017)
WEB FLAC (Tracks) - 256 MB | Cover | MP3 CBR 320 kbps - 104 MB | 00:44:54
Blues Rock | Label: Atlantide
County Jels works the old way. It sounds, it feels. We're here in rock country as practiced by JJ Cale, Whiskey Ash, Eric Clapton, Ten Year After and so many others from a forgotten galaxy. Guitars are essential, but never abused, often respected, always at the service of a blues rock and an atmosphere that allows you to close your eyes and feel good. To go to the country where the emotion is Queen. Plunging into our blues and bayou roots, County Jels and his "Working on the Farm" touch the heart of music that speaks as much to our soul as to the goosebumps that made it visible. Admittedly, this record does not invent anything (but how long has one stammered our culture?), But it puts back the counters to zero and makes roll the good time. And we want more! Yet at the base, all was not won: we have too often heard these records of studio sharks finish in demonstration of misplaced ego. Here the evil has been avoided. Has it even been considered? Conceived ? For the little story here is their CV: Eric Sauviat played with Niagara, Wily Deville, Francis Cabrel, Benjamin Biolay … and we pass; Sébastien Chouard, son of Yves Chouard, accompanied Fred Blondin (first part of Johnny Hallyday), Gérald de Palmas, Sinclair, Jenifer and Florent Pagny; Laurent Cokelaere was noticed with Alan Stivell, Catherine Lara, JJ Milteau, Nolwenn Leroy … Finally Julien Audigier crossed the road of: Lucky Peterson, Izia, Martha High, Helen Segara, Dance with the stars …. In short, the most surprising thing is that they still keep so much fresh air for us to release an album that sounds like a perfect summary of the engine that has guided them for decades: to find the thrill.
TRACKLIST
01. Eyes Of Love
02. I Love The Game
03. Instrudo
04. Lucie
05. Your Light
06. Baby Please Come Down
07. Strangers
08. Dead Rat Jam
09. Losing Lou
10. Working On The Farm
–––––––––––-

DON'T MODIFY THIS FILE

–––––––––––-

PERFORMER: auCDtect Task Manager, ver. 1.5.1RC6 build 1.5.1.7
Copyright © 2008-2010 y-soft. All rights reserved

ANALYZER: auCDtect: CD records authenticity detector, version 0.8.2
Copyright © 2004 Oleg Berngardt. All rights reserved.
Copyright © 2004 Alexander Djourik. All rights reserved.


FILE: 01 - Eyes Of Love.flac
Size: 35313189 Hash: EA4073033DEF2905C4509904C518B1D4 Accuracy: -m8
Conclusion: CDDA 100%
Signature: 98D2FA64A1076C4BC1B1ED1C63E49B9C309A0318
FILE: 02 - I Love The Game.flac
Size: 21802803 Hash: 6D3C83E0C986396405EAE5B9BCD80F30 Accuracy: -m8
Conclusion: CDDA 100%
Signature: 68E902493E8E7957ADAD81A7D2E87F91303C2048
FILE: 03 - Instrudo.flac
Size: 25527521 Hash: 77990D447A30538807170EED00954637 Accuracy: -m8
Conclusion: CDDA 100%
Signature: 0884529BB5D6C4F23F340A26CE480558D9743C2B
FILE: 04 - Lucie.flac
Size: 29304340 Hash: 024F2280C60817F28BE56D4932858ADB Accuracy: -m8
Conclusion: CDDA 100%
Signature: B49C1976F1320CD736DD885B8B0EBE1A751193FE
FILE: 05 - Your Light.flac
Size: 27457825 Hash: 39CDA1132C53E017763D5AD6C457FC66 Accuracy: -m8
Conclusion: CDDA 100%
Signature: 7C2F2BEE5CDAA1FC0A8BD6841D12F390765717C2
FILE: 06 - Baby Please Come Down.flac
Size: 25243887 Hash: 724CFE5864F094D7349097A093C66B63 Accuracy: -m8
Conclusion: CDDA 100%
Signature: 5C7FD1C7E72EF5E74E78497929BBBCAB8FFC1967
FILE: 07 - Strangers.flac
Size: 28441029 Hash: A3BD58DA042DF5503BCAA917D62637DE Accuracy: -m8
Conclusion: CDDA 100%
Signature: 928E55D64DA04C730A98CECBD9B41100E5D852E9
FILE: 08 - Dead Rat Jam.flac
Size: 32252905 Hash: EF6BD127B3AC7B9B8DFDAFB7DD8AFCC6 Accuracy: -m8
Conclusion: CDDA 100%
Signature: 64DF44B8B29863A15FA98BDAE5D290B103A802AC
FILE: 09 - Losing Lou.flac
Size: 22043282 Hash: EB6A885BFF4DBE3903C37445DC9EA647 Accuracy: -m8
Conclusion: CDDA 99%
Signature: 912397BF764F914518D7E6854711623FEE80CB2B
FILE: 10 - Working On The Farm.flac
Size: 20940667 Hash: 58998B6D53BED2BA0A5EA7D85FACA0C5 Accuracy: -m8
Conclusion: CDDA 100%
Signature: 8B95F2EF4125D8A00DA912F46A3FC09AAEEC01C2
All thanks go to the original releaser