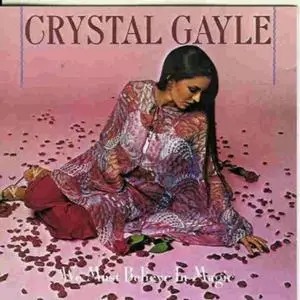 Crystal Gayle - We Must Believe In Magic (1977/2018)
WEB FLAC (Tracks) - 174MB | Cover | MP3 CBR 320 kbps - 70 MB | 00:29:49
Country | Label: Capitol Records Nashville
Despite the inclusion of Don't it make my brown eyes blue, this is a very upbeat album, full of optimism and happiness. The big international hit is the only sad song here, although it blends in well with the rest of the album. Many of the other songs are originals. My favorites are River road, All I wanna do in life and the title track, but all of them are brilliant. There are at least two covers. The oldest song here (It's all right with me) is by Cole Porter despite being sometimes credited to Irving Berlin. Green door was a fifties pop hit in the USA for Jim Love and in the UK for Frankie Vaughn. It was revived by Shakin' Stevens in the eighties. This was a brilliant album when first released and still sounds brilliant today.
TRACKLIST
01. Don't It Make My Brown Eyes Blue
02. I Wanna Come Back To You
03. River Road
04. It's All Right With Me
05. Going Down Slow
06. All I Wanna Do In Life
07. Make A Dream Come True
08. Green Door
09. Funny
10. We Must Believe In Magic
–––––––––––-
DON'T MODIFY THIS FILE
–––––––––––-
PERFORMER: auCDtect Task Manager, ver. 1.6.0 RC1 build 1.6.0.1
Copyright © 2008-2010 y-soft. All rights reserved
http://y-soft.org
ANALYZER: auCDtect: CD records authenticity detector, version 0.8.2
Copyright © 2004 Oleg Berngardt. All rights reserved.
Copyright © 2004 Alexander Djourik. All rights reserved.
FILE: 10. Crystal Gayle - We Must Believe In Magic.flac
Size: 25050754 Hash: 547179AD44F210201149BDFEE4950981 Accuracy: -m0
Conclusion: CDDA 100%
Signature: F978AFE707FD76C53207CD7F6B0E71FAE5F7DC4C
FILE: 09. Crystal Gayle - Funny.flac
Size: 12841199 Hash: 6917E109B92CACF4E1F0F2067556CB20 Accuracy: -m0
Conclusion: CDDA 100%
Signature: 021ADCB19CCB18FC7D918966952BFEDCA9AC40CA
FILE: 08. Crystal Gayle - Green Door.flac
Size: 20177240 Hash: 6CE358C18C6034903D9EFDFCD34DFDB8 Accuracy: -m0
Conclusion: CDDA 100%
Signature: DADEAC6D77137B4001A3F9C9774181A16A519192
FILE: 07. Crystal Gayle - Make A Dream Come True.flac
Size: 19691694 Hash: A081D2BDE92F1BDA83DA24D5522EDB7C Accuracy: -m0
Conclusion: CDDA 99%
Signature: 8B14DF14072DE6B9A9F0C9B4FD3548003FA17071
FILE: 06. Crystal Gayle - All I Wanna Do In Life.flac
Size: 14822155 Hash: 184C636BA5BDEF6A92008F8CA6888A94 Accuracy: -m0
Conclusion: CDDA 100%
Signature: 64AA98229259B004165F4EA9B60F02C4A4A806DF
FILE: 05. Crystal Gayle - Going Down Slow.flac
Size: 21606758 Hash: B1FA411220384BF10D87302BAB286FAA Accuracy: -m0
Conclusion: CDDA 100%
Signature: 14F79D7A4ECC74CB4C29E3FA988937F1896194A3
FILE: 04. Crystal Gayle - It's All Right With Me.flac
Size: 16655105 Hash: 593F79BD0F0C5226DD724F2BA4A2E619 Accuracy: -m0
Conclusion: CDDA 99%
Signature: 0B4437EF1814F79F28625EC61A00E820EA4AF6DB
FILE: 03. Crystal Gayle - River Road.flac
Size: 19519884 Hash: E079FEBCD5A5950A873905D6B636614A Accuracy: -m0
Conclusion: CDDA 99%
Signature: C5FC4E908E8558D86D0F374B8556374582A19200
FILE: 02. Crystal Gayle - I Wanna Come Back To You.flac
Size: 17136598 Hash: 67E24AB99ED6FA457414A5A6C260EFEB Accuracy: -m0
Conclusion: CDDA 100%
Signature: 481F76D46FA6560CDB619344BE7D59CFC0A0887E
FILE: 01. Crystal Gayle - Don't It Make My Brown Eyes Blue.flac
Size: 15238679 Hash: BBC2AB061AAFF1A3FDE3340E26872584 Accuracy: -m0
Conclusion: CDDA 100%
Signature: 3B3A7CF32DEFB8E5082C089AC8E3D371DA60A7B2
All thanks go to the original releaser