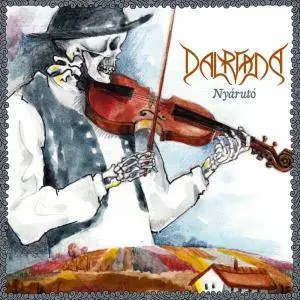 Dalriada - Nyárutó (2018)
Hungary | MP3 CBR 320 Kbps | 129 MB
Folk Metal | Label : Nail Records
Nyárutó is going to be the 8th studio album of the ultimate Hungarian folk metal band, Dalriada. Album title refers to the folkish name of the month August – following the traditions as every Dalriada album dedicated to a month in line. One unified, ambitious, in terms of its musical keys something similar to the previous records' vehement wildness album was born, which is still deeply interlaced by the power and effect of the Hungarian folk music and cultural patrimony. Amongst the covered themes there's one saga from Szent István's period (the founding of the hungarian state) but ancient Hungarian folk tales, a song about the medieval witch trials, some tracks in remembrance of the "hungarian El Cid", Thury György ("turkish beater valiant") also can be found.
Tracklist:
1. Megöltek egy legényt
2. Hollórege
3. Táltosok álma
4. Nyárutó
5. Búsirató
6. Thury György Balladája 1. rész
7. Laus Deo
8. Thury György Balladája 2. rész
9. Komámasszon
10. Áldja meg az Isten
11. Hajnali
Total playing time 56:28