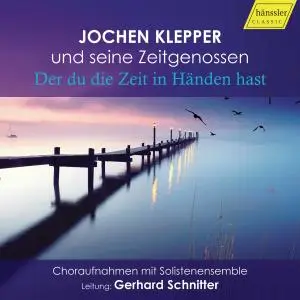 Das Solistenensemble - Der du die Zeit in Händen hast (2019)
WEB FLAC (tracks+booklet) - 240 MB | Tracks: 16 | 50:24 min
Style: Classical | Label: haenssler CLASSIC
Jochen Klepper was a German writer, poet, and journalist who lived during the early 20th century. The son of a Lutheran minister, he initially studied theology at the University of Breslau, but dropped out to become a radio journalist in Berlin before being ostracized by the Nazis for his marriage to a Jewish woman. His writings were largely Christian. His works are the focus of this new release, as well as writings by other Christian authors including Dietrich Bonhoeffer, Guillaume Franc, Siegfried Rams, and others.
Tracklist:
01. Er weckt mich alle Morgen
02. Gelobt sei deine Treu
03. Der Tag ist seiner Höhe nah
04. Es mag sein, dass alles fällt
05. Ja, ich will euch tragen
06. Herr, wir stehen Hand in Hand
07. Nun sich das Herz von allem löste
08. Wir glauben Gott im höchsten Thron
09. Gott wohnt in einem Lichte
10. Ich liege Herr in deiner Hut
11. Abend ward, bald kommt die Nacht
12. Die Nacht ist vorgedrungen
13. Sieh nicht an, was du selber bist
14. Du Kind, zu dieser heiligen Zeit
15. Von guten Mächten wunderbar geborgen
16. Der du die Zeit in Händen hast

FILE: 01. Er weckt mich alle Morgen.flac
Size: 19414598 Hash: 2F47866964761F23DFE9619E3830BEC5 Accuracy: -m0
Conclusion: CDDA 100%
Signature: 7BFCBB2B15648EF5DB805D3D5DCE74D384C3C499
FILE: 02. Gelobt sei deine Treu.flac
Size: 13347130 Hash: C9AFA130CD62813C3AB392679862344A Accuracy: -m0
Conclusion: CDDA 100%
Signature: 4FB809DBF25A9E4E4A3A3C7F06810FB48619798D
FILE: 03. Der Tag ist seiner Höhe nah.flac
Size: 15015701 Hash: 8DEB610CA671248B8EEEA71067E84760 Accuracy: -m0
Conclusion: CDDA 99%
Signature: 74182677C12D91141ABC0643CB963326604AFFFC
FILE: 04. Es mag sein, dass alles fällt.flac
Size: 14438641 Hash: F84046DB3A0A20CDEFE664D7BD2185EC Accuracy: -m0
Conclusion: CDDA 100%
Signature: BB83F4645AF1FA9D53703EB8A8A9E15A814C61CD
FILE: 05. Ja, ich will euch tragen.flac
Size: 12288712 Hash: 07DF39CAE2BFA0F416EFCFBD0D1E76C6 Accuracy: -m0
Conclusion: CDDA 100%
Signature: 084736E30DEC27ADC7DC5F8542B6F388EE85C8A0
FILE: 06. Herr, wir stehen Hand in Hand.flac
Size: 17959513 Hash: 03903B3A0B4E885EB9070CE883134330 Accuracy: -m0
Conclusion: CDDA 100%
Signature: B63D9E37E71C025F9B8D73C7098A0C290EF86C9B
FILE: 07. Nun sich das Herz von allem löste.flac
Size: 7997002 Hash: 84D95D45173982A459A91B54B4ED6D1D Accuracy: -m0
Conclusion: CDDA 99%
Signature: D296C54C3D046403A84D861B86EEC40B5526C052
FILE: 08. Wir glauben Gott im höchsten Thron.flac
Size: 11802267 Hash: 92C2A2F8967CA53EDE631177CBB3CD97 Accuracy: -m0
Conclusion: CDDA 100%
Signature: 5D43B686CF11C4336CEEE02E528AD05E86E4316C
FILE: 09. Gott wohnt in einem Lichte.flac
Size: 15540608 Hash: 57584AC462A062329051C7AF364DAE96 Accuracy: -m0
Conclusion: CDDA 100%
Signature: A9AAC70F0030459BD4DE99B4EE0D0D87F2F65B2A
FILE: 10. Ich liege Herr in deiner Hut.flac
Size: 15510081 Hash: BB8E6ECAA91B76FC6382111BD74A3E50 Accuracy: -m0
Conclusion: CDDA 100%
Signature: 9717408BB08D524A3A2AF13CABC04470D088EBD4
FILE: 11. Abend ward, bald kommt die Nacht.flac
Size: 11311891 Hash: 1A1B5A53CD79907F28E02892C0A0D39A Accuracy: -m0
Conclusion: CDDA 100%
Signature: 007D7E6F07950BEA8D4F2B6F15E330EFE40D79F2
FILE: 12. Die Nacht ist vorgedrungen.flac
Size: 18380897 Hash: 7C72A8D9D0A2724CB2C8279965981811 Accuracy: -m0
Conclusion: CDDA 99%
Signature: B3F1A1267F7304A596BA282B6EABF325CD8B6877
FILE: 13. Sieh nicht an, was du selber bist.flac
Size: 18891441 Hash: 2D0A1B1F6CAD6A5D932D5A7927450757 Accuracy: -m0
Conclusion: CDDA 100%
Signature: 9019F22CC2CC746FA06F4070831906FCEB43F14F
FILE: 14. Du Kind, zu dieser heiligen Zeit.flac
Size: 17260325 Hash: D26359DC7CC84F30BC5AB1D2E9BF2C17 Accuracy: -m0
Conclusion: CDDA 99%
Signature: 36B2FFCF2B5F308162A984478FDAB8091A710475
FILE: 15. Von guten Mächten wunderbar geborgen.flac
Size: 22450711 Hash: B6723E784AD0689373601E483650B2FD Accuracy: -m0
Conclusion: CDDA 100%
Signature: 79916544842B50099CE3C50F02145BDD5472E315
FILE: 16. Der du die Zeit in Händen hast.flac
Size: 18924224 Hash: 0B49473F67145CD81764C15303581204 Accuracy: -m0
Conclusion: CDDA 100%
Signature: 67A0FADCE10EDABEE3642B1837BE9A6CE7F5FD92