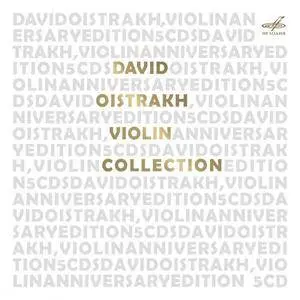 David Oistrakh - David Oistrakh. Collection (2018)
WEB FLAC (tracks) / MP3 CBR 320 kbps | 5:40:48 | 1,4 Gb
Genre: Classical / Label: Melodiya
1968 saw wide celebrations for the violinist's sixtieth birthday, which included a celebratory performance in the Great Hall of Moscow Conservatory of the Tchaikovsky concerto, one of his favourite works, under the baton of Gennady Rozhdestvensky. Oistrakh was now seen as one of the great violinists of his time, among such luminaries as Romania's George Enescu and Lithuanian-born Jascha Heifetz. Oistrakh suffered a heart attack as early as 1964. He survived and continued to work at a furious pace. He had already become one of the principal cultural ambassadors for the Soviet Union to the West in live concerts and recordings. After conducting a cycle of Brahms with the Concertgebouw Orchestra, he died from another heart attack in Amsterdam in 1974. His remains were returned to Moscow, where he was interred in Novodevichy Cemetery.
Track List:
CD1
01. Piano Trio, Op. 50 "In Memory of a Great Artist": I. Pezzo elegiaco
02. Concert for Violin, Piano and String Quartet, Op. 21: I. Décidé
03. Concert for Violin, Piano and String Quartet, Op. 21: III. Grave
04. Concert for Violin, Piano and String Quartet, Op. 21: IV. Finale-Très animé
05. Introduction et rondo capriccioso, Op. 28
CD2
01. Violin Sonata No. 5 in F Minor, BWV 1018: I. Largo
02. Violin Sonata No. 5 in F Minor, BWV 1018: II. Allegro
03. Violin Sonata No. 5 in F Minor, BWV 1018: III. Adagio
04. Violin Sonata No. 5 in F Minor, BWV 1018: IV. Vivace
05. Violin Sonata in A Major, Op. Posth. 162, D. 574: I. Allegro moderato
06. Violin Sonata in A Major, Op. Posth. 162, D. 574: II. Scherzo-Presto
07. Violin Sonata in A Major, Op. Posth. 162, D. 574: III. Andantino
08. Violin Sonata in A Major, Op. Posth. 162, D. 574: IV. Allegro vivace
09. Violin Sonata No. 2 in G Major, Op. 13: I. Lento doloroso-Allegro vivace
10. Violin Sonata No. 2 in G Major, Op. 13: II. Allegretto tranquillo
11. Violin Sonata No. 2 in G Major, Op. 13: III. Allegro animato
CD3
01. Violin Sonata in B-Flat Major, K. 454: I. Largo – Allegro (Live)
02. Violin Sonata in B-Flat Major, K. 454: II. Andante (Live)
03. Violin Sonata in B-Flat Major, K. 454: III. Allegretto (Live)
04. Violin Sonata No. 2 in D Major, Op. 94bis: I. Moderato (Live)
05. Violin Sonata No. 2 in D Major, Op. 94bis: II. Scherzo-Presto (Live)
06. Violin Sonata No. 2 in D Major, Op. 94bis: III. Andante (Live)
07. Violin Sonata No. 2 in D Major, Op. 94bis: IV. Allegro con brio (Live)
08. Violin Sonata in G Minor, L. 140: I. Allegro vivo (Live)
09. Violin Sonata in G Minor, L. 140: II. Intermède-Fantasque et léger (Live)
10. Violin Sonata in G Minor, L. 140: III. Finale-Très animé (Live)
11. Theme and Variations for Violin and Piano (Live)
12. Mazurek, Op. 49 (Live)
13. Belshazzar's Feast, Op. 51: No. 3, Nocturne (Live)
14. Soirées de Vienne, S. 427: No. 6 in A Minor (Arr. David Oistrakh) (Live)
CD4
01. Seven Romances on Poems by Alexander Blok, Op. 127: I. Song of Ophelia (Live)
02. Seven Romances on Poems by Alexander Blok, Op. 127: II. Gamayun, the Bird of Prophecy (Live)
03. Seven Romances on Poems by Alexander Blok, Op. 127: III. We Were Together (Live)
04. Seven Romances on Poems by Alexander Blok, Op. 127: IV. Gloom Enwraps the Sleeping City (Live)
05. Seven Romances on Poems by Alexander Blok, Op. 127: V. The Storm (Live)
06. Seven Romances on Poems by Alexander Blok, Op. 127: VI. Secret Signs (Live)
07. Seven Romances on Poems by Alexander Blok, Op. 127: VII. Music (Live)
08. Violin Sonata in G Major, Op. 134: I. Andante (Live)
09. Violin Sonata in G Major, Op. 134: II. Allegretto (Live)
10. Violin Sonata in G Major, Op. 134: III. Largo (Live)
11. David Oistrakh's Speech in January 8, 1969 After Working Session of Secretariat of Union of Composers (Live)
CD5
01. Violin Concerto No. 1 in B-Flat Major, K. 207: I. Allegro moderato (Live)
02. Violin Concerto No. 1 in B-Flat Major, K. 207: II. Adagio (Live)
03. Violin Concerto No. 1 in B-Flat Major, K. 207: III. Presto (Live)
04. Violin Concerto in D Major, Op. 77: I. Allegro non troppo (Live)
05. Violin Concerto in D Major, Op. 77: II. Adagio (Live)
06. Violin Concerto in D Major, Op. 77: III. Allegro giocoso, ma non troppo vivace (Live)
07. Violin Concerto in D Major: I. Toccata (Live)
08. Violin Concerto in D Major: II. Aria I (Live)
09. Violin Concerto in D Major: III. Aria II (Live)
10. Violin Concerto in D Major: IV. Capriccio (Live)
11. Preludes, Book 1, L. 117: VIII. La Fille Aux Cheveux De Lin (Arr. Arthur Hartmann) (Bonus Track, Live)
ANALYZER: auCDtect: CD records authenticity detector, version 0.8.2
Copyright © 2004 Oleg Berngardt. All rights reserved.
Copyright © 2004 Alexander Djourik. All rights reserved.


FILE: 1.01. Piano Trio, Op. 50 In Memory of a Great Artist I. Pezzo elegiaco.flac
Size: 80020276 Hash: 08344B7A567C2252A20ADF05C56CA761 Accuracy: -m40
Conclusion: CDDA 100%
Signature: E11035886326C44C429FDC5FE8666F15EA339C40
FILE: 1.02. Concert for Violin, Piano and String Quartet, Op. 21 I. Décidé.flac
Size: 40834981 Hash: 9E34FB87376DF87606A04979EE0C642A Accuracy: -m40
Conclusion: CDDA 86%
Signature: 3202D32D4507F89877ED6328897EB7F4B6006D81
FILE: 1.03. Concert for Violin, Piano and String Quartet, Op. 21 III. Grave.flac
Size: 25585827 Hash: 04B055833D909A73CCB8C3AE3DE795E4 Accuracy: -m40
Conclusion: CDDA 100%
Signature: A12F025D77AD547B588DA4273C1825BFD32C61C7
FILE: 1.05. Introduction et rondo capriccioso, Op. 28.flac
Size: 26527197 Hash: 3B0DA829741D0BFEC37367366EC3C6D6 Accuracy: -m40
Conclusion: CDDA 43%
Signature: 7ECA25FEC0D865CBBCAFABB8B5176D6FCE7B6015
FILE: 2.06. Violin Sonata No. 5 in F Minor, BWV 1018 I. Largo.flac
Size: 36763410 Hash: BFB5C2B5B47631DD5176D1DA5B98CB41 Accuracy: -m40
Conclusion: CDDA 100%
Signature: 16EB223EEF60CB8BC89C3111668612CF4C82C4CC
FILE: 2.07. Violin Sonata No. 5 in F Minor, BWV 1018 II. Allegro.flac
Size: 20166791 Hash: DA797445C617B3B30C7CECBDA8C4CA0A Accuracy: -m40
Conclusion: CDDA 100%
Signature: 02AA7E11AA5A9F69004F3C8AD404F29A25A1608C
FILE: 1.04. Concert for Violin, Piano and String Quartet, Op. 21 IV. Finale - Très animé.flac
Size: 30623951 Hash: 70C6035E9C59321E82AB472A6C1709EE Accuracy: -m8
Conclusion: MPEG 100%
Signature: 2D523773F15A30D8003E616F10B40B7046E07C88
FILE: 2.08. Violin Sonata No. 5 in F Minor, BWV 1018 III. Adagio.flac
Size: 17619314 Hash: 2818D43EEF1D21B81EB51E6A6A05176F Accuracy: -m40
Conclusion: CDDA 100%
Signature: 57A8E834536A94FAF6EFB29A180B8C5A94B0C00E
FILE: 2.09. Violin Sonata No. 5 in F Minor, BWV 1018 IV. Vivace.flac
Size: 10900501 Hash: 172F081A0410945F731A51989DEEB78D Accuracy: -m40
Conclusion: CDDA 100%
Signature: 97268BF14E90F99FD96E95609650EC0C347F721E
FILE: 2.10. Violin Sonata in A Major, Op. Posth. 162, D. 574 I. Allegro moderato.flac
Size: 40987120 Hash: 73E8C3036060ED7FD0144B1E8F284E30 Accuracy: -m40
Conclusion: CDDA 100%
Signature: BF0A1BB80DFF61C66EDD32A7FA6008F44BDB0000
FILE: 2.11. Violin Sonata in A Major, Op. Posth. 162, D. 574 II. Scherzo - Presto.flac
Size: 19421154 Hash: 6CA38EB776A8409ACFEEBEE0A90FD4B0 Accuracy: -m40
Conclusion: CDDA 100%
Signature: A2F2BCBDB81828F4EFC211BD8C5C2111EBB9FD3E
FILE: 2.12. Violin Sonata in A Major, Op. Posth. 162, D. 574 III. Andantino.flac
Size: 19073132 Hash: 6D883BE8DC7BC95AC9C8E61AC7C6AB80 Accuracy: -m40
Conclusion: CDDA 100%
Signature: 68B821CE8994933AA4822184D3332F3C2D7F25F6
FILE: 2.13. Violin Sonata in A Major, Op. Posth. 162, D. 574 IV. Allegro vivace.flac
Size: 21656406 Hash: 6DB4255ED9CF5E3D2265AA9B457447A0 Accuracy: -m40
Conclusion: CDDA 100%
Signature: F101D110022AB0AEA4A7B23682CF08E1B135F512
FILE: 2.14. Violin Sonata No. 2 in G Major, Op. 13 I. Lento doloroso - Allegro vivace.flac
Size: 36646471 Hash: F83CC760C94EE4B9CB09954F1D67B449 Accuracy: -m40
Conclusion: CDDA 62%
Signature: C4849CB8ACD47C52D2E56F9E429625A6F4DCBD95
FILE: 2.16. Violin Sonata No. 2 in G Major, Op. 13 III. Allegro animato.flac
Size: 22713816 Hash: 91BAF2CC50FC2DD6A7335984E16B1941 Accuracy: -m40
Conclusion: CDDA 49%
Signature: AC4C20727E9EE3C431B212AB43868DC834EE331B
FILE: 3.18. Violin Sonata in B-Flat Major, K. 454 II. Andante (Live).flac
Size: 38246191 Hash: C9D4FD152E5D76F6AB65331BC5048ECE Accuracy: -m40
Conclusion: CDDA 92%
Signature: 96512E566A6B82F3DB533B6F07CE73BA5B8D19CA
FILE: 3.19. Violin Sonata in B-Flat Major, K. 454 III. Allegretto (Live).flac
Size: 31034625 Hash: 28C9C9D8C132867E5F7FBAF34CA1D873 Accuracy: -m40
Conclusion: CDDA 42%
Signature: 46B3D99CDA360C7D4F122B183769F3DF9F74D470
FILE: 3.21. Violin Sonata No. 2 in D Major, Op. 94bis II. Scherzo - Presto (Live).flac
Size: 23041239 Hash: 76F09BAC9E5639821B1361531AEEEE23 Accuracy: -m40
Conclusion: CDDA 87%
Signature: D9F5A78F5D631ACC11135A48EA9A98BFBAE520C3
FILE: 3.22. Violin Sonata No. 2 in D Major, Op. 94bis III. Andante (Live).flac
Size: 16283349 Hash: 36A3B975BF10063D7E5E67D991075607 Accuracy: -m40
Conclusion: CDDA 43%
Signature: EE6929D2E3682F3FCDD699F1C8FF4398E1A489A0
FILE: 3.23. Violin Sonata No. 2 in D Major, Op. 94bis IV. Allegro con brio (Live).flac
Size: 35341057 Hash: C0DF721ABEF0C12888DE0B4A869E92F7 Accuracy: -m40
Conclusion: CDDA 62%
Signature: 429198CDFCB948DAB418EB424C5DC4C2D4286E39
FILE: 3.24. Violin Sonata in G Minor, L. 140 I. Allegro vivo (Live).flac
Size: 22492831 Hash: ED175E8ED2176908AD016AE504476F4C Accuracy: -m40
Conclusion: CDDA 100%
Signature: 29A460F72CE25473361429312B4027E58E21C792
FILE: 3.25. Violin Sonata in G Minor, L. 140 II. Intermède - Fantasque et léger (Live).flac
Size: 18224265 Hash: 2DB426797148160B4646861EFC7AA5AB Accuracy: -m40
Conclusion: CDDA 100%
Signature: 7D0E95C6ABEF7813DAA5F633F90832FECB922479
FILE: 3.27. Theme and Variations for Violin and Piano (Live).flac
Size: 33555013 Hash: 064EAB3E46681870DBF30CC178258274 Accuracy: -m40
Conclusion: CDDA 94%
Signature: D9C60A40184B05211EDDB31BF5E6AE9B4CE33F00
FILE: 3.28. Mazurek, Op. 49 (Live).flac
Size: 29770583 Hash: 60486776A12C0C56DA55DDE399421DD6 Accuracy: -m40
Conclusion: CDDA 87%
Signature: FE20E33F2B17F845EF72ADDC9E95627E5AD9A8A1
FILE: 3.30. Soirées de Vienne, S. 427 No. 6 in A Minor (Arr. David Oistrakh) (Live).flac
Size: 21132044 Hash: B2E8B21DB454C81B6BF775A3169562AB Accuracy: -m40
Conclusion: CDDA 100%
Signature: B44F5F443D8EB07287EB6F5BF8ADFBEA9AFAC1F2
FILE: 4.31. Seven Romances on Poems by Alexander Blok, Op. 127 I. Song of Ophelia (Live).flac
Size: 11379305 Hash: 19D067633C08447A1BD2C363ABE5197E Accuracy: -m40
Conclusion: CDDA 100%
Signature: B9C7557BCCBDE6BC6DD04A5725F2F8213757B2FB
FILE: 4.32. Seven Romances on Poems by Alexander Blok, Op. 127 II. Gamayun, the Bird of Prophecy (Live).flac
Size: 15114002 Hash: 609A875F46CED2DACEEDCF6B9EBFB121 Accuracy: -m40
Conclusion: CDDA 100%
Signature: BB6EC904DD1EF73A8DFA24237E84BEC10CD01AA5
FILE: 4.33. Seven Romances on Poems by Alexander Blok, Op. 127 III. We Were Together (Live).flac
Size: 12304035 Hash: 434A1497BE1ABB5DF9E8890DFAB44A9D Accuracy: -m40
Conclusion: CDDA 100%
Signature: 984D12EA0078F614253A6486EDA482E75E51E7FB
FILE: 4.34. Seven Romances on Poems by Alexander Blok, Op. 127 IV. Gloom Enwraps the Sleeping City (Live).flac
Size: 11915039 Hash: 264F8627D735CB893C30AE08BD6CF368 Accuracy: -m40
Conclusion: CDDA 92%
Signature: 338C256512357E9C87C9BB4515C490851ED310DB
FILE: 4.35. Seven Romances on Poems by Alexander Blok, Op. 127 V. The Storm (Live).flac
Size: 9904785 Hash: 8017F2EDC3D18C5F2B38D8B7136E3C9F Accuracy: -m40
Conclusion: CDDA 100%
Signature: CB0B44D926BD026E8041836AADE48D4DB897B234
FILE: 4.36. Seven Romances on Poems by Alexander Blok, Op. 127 VI. Secret Signs (Live).flac
Size: 19936933 Hash: 024F9432A9C8C19A3744C2D0147D24DA Accuracy: -m40
Conclusion: CDDA 100%
Signature: 183FB30C3042844307FB869E02691D37AA78251A
FILE: 4.37. Seven Romances on Poems by Alexander Blok, Op. 127 VII. Music (Live).flac
Size: 27032559 Hash: A70D55D848F995164D91F05B21B21B20 Accuracy: -m40
Conclusion: CDDA 100%
Signature: 96548DF3C5C971FC9D40E2413EB8913751C2C0D7
FILE: 4.38. Violin Sonata in G Major, Op. 134 I. Andante (Live).flac
Size: 25128809 Hash: 0961B167D1065CB739E7AF6A095641A2 Accuracy: -m40
Conclusion: CDDA 100%
Signature: 156D79E73F0934790F7B2DD2649A302D79188B39
FILE: 4.40. Violin Sonata in G Major, Op. 134 III. Largo (Live).flac
Size: 33990747 Hash: C5DDA76189211F334B272EEAFE5CBA9B Accuracy: -m40
Conclusion: CDDA 100%
Signature: 45CAB8C34E6064A9153784D16FBEE0A8D955BB7D
FILE: 4.39. Violin Sonata in G Major, Op. 134 II. Allegretto (Live).flac
Size: 20275023 Hash: 59D2ECD90018DB8DA10D063AB14A8003 Accuracy: -m8
Conclusion: MPEG 89%
Signature: 0029433361BB737BFBC409C3C0F0F399FD7648E9
FILE: 4.41. David Oistrakh's Speech in January 8, 1969 After Working Session of Secretariat of Union of Composers (Live).flac
Size: 15770153 Hash: D2AE139DF190A468CA1CE66354D31C83 Accuracy: -m40
Conclusion: CDDA 99%
Signature: ADDD7E502F56CA46271BF623E914532429873233
FILE: 5.42. Violin Concerto No. 1 in B-Flat Major, K. 207 I. Allegro moderato (Live).flac
Size: 43934098 Hash: 67A10B070A3B6DC0067E4EAAF5390D3D Accuracy: -m40
Conclusion: CDDA 100%
Signature: 4D18D53B97B0BD7B62381F6F484B9296D80ACD71
FILE: 5.43. Violin Concerto No. 1 in B-Flat Major, K. 207 II. Adagio (Live).flac
Size: 41187094 Hash: E646B5836F9D8E7043651D2FED58DD1D Accuracy: -m40
Conclusion: CDDA 100%
Signature: 3220C678EA737144E2F2CD3A6BA3423F4F9C1477
FILE: 5.44. Violin Concerto No. 1 in B-Flat Major, K. 207 III. Presto (Live).flac
Size: 32284491 Hash: 99EA6FEB0AD5931CD88FE4F309CB1390 Accuracy: -m40
Conclusion: CDDA 100%
Signature: 6612D87BA1D48777F2E76E54E350DA08F66151CD
FILE: 5.45. Violin Concerto in D Major, Op. 77 I. Allegro non troppo (Live).flac
Size: 118597746 Hash: 4D0B4B9E06A9ECC6C4D25E352E516B82 Accuracy: -m40
Conclusion: CDDA 100%
Signature: 46E260B9184A352947876D52AFFC12A08F775862
FILE: 5.46. Violin Concerto in D Major, Op. 77 II. Adagio (Live).flac
Size: 45779569 Hash: FE1B253056EB272DAEF92541F770A228 Accuracy: -m40
Conclusion: CDDA 100%
Signature: 9A266FE04116FAEBF8F378720D62EBBC3ED8BDFE
FILE: 5.47. Violin Concerto in D Major, Op. 77 III. Allegro giocoso, ma non troppo vivace (Live).flac
Size: 44443411 Hash: 39495026F3DA9B708004F737BCD58156 Accuracy: -m40
Conclusion: CDDA 100%
Signature: D1CD20121655D62035CDA940C5F54A4F78DCAF38
FILE: 5.48. Violin Concerto in D Major I. Toccata (Live).flac
Size: 31091252 Hash: 7D86B8BF274F3F11E185F52CC37A6ECB Accuracy: -m40
Conclusion: CDDA 99%
Signature: 107DD7F361702B192A404420BE2574FE9DF533CF
FILE: 5.49. Violin Concerto in D Major II. Aria I (Live).flac
Size: 24429368 Hash: 8E56E36297F255005127AB9041AF59CF Accuracy: -m40
Conclusion: CDDA 100%
Signature: C49985B22CD710E82872BF0A0852723DDC044276
FILE: 5.50. Violin Concerto in D Major III. Aria II (Live).flac
Size: 25497926 Hash: A0AA7F6119C5E354977409C76BFAF7DB Accuracy: -m40
Conclusion: CDDA 100%
Signature: 548DF8856B251389F0AACE7696D2FFCE43B32144
FILE: 5.51. Violin Concerto in D Major IV. Capriccio (Live).flac
Size: 34971212 Hash: 4D65A7984DC70956CE741CE9CBD185E3 Accuracy: -m40
Conclusion: CDDA 99%
Signature: 0A5550A93C7C826273906096960F9DFE631B5D1A
FILE: 5.52. Preludes, Book 1, L. 117 VIII. La fille aux cheveux de lin (Arr. Arthur Hartmann) (Bonus Track, Live).flac
Size: 12423321 Hash: 1BCE320F57334AD852838578975E9FCB Accuracy: -m40
Conclusion: CDDA 100%
Signature: D33BC6C12F39C30C972CC25BBE5F135A085C4B94
FILE: 3.29. Belshazzar's Feast, Op. 51 No. 3, Nocturne (Live).flac
Size: 14501743 Hash: 98A8E9ACA1C070FE9C78A63A0DFA3858 Accuracy: -m0
Conclusion: CDDA 42%
Signature: 98BC5C5293FEDD80A330247A441AECAC265AC6A6
FILE: 2.15. Violin Sonata No. 2 in G Major, Op. 13 II. Allegretto tranquillo.flac
Size: 29275234 Hash: 1F9031A3E78E20B6A88A5646977D0A5B Accuracy: -m0
Conclusion: CDDA 92%
Signature: 7C6A52856C14ADC586C56754C96A04BFBBEBA729
FILE: 3.17. Violin Sonata in B-Flat Major, K. 454 I. Largo – Allegro (Live).flac
Size: 32618263 Hash: A58FDA31038CF4C7FCBC9F155F49609A Accuracy: -m0
Conclusion: CDDA 43%
Signature: 58D507F408AC653D80BF2FAD181859393B531858
FILE: 3.20. Violin Sonata No. 2 in D Major, Op. 94bis I. Moderato (Live).flac
Size: 29092095 Hash: E0CFEA0D0E1CC84C88403754722BF1D8 Accuracy: -m0
Conclusion: CDDA 43%
Signature: A279025F45E519A2DCFEFF24123F03F98F322290
FILE: 3.26. Violin Sonata in G Minor, L. 140 III. Finale - Très animé (Live).flac
Size: 19530954 Hash: F71B6AE03235BB5AA91ABFB282BC3988 Accuracy: -m0
Conclusion: CDDA 86%
Signature: 63E55E6679BBF6CB7CDD3C7A6711E2FF10164D19