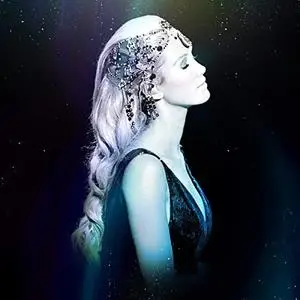 Delta Goodrem - Believe Again: Australian Tour 2009 (Live) (2020)
FLAC tracks | 01:16:47 | 557 Mb
Genre: Pop / Label: Sony Music
Australian singer/actress Delta Goodrem got her start on the popular soap opera Neighbours, and parlayed her fame from the show into a singing career. Her first album, the million-plus-selling Innocent Eyes, arrived in 2003 and featured songs co-written by pop songwriters such as Cathy Dennis. At that time, Goodrem was splitting her time between Neighbours and her pop career, but her diagnosis of Hodgkin's lymphoma forced her to slow down and re-evaluate her life. The direction for what was to become her next batch of songs came from Goodrem's physical and mental therapy. Recruiting a team of collaborators that included Dennis, Gary Barlow, and songwriter/producer Guy Chambers, who had also worked with pop stars including Robbie Williams, Goodrem used her experiences – good and bad – to create Mistaken Identity, which was released in the U.S. in summer 2005. Her next project involved a different team, including Westlife's Brian McFadden for his pop acumen, Stuart Crichton for his dance smarts, and Nashville-based Tommy Lee James for ballads.
Track List:
01. Delta Goodrem - Intro (Live)
02. Delta Goodrem - Believe Again (Live at the State Theatre)
03. Delta Goodrem - Innocent Eyes (Live at the State Theatre)
04. Delta Goodrem - In This Life (Live at the State Theatre)
05. Delta Goodrem - I Can't Break It To My Heart (Live at the State Theatre)
06. Delta Goodrem - Not Me, Not I (Live at the State Theatre)
07. Delta Goodrem - Out Of The Blue (Live at the State Theatre)
08. Delta Goodrem - Mistaken Identity (Live at the State Theatre)
09. Delta Goodrem - You Will Only Break My Heart (Live at the State Theatre)
10. Delta Goodrem - Born to Try (Live at the State Theatre)
11. Delta Goodrem - Butterfly (Live at the State Theatre)
12. Delta Goodrem - That's Freedom (Live at the State Theatre)
13. Delta Goodrem - Running Away (Live at the State Theatre)
14. Delta Goodrem - Queen Of The Night (Live at the State Theatre)
15. Delta Goodrem - Sweet Dreams (Live at the State Theatre)
16. Delta Goodrem - Predictable (Live at the State Theatre)
17. Delta Goodrem - Almost Here (Live at the State Theatre)
18. Delta Goodrem - Together We Are One _ One Day (Live at the State Theatre)
19. Delta Goodrem - Lost Without You (Live at the State Theatre)
20. Delta Goodrem - Believe Again (Live Reprise)
ANALYZER: auCDtect: CD records authenticity detector, version 0.8.2
Copyright © 2004 Oleg Berngardt. All rights reserved.
Copyright © 2004 Alexander Djourik. All rights reserved.


FILE: 01 - Intro (Live).flac
Size: 5918551 Hash: AA9D562DD1B159784A7E9CFA1DFBB5C8 Accuracy: -m40
Conclusion: CDDA 100%
Signature: D74E942E9093946666045AC995D00FA49C59B275
FILE: 02 - Believe Again (Live at the State Theatre).flac
Size: 38605777 Hash: 25E6F58DB04A4D20EC8FB7F2DB3840EE Accuracy: -m40
Conclusion: CDDA 100%
Signature: EDE959AE6FE386A6F02E3595740D69F8099B1C12
FILE: 03 - Innocent Eyes (Live at the State Theatre).flac
Size: 40301648 Hash: 59115FFF4A870B68BB72EE6E848E899D Accuracy: -m40
Conclusion: CDDA 100%
Signature: 9BE75D0DF56C59EF444225B9D8D94DE7FBC7C027
FILE: 04 - In This Life (Live at the State Theatre).flac
Size: 34513969 Hash: DD4FBB36AD6C4226CE5F0F40F122F82C Accuracy: -m40
Conclusion: CDDA 99%
Signature: 33BF7E054BC0AA2A4263FDDCCAA2E6DAB3C1EB8D
FILE: 05 - I Can't Break It To My Heart (Live at the State Theatre).flac
Size: 30089223 Hash: 840D2B7A0EC46F374BCE900892891091 Accuracy: -m40
Conclusion: CDDA 100%
Signature: 07C80923F61F5FDF2B840A095A28FC77DF970124
FILE: 06 - Not Me, Not I (Live at the State Theatre).flac
Size: 32101275 Hash: 25F055DC9F7DC5B46322FC7BDEF22444 Accuracy: -m40
Conclusion: CDDA 100%
Signature: 90E4B9802845522AB0CC1EFD749289E4807CFF10
FILE: 07 - Out Of The Blue (Live at the State Theatre).flac
Size: 36492737 Hash: 786265C32BC962F09CDE4F32FA7CBC25 Accuracy: -m40
Conclusion: CDDA 99%
Signature: C89376DF723417A9E5D5BFBF54BDF21C8239BEEF
FILE: 08 - Mistaken Identity (Live at the State Theatre).flac
Size: 36707180 Hash: 7D8AB79AB2F1A1D06A57E03DA0ECF772 Accuracy: -m40
Conclusion: CDDA 100%
Signature: A797FEAB7FE35B1EDD11A5757DAA9924B0026A60
FILE: 09 - You Will Only Break My Heart (Live at the State Theatre).flac
Size: 44100929 Hash: F25D1CE91C3770CF535B0082ACC46430 Accuracy: -m40
Conclusion: CDDA 100%
Signature: 4102DCD07EE28D9889AB66B7B6EBC1566F123B35
FILE: 10 - Born to Try (Live at the State Theatre).flac
Size: 30682207 Hash: 1B0ADD443744CBA583998BEE365F9BF0 Accuracy: -m40
Conclusion: CDDA 100%
Signature: A0984DD3359D7F932F76F464F386EC7C19042D27
FILE: 11 - Butterfly (Live at the State Theatre).flac
Size: 28924104 Hash: 2AE1410DEBECBC81DC99CE6BB4B7466D Accuracy: -m40
Conclusion: CDDA 100%
Signature: C6948AA9C9CEAD7990145CD2E6F441A6E87C0B81
FILE: 12 - That's Freedom (Live at the State Theatre).flac
Size: 29276574 Hash: FE0B4BB258655C5F195E509F7834E470 Accuracy: -m40
Conclusion: CDDA 100%
Signature: 53918A574B0A4BB2E4486C36A630549B65405122
FILE: 13 - Running Away (Live at the State Theatre).flac
Size: 24470313 Hash: 363726AF80B812B218B83DB7687AE49B Accuracy: -m40
Conclusion: CDDA 100%
Signature: AC51D9CD0FFD27A5779000BE8BA4E57E6F370F32
FILE: 14 - Queen Of The Night (Live at the State Theatre).flac
Size: 23236481 Hash: F8A1E25A75AE5CA93EFCA1ABE312ECB5 Accuracy: -m40
Conclusion: CDDA 100%
Signature: E47529341EC06AC556E394CF060F4FF8650F5B18
FILE: 15 - Sweet Dreams (Live at the State Theatre).flac
Size: 17613760 Hash: 5185F782D5F7D1F271E97BADEF5A9BE6 Accuracy: -m40
Conclusion: CDDA 100%
Signature: 6549161B24D4FF7C36C483FE20D729FF6555695C
FILE: 16 - Predictable (Live at the State Theatre).flac
Size: 26031965 Hash: D52B04CEDF2BB7A89C9F00476A3B1F87 Accuracy: -m40
Conclusion: CDDA 100%
Signature: B3D247D553398BFB6B364C67E2C4D6EC40B8C5C7
FILE: 17 - Almost Here (Live at the State Theatre).flac
Size: 26077910 Hash: 80E5E75B31CE72A24A25E6295833DEAE Accuracy: -m40
Conclusion: CDDA 99%
Signature: F94FE8D64F1DEF373E43B99FF3581930CDD4625D
FILE: 18 - Together We Are One - One Day (Live at the State Theatre).flac
Size: 42648756 Hash: 29586885C326E858829EED46F4B388F1 Accuracy: -m40
Conclusion: CDDA 100%
Signature: 7B2A6AF934006A057D095DD2BCD3E004DAA8AC41
FILE: 19 - Lost Without You (Live at the State Theatre).flac
Size: 30188964 Hash: 9315086D1FB2DD073F1DE9A48F3ABA28 Accuracy: -m40
Conclusion: CDDA 100%
Signature: 9A2A6A2F4400F164A4159424B9D39C0086886B42
FILE: 20 - Believe Again (Live Reprise).flac
Size: 8487840 Hash: 7CB811DA055C94EE6512C36D5456F24E Accuracy: -m40
Conclusion: CDDA 100%
Signature: 77EF12A9AC8A70AD91E2642276AE84FC29EB6E23