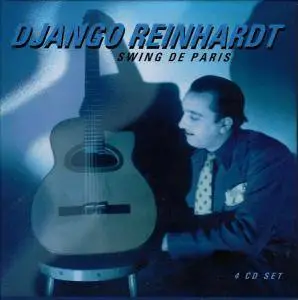 Django Reinhardt - Swing De Paris (4CD Box Set, 2003)
Swing, Jazz, Gypsy jazz | MP3 CBR 320 kbps | 741 Mb
Label: Proper Box UK
Today, nearly after fifty years after his death, Django Reinhardt's guitar artistry continues to amaze both fans and fellow musician's. This box give 103 reasons for this continuous adulation. Spanning 1934-1952, we include legendary sessions with the Quintets du Hot Club de France along with tracks from dates with Coleman Hawkins' All Star Jam Band, Bill Coleman and his orchestra, his involvement with the Glenn Miller All Stars and of course many with Stephane Grappelli with and without the Quintets. This 4 CD set shows what a giant he was and why he is such a huge influence on all guitarists playing whatever style.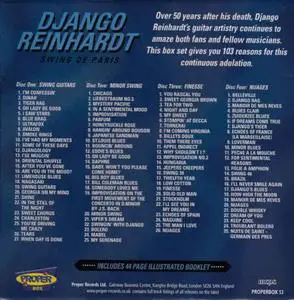 Tracklist:♦ CD1 (01:17:46)
01. I'm Confessin' (That I Love You) [02:54]
02. Dinah [02:36]
03. Tiger Rag [02:35]
04. Oh Lady Be Good [02:54]
05. I Saw Stars [02:31]
06. Blue Drag [02:54]
07. Ultrafox [03:22]
08. Avalon [02:54]
09. Smoke Rings [02:53]
10. I've Had My Moments [02:59]
11. Some of These Days [02:25]
12. Djangology [02:57]
13. I'se Muggin' [03:07]
14. Oriental Shuffle [02:41]
15. After You've Gone [03:08]
16. Are You in the Mood? [02:51]
17. Limehouse Blues [02:47]
18. Nagasaki [02:51]
19. Swing Guitars [02:27]
20. Georgia on My Mind [03:16]
21. Shine [02:57]
22. In the Still of the Night [03:07]
23. Sweet Chorus [02:46]
24. Charleston [02:53]
25. You're Driving Me Crazy [02:55]
26. Tears [02:39]
27. When Day Is Done [03:14]
♦ CD2 (01:18:55)
01. Chicago [03:28]
02. Liebestraum No. 3 [03:21]
03. Mystery Pacific [02:22]
04. In a Sentimental Mood [03:04]
05. Improvisation [02:57]
06. Parfum [03:02]
07. Honeysuckle Rose [02:46]
08. Hangin' Around Boudon [02:56]
09. Japanese Sandman [03:00]
10. St. Louis Blues [02:44]
11. Bouncin' Around [02:46]
12. Eddie's Blues [03:10]
13. Oh Lady Be Good [03:18]
14. Daphne [03:03]
15. Baby, Won't You Please Come Home? [03:00]
16. Big Boy Blues [03:26]
17. Bill Coleman Blues [02:47]
18. Somebody Loves Me [03:30]
19. Improvisation on the First Movement of the Concerto in D Minor [03:22]
20. Minor Swing [03:16]
21. Viper's Dream [03:17]
22. Swingin' with Django [02:52]
23. Bolero [04:05]
24. Mabel [04:11]
25. My Serenade [03:01]
♦ CD3 (01:15:44)
01. You Rascal You [03:06]
02. Sweet Georgia Brown [03:14]
03. Tea For Two [02:49]
04. Night And Day [02:44]
05. My Sweet [02:56]
06. Stompin' At Decca [02:35]
07. Tornerai [02:34]
08. I'm Coming Virginia [03:06]
09. Billets Doux [02:56]
10. Them There Eyes [03:04]
11. Appel Indirect [03:01]
12. Why Shouldn't I? [02:50]
13. Improvisation No. 2 [02:42]
14. Hungaria [02:48]
15. Jeepers Creepers [03:15]
16. Swing 39 [03:20]
17. Twelfth Year [02:40]
18. Low Cotton [03:01]
19. Finesse [02:20]
20. Solid Old Man [03:05]
21. Stockholm [02:47]
22. I'll See You In My Dreams [02:32]
23. Echoes Of Spain [03:08]
24. Naguine [02:27]
25. The Man I Love [03:13]
26. Nuages [03:18]
♦ CD4 (01:15:43)
01. Belleville [02:33]
02. Django Rag [02:34]
03. Manoir De Mes Reves [03:21]
04. Blues Clair [03:04]
05. Zuiderzee Blues [02:40]
06. If Dreams Come True [02:52]
07. Django's Tiger [02:38]
08. Echoes Of France (La Marseillaise) [02:49]
09. Lover Man (Oh, Where Can You Be?) [03:21]
10. Minor Blues [02:47]
11. Peche À La Mouche [02:34]
12. (I Love You) For Sentimental Reasons [02:57]
13. Folie À Amphion [02:53]
14. Swing 48 [02:45]
15. Aquarela Do Brasil [02:47]
16. I'll Never Smile Again [02:40]
17. Django's Blues [03:06]
18. How High The Moon [02:56]
19. Manoir De Mes Rêves [03:29]
20. Nuages [04:50]
21. Double Whisky [02:56]
22. Dream Of You [03:17]
23. Keep Cool [03:04]
24. Troublant Bolero [03:32]
25. Nuits De Saint Germain Des Prés [03:06]