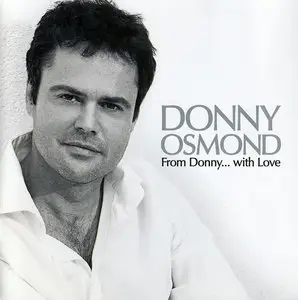 Donny Osmond - From Donny… With Love (2008)
EAC | FLAC | Tracks (Cue&Log) ~ 498 Mb | Mp3 (CBR320) ~ 202 Mb | Scans included
Genre: Adult Contemporary, Pop | Label: Decca | # 1760974 | Time: 01:13:35
From Donny with Love is a compilation of Donny's most romantic songs from his hit records together for the first time on CD and it is dedicated to Donny's loyal following. Donny Osmond is an US entertainer. He is a singer, musician, actor and former teen idol. Osmond has been a talk show and game show host, record producer, race car driver and author. He is known for being half of the brother-sister singing act Donny & Marie and a member of the "Osmond Brothers" singing group.
As Donny Osmond moved more and more into territory occupied by MOR singers Michael Ball and Michael Bublé, he found himself, an adult contemporary singer, competing even with the likes of Westlife. He didn't disown his past as a child star, opening the album with a re-recording of his most famous hit, "Puppy Love," and From Donny…With Love also included tracks from his childhood in the early '70s with songs like "When I Fall in Love" and "The Twelfth of Never." Both of these are so laid-back, unlike his earlier versions: the former is even slower than the Nat King Cole original. There are quite faithful, if unemotional versions of "How Long," "How Deep Is Your Love," "Let's Stay Together," "Right Here Waiting," "This Guys in Love with You," and "If," and Osmond returned to his love of musical theater with the songs "This Is the Moment" from Jeckyl & Hyde, "Seasons of Love" from Rent, and "Luck Be a Lady" from Guys & Dolls. The album ended with the only new track, "Never Gonna Say Goodbye," a song recorded live at Edinburgh Castle. For a Donny Osmond fan, or a fan of bland MOR, easy listening cover versions, it's an excellent value, clocking in at 73 minutes with 20 tracks in total. For anyone who wanted music with a touch of originality or music that actually meant something and touched some emotions, look further than the albums of Donny Osmond, including this one.



Review by Sharon Mawer, Allmusic.com
Tracklist:
01. Puppy Love (02:53)
02. I Can See Clearly Now (03:09)
03. Breeze on By (03:54)
04. How Long (03:21)
05. Could It Be I'm Falling in Love (03:42)
06. How Deep Is Your Love (04:00)
07. Let's Stay Together (03:46)
08. What I Meant to Say (03:41)
09. When I Fall in Love (03:15)
10. Right Here Waiting (04:09)
11. The Twelfth of Never (03:37)
12. This Is the Moment (04:15)
13. This Guy's in Love With You (04:04)
14. Whenever You're in Trouble (04:36)
15. You Are So Beautiful (02:57)
16. If (02:40)
17. Seasons of Love [Rent] (04:04)
18. Luck Be a Lady (04:02)
19. In It for Love (03:56)
20. Never Gonna Say Goodbye (03:26)
Exact Audio Copy V1.0 beta 3 from 29. August 2011

Отчёт EAC об извлечении, выполненном 28. сентября 2015, 4:23

Donny Osmond / From Donny With Love

Дисковод: TSSTcorpCDDVDW SH-222BB Adapter: 3 ID: 0

Режим чтения : Достоверность
Использование точного потока : Да
Отключение кэша аудио : Да
Использование указателей C2 : Нет

Коррекция смещения при чтении : 6
Способность читать области Lead-in и Lead-out : Нет
Заполнение пропущенных сэмплов тишиной : Да
Удаление блоков с тишиной в начале и конце : Нет
При вычислениях CRC использовались нулевые сэмплы : Да
Интерфейс : Установленный внешний ASPI-интерфейс
Обработка зазоров : Добавлено к предыдущему треку

Выходной формат : Пользовательский кодировщик
Выбранный битрейт : 128 kBit/s
Качество : Высокий
Добавление ID3-тега : Нет
Утилита сжатия : C:\Program Files\Exact Audio Copy\FLAC\FLAC.EXE
Дополнительные параметры : -V -8 -T "Genre=%genre%" -T "Artist=%artist%" -T "Title=%title%" -T "Album=%albumtitle%" -T "Date=%year%" -T "Tracknumber=%tracknr%" -T "Comment=%comment%" %source%


TOC извлечённого CD

Трек | Старт | Длительность | Начальный сектор | Конечный сектор
––––––––––––––––––––––––––––––––––-
1 | 0:00.00 | 2:53.03 | 0 | 12977
2 | 2:53.03 | 3:09.44 | 12978 | 27196
3 | 6:02.47 | 3:54.48 | 27197 | 44794
4 | 9:57.20 | 3:21.58 | 44795 | 59927
5 | 13:19.03 | 3:42.00 | 59928 | 76577
6 | 17:01.03 | 4:00.59 | 76578 | 94636
7 | 21:01.62 | 3:46.41 | 94637 | 111627
8 | 24:48.28 | 3:41.20 | 111628 | 128222
9 | 28:29.48 | 3:15.35 | 128223 | 142882
10 | 31:45.08 | 4:09.10 | 142883 | 161567
11 | 35:54.18 | 3:37.33 | 161568 | 177875
12 | 39:31.51 | 4:15.35 | 177876 | 197035
13 | 43:47.11 | 4:04.27 | 197036 | 215362
14 | 47:51.38 | 4:36.30 | 215363 | 236092
15 | 52:27.68 | 2:57.32 | 236093 | 249399
16 | 55:25.25 | 2:40.48 | 249400 | 261447
17 | 58:05.73 | 4:04.03 | 261448 | 279750
18 | 62:10.01 | 4:02.19 | 279751 | 297919
19 | 66:12.20 | 3:56.51 | 297920 | 315670
20 | 70:08.71 | 3:26.34 | 315671 | 331154


Трек 1

Имя файла I:\MOI_RAZDACI\Donny Osmond\Donny.Osmond_From.Donny…With.Love_2008\01. Puppy Love.wav

Длина предзазора 0:00:02.00

Пиковый уровень 99.9 %
Скорость извлечения 4.2 X
Качество трека 100.0 %
CRC теста 3539B9EE
CRC копии 3539B9EE
Точное извлечение (достоверность 2) [C3786360] (AR v2)
Копирование… OK

Трек 2

Имя файла I:\MOI_RAZDACI\Donny Osmond\Donny.Osmond_From.Donny…With.Love_2008\02. I Can See Clearly Now.wav

Пиковый уровень 86.8 %
Скорость извлечения 3.5 X
Качество трека 99.9 %
CRC теста 77635A1A
CRC копии 77635A1A
Точное извлечение (достоверность 2) [DCB2D2DB] (AR v2)
Копирование… OK

Трек 3

Имя файла I:\MOI_RAZDACI\Donny Osmond\Donny.Osmond_From.Donny…With.Love_2008\03. Breeze on By.wav

Пиковый уровень 99.9 %
Скорость извлечения 5.1 X
Качество трека 100.0 %
CRC теста 18C9A7FA
CRC копии 18C9A7FA
Точное извлечение (достоверность 2) [107A78EE] (AR v2)
Копирование… OK

Трек 4

Имя файла I:\MOI_RAZDACI\Donny Osmond\Donny.Osmond_From.Donny…With.Love_2008\04. How Long.wav

Пиковый уровень 99.6 %
Скорость извлечения 5.3 X
Качество трека 100.0 %
CRC теста D6F62B4F
CRC копии D6F62B4F
Точное извлечение (достоверность 2) [D3B9D5FB] (AR v2)
Копирование… OK

Трек 5

Имя файла I:\MOI_RAZDACI\Donny Osmond\Donny.Osmond_From.Donny…With.Love_2008\05. Could It Be I'm Falling in Love.wav

Длина предзазора 0:00:00.12

Пиковый уровень 99.9 %
Скорость извлечения 5.7 X
Качество трека 100.0 %
CRC теста 06BCA8BA
CRC копии 06BCA8BA
Точное извлечение (достоверность 2) [71F4ED0A] (AR v2)
Копирование… OK

Трек 6

Имя файла I:\MOI_RAZDACI\Donny Osmond\Donny.Osmond_From.Donny…With.Love_2008\06. How Deep Is Your Love.wav

Пиковый уровень 99.5 %
Скорость извлечения 6.1 X
Качество трека 100.0 %
CRC теста F9184BC4
CRC копии F9184BC4
Точное извлечение (достоверность 2) [9D5A9516] (AR v2)
Копирование… OK

Трек 7

Имя файла I:\MOI_RAZDACI\Donny Osmond\Donny.Osmond_From.Donny…With.Love_2008\07. Let's Stay Together.wav

Длина предзазора 0:00:00.02

Пиковый уровень 99.4 %
Скорость извлечения 6.3 X
Качество трека 100.0 %
CRC теста 3149ED9A
CRC копии 3149ED9A
Точное извлечение (достоверность 2) [57077ECC] (AR v2)
Копирование… OK

Трек 8

Имя файла I:\MOI_RAZDACI\Donny Osmond\Donny.Osmond_From.Donny…With.Love_2008\08. What I Meant to Say.wav

Пиковый уровень 99.9 %
Скорость извлечения 6.6 X
Качество трека 100.0 %
CRC теста 7E13E239
CRC копии 7E13E239
Точное извлечение (достоверность 2) [0AB72583] (AR v2)
Копирование… OK

Трек 9

Имя файла I:\MOI_RAZDACI\Donny Osmond\Donny.Osmond_From.Donny…With.Love_2008\09. When I Fall in Love.wav

Пиковый уровень 99.9 %
Скорость извлечения 6.7 X
Качество трека 100.0 %
CRC теста 3A31BAE1
CRC копии 3A31BAE1
Точное извлечение (достоверность 2) [B4302364] (AR v2)
Копирование… OK

Трек 10

Имя файла I:\MOI_RAZDACI\Donny Osmond\Donny.Osmond_From.Donny…With.Love_2008\10. Right Here Waiting.wav

Пиковый уровень 99.9 %
Скорость извлечения 7.1 X
Качество трека 100.0 %
CRC теста 18656676
CRC копии 18656676
Точное извлечение (достоверность 2) [47CBBF0A] (AR v2)
Копирование… OK

Трек 11

Имя файла I:\MOI_RAZDACI\Donny Osmond\Donny.Osmond_From.Donny…With.Love_2008\11. The Twelfth of Never.wav

Пиковый уровень 89.1 %
Скорость извлечения 5.6 X
Качество трека 99.9 %
CRC теста 78F88968
CRC копии 78F88968
Точное извлечение (достоверность 2) [B0B1A379] (AR v2)
Копирование… OK

Трек 12

Имя файла I:\MOI_RAZDACI\Donny Osmond\Donny.Osmond_From.Donny…With.Love_2008\12. This Is the Moment.wav

Пиковый уровень 91.9 %
Скорость извлечения 7.5 X
Качество трека 100.0 %
CRC теста 591EE50B
CRC копии 591EE50B
Точное извлечение (достоверность 2) [8192D997] (AR v2)
Копирование… OK

Трек 13

Имя файла I:\MOI_RAZDACI\Donny Osmond\Donny.Osmond_From.Donny…With.Love_2008\13. This Guy's in Love With You.wav

Пиковый уровень 99.9 %
Скорость извлечения 6.3 X
Качество трека 99.9 %
CRC теста CBAE326F
CRC копии CBAE326F
Точное извлечение (достоверность 2) [BB6ED552] (AR v2)
Копирование… OK

Трек 14

Имя файла I:\MOI_RAZDACI\Donny Osmond\Donny.Osmond_From.Donny…With.Love_2008\14. Whenever You're in Trouble.wav

Пиковый уровень 99.7 %
Скорость извлечения 8.2 X
Качество трека 100.0 %
CRC теста A4D9B8DD
CRC копии A4D9B8DD
Точное извлечение (достоверность 2) [1594B33B] (AR v2)
Копирование… OK

Трек 15

Имя файла I:\MOI_RAZDACI\Donny Osmond\Donny.Osmond_From.Donny…With.Love_2008\15. You Are So Beautiful.wav

Пиковый уровень 99.7 %
Скорость извлечения 7.8 X
Качество трека 100.0 %
CRC теста C6009679
CRC копии C6009679
Точное извлечение (достоверность 2) [F0B1B70D] (AR v2)
Копирование… OK

Трек 16

Имя файла I:\MOI_RAZDACI\Donny Osmond\Donny.Osmond_From.Donny…With.Love_2008\16. If.wav

Пиковый уровень 99.9 %
Скорость извлечения 5.7 X
Качество трека 99.9 %
CRC теста 598E6F62
CRC копии 598E6F62
Точное извлечение (достоверность 2) [5819C848] (AR v2)
Копирование… OK

Трек 17

Имя файла I:\MOI_RAZDACI\Donny Osmond\Donny.Osmond_From.Donny…With.Love_2008\17. Seasons of Love [Rent].wav

Пиковый уровень 91.9 %
Скорость извлечения 6.7 X
Качество трека 99.9 %
CRC теста E22BDBE8
CRC копии E22BDBE8
Точное извлечение (достоверность 2) [F92C9C05] (AR v2)
Копирование… OK

Трек 18

Имя файла I:\MOI_RAZDACI\Donny Osmond\Donny.Osmond_From.Donny…With.Love_2008\18. Luck Be a Lady.wav

Пиковый уровень 91.9 %
Скорость извлечения 8.7 X
Качество трека 100.0 %
CRC теста 7C0021F9
CRC копии 7C0021F9
Точное извлечение (достоверность 2) [5D4172E0] (AR v2)
Копирование… OK

Трек 19

Имя файла I:\MOI_RAZDACI\Donny Osmond\Donny.Osmond_From.Donny…With.Love_2008\19. In It for Love.wav

Пиковый уровень 99.9 %
Скорость извлечения 7.0 X
Качество трека 99.9 %
CRC теста 1F5706ED
CRC копии 1F5706ED
Точное извлечение (достоверность 2) [02D920BF] (AR v2)
Копирование… OK

Трек 20

Имя файла I:\MOI_RAZDACI\Donny Osmond\Donny.Osmond_From.Donny…With.Love_2008\20. Never Gonna Say Goodbye.wav

Пиковый уровень 100.0 %
Скорость извлечения 8.8 X
Качество трека 100.0 %
CRC теста 61EB0CE1
CRC копии 61EB0CE1
Точное извлечение (достоверность 2) [E53B8B42] (AR v2)
Копирование… OK


Все треки извлечены точно

Ошибок не произошло

Конец отчёта

==== Контрольная сумма отчёта DE72EDE933079616159567CF88E86DB206E79F108BBCAD5AE9DDB9758178E75A ====
foobar2000 1.2 / Dynamic Range Meter 1.1.1
log date: 2015-10-06 15:45:08

––––––––––––––––––––––––––––––––––––––––
Analyzed: Donny Osmond / From Donny With Love
––––––––––––––––––––––––––––––––––––––––

DR Peak RMS Duration Track
––––––––––––––––––––––––––––––––––––––––
DR15 0.00 dB -16.94 dB 2:53 01-Puppy Love
DR7 -1.23 dB -10.16 dB 3:10 02-I Can See Clearly Now
DR8 0.00 dB -9.81 dB 3:55 03-Breeze on By
DR8 -0.03 dB -9.33 dB 3:22 04-How Long
DR7 -0.01 dB -8.95 dB 3:42 05-Could It Be I'm Falling in Love
DR8 -0.04 dB -9.61 dB 4:01 06-How Deep Is Your Love
DR7 -0.05 dB -9.36 dB 3:47 07-Let's Stay Together
DR8 -0.01 dB -11.74 dB 3:41 08-What I Meant to Say
DR11 0.00 dB -16.28 dB 3:15 09-When I Fall in Love
DR9 -0.01 dB -11.79 dB 4:09 10-Right Here Waiting
DR10 -1.00 dB -14.51 dB 3:37 11-The Twelfth of Never
DR7 -0.73 dB -9.86 dB 4:15 12-This Is the Moment
DR11 0.00 dB -14.00 dB 4:04 13-This Guy's in Love With You
DR8 -0.02 dB -10.48 dB 4:36 14-Whenever You're in Trouble
DR9 -0.02 dB -12.62 dB 2:57 15-You Are So Beautiful
DR10 -0.01 dB -11.91 dB 2:41 16-If
DR7 -0.73 dB -9.95 dB 4:04 17-Seasons of Love [Rent]
DR8 -0.73 dB -10.56 dB 4:02 18-Luck Be a Lady
DR7 0.00 dB -9.41 dB 3:57 19-In It for Love
DR14 0.00 dB -17.49 dB 3:26 20-Never Gonna Say Goodbye
––––––––––––––––––––––––––––––––––––––––

Number of tracks: 20
Official DR value: DR9

Samplerate: 44100 Hz
Channels: 2
Bits per sample: 16
Bitrate: 751 kbps
Codec: FLAC
================================================================================