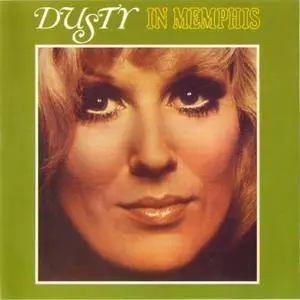 Dusty Springfield - Dusty In Memphis (1969) [1995, Remastered with Bonus Tracks]
Pop/Rock, R&B, Blue-Eyed Soul | EAC Rip | FLAC, Tracks+CUE+LOG+Scans (JPEG) | 41:53 Min. | 274,96 Mb
Label: Mercury (EU) | Cat.# 528 687-2 | Released: 1995 (1969-03-31 US/1969-04-18 UK)

"Dusty in Memphis" is the fifth studio album by English singer Dusty Springfield. She recorded the album at American Sound Studio in Memphis with a team of musicians and producers that included Jerry Wexler, Arif Mardin, Tom Dowd, conductor Gene Orloff, backing vocalists The Sweet Inspirations, bassist Tommy Cogbill, and guitarist Reggie Young. It featured one of her top-10 UK hits, "Son of a Preacher Man". Although Dusty in Memphis sold poorly when it was first released by Atlantic Records in 1969, the album has since been acclaimed by critics as one of the greatest records of all time and Springfield's best work. The album received a Grammy award in 2001. Dusty in Memphis was released by Atlantic Records on 31 March 1969 in the United States and 18 April in the United Kingdom. The album was a commercial failure in both countries, only reaching #99 on the American album charts and failing to chart altogether on the British Top 40. According to music journalist Peter Robinson, its failure stalled Springfield's career rather than revive it, although the record eventually became "a popcultural milestone [and] timeless emotional reference point" for listeners who discovered it in second-hand shops or purchased one of its several reissues years later. Dusty in Memphis has frequently been named one of the greatest albums of all-time; according to Acclaimed Music, it is the 104th most prominently ranked record on critics' all-time lists. NME named it the 54th greatest album ever in their 1993 list, and in 2003, Rolling Stone ranked the record 89th on its list of the 500 greatest albums of all time.
~Wikipedia
Sometimes memories distort or inflate the quality of recordings deemed legendary, but in the case of Dusty in Memphis, the years have only strengthened its reputation. The idea of taking England's reigning female soul queen to the home of the music she had mastered was an inspired one. The Jerry Wexler/Tom Dowd/Arif Mardin production and engineering team picked mostly perfect songs, and those that weren't so great were salvaged by Springfield's marvelous delivery and technique. This set has definitive numbers in "So Much Love," "Son of a Preacher Man," "Breakfast in Bed," "Just One Smile," "I Don't Want to Hear About It Anymore," and "Just a Little Lovin'" and three bonus tracks: an unreleased version of "What Do You Do When Love Dies," "Willie & Laura Mae Jones" and "That Old Sweet Roll (Hi-De-Ho)." It's truly a disc deserving of its classic status.
~Review by Richie Unterberger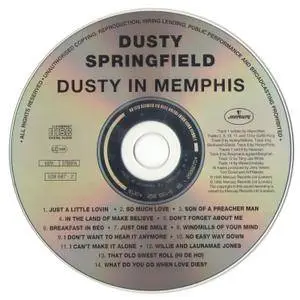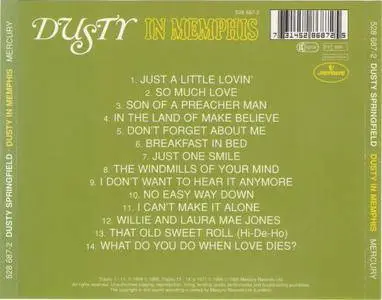 Release of the album:
1969, March, 31 (USA)/1969, April, 18 (UK) [LP Atlantic Records, Cat.# SD 8214, USA/LP Philips, Cat.# SBL 7889, UK]
Release of this CD:
1995 [CD Mercury (EU), Cat.# 528 687-2 /UPC: 731452868725]
Tracks 1-11: ℗ 1968 © 1995. Tracks 12-14: ℗ 1971 ℗ 1995 © 1995 Mercury Records Ltd.
This compilation ℗© 1995 Mercury Records Ltd. (London)
Made in Germany by Universal M&L
Credits:
Arranged By [Horn Arrangements] – Arif Mardin, Tom Dowd
Arranged By [String Arrangements] – Arif Mardin
Backing Vocals – The Sweet Inspirations
Bass – Tommy Cogbill
Directed By [The String Section Is Under The Direction Of] – Gene Orloff
Drums – Gene Chrisman
Engineer [Recording Engineer] – Ed Koliss
Guitar, Sitar – Reggie Young
Liner Notes [1968] – Stanley Booth
Liner Notes [1995] – Paul Howes
Organ, Electric Piano – Bobby Emmons
Piano – Bobby Wood
Producer – Arif Mardin, Jerry Wexler, Tom Dowd
Remastered By – Mike Gill, Roger Wake
Tracklist:
01. Just A Little Lovin' (02:19)
02. So Much Love (03:31)
03. Son Of A Preacher Man (02:29)
04. In The Land Of Make Believe (02:32)
05. Don't Forget About Me (02:52)
06. Breakfast In Bed (02:57)
07. Just One Smile (02:42)
08. The Windmills Of Your Mind (03:51)
09. I Don't Want To Hear It Anymore (03:10)
10. No Easy Way Down (03:10)
11. I Can't Make It Alone (03:53)
Bonus Tracks:
12. Willie And Laura Mae Jones (02:48)
13. That Old Sweet Roll (Hi-De-Ho) (03:00)
14. What Do You Do When Love Dies? (02:40)
Exact Audio Copy V1.3 from 2. September 2016

Отчёт EAC об извлечении, выполненном 10. июля 2018, 20:14

Dusty Springfield / Dusty In Memphis

Дисковод: HL-DT-STDVDRAM GUA0N Adapter: 1 ID: 0

Режим чтения : Достоверность
Использование точного потока : Да
Отключение кэша аудио : Да
Использование указателей C2 : Нет

Коррекция смещения при чтении : 6
Способность читать области Lead-in и Lead-out : Нет
Заполнение пропущенных сэмплов тишиной : Да
Удаление блоков с тишиной в начале и конце : Нет
При вычислениях CRC использовались нулевые сэмплы : Да
Интерфейс : Встроенный Win32-интерфейс для Win NT/2000
Обработка зазоров : Добавлено к предыдущему треку

Выходной формат : Пользовательский кодировщик
Выбранный битрейт : 128 kBit/s
Качество : Высокий
Добавление ID3-тега : Нет
Утилита сжатия : C:\Program Files (x86)\Exact Audio Copy\Flac\flac.exe
Дополнительные параметры : -V -8 -T "Date=%year%" -T "Genre=%genre%" %source%


TOC извлечённого CD

Трек | Старт | Длительность | Начальный сектор | Конечный сектор
––––––––––––––––––––––––––––––––––-
1 | 0:00.00 | 2:19.22 | 0 | 10446
2 | 2:19.22 | 3:30.70 | 10447 | 26266
3 | 5:50.17 | 2:28.50 | 26267 | 37416
4 | 8:18.67 | 2:31.38 | 37417 | 48779
5 | 10:50.30 | 2:51.38 | 48780 | 61642
6 | 13:41.68 | 2:56.42 | 61643 | 74884
7 | 16:38.35 | 2:42.08 | 74885 | 87042
8 | 19:20.43 | 3:50.69 | 87043 | 104361
9 | 23:11.37 | 3:10.15 | 104362 | 118626
10 | 26:21.52 | 3:10.15 | 118627 | 132891
11 | 29:31.67 | 3:52.58 | 132892 | 150349
12 | 33:24.50 | 2:48.32 | 150350 | 162981
13 | 36:13.07 | 2:59.50 | 162982 | 176456
14 | 39:12.57 | 2:39.60 | 176457 | 188441


Трек 1

Имя файла C:\01 Just A Little Lovin'.wav

Длина предзазора 0:00:02.00

Пиковый уровень 98.9 %
Скорость извлечения 2.5 X
Качество трека 100.0 %
CRC теста DE7DAC23
CRC копии DE7DAC23
Точное извлечение (достоверность 2) [50BE2F76] (AR v2)
Копирование… OK

Трек 2

Имя файла C:\02 So Much Love.wav

Длина предзазора 0:00:02.54

Пиковый уровень 98.8 %
Скорость извлечения 2.9 X
Качество трека 100.0 %
CRC теста 80F01FE7
CRC копии 80F01FE7
Точное извлечение (достоверность 2) [E7617CD2] (AR v2)
Копирование… OK

Трек 3

Имя файла C:\03 Son Of A Preacher Man.wav

Длина предзазора 0:00:02.55

Пиковый уровень 99.2 %
Скорость извлечения 2.8 X
Качество трека 100.0 %
CRC теста 40B42350
CRC копии 40B42350
Точное извлечение (достоверность 2) [6C123C46] (AR v2)
Копирование… OK

Трек 4

Имя файла C:\04 In The Land Of Make Believe.wav

Длина предзазора 0:00:02.55

Пиковый уровень 72.7 %
Скорость извлечения 3.1 X
Качество трека 100.0 %
CRC теста 9130067D
CRC копии 9130067D
Точное извлечение (достоверность 2) [4697BF01] (AR v2)
Копирование… OK

Трек 5

Имя файла C:\05 Don't Forget About Me.wav

Длина предзазора 0:00:02.55

Пиковый уровень 99.1 %
Скорость извлечения 3.3 X
Качество трека 100.0 %
CRC теста DE93A679
CRC копии DE93A679
Точное извлечение (достоверность 2) [5E8F24C1] (AR v2)
Копирование… OK

Трек 6

Имя файла C:\06 Breakfast In Bed.wav

Длина предзазора 0:00:02.56

Пиковый уровень 99.3 %
Скорость извлечения 3.4 X
Качество трека 100.0 %
CRC теста 96F6CE90
CRC копии 96F6CE90
Точное извлечение (достоверность 2) [E908FE61] (AR v2)
Копирование… OK

Трек 7

Имя файла C:\07 Just One Smile.wav

Длина предзазора 0:00:02.58

Пиковый уровень 98.5 %
Скорость извлечения 1.5 X
Качество трека 100.0 %
CRC теста 4704B05D
CRC копии 4704B05D
Точное извлечение (достоверность 2) [6E93F738] (AR v2)
Копирование… OK

Трек 8

Имя файла C:\08 The Windmills Of Your Mind.wav

Длина предзазора 0:00:02.56

Пиковый уровень 99.2 %
Скорость извлечения 4.0 X
Качество трека 100.0 %
CRC теста FDA7A382
CRC копии FDA7A382
Точное извлечение (достоверность 2) [66D5B669] (AR v2)
Копирование… OK

Трек 9

Имя файла C:\09 I Don't Want To Hear It Anymore.wav

Длина предзазора 0:00:02.55

Пиковый уровень 98.8 %
Скорость извлечения 1.5 X
Качество трека 99.9 %
CRC теста 95861667
CRC копии 95861667
Точное извлечение (достоверность 2) [0CAE6365] (AR v2)
Копирование… OK

Трек 10

Имя файла C:\10 No Easy Way Down.wav

Длина предзазора 0:00:02.55

Пиковый уровень 97.0 %
Скорость извлечения 1.5 X
Качество трека 99.9 %
CRC теста 22BA2F87
CRC копии 22BA2F87
Точное извлечение (достоверность 2) [749FAB41] (AR v2)
Копирование… OK

Трек 11

Имя файла C:\11 I Can't Make It Alone.wav

Длина предзазора 0:00:02.55

Пиковый уровень 99.2 %
Скорость извлечения 1.9 X
Качество трека 100.0 %
CRC теста 6744C4FD
CRC копии 6744C4FD
Точное извлечение (достоверность 2) [5AE0AE5F] (AR v2)
Копирование… OK

Трек 12

Имя файла C:\12 Willie And Laura Mae Jones.wav

Длина предзазора 0:00:02.55

Пиковый уровень 91.6 %
Скорость извлечения 1.9 X
Качество трека 100.0 %
CRC теста 15374325
CRC копии 15374325
Точное извлечение (достоверность 2) [C886D636] (AR v2)
Копирование… OK

Трек 13

Имя файла C:\13 That Old Sweet Roll (Hi-De-Ho).wav

Длина предзазора 0:00:02.55

Пиковый уровень 98.6 %
Скорость извлечения 1.9 X
Качество трека 100.0 %
CRC теста BAE672DB
CRC копии BAE672DB
Точное извлечение (достоверность 2) [D7C977E9] (AR v2)
Копирование… OK

Трек 14

Имя файла C:\14 What Do You Do When Love Dies.wav

Длина предзазора 0:00:02.55

Пиковый уровень 98.8 %
Скорость извлечения 1.9 X
Качество трека 100.0 %
CRC теста 76EBC3AB
CRC копии 76EBC3AB
Точное извлечение (достоверность 2) [7B28B3CA] (AR v2)
Копирование… OK


Все треки извлечены точно

Ошибок не произошло

Конец отчёта

==== Контрольная сумма отчёта 7F261D8CE484BEB072D0919ED985EB13E6B7D902BD65E1D1991FB5EFB3A1DBF4 ====
––––––––––––––––––––––––––––––––––––––––
Analyzed: Dusty Springfield / Dusty In Memphis
––––––––––––––––––––––––––––––––––––––––

DR Peak RMS Duration Track
––––––––––––––––––––––––––––––––––––––––
DR12 -0.09 dB -15.60 dB 2:19 ?-01 Just A Little Lovin'
DR11 -0.10 dB -15.97 dB 3:31 ?-02 So Much Love
DR12 -0.06 dB -16.57 dB 2:29 ?-03 Son Of A Preacher Man
DR13 -2.76 dB -18.84 dB 2:32 ?-04 In The Land Of Make Believe
DR10 -0.08 dB -14.16 dB 2:52 ?-05 Don't Forget About Me
DR12 -0.06 dB -16.96 dB 2:57 ?-06 Breakfast In Bed
DR12 -0.13 dB -18.28 dB 2:42 ?-07 Just One Smile
DR11 -0.06 dB -19.26 dB 3:51 ?-08 The Windmills Of Your Mind
DR12 -0.10 dB -17.08 dB 3:10 ?-09 I Don't Want To Hear It Anymore
DR12 -0.26 dB -16.52 dB 3:10 ?-10 No Easy Way Down
DR11 -0.06 dB -16.19 dB 3:53 ?-11 I Can't Make It Alone
DR13 -0.76 dB -16.39 dB 2:48 ?-12 Willie And Laura Mae Jones
DR12 -0.11 dB -15.59 dB 3:00 ?-13 That Old Sweet Roll (Hi-De-Ho)
DR11 -0.10 dB -16.57 dB 2:40 ?-14 What Do You Do When Love Dies
––––––––––––––––––––––––––––––––––––––––

Number of tracks: 14
Official DR value: DR12

Samplerate: 44100 Hz
Channels: 2
Bits per sample: 16
Bitrate: 824 kbps
Codec: FLAC
================================================================================
All thanks to intellect
See also:
Dusty Springfield - White Heat (1982) [2002, Remastered Reissue]
Dusty Springfield - Goin' Back...y Springfield 1962-1994 (1994)
Dusty Springfield - Reputation... Expanded Collector's Edition]
password: BlondStyle